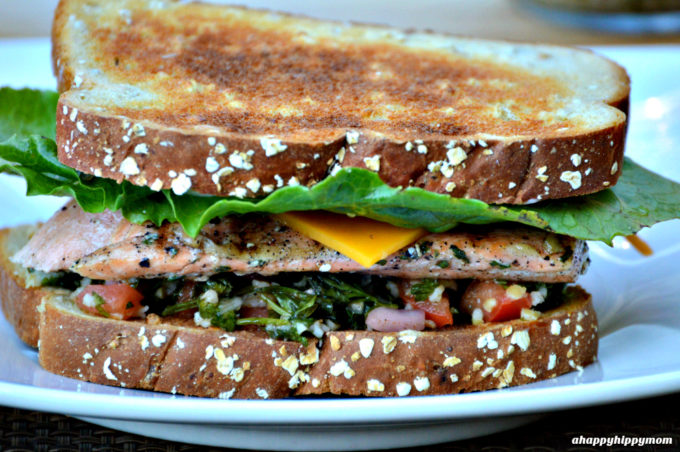 Disclosure: Arnold® provided me with coupons to redeem product and a gift card so that I could share my thoughts and information about Arnold® products and "2016 America's Better Sandwich" Contest.
During the summer months I eat more sandwiches than I do all year long.   Nothing beats fresh veggies straight from the garden stacked high and wrapped up in two slices of bread on a hot blistering day.  Plus, you can basically pile anything between Arnold® Bread and it makes a quick satisfying meal without spending hours in the kitchen.  Quick, simple and delicious is my motto throughout the entire year, but especially on those extremely warm summer days!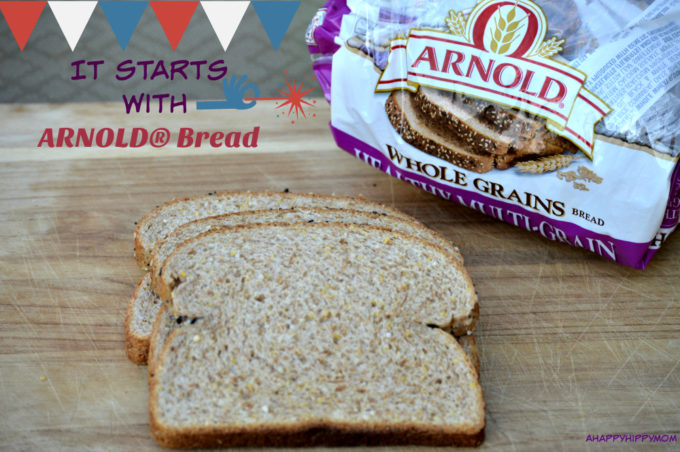 Every good sandwich starts with Arnold® Bread!  It is the number one preferred brand of bread in our home.   Let's face it!  You can have the best ingredients in a sandwich, but if the bread doesn't taste good the whole sandwich is wasted.  Arnold® products taste fantastic and contain everything I like in my bread.
All of Arnold® Whole Grains Sliced Breads and Arnold® Sandwich Thins® Rolls contain:
2 to 5 grams of fiber per slice or thin

Zero grams of Trans Fat

No High Fructose Corn Syrup

A cholesterol free food
The Arnold® bread varieties contain/are:
Made with 100% whole grains

Good source of fiber

80 calories per serving

No High Fructose Corn Syrup

Heart healthy*

Zero grams of Trans Fat
Health authorities recommend munching on 25-38 grams of fiber[1] and 48 grams of whole grains per day, much of which may come from whole grain products like Arnold® Whole Grains Sliced Breads or Arnold® Sandwich Thins® Rolls varieties.

If you're not sure of how many grams of whole grains you are getting, look for the Whole Grain Stamp found on all of Arnold® Whole Grains Sliced Breads and Arnold®  Sandwich Thins® Rolls.

* Diets low in saturated fat and cholesterol, and as low as possible in trans fat, may help reduce the risk of heart disease.
2016 America's Better Sandwich Contest
I'm sure you have a favorite sandwich?  Perhaps it is a mouthwatering classic with a creative healthy spin or an iconic tasty creation that defines your state!  Whatever it is you like to slap between slices of Arnold® Bread,  it is time to enter it for the chance to win an amazing $25,000 cash prize in the latest Arnold® Bread 2016 America's Better Sandwich Contest!  Here are the juicy details:
*Before entering an original better sandwich, entrants should make sure their recipes include any of the Arnold® Sliced Breads, including any of the Arnold® Sandwich Thins® Rolls varieties.

This year's contest includes five (5) exciting sandwich categories including:

"Open-Faced Artistry" (sandwiches are works of art for the world to see, and these snacks and meals should announce their nutritious ingredients—like bright beets or tasty tuna— sans second slice);

"Breakfast in Bread" (these sandwiches, featuring nutrient rich breakfast favorites like eggs and yogurt, invoke images of cozy mornings in bed or boisterous brunches with friends);

"Creative Classics" (nutritious spins on sandwich creations that have stood the test of time, such as grandma's club sandwich, BLT or other old-time favorites);

"Fueling Good"  (these sandwiches should incorporate ingredients that help boost your energy such as healthful fats, protein, fiber and iron);

"State Favorites" (whether it's a well-known sandwich in the state you reside, or a must-have local dish that can transition into a sandwich, celebrate your state pride by re-creating these state favorites with better-for-you ingredients)

The recipe in each sandwich category with the highest score will receive a $5,000 category prize. 

Entries will be accepted June 15th – August 21st, online consumer voting will take place September 26th – October 23rd, and the winners will be announced on National Sandwich Day- November 3rd.

Arnold® bread will donate one (1) loaf of bread (up to 100,000 loaves) to Feeding America for each valid entry submission during the entry period and vote received during the online voting phase of the 2016 America's Better Sandwich Contest

More information on the 2016 America's Better Sandwich Contest Official Rules and Donation Program terms and conditions can be found at http://www.americasbettersandwich.com .

*Availability: Arnold® bread is available across the Eastern U.S. It can be found in the Midwestern U.S. as Brownberry® bread and in the Western U.S. as Oroweat® bread.
Grilled Salmon Taboule and Cheddar Sandwich
The best part of grilling season is the leftovers!  This time of year there is plenty of leftovers in the fridge from your last grilling event to build a quick and tasty sandwich.  One of my personal favorite bites to have leftover is fish, because it is so versatile!  Fish is wonderful all on its own, but also good served with eggs, on a salad, or between bread.

For instance, wild salmon is very rich in omega 3 fatty acids which have been shown to be good for health.  Combine it with a serving of fiber (Arnold® Whole Grain Sliced Bread) sliced cheddar cheese (protein), and crisp romaine (iron) lettuce for a "Fueling Good" delicious easy meal to boost your energy level.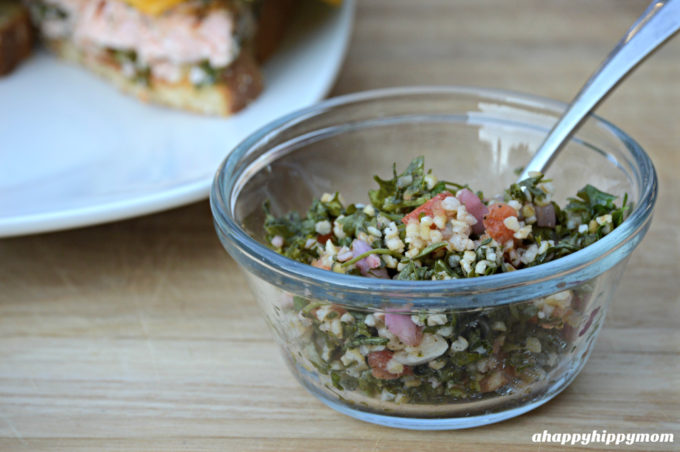 Another item I love to have ready to go in the fridge is Taboule!  If you have never tried the Mediterranean salad it is a mix of fresh chopped tomatoes, parsley, bulgur (cracked wheat), onions, sunflower oil, olive oil, lemon juice and spices.  It is timely to make, so I normally just purchase Taboule already made.  Taboule can turn even the most boring piece of deli meat or sandwich into a scrumptious bite of flavorful heaven!
So, if you have any leftover grilled salmon lurking in your refrigerator give my Grilled Salmon Taboule and Cheddar Sandwich a try for an excellent boost of delicious energy!
Grilled Salmon Taboule and Cheddar Sandwich
Ingredients
2 slices of Arnold® Whole Grains Healthy Multi-Grain bread, toasted.
1 grilled salmon fillet
2 tbsp. Taboule
1 tsp. (on top) nonfat mayonnaise
1 slice cheddar cheese
2 leaves romaine lettuce
Directions
Spread Taboule onto one slice of bread; layer with salmon, cheddar cheese, and romaine lettuce. Spread the mayonnaise on the remaining slice of bread and layer it on top. Cut and serve.
Arnold® Bread Prize Pack Giveaway!
Courtesy of Arnold® Bread, a lucky reader will receive a prize pack worth $79 including:
Six $5.00 coupons to purchase your Arnold® Whole Grain Sliced Bread of choice
Six $4.00 coupons to purchase any Arnold® Sandwich Thins® Rolls of choice
$25 Visa gift card to use towards ingredients for your favorite sandwiches
To enter the giveaway, please follow the instructions provided on the Rafflecopter form.
Open To US Residents Only- age 18 + Ends July 22, at 11:59 pm (eastern time)! Enter Daily!
[field name= iframe]
Stay Connected With Arnold Bread
Arnold® Bread website: http://bit.ly/1xF3skw
Arnold® Bread Facebook page: http://on.fb.me/1hMBezz
Arnold® Bread "America's Better Sandwich Contest: http://www.americasbettersandwich.com