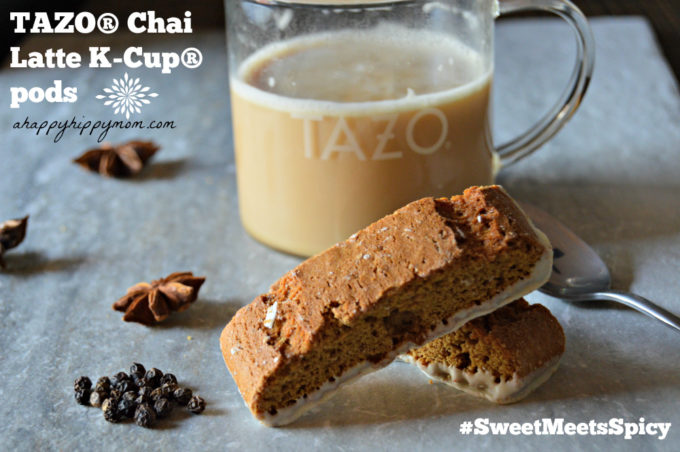 "This post was sponsored by Starbucks as part of an Influencer Activation. I received compensation and complimentary products to facilitate my review."
It is those small moments in life which I look forward to the most.  They don't have to be lavish, super over indulging, or particularly earth-shattering.  I am the type of person who cherishes the simple pleasures the greatest, such as taking a 10 minute breather from my busy mom's day duties to enjoy sipping my TAZO® Chai Latte outside on the porch.
NEW TAZO® Chai Latte K-Cup® pods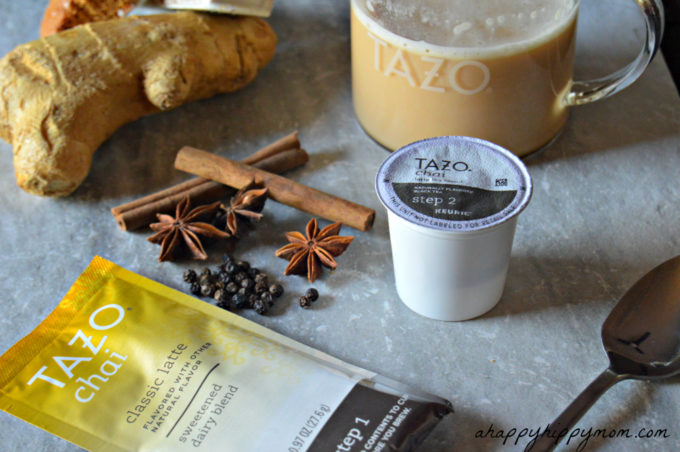 Being a super busy mom to a homeschooled 8 year old, college bound 19 year old, and a household of needy fur babies—every minute of unobtrusive "me-time" counts!  As I crawl closure to age 46, I realize I definitely need to take timeout to refocus,  reduce stress, and restore my energy.   Thankfully, TAZO® Chai Latte K-Cup® pods brew quickly in the Keurig® brewer, so I don't need to take extra time to go out of my home for a creamy authentic tasting TAZO® Chai Latte.  All I need to do is pour the sweetened dairy packets in the bottom of a mug, brew the TAZO® Chai Latte K-Cup® pods on the 8 oz setting, stir, and I am ready to escape outside to enjoy some much needed relaxation in efforts of rebooting my brain.
What is Chai Tea?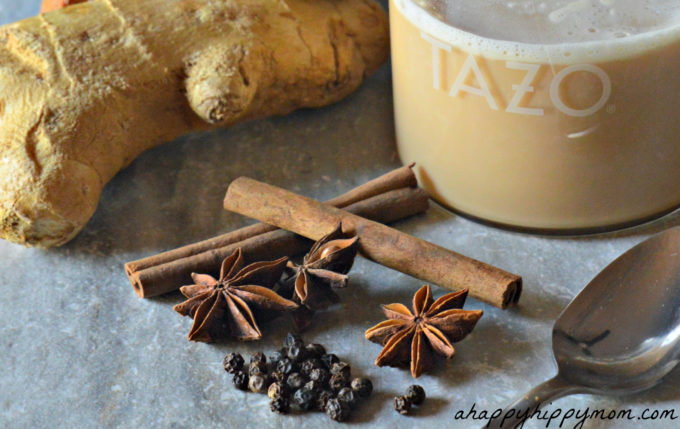 If you haven't had the chance to try the NEW TAZO® Chai Latte K-Cup® pods yet, let me tell you that you are in for a delicious sweet and spicy surprise.  Dating back to 5,000 years of Indian history, the beverage captures all the goodness you expect from authentic chai tea.  Chai tea is a blend of black tea combined with different mouthwatering spices, including fresh-ground cinnamon, ginger, citrusy cardamom, vanilla, and bold black pepper.  Mixed with the dairy packet (made with real dry milk), the hot drink turns into a rich, creamy chai latte bursting with flavor.  The tea takes my palate and mind on an imaginary journey away from the stress of the day and gives a luxury caffeine boost to the mid-day.
 Chai Tea Pairings
What do you pair chai latte with? In celebration of the release of the new TAZO® Chai Latte K-Cup® pods, New York Times Bestselling author and host Padma Lakshmi has partnered with TAZO® for the new product launch.  As part of the collaboration, Padma created some delicious dishes which make a perfect complement to the sweet and spicy taste of chai latte.  The partnership only makes sense being that tea and chai have always been a part of Padma Lakshmi's life and family heritage.  You can find the recipes by visiting TAZO.com/chai/pairings.
Learn more about TAZO® and Padma Lakshmi's new partnership at TAZO.com/chai 
Where to buy
TAZO® Chai Latte K-Cup® pods are available in chai vanilla caramel latte and classic chai latte flavors.  You can find where to buy TAZO® Chai Latte K-Cup® pods at TAZO.com/wheretobuy
Ingredients
BLACK TEA POD INGREDIENTS: black tea, ginger, black pepper, cinnamon, cardamom, cloves, star anise, natural flavors. SWEETENED DAIRY PACKET INGREDIENTS: sugar, nonfat dry milk, dried cream, honey granules (sugar, honey), natural flavors, sodium citrate. CONTAINS: milk.
Contains 110 calories per serving.
Stay Connected with TAZO®
TAZO® Facebook: https://www.facebook.com/TAZO
TAZO® Twitter: https://twitter.com/TAZO
TAZO® Pinterest: https://www.pinterest.com/tazotea/
TAZO® Instagram: https://www.instagram.com/tazo/
How do you escape for much needed me-time?