Disclosure:  Activision provided me with a product to facilitate this post.  The words and opinions expressed in this review are strictly of my own.
Lots of great and exciting fun coming to you this holiday season from Skylanders!  Check out these holiday gift suggestions from Skylanders that are sure to "WOW" your kiddo this holiday season.   The SuperCharged gifts are priced at every point to easily fit into your shopping budget.
Great stocking stuffers and gifts under $40!
Ready to "supercharge kids' holiday wish lists" with special toys, Activision Publishing (subsidiary of Activision Blizzard, Inc) is offering a special holiday Skylanders SuperChargers character Missile-Tow Dive-Clops to hit shelf tomorrow at GameStop and EB Games! He has an exceptional "eye" for evil and the unique ability of slowing enemies with candy-coated missiles. The heavily armored deep sea explorer makes a perfect stocking stuffer, as the fun-loving character is all decked out in Christmas colors!
MISSILE-TOW DIVE CLOPS
Bio: Every Skylander celebrates the holiday season in their special way.  For some, it means exchanging thoughtful gifts.  For others, it means over-indulging in delicious wintery sweets.  But for Dive-Clops, it means keeping the time-honored tradition of hiding beneath the Academy archways to shoot candy-coated missiles at his fellow Skylanders that pass by.  In all fairness, he does hang a sign that reads "Ho-Ho-Ho… Lookout Below!"

Price:  $12.99
EON'S ELITE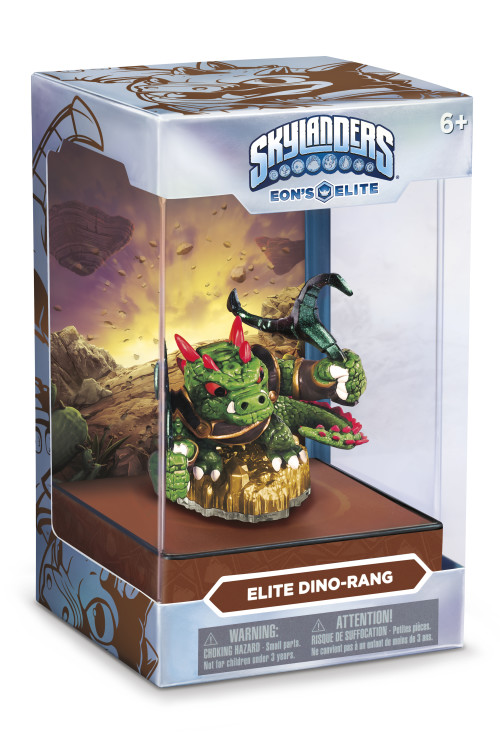 Also available for the holiday season at Toys"R"Us stores nationwide and online at www.Toysrus.com is the premium toy line Eon's Elite. The new line was featured at Toys"R"Us on November 29th and includes fan-favorite characters Slam Bam, Zook and Voodood, as well as a new set of heroes — Ghost Roaster, Boomer and Dino-Rang ($19.99 MSRP).
SKY RACING ACTION PACK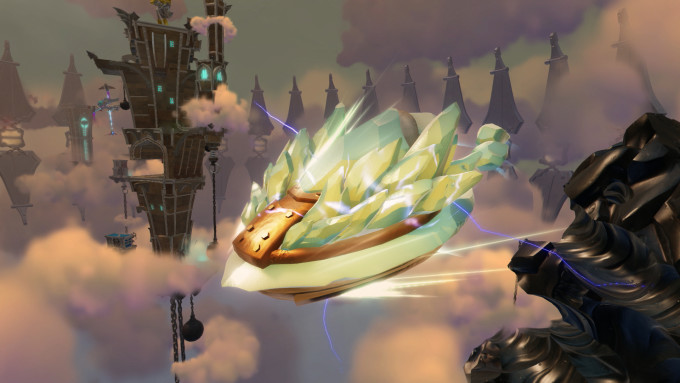 Last –but certainly not least – stocking stuffer suggestion is the Skylanders the second Skylanders SuperChargers Racing Action Pack, now for Sky terrains ($34.99 MSRP). Fans can take racing to new heights with Astro Blast and Sun Runner, as well as a Sky trophy which unlocks new tracks and modes. Astro Blast is "SuperCharged" to take on the bad guys in his Sun Runner spaceship, fully equipped with anti-gravity and speedy capabilities.
Skylanders SuperChargers Starter Packs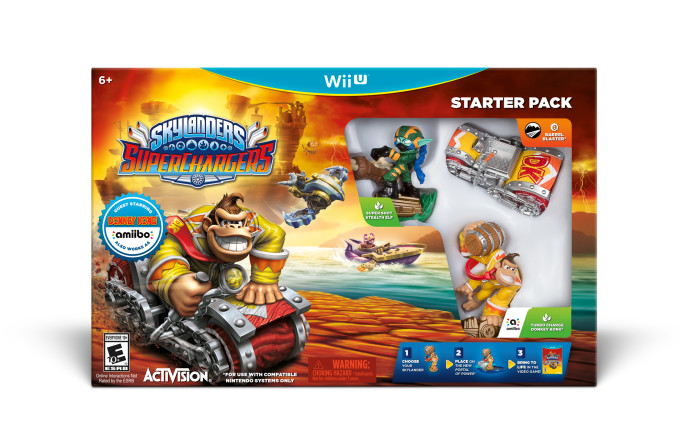 Another great gift suggestion abuzz from the Skylands, include Skylanders SuperChargers Starter Packs, now available for consoles and compatible iOS devices (Apple TV, iPhone, iPad and iPod). These packs are a huge hit and have been named to the Toys"R"Us 2015 Hot Holiday Toy List, the Amazon Holiday Toy List and Toy Insider's Hot 20 Holiday Toys List. Hopefully, you didn't miss the special Black Friday deals when the starter packs were priced at a very low $39.99 MSRP at participating retailers. If you did you still can find them now at Amazon.com for 33% off the suggested retail cost of $74.99.
Activision generously sent my son a Drive Evil Crazy Skylanders Superchargers Starter Pack, which I will be wrapping up and surprising him with on Christmas. What I love about these starter packs is they contain the video game, collection poster, new portal of power, 2 Skylanders SuperChargers characters, and 1 Skylanders SuperChargers vehicle all for one price. You get the best bang for the buck …so to speak. The game and figures provide hours of adventure fun with cool races over land, under sea, and through the sky to battle Koas. Additionally, Drive Evil Crazy guest stars the very popular Donkey Kong!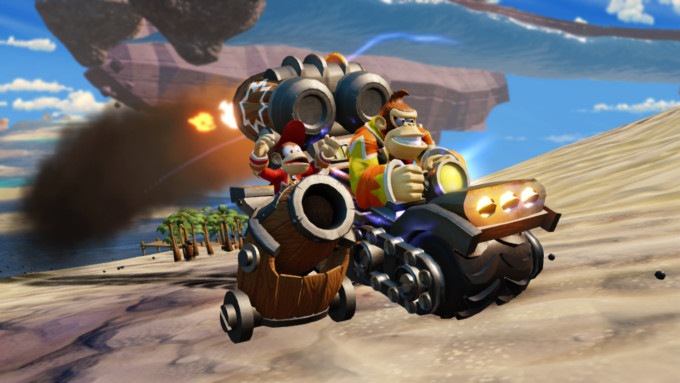 Skylanders SuperChargers expands upon the franchise's signature gameplay to introduce vehicles-to-life, an entirely new way for fans to experience the magic of Skylands. The game offers a rich story-driven gameplay experience filled with vehicle-based and on-foot adventures, combat, puzzles, mini games, activities and platforming, set within a variety of all-new compelling environments. Skylanders SuperChargers is forward compatible with all 300+ unique toys from all previous games – Skylanders® Trap Team, Skylanders® SWAP Force™, Skylanders® Giants and Skylanders® Spyro's Adventure.

Skylanders SuperChargers is available for the PlayStation® 3 and PlayStation® 4 computer entertainment systems, Xbox 360™ and Xbox One™ video game and entertainment systems from Microsoft ($74.99 MSRP). The game includes two of Nintendo's iconic characters reimagined as Skylanders — Turbo Charge Donkey Kong and Hammer Slam Bowser — available exclusively in Skylanders SuperChargers Starter Packs for the Wii U system ($74.99 MSRP), and in Skylanders® SuperChargers Racing Starter Packs for the Wii system ($74.99 MSRP) and the Nintendo 3DS family of systems ($64.99 MSRP).

The full Skylanders SuperChargers game is also available for compatible iPad, iPhone, iPod touch and the new Apple TV ($74.99 MSRP), offering fans even more value with a new save feature using iCloud which provides seamless continuity between multiple Apple devices.

Product featured on my Holiday Gift Guide!
Stay Connected
For more information please visit https://www.skylanders.com/ or follow Skylanders on Instagram @SkylanderstheGame, Twitter @SkylandersGame and Facebook.com/SkylandersGame.