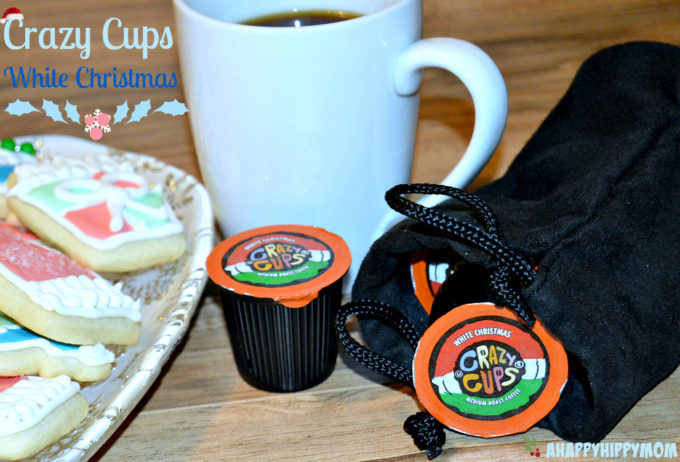 Disclosure:  Crazy Cups provided me with a product to facilitate this post.  The words and opinions expressed in this review are strictly of my own.
If you could bottle up everything you love about a White Christmas what would it taste like? The answer would more than likely vary from person to person. Coming from an individual who is passionate about Christmas and coffee, I think Crazy Cups did a fantastic job capturing the flavors of the season with their White Christmas Flavored Coffee Single Serve Cups. The medium roast coffee has delicious hints of Caramel, Macadamia Coconut, Vanilla and Bourbon. The coffee is smooth and leaves a pleasant after taste of mostly coconut, which is not overwhelming yet is the predominant flavor. The coffee pairs nicely with sugar cookies and is the reason Santa keeps it as his secret stash!
Personally, I would like a bit more Bourbon flavor in my White Christmas, so I might add an extra splash or two (maybe even three) to my coffee. The holidays are a wonderful time of year and a little over indulging once in a while just seems like the Christmassy thing to do. A splash here, a splash there, a splash of yummy happiness everywhere! However, the coffee is good all on its own and I love the fact I can still enjoy a White Christmas sip after sip once the holiday is long gone! Give it a try! I don't think you will be disappointed!
About Crazy Cups White Christmas Flavored Coffee Single Serve Cups
Coffee with rich notes of Caramel, Macadamia Coconut, Vanilla and Bourbon. This is Santa's Secret Stash – what he drinks while eating your cookies.
The Single Serve Cups contains 13 grams of coffee in each cup for a flavorful cup of coffee.
Compatible with Keurig K cups brewer other than the Keurig 2.0 brewer.
Crazy Cups Are GLUTEN FREE, NUT FREE, NO CALORIES flavored coffee.
Use cool-peel-recycle technology – The cups are recyclable.
Happy White Christmas to all, and to all a good-night!
Stay Connected
Like Crazy Cups on Facebook
Follow Crazy Cups on Twitter
Crazy Cups on Pinterest