Disclosure: The reviewer has been compensated in the form of a Best Buy Gift Card and/or received the product/service at a reduced price or for free.
From powerful smartphones, to high tech tablets equipped with front and rear facing cameras, capturing the moment has never been easier.   Advancement in digital technology and social media has collectively turned most of us into picture taking junkies with an estimate of 27,800 photos uploaded to Instagram per minute and a whopping 208,300 photos uploaded every minute to Facebook. In 2012, Popular Photography reported Facebook is on record to say that over six billion photos per month are added. Other popular sites like YouTube estimate more than 100 hours of video are uploaded! And I can bet those numbers have jumped tremendously as the years progressed. Personally, I take on the average of 10 photos on a normal day (more when doing reviews or traveling)which may not seem like a lot, but once you do the math it equals out to 300 photos monthly and 3,600 yearly! Organizing, editing, and sharing these wonderful gems has never been easier thanks to Adobe PhotoShop Elements + Premiere Elements 14!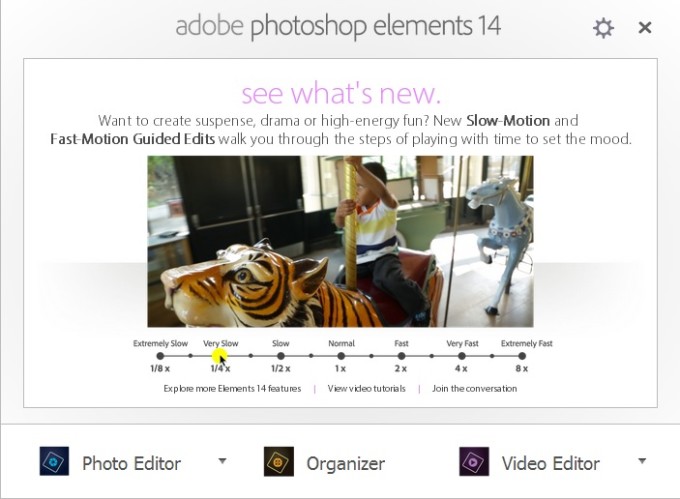 Lots of Headroom to Grow-Novice to Expert
Whether you're a novice picture taker, somewhat experienced or photography pro, Adobe Photoshop Elements and Premiere Elements 14 software offers the tools to get you organizing, editing, and sharing your photos and videos like a pro with ease. Capture the image "now" and perfect the photo or video later. It's easy with Elements."  Feature tabs include:
eLive (Elements Live)- A selection of tutorials on how to use Elements and product news handpicked from Adobe and various internet sites. This tab will help inspire you and give useful tips on how to make stunning photography using the software.
Quick- Great for beginners! Dramatically improve the appearance of your photos with a simple click! You are also able to change the texture, adjust the brightness and color, sharpen, or add special effects like frames in this mode. The before and after view helps you make the perfect photo alterations.
Guided- Under the "Guided Tab" you will discover several step-by-step walkthroughs for perfecting your photos including resizing for print usage or web sharing, adding fun effects, changing from black to white, photo merging, straightening, and much more! Very powerful tool for adding those special touches to make your photo and video POP with simple steps.
Expert- Access to all the tools needed to perfect your photo with custom changes. Crop, remove unwanted subjects, change background, add text, and lots more…everything needed to make your photo stand out from the rest.
Extremely Powerful Organizer
Adobe PhotoShop Elements + Premiere Elements 14 come with a very powerful tool to manage your photos and videos in one place. The memory keeper is easily able to keep track of those special moments with built-in auto organization tools. Organize photos and videos by people, places, or events. The "Media" tab allows the user to view the entire collection in a very neat and tidy platform by date.
One of the coolest parts of the organizer is the built-in facial recognition in the "People" tab which finds the faces in the photos and groups the photos together by individual persons in the catalog. The software does all the work for you!
The Adobe Organizer also is able to manage photos by where you were in the world when you took the picture under the "Places" tab. If the photo is taken with a camera equipped with GPS, like most smartphones have, as you import the photos they are automatically placed on the map! If taken with a camera without GPS then it is a simple drag and drop on the map to organize the photos by location.
The "Events" option gives the user the power to group photos by a particular event such as anniversary, birthday, vacation, graduation, or whatever special moment is captured.
Other ways to organize is by albums, keyword tags, and lots of other great organization capabilities allowing the user to quickly find the photos they want to view and share.
AWESOME New Editing Features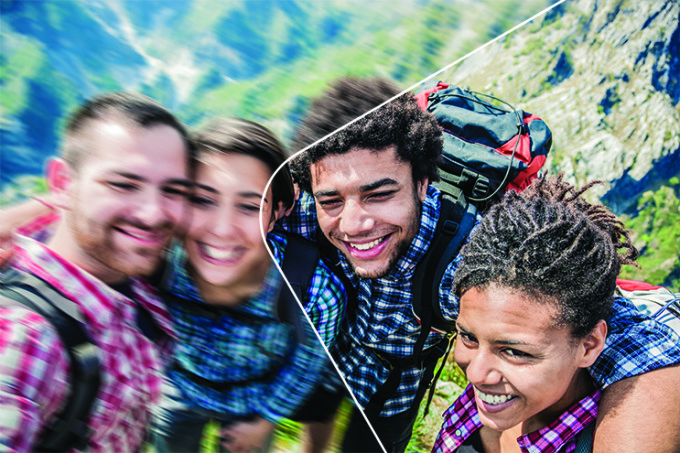 The best part of selfies is they are taken in the spare of the moment capturing special places, events, or fashion statements. Now, I can't even begin to tell you how many selfies I have deleted, because they were too blurry due to my hands shaking while taking the snapshot. What a huge disappointment! Not anymore! The new Auto Shake Reduction feature in Photoshop Elements 14 fixes the photo by removing the blur with a touch of a button.  You can even select specific areas on the picture to correct and adjust the sensitivity slider to get the best photo possible.
As I am sure you are already aware, weather can play a very important part on how your picture turns out. Unwanted haze typically ruins a picture and normally you would need a special expensive polarizer lens to filter out the undesired conditions. The Haze Removal feature in Photoshop Elements 14 is able to cut through the haze and fog in your pictures, giving you clearer backgrounds and landscapes.
Other great new features in Photoshop Elements 14 include the Straightening Tool, Auto smart looks, enhanced Refine Selection Brush tool, and a new Guided interface.
Photo Bombs Be Gone
Bloggers understand most individuals are visual and a photo is an important part of getting the story across quickly in an artistic means. A perfect photo capturing the message wanted can separate you from the rest. With over 152 million blogs on the internet, you need an edge to get noticed! With that being said, you can't always control the situation and unwanted images –like people—sometimes ruin the photo. You know what I mean. Those little photo bombers who think it's hilarious to walk in the backgrounds just as you take the perfect shot!  It completely destroys the desired photo and the moment is flushed!
Recently, I had the prime opportunity to attend a webinar with guest speaker Bob Gager the Adobe Product Manager who walked the attendees through the new release of Adobe Photoshop Elements & Premiere Elements 14. Bob showed us all the tips and tricks to easily create eye-catching images and videos. One of the most significant editing tricks he demonstrated was the ability to get rid of unwanted elements like photo wreckers in the background using the "Healing Brush." To get rid of the photo invader all he did was paint over the photo wrecker using the "Healing Brush" and BAM he was GONE!   The amazing thing is you don't even need to be exactly precise, because the tool works like magic and gets rid of the unwanted element while leaving the rest of the background fully intact! To me, this is one of the most powerful tools any photographer seeks!
Bob showed other fantastic ways of editing photos and videos using Adobe PhotoShop Elements + Premiere Elements 14 like adding a speed effect, cool text, and more. It was an awesome webinar! Thank you Bob!
Example of what you can do!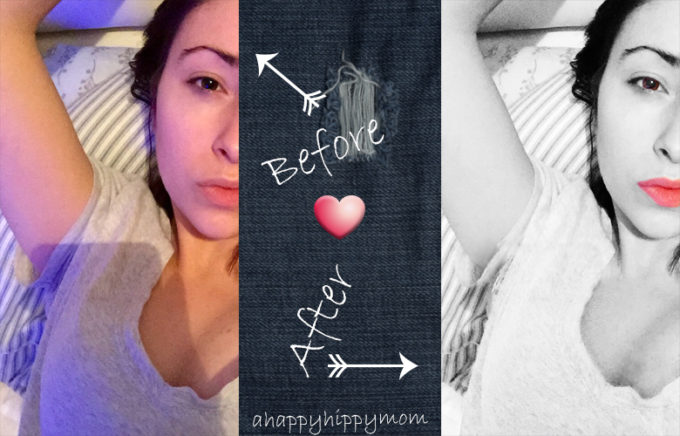 My daughter is the selfie queen! I think she is absolutely gorgeous and a stunning example how you can take a simple selfie using a smartphone and turn it into an extraordinary photo using Adobe PhotoShop Elements 14. To edit the picture I initially used Adobe PhotoShop Elements 14 Guided B&W Selection to convert the original photo to black and white. I highlighted her lips and eyes to keep the color in those areas. After that, I removed the prominent shadow from the reflection of the smartphone under the "Expert tab" by quick selecting the area and lightening the levels. A few tweaks of "cloning" the shirt in spots, applying the"Healing Tool brush", and perfecting with the "Perfect Portrait" for a flawless appearance—I was able to turn an ordinary selfie into a fantastic eye-catching photo that POPS! This is just a very small example of what can be done with Adobe PhotoShop Elements 14.
Here is a fine example of what the Healing Brush can do.  As you can see my thumb made an unwanted appearance in the Disney picture below.  What a shame to have a once in a life time shot only to ruin it by being hand clumsy!  I mean it is not every day I get to go to Disney!  Also, if you notice there is a man on the far side of the photo who is a distraction.  I was able to get rid of both of those objects using the Spot Healing Brush content aware and Healing Brush clone overlay tools.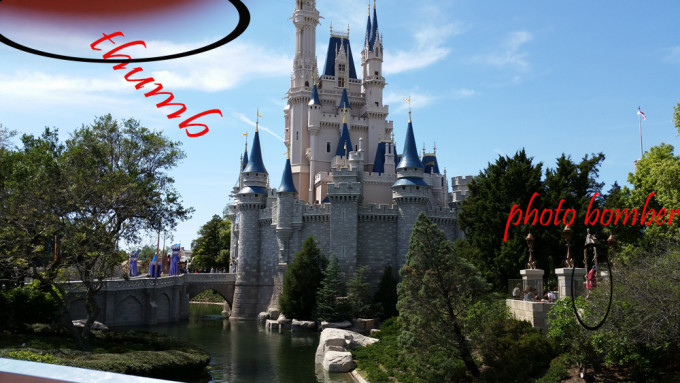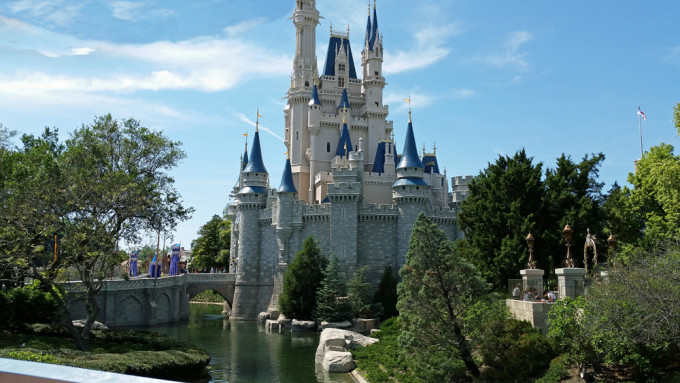 Conclusion
Adobe PhotoShop Elements + Premiere Elements 14 allow the user (no matter what level of experience) to transform photos and videos with quick edits, artistic touches and cool effects for pro like results! The software is ideal for the casual picture taker or those just getting started who seek a simple solution to organize, edit, and share their photos and videos. However, the software also caters to the expert who is experienced in photo and video editing offering sophisticated tools to create stunning pictures and movies.
New features such as the Shake Reduction, Haze Removal, Auto Smart Tool, Straightening Tool, enhanced Refine Selection Brush tool, and Guided edits make Adobe PhotoShop Elements 14 a worthwhile upgrade must to the already Adobe PhotoShop Elements user.
Additionally, the Organizer alone is a great reason to invest in the software!   It does the organizing work for you by using face recognition software and GPS to group photos and videos together by "People, Places , and Events. Create and share Greeting Cards, Photo Calendars, Photo Collages, or update your Facebook Cover all with simple clicks. Sharing photos and movies via disc or on Facebook, YouTube, Vimeo, and Twitter is also a breeze! You can even edit and view high-res 4K movies for the ultimate cinematic experience, and make them standout by easily adding animated titles and transitions.
The skinny of it is, the Elements lineups are all about allowing the user to make pro results with simplicity and being able to easily share their works of art with friends and family!
Buy It!
Adobe PhotoShop Elements + Premiere Elements 14 is available for purchase at Best Buy with a suggested retail price of $149.99.