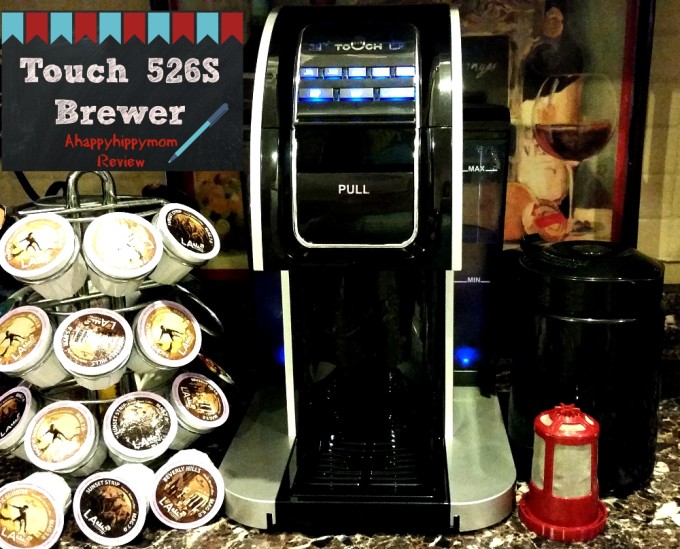 Disclosure: Touch Coffee & Beverages  provided me with product to facilitate this post.  The words and opinions expressed in this review are strictly of my own.
Faster-Bigger-Bolder. When I hear those three words pertaining to coffee—my ears immediately perk up! Especially now with back-to-school routine around the corner! This is what Touch Coffee & Beverages new Touch 526S brewer system delivers with its groundbreaking single-serve platform and re-engineered capsules.  You get a delicious, stronger and bigger cup of coffee without the wait! The brewer lets you kick start your day even sooner with coffeehouse quality coffee in a fraction of the time (using less energy) compared to its competitors.
Touch 526S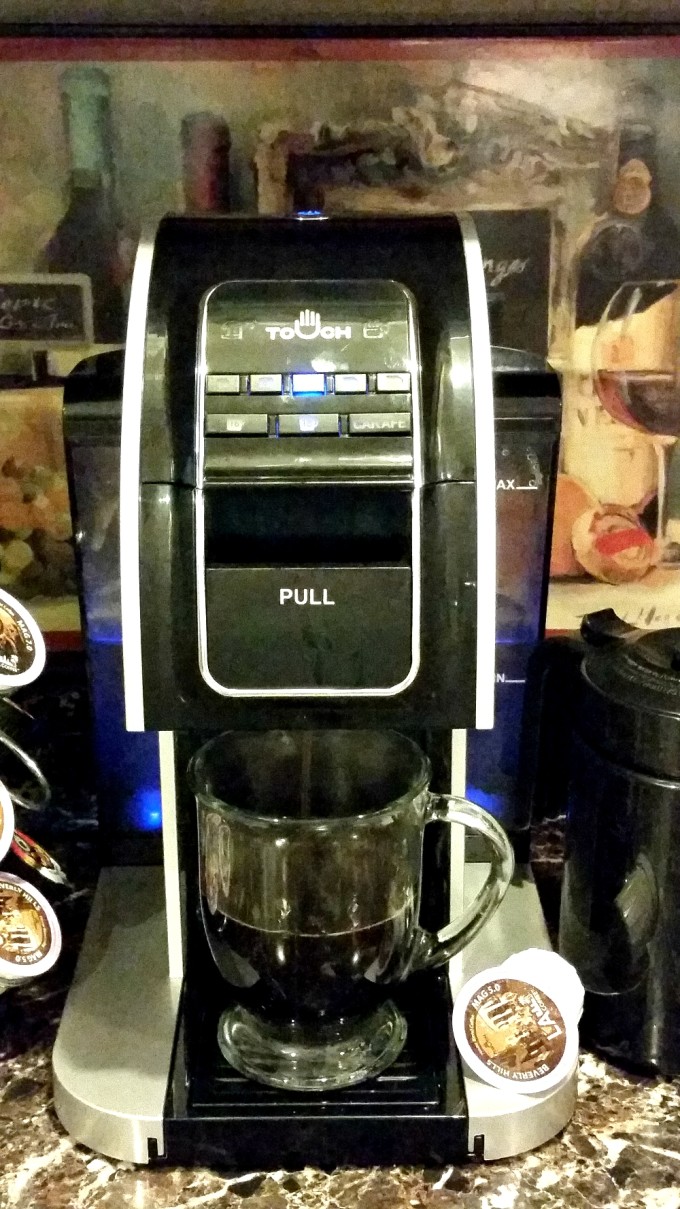 Faster
Some single-serve brewers can take up to 4 minutes to heat water once unplugged. The Touch 526S begins brewing under 30 seconds after being off all night! From a warm start, the unit starts brewing almost immediately and you have a perfect cup of coffee in about 1 minute. The machine uses Flash Heating system to reach the ideal temperature of between 195-205 degrees Fahrenheit for optimal extraction and only heats enough water for the selected cup size as opposed to the entire tank of water.
Bigger
What I really like about the Touch 526S is its versatility. Some days call for more coffee than others! The 526S brewer allows you to customize your cup by choosing from eight cup sizes (6, 8, 10, 12, 14, 16, or 18 ounces and carafe)! The carafe holds up to 4 cups of coffee for those days you need a little extra jolt! It comes with a reusable Refill Jumbo Cup that lets you pack 20 to 40 grams of your favorite coffee grounds, which is great for a travel mug or the carafe.
Bolder
Most single-serve machines only allow you to use their k-cups, but the Touch 526S is compatible with Keurig K-cups, generic cups, and Touch's ground-breaking XBold Cups, XLarge Cups and reusable Refill Jumbo Cup for filling your favorite coffee grounds. The Touch Coffee & Beverages design team wanted to give consumers the perfect cup, every time and I think they definitely achieved (if not exceeded) their goals! The brewer's well thought-out design allows hot water to have more contact with the grounds for better extraction and the result is a much bolder, richer flavor cup of coffee. Plus, teamed with the new L.A. Coffee made with 100% Arabica beans, the brewer is blowing away the competition! Compared to most K-Cups, which only fit up to 12.5 grams of coffee, XBold Cups contain up to 15 grams of coffee and XLARGE CUPS provide up to 18 grams of coffee for brewing 2 cups of coffee at once. Inside the capsules are patent-pending Flavor Grooves that swirl the coffee grinds during the brewing process to release bold aromas and flavors.
High-end design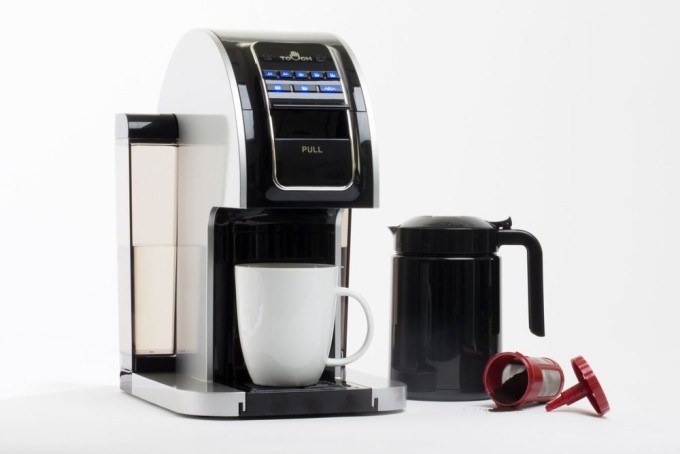 [field name= iframe]
Touch 526S brewer looks posh and fabulous on the counter. The bright blue lights against the dark black make for a very beautiful machine. It comes with an easy to fill removable 90-ounce water tank that has a very cool space saving wrap around the back design. Additionally, it is shorter in height and the large capacity means you will have to fill it less often.
Another fantastic feature the brewer has is it saves up to 30% energy compared to other brewers and contains an auto shutoff that activates after using. It does not have a programmable feature or a clock, but you really don't need those extras since the brewer is very fast upon initialing powering up. Overall, the machine comes with everything you need to get started, is fairly quiet, very quick, and super convenient for easy use. It really is an awesome machine!
Breakdown of features per manufacturer:
Compatible with portion packs, including All K-Cup® portion packs and Touch XBold Cup™ and XLarge Cup™
Brews Faster, Bigger, and Bolder tasting coffee
Brew Strength: Default BOLD
8 Cup Sizes: 6, 8, 10, 12, 14, 16, 18 oz. and Carafe
Brews a pot of drip coffee in about 3 minutes
New reliable rapid brewing technology designed to last many years
Quickly brews a cup of coffee in about 1 minute: Brewer only takes 30 seconds to warm up from the cold start.
Extra Large Water Tank: 90 oz.
Warranty: 1 Year Manufacture Warranty
MRSP $249.99
Buy It!
Touch brewers are currently available for purchase on Amazon and HomeDepot.com.
[field name= iframe1]
L.A. Coffee XBold Cups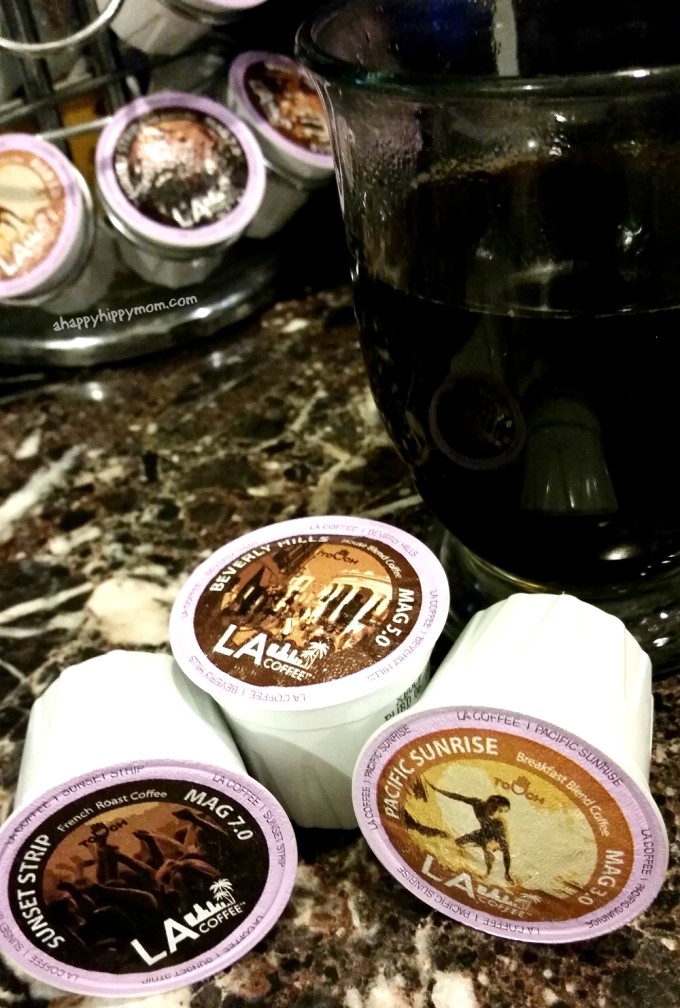 L.A. Coffee XBold Cups are available in Pacific Sunrise, Beverly Hills, and Sunset Strip roasts. I was sent samples of all three varieties and they were all extremely delicious! Each one has something different to satisfy your coffee cravings!
Pacific Sunrise– a light roast with a sweet and soothing flavor
Beverly Hills– a rich and decadent medium roast
Sunset Strip– packed with a generous portion of French Roast Arabica beans for an intense and extra bold brew.
*L.A. Coffee is currently available in packs of 24 single-serve coffee cups at www.touchbrew.com . For additional information about Touch's brewers, accessories, and coffee, please visit www.TouchBeverages.com.
*Disclaimer; Touch Coffee & Beverages, LLC is NOT affiliated with Keurig, Inc. or GreenMountain Coffee Roasters. Keurig and K-Cup are registered trademarks of Keurig, Inc.
Stay Connected with Touch Coffee & Beverages
Visit the Touch Coffee & Beverages website
Like the Touch Coffee & Beverages Facebook page
Follow Touch Coffee & Beverages on Twitter
Checkout Touch Coffee & Beverages on Pinterest
Back to School Touch Coffee & Beverages Touch 526S Brewer and L.A. Coffee Giveaway!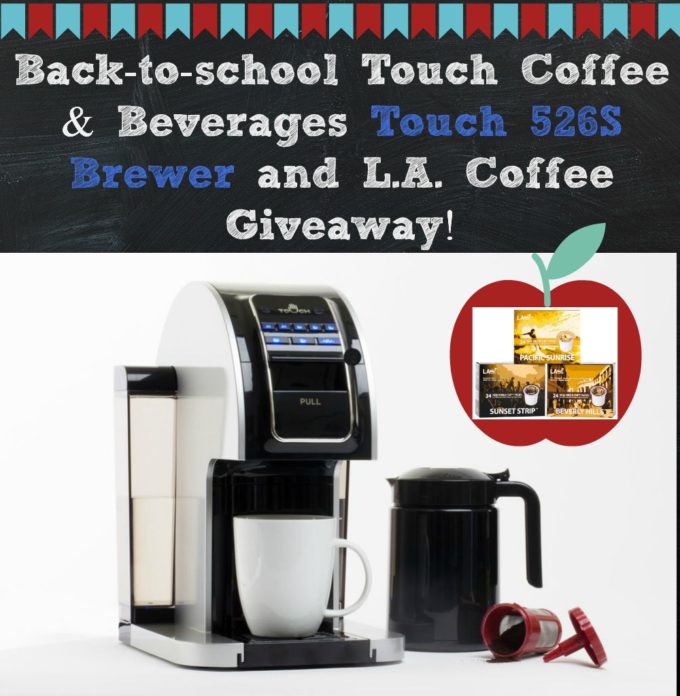 Courtesy of Touch Coffee & Beverages, one lucky reader is going to receive an innovative Touch 526 Brewer and L.A. Coffee samples to help jump start their back-to-school morning routine! The prize is valued over $250!
To enter the giveaway, please follow the instructions provided on the Rafflecopter form. Any comments are welcomed below, but won't count towards the giveaway. Only entries using the Rafflecopter form will be eligible for prize. Thank you!
Open To US Residents Only- age 18 + Ends August 29th , at 11:59 pm (eastern time)! Enter Daily!
[field name= iframe2]