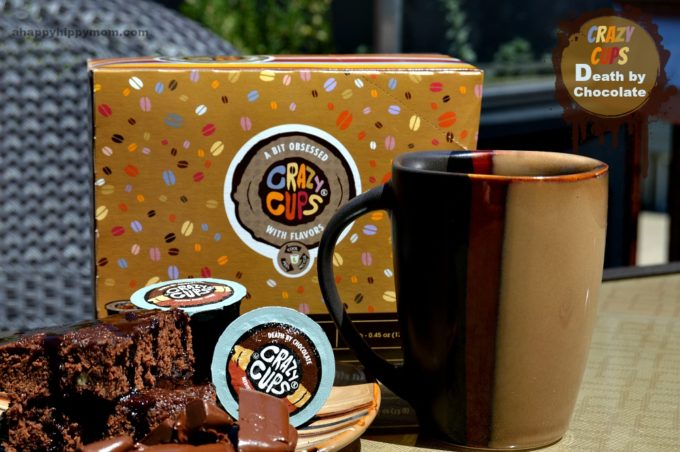 Disclosure:  Crazy Cups provided me with a product to facilitate this post.  The words and opinions expressed in this review are strictly of my own.
There is coffee. And then there is COFFEE that blows your socks off! Crazy Cups (crazycups.com) recently sent me a box of Death By Chocolate Flavored Coffee Single Serve Cups as part of their monthly flavor ambassador program and let me tell you—it is delicious!   The classic combo of chocolate and coffee is definitely a winner in my java book. There is just something indescribably scrumptious about starting the day with a rich cup of coffee brimming with the flavor of delectable chocolate. It's an eye opener flavor seekers love first thing in the morning.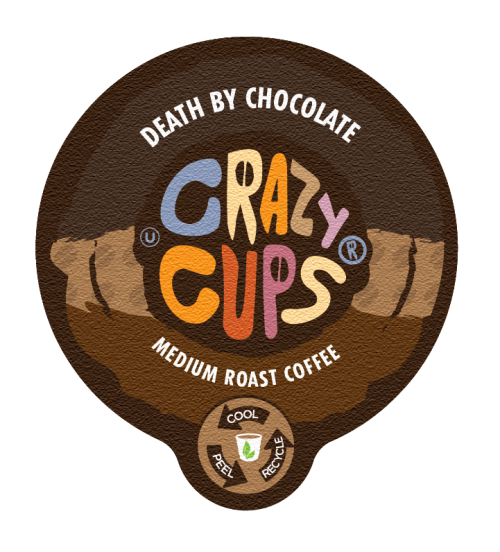 Now, I have tried lots of coffee chocolate k-cups over my years of drinking the beverage, but I was shocked at the goodness and rich aroma coming from the Crazy Cups. You can actually smell the chocolate through the k-cup before brewing it! If you are a chocoholic—this is a must try! You get all the wonderful taste of chocolate with a delectable smooth medium roast coffee twist without all the calories of chocolate. I enjoy it black, but it would go great with a splash of creamer for those you want more of a hot cocoa feel without packing on the calories. It would also be fantastic to make ice coffee or a frozen coffee blended with skim milk and sugar free syrup as a nice cool-me-down summer treat. However you decide to serve it—one thing is for sure—the chocolate flavor will be bursting throughout!
Crazy Cups offers a variety of flavored coffees which are bold and CRAZY good! Their single-serve coffee capsules contain 35% more coffee (13g!!!) than other brands and come in a wide selection of delicious out-of-the-box flavors like Italian Chocolate Cheesecake , Frosted Oatmeal Cookie,   and Banana Foster Flambe, just to name a few. Crazy Cups are free from sugar, nuts, sweeteners, gluten, calorie free, and are even kosher! Plus, all of Crazy Cups brand coffee Single Serve cups are completely recyclable using the cool-peel-recycle technology!
Every month I will be trying a new Crazy Cups flavor k-cup and letting you know honestly what I think about it. Additionally, each month one of my readers will win the featured Crazy Cups flavor, so keep watching for your chance to snag it! My plans are to also give ideas of how to use the new k-cup in a mouthwatering recipe as well! Lots of CRaZY fun coming your way!
Buy It
[field name= iframe1]
Crazy Cups Death by Chocolate Giveaway!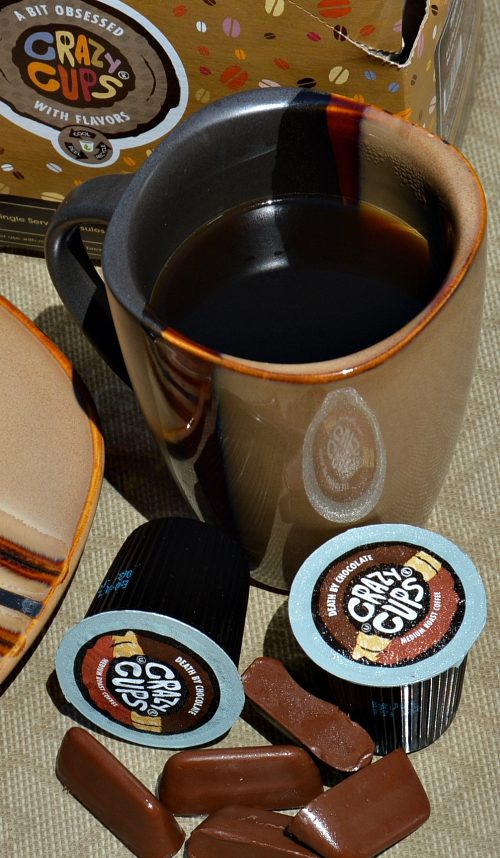 Courtesy of our friends at Crazy Cups, a lucky reader is going to receive a box of delicious box of Death By Chocolate Flavored Coffee Single Serve Cups !
To enter the giveaway, please follow the instructions provided on the Rafflecopter form. Any comments are welcomed below, but won't count towards the giveaway. Only entries using the Rafflecopter form will be eligible for prize. Thank you!
Open To US Residents Only- age 18 + Ends August 7th , at 11:59 pm (eastern time)! Enter Daily!
[field name= iframe]
Stay Connected
Like Crazy Cups on Facebook
Follow Crazy Cups on Twitter
Crazy Cups on Pinterest