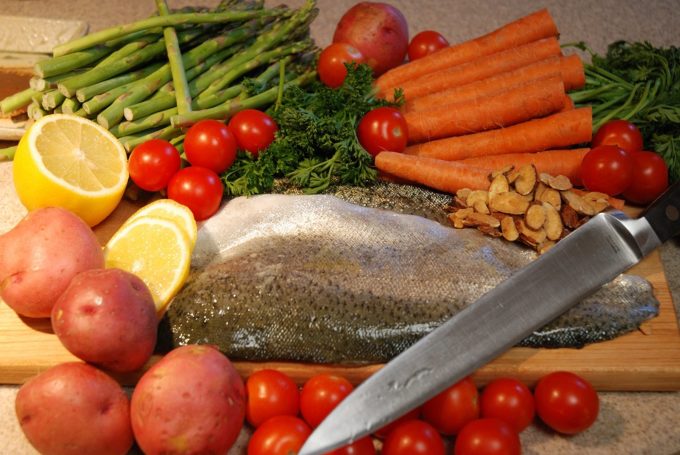 As the saying goes, the clothes make the man. By the same token, it could be said that the knives make the chef. If you want to cook well, then you need the right equipment to get the job done. All cooking starts with preparation and that usually means cutting, chopping, and slicing everything from meat to vegetables. Here is a look at the three knives that every great chef must have.
The Chef's Knife
An eight-inch chef's knife is a must for any serious cook. Purchasing a good chef's knife usually means spending well over one hundred dollars, but it also means getting a well-made knife that will last for a lifetime. You'll use your chef's knife to chop vegetables, slice herbs, carve birds, crack coconuts, and so much more. When you do decide to buy one, go to a store and hold as many as you can get your hands on. Different types of knives and different brands feel "natural" to different people and the only way to know what suits you is to give them all a test drive.
The Paring Knife
The paring knife may be small, but it is one of the most powerful knives in your repertoire. There are certain tasks that are nearly impossible to accomplish with a chef's knife, like peeling fruit or supreming citrus. A good paring knife will cost almost as much as a good chef's knife, but you'll come to love it just as much as your chef's knife once you realize its utility.
The Bread Knife
The purpose of the bread knife is to cut through any bread without crushing it. Bread knives are also useful for slicing overly ripe tomatoes, leveling cakes, and even shaving chocolate. Though used slightly less often than the knives above, the bread knife is still a must in a gourmet kitchen.
Secrets of a Great Knife
Despite their different uses and different designs, good knives share several things in common. First and foremost, a great knife must be sharp. Dull knives, no matter how well made they are made, simply won't do as good a job as a sharp knife. Even more important than the quality of work, however, is safety. Studies show that people cut themselves far more often with dull knives than with sharp knives, because they have to put more pressure on them to get the job done. More pressure means less control and more chance of a slip that leads to injury. Keep your knives sharp.
The second property of a great knife is balance. This somewhat subjective property refers to distribution of weight between the blade and the handle. Some chefs prefer a heavier blade, some prefer a heavier handle, and some prefer a near perfect balance. The only way to know what you prefer is to test lots of different knives before you buy. Head to a store like Bed Bath & Beyond to try out a range of different brands and styles.
The final secret to a great knife is to ensure it is made of forged steel rather than stamped steel. Forged steel is stronger, remains sharp for longer, and can be honed to a finer edge than a stamped steel blade could ever achieve. Forged steel costs more, but is well worth the investment.
Andrea Harris is a cook who values a sharp knife. Always on the lookout for great cooking utensils, she likes to share whatever she finds by posting online. You can read her informative articles on many cooking, home and entertaining websites and blog sites.