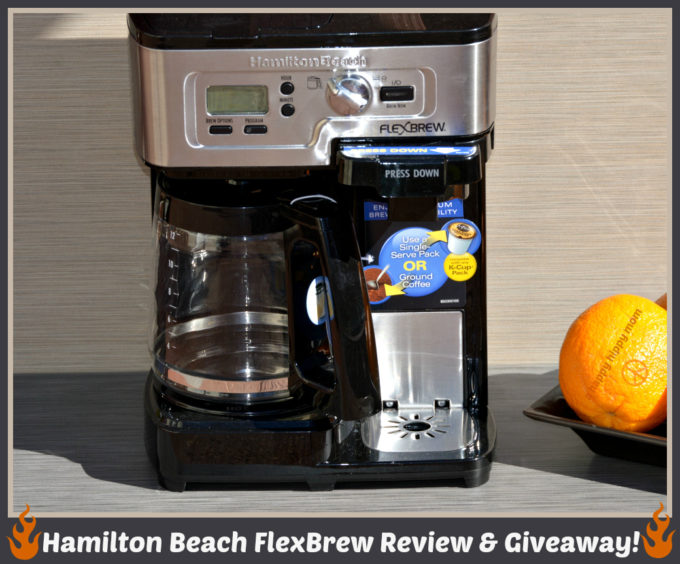 Disclosure:  Hamilton Beach provided me with a product to facilitate this post.  The words and opinions expressed in this review are strictly of my own.
Every day is a coffee day for me. Depending upon how I feel and the start of my day, sometimes it's a single cup while other times demands a full pot. For the days where I consume more than one cup it means the k-cups begin piling up in the trash which is in my opinion very wasteful and bad for the environment. Yes, I have a reusable k-cup and used it often. Unfortunately, when I replaced the coffee machine with a newer model…it wouldn't fit.   The whole purpose of a single-serve coffeemaker is to cut back on waste by not brewing more than you can drink, but if you are having 4 or 5 cups a day—it's better to brew a pot. With that being said, I don't have the room on my counter top for multiple machines, so I was super excited to learn about the Hamilton Beach 2-Way FlexBrew Coffeemaker!
Hamilton Beach FlexBrew 2-Way Coffeemaker
[field name= iframe]
The Hamilton Beach FlexBrew 2-Way Coffeemaker is what most coffee enthusiasts crave—flexibility in their coffee morning routine! The user friendly (once you get to understand all its features) coffee-brewing machine allows the user to brew coffee in different ways: Single-cup using fresh grounds or k-cups or soft pods or up to a 12 cup pot of coffee with the choice of Regular or Bold modes.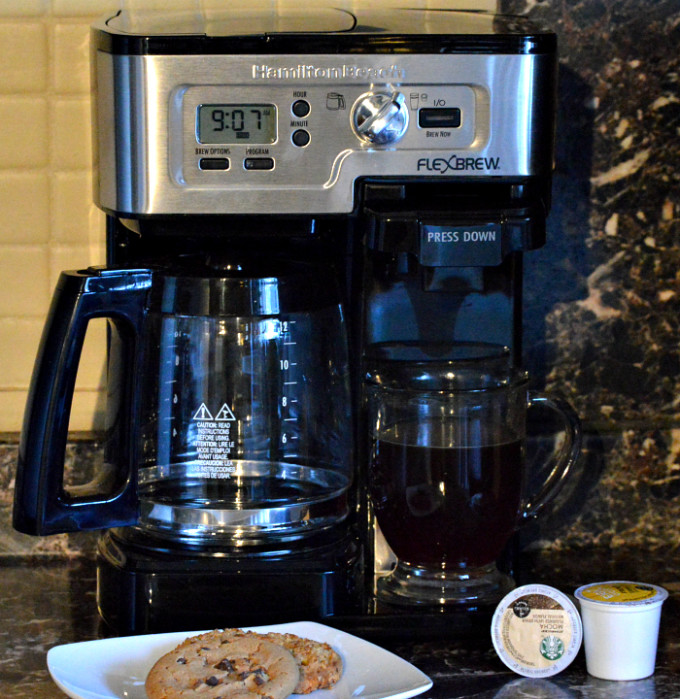 Single Serve Option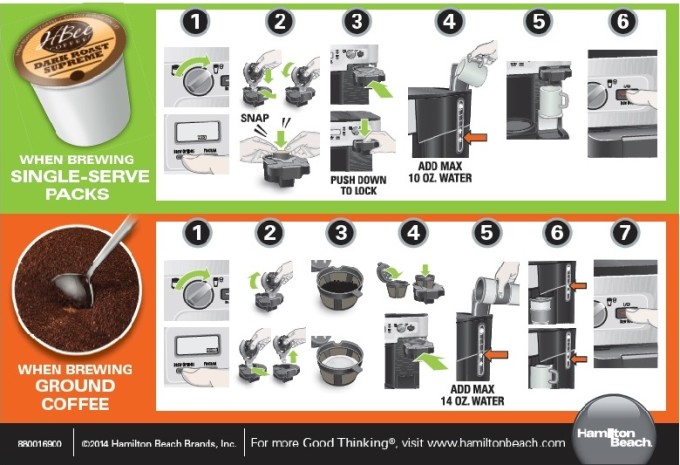 The Single Serve Side takes a bit of getting used to, but once you understand how it works you are going to love the flexibility of being able to use the different coffee options. This truly ends the disappointment of waking up in the morning to find you are all out of k-cups and having to travel to the store –while shocking everyone there because they have to look at you in your pajamas –just so you can get your coffee fix. The Hamilton Beach 2-Way FlexBrew Coffeemaker ends the needless morning fashion faux pas in Walmart's coffee aisles.
The trick is not to add too much water to the water reservoir. Only use 10 oz of water for a single-serve pack or up to 14 oz if using fresh ground coffee or the soft pods in a travel mug (not included). Anything over the limit will cause the coffeemaker to display an error message with an annoying long beep.
Hamilton Beach FlexBrew comes with a removable single-serve pack holder for k-cups and a brew basket for the grounds and pods. You have to lift out the k-cup holder before using the brew basket. It's not difficult and can be accomplished with little effort. It can take two minutes for a cup to be brewed.
Carafe Side

Brew up to 12 cups of delicious coffee in the Carafe mode.   To brew, you have to rotate the dial to the left to select carafe, select Regular (default mode) or Bold (takes longer to brew), place a paper filter in brew basket (permanent coffee filter available for purchase separately), add one level Tablespoon of coffee into filter for each cup being made, and fill the water reservoir. Next, place the carafe with lid attached on the warming plate and press the Brew button.
FlexBrew comes with a nifty Pause and Serve feature, so you can grab yourself a cup of coffee during the brew cycle without making a hot mess. The flow of coffee from the bottom of the filter basket will stop once the carafe is removed.
Additionally, for us busy moms and dads who forget to manually turn off the coffeemaker, FlexBrew will auto shut off in two hours.
Programmable
Hamilton Beach FlexBrew 2-Way Coffeemaker allows you to easily program the Carafe side, so you can wake up to a fresh pot in the morning without waiting. Just set the Hour and Minute to the desired time before going to bed. The green program light will display to indicate the unit is programmed correctly and will brew at the selected start time. However, the coffeemaker will only brew on one side at a time, so the Single-serve side cannot be used while the Carafe side is programmed.
Pros and Cons of the Hamilton Beach FlexBrew 2-Way Coffeemaker
Here are the pros and cons I have noticed while using the coffeemaker.
Pros
Uses k-cups, grounds, or pods.
Ultimately flexible to reduce unnecessary waste of k-cups and coffee.
Adjustable cup rest allows for regular mug or travel cup.
Comes with plenty of features such as Pause and Serve and Regular or Bold mode.
Cuts down on counter space by providing everything needed in one coffee machine.
Can be programmed to brew at desired time.
Contains some stainless steel features and dishwasher safe, removable parts.
Looks fantastic on counter top
Brews a great CUP or POT of coffee
Is economically affordable compared to other machines with fewer features.
Cons
Over filling the water reservoir causes an error which disables the coffeemaker until water is removed.
Using the single-serve side takes getting used to.
Auto start does not work with the Single-serve side.
Lots of plastic parts (BPA?)
Conclusion
The Hamilton Beach FlexBrew 2-Way Coffeemaker is truly the most flexible coffee machine currently on the market. It caters to the users coffee needs with being able to use k-cups, coffee grounds, or soft pods. Whether you need a full pot to start your day or just a single delicious cup of coffee to jump start the morning, the coffeemaker is ready to deliver. Additionally, the FlexBrew contains all the bells and whistles of a pricey machine for the fraction of the cost! For someone who is interested on cutting down on k-cup and coffee waste this is the machine to do the trick!
Buy It!
Hamilton Beach FlexBrew 2-Way Coffeemaker is available for purchase at leading retailers such as Walmart for a suggested price of  $99.99.  Save 17% off the retail price at Amazon.com when you purchase the product for only $82.95!
Hamilton Beach FlexBrew 2-Way Coffeemaker Giveaway! $99.99 Value!
Courtesy of our friends at Hamilton Beach, a lucky reader is going to receive a Hamilton Beach FlexBrew 2-Way Coffeemaker!
To enter the giveaway, please follow the instructions provided on the Rafflecopter form. Any comments are welcomed below, but won't count towards the giveaway. Only entries using the Rafflecopter form will be eligible for prize. Thank you!
Open To US Residents Only- age 18 + Ends May 10th , at 11:59 pm (eastern time)! Enter Daily!
[field name= iframe1]