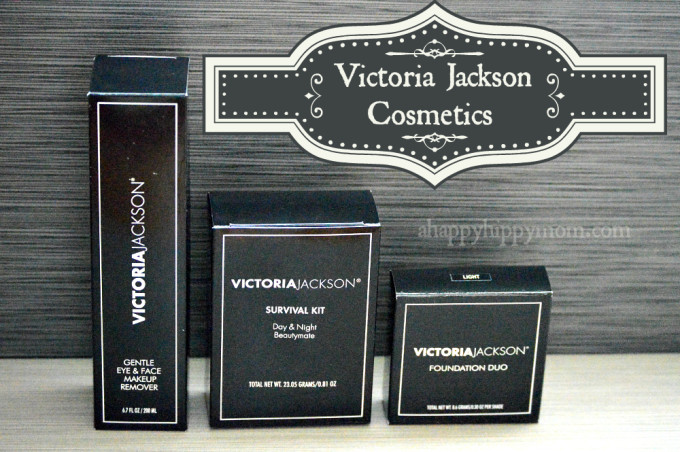 Disclosure: I participated in this sponsored campaign on behalf of Victoria Jackson® and One2One Network. All opinions stated are my own.
Everyone should be confident in their own skin! Whatever makes you feel self-assured and more beautiful is an essential element in your life. Knowing you are naturally beautiful is the first step in feeling good about yourself. But, if enhancing your beautiful features with makeup, hair extensions, false eyelashes, or lavish clothes improves your self-image…you should do it!
Personally, I am more comfortable being around people when I am wearing makeup. Not to mention, it is just enjoyable to apply and one of the great perks of being a woman! I'm a girly girl and love watching makeup tutorials from makeup professionals to try and mimic the look. Achieving pouty lips, smoky eyes, and flawless looking skin takes special techniques, tons of experimenting with different makeup brands, and lots of practice! Makeup is an art form that requires oodles of skills to master. I am far from being a makeup pro, yet it doesn't stop me from having loads of fun with it!
Victoria Jackson Cosmetics

Recently I had an opportunity to try out Victoria Jackson Cosmetics. What attracted me to this particular brand is the belief of letting your natural beauty shine through. Makeup should not be used as a mask, but a way of boosting the beauty you have been born with. The company's mission is to help individuals look better, feel better, and attain a higher confidence level through the use of their makeup products. When you are inner confident about your outer beauty it resonates through in your daily activities leading to positive changes. There is no need to hide behind the makeup, but accentuate your beauty with a dab of foundation, a subtle stroke of a pencil, and a brush of blush!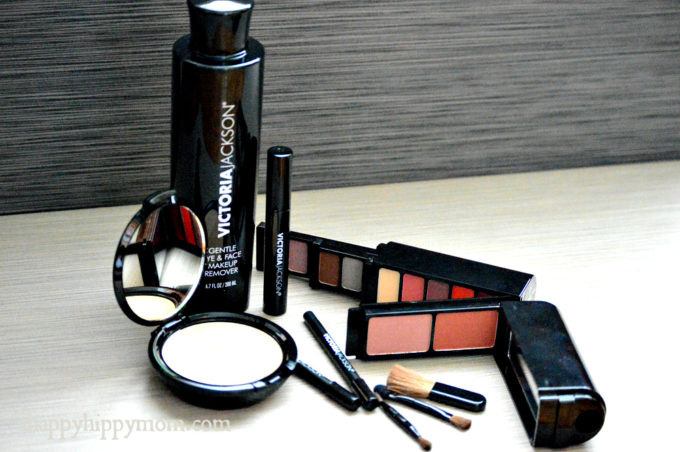 The Victoria Jackson products I have had the pleasure of testing out this past week are Victoria's "No Make Up" Make Up® – the Foundation Duo, Victoria Jackson Survival Kit, and the Gentle Eye & Face Make Up Remover!
The Foundation Duo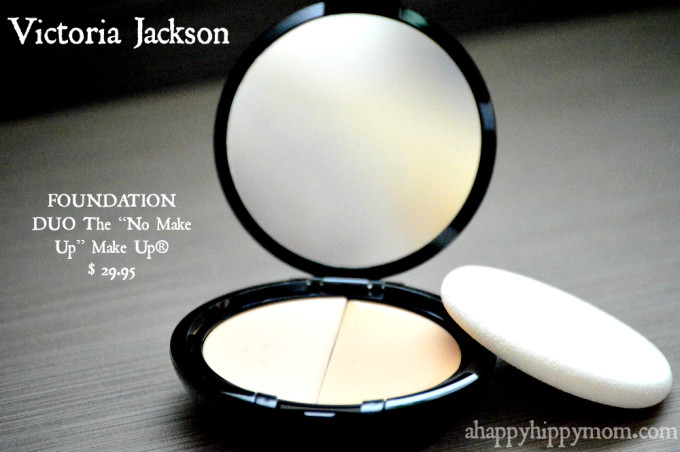 The compact comes with two skin shades for creating the perfect match for your complexion. Simply blend the two or use alone to match your skin tone. The darker shade can also be used to contour! A little goes a long way and I did not need to use a separate concealer for under my eyes, since the foundation is full coverage. Additionally, the foundation is nicely packaged in an easy to store compact (unlike messy tubes) and has a sponge applicator for easy applying. Great for taking with you for those quick touchups on the go! It is oil-free, so it won't clog your pores and I did not find it to weigh down my skin after hours of wear. The Foundation Duo is available in Light, Medium, Tan and Dark for a suggested price of $29.95.
Victoria Jackson Survival Kit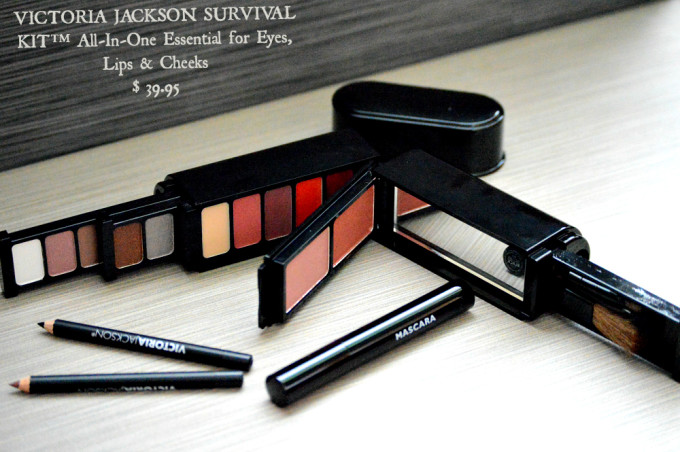 Victoria Jackson Survival Kit is like a Swiss Army knife for makeup! Everything you need to complete your look (other than foundation) is contained in this very compact all essential makeup kit! It is cleverly packaged to store:
10 Eye Shadows in Ice White, Rose Pink, Neutral Brown, Warm Dark Brown, Iridescent Olive, Gold Flecked Warm Brown, Silver Gray, Gray Blue, Gold Flecked Cool Brown and Steel Gray.
5 Lipsticks in Clear Gloss, Rose Pink, Berry Mauve, Fiery Red, and Deep Pink.
2 Blushes in Mauvey Pink and Copper Berry.
2 Liners: 1 lip liner in Dark Nude, 1 eye liner in Deep Black.
Mascara in Midnight Black.
3 Applicators: a blush brush, a liner brush, and a shadow brush.
This product is a must for any girl on the go who needs to quickly touch up her eyes, lips and cheeks. The colors are neutral for a natural ("no makeup" make up look) everyday look and go on smoothly. What I really like about this product is that it can replace all the multiple loose makeup products which clutter up my purse and is fantastic for traveling! I can see why it is one of Victoria Jackson's bestselling products!
To give a perfectly fair review I do have a few issues with the product though. The applicator brushes are not the best for applying the makeup and are just way too tiny for precise application. Also, the mascara could be better, being it has a very small wand and does not plump up the lashes.
Overall, the kit is a great value and is extremely convenient, since everything is right there at your fingertips in a single kit!  Victoria Jackson Survival Kit has a suggested retail price of $39.95.
Gentle Eye & Face Make Up Remover
Ladies…the worst thing you can do for your skin is sleep in your makeup! No matter how tired you are—DON'T DO IT! This Gentle Eye & Face Make Up Remover will get you back to a makeup free, fresh, and clean appearance. It gently and effectively removes makeup without leaving your face feeling oily or greasy. To use, dab a little on a cotton ball and gently remove the makeup from your face and eyes.
I found this product to work wonderfully! It feels like refreshing water and completely removed the mascara, which is typically the hardest to get entirely off. The makeup remover is definitely a great item to pack for any sleepovers, midday refreshing when away from home, or camping trips!
Before and After!
Normally, I do not like putting my face out there without any makeup for the whole world to see! As I get older (44), I get more self-couscous and uncomfortable about my appearance. But, because I love you guys and wanted to let you see the products in action—here are before and after untouched photos!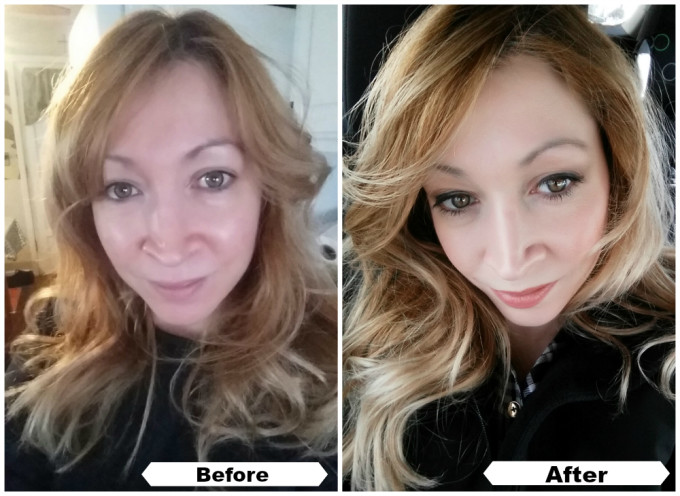 The look I was going for was a natural look without overdoing it. First, I applied the foundation to my entire face, including my eye lids. For the eyes I used Neutral Brown as the base on the lid, Gold Flecked Warm Brown in the crease, and applied the darker Gold Flecked Cool Brown on the outer eye in a "<" shape. Next I gently blended the colors together using the shadow brush to make sure no visible lines were able to be seen. I used the eye liner in Deep Black on the top lash line and followed with the mascara in Midnight Black on my lashes.
On my lips I used the lip liner in Dark Nude and applied Rose Pink with a touch of Clear Gloss in the middle for a fuller look.
I mixed the Mauvey Pink and Copper Berry together and lightly applied to my cheek bones.
Conclusion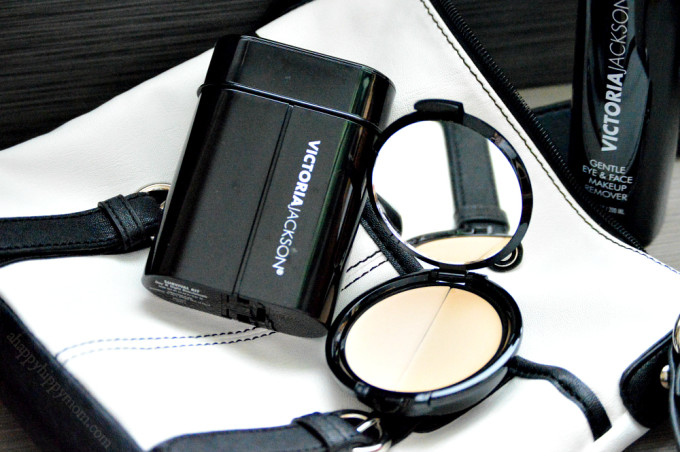 I really like the three Victoria Jackson Cosmetics I received for review! The products are fantastic for girls who want to primp on the go, still look natural, take it all off, and do it all over again! The eye shadow colors are beautiful (could be a bit more pigmented), lipstick non sticky, and foundation is full coverage with two shades for blending to be able to achieve desired skin tone. However, the mascara needs improvement, brushes are a bit small, and the products contain parabens like most makeups. However, the quality of the clever packaging and feel of the makeup makes these products a great value! A must for any gal wanting to stay looking beautiful when away from home! If you are planning on traveling during spring break…grab these three items!
25% discount off!
Buy now and SAVE! Victoria Jackson® is offering an exclusive 25% discount off the entire site using promo code LOVEVJC at checkout.  Offer is valid until 4/4/15.
About Victoria Jackson
Having achieved success as a Hollywood makeup artist, cosmetics entrepreneur and TV infomercial pioneer, Victoria Jackson prefers to think of herself as "a goodwill ambassador for makeup." When women embrace self-confidence, she says, they learn the key to success, and liking who they see in the mirror is a powerful first step in that transformative process. "My personal philosophy has always been, 'When you look better, you feel better. And when you feel better, you can change your life,'" says Jackson, who in the last dozen years has volunteered hundreds of hours at women's correctional facilities, hospitals and youth support venues, teaching inner confidence through outer beauty.

A recognized trailblazer in the cosmetics and infomercial industries, Jackson has racked up eleven of them for her eponymous line Victoria Jackson Cosmetics, which has enjoyed an astounding billion dollars in makeup sales, and continues to grow. Jackson has also reached thousands of women through her two briskly selling books: Redefining Beauty: Discovering Your Individual Beauty, Enhancing Your Self-Esteem (Warner Books, 1993) and Make Up Your Life: Every Woman's Guide to the Power of Makeup (HarperCollins, 2000), a deeply personal account of her experiences in the business which she calls one of her proudest achievements.

An active philanthropist, Victoria's newest charity is near and dear to her heart. The Guthy-Jackson Charitable Foundation is dedicated to funding basic science research to find answers that will lead to the prevention, clinical treatment programs and a cure for Neuromyelitis Optica (NMO) Spectrum Disease. More information about NMO and the foundation can be found at www.guthyjacksonfoundation.org.

Married to husband Bill Guthy of infomercial giant Guthy-Renker, Victoria Jackson is a proud mom of three children and together they make their primary residence in Los Angeles.
Stay Connected