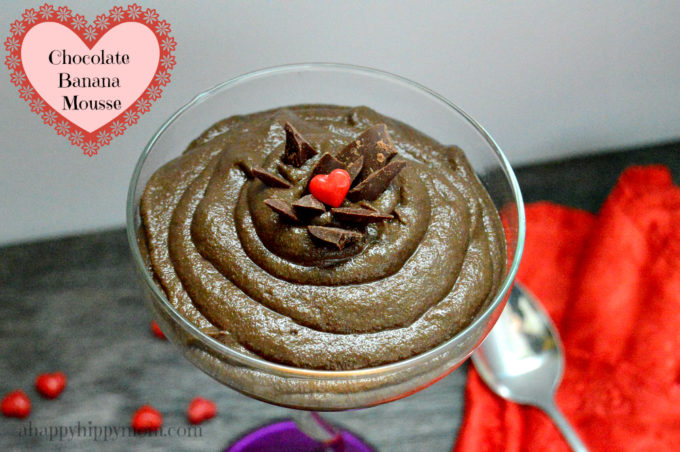 Disclosure:  Ninja Kitchen (Euro-Pro) provided me with  product sample and info for this post.  The words and opinions expressed in this article are strictly of my own.
Chocolate covered candies and the classic Valentine's Day box of chocolate creams are good ways to break your sweetheart's New Year's Resolution of getting fit and losing weight. Skip the fattening stuff and avoid sabotaging their efforts by making your loved ones a decadent sweet treat that tastes sinful, although is actually good for them! Brought to you by the makers of Nutri Ninja Auto-iQ, this delicious Chocolate Banana Mousse whips up in seconds, tastes amazing, and will satisfy your Valentine's sweet tooth without the guilt!
Chocolate Banana Mousse Recipe
A healthier way to enjoy an indulgent Valentine favorite!
Ingredients
2 bananas, ripe, peeled, quartered
2 avocados, ripe, halved, pitted, peeled
¼ cup chocolate sauce
Juice of half an orange
2 tablespoons cocoa powder
Directions
Place all of the ingredients into the Regular 24-ounce Nutri Ninja® Cup in the order listed, starting with banana.
Select "START" and blend for 30 seconds or until desired consistency is achieved.
Place mousse into an airtight container and refrigerate until chilled.
Notes
More Yummy Recipes!
For more delicious recipes to inspire a healthy lifestyle visit
Ninja Kitchen
on Pinterest!
The Nutri Ninja Auto-iQ Difference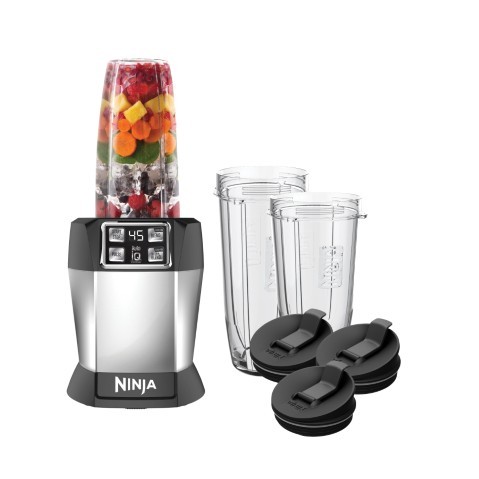 If you are like me you probably strive to eat healthy and love smoothies, but the work involved in preparing them is an enormous pitfall. Or the healthy concoction comes out with that repulsive chunky pulp and yucky foam on the top that sets off the gag reflex. Avoid the sludge and get a Nutri Ninja Auto-iQ!  The Nutri Ninja Auto-iQ resolves those problems by taking the guess work out of making yummy smoothies with its one-touch Intelligent Controls that deliver powerful nutrient and vitamin extraction, producing consistently smooth results at the touch of a button.
[field name= iframe]
My teen daughter loves smoothies every morning for breakfast. However, my old blender just could not handle breaking down the ingredients enough to give a smooth consistency. The smoothie would come out watery with chunks of fruit and bits of veggies floating around in it. To put it mildly, the healthy drink was disgusting and was far from being well blended and smooth. It reminded me of the non-alcoholic grog bowls they use to make the officers drink as a form of punishment for not following the proper etiquette during the formal military ceremonies. Absolutely revolting! So, during Christmas I purchased her a Nutri Ninja Pro.Ninja Pro Extractor Blades quickly break down the ingredients such asice, seeds, skins and stems for a smooth, even consistency. The blender is extremely powerful, simple to clean and use and she loves it!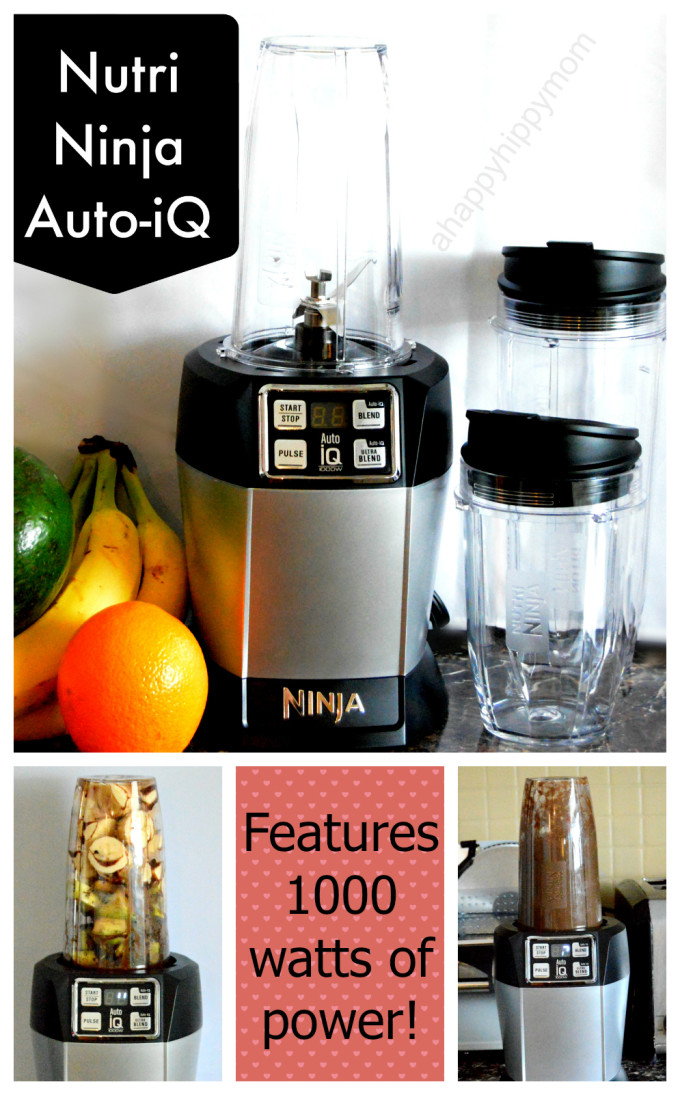 When I was offered to review the Nutri Ninja Auto-iQ I jumped at the chance even though I already had the Nutri Ninja Pro. Why? The difference between the two blenders is that the Nutri Ninja Auto-iQ is equipped with a 1000 Watt motor (Nutri Ninja Pro has 900 Watts), features intelligent one-touch blending programs with digital LED timer, and comes with three Nutri Ninja Cups with Sip & Seal lids instead of just the two on the go containers. The larger Jumbo Multi Serve 32oz cup is great for making soups and desserts for feeding more than one person. Both of the blenders come with the same powerful Nutri Ninja Pro Extractor Blades and ultimately deliver the same great results.  Nevertheless, the Nutri Ninja Auto-iQ is a bit more powerful and you don't have to stand there holding down the cup while it blends and pulsates. The Auto-iQ Technology does the work for you and you can walk around and accomplish other tasks while your smoothie is being made. All you have to do is press a button and it's done. Basically, it is just a matter of preference. I happen to prefer the Nutri Ninja Auto-iQ, although the Nutri Ninja Pro does the job just as well if you don't mind standing there while it blends.
Multi-purpose appliance
 The Nutri Ninja Auto-iQ is fantastic for creating delicious beverages and soups, but is also fabulous for other recipe uses including grinding meats, chopping herbs, emulsifying dips and mixing cake batters. The powerful product is definitely a wonderful multi-purpose appliance to have on your kitchen counter top!
Nutri Ninja 101 for Best Results!
 If you have a Nutri Ninja and not getting desired results when creating your customized recipes, it is most likely due to not layering your ingredients in the container correctly. Yes, there is a suggested system! Don't just pile your foods in there! First add your veggies, then fruit, next liquid, and lastly the ice! Or when following a recipe, add ingredients in the order they appear for smooth and delicious drinks!
Nutri Ninja Auto-iQ includes:
1000 Watt Motor Base with Auto-iQ Technology
Small 18 oz cup
Regular 24 oz cup
Jumbo Multi-serve 32 oz cup
Pro Extractor Blades
3 Sip & Seal Lids
3 Day Jump-Start to Health Guide (may vary)
Let's Get Started Guide
* All detachable parts are dishwasher-safe and crafted of 100percent BPA-free plastic 
Buy It
The Nutri Ninja Auto-iQ makes a superb Valentine's Day gift! The Nutri Ninja Auto-iQ is available at major retailers nationwide at $139 MSRP. For more information about the Nutri Ninja Auto-iQ and additional Euro-Pro products, please visit, www.NinjaKitchen.com. You can also learn more on Facebook at Facebook.com/NinjaKitchen and @NinjaKitchen on Twitter.