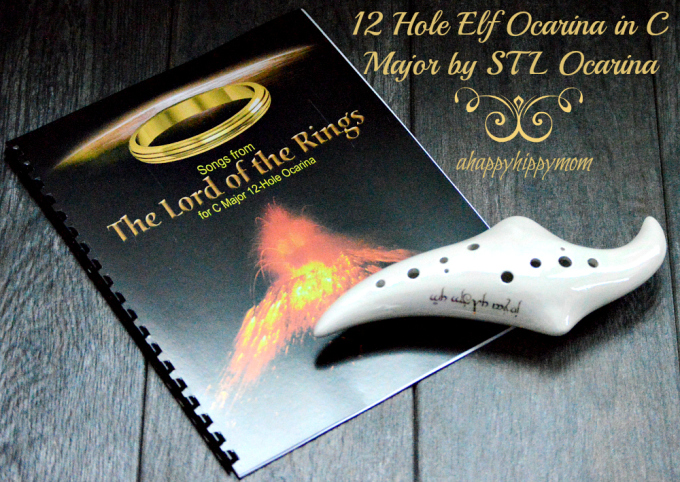 Disclosure:  STL Ocarina provided me with a product to facilitate this post.  The words and opinions expressed in this article are strictly of my own.
The most beloved and remembered gifts are exceptional gifts. Wouldn't you agree? With The Hobbit: The Battle of the Five Armies movie from the Lord of the Rings' Trilogy releasing in theaters next week, I thought it would be timely to let you know about a unique gift that would have any Ringer jumping with joy to receive. I know, because I happen to be a huge Lord of the Rings fan and when I was offered to review the 12 Hole Elf Ocarina in C Major by STL Ocarina — I think I might have let out a little scream.
I first learned what an ocarina was from my daughter who was hooked on playing the video game "The Legend of Zelda Ocarina of Time.  In the video game Link uses an Ocarina to accomplish many of the tasks by playing certain songs. In fact, the most memorable moments of Zelda are actually the beautiful music throughout it. The video game actually came out in 1998, but it is still a favorite of gamers today and is considered to be the most critically acclaimed game of all time. Ocarinas have been around a very long time dating as early as 5,000 BC and were played by the Mayans, Aztecs and Incas of South and Central America. Yet, the wind instrument didn't really explode on the scene in the United States until the release of "The Legend of Zelda" in the 1990s.
12 Hole Elf Ocarina in C Major by STL Ocarina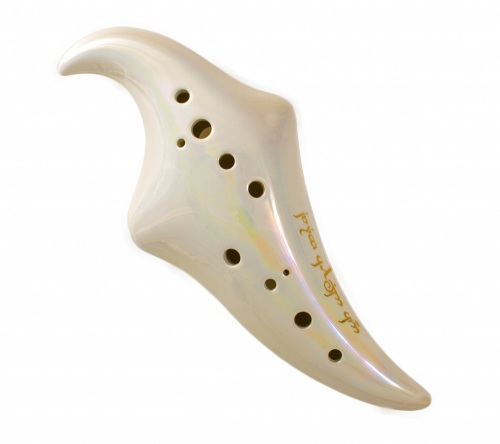 Personally, I have never touched let alone played an ocarina until recently. When I opened the box from STL Ocarina and saw the 12 Hole Elf Ocarina in C Major I was thinking… there is no way in Frodo's-hobbit-hole I was going to be able to play anything on this gorgeous instrument! Seriously, the ocarina is so beautiful it looks like it should be behind a glass case instead of blowing air through it. However, once I saw the Lord of the Rings songbook that came with the ocarina and began dreaming about the music from the movie, I immediately wanted to know how to play it. The ocarina is about 7.5 inches long and is made of ceramic with a stunning iridescent finish that reminds me of Mother of Pearl. On the side is gold lettering (not sure what it says).  STL Ocarina says the instrument is accurately tuned in the key of C Major, with a pitch range of 13 notes. It also has the capability of performing sharps and flats. The Elf Ocarina is truthfully an amazing item. Plus, it comes with a free online instructional booklet as well. Someday I hope to be able to play like the "elf" in the video below! Can you imagine?
[field name= iframe]
Okay, perhaps you're not a Lord of the Rings fan? I can't fathom the idea, but if you are not thrilled with the Elf Ocarina STL Ocarina also offers other beautiful ocarinas. The company makes pocket-sized, pottery wind instruments in all shapes and colors that produce great sounds. STL Ocarinas have been recognized by professional music organizations including the New World Symphony, the Atlanta Symphony, Chicago Symphony and most recently, the St. Louis Symphony Orchestra in their holiday concerts. Here is a list of some of the other items they have available.
Beautiful Ocarinas from STL Ocarina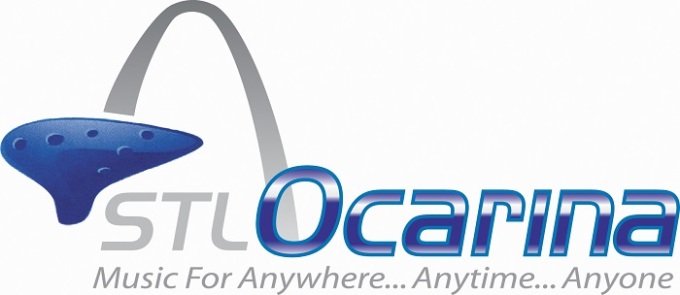 FASHION
The ocarina necklace is on sale for $18 (regularly $22) with six different colors and shapes available.

FOR TEA LOVERS
Mix music and teatime for the holidays with the NEW four seasons Teacarinas – a teacup that doubles as an ocarina. The Teacarina is about 3 inches in diameter. It can play 8 diatonic notes. Retail price is $22; on sale now for $18.

MUSIC & MOVIES (Lord of the Rings and Marvel)
12-Hole Tenor Hobbit Ocarina: 5 inches long, C major retail price: $59.99.
12-Hole Dwarf Tenor Ocarina: 5.5 inches long, C Major, retail price: $59.99.
6-Hole Lord of the Rings Shield Ocarina: 3.5 inches long with pitch ranges from C5 to E6 including sharps and flats. Retail price: $32.99.
Superhero Ocarinas, officially licensed by Marvel. 9 models of 12-hole and 6-hole options range from $27.49 to $65.00, including Spider-Man, Ironman, Captain America, Wolverine, and Thor.
So, during your last minute shopping travel consider gifting an ocarina! Ocarinas make wonderful affordable instruments for musicians of all ages and great collector's items!  The wind instrument would be perfect for getting a child interested in music who is not thrilled with the thoughts of piano or violin lessons. It is said the ocarina is one of the easiest of all wind instruments to learn to play! Not to mention, they just look really cool!