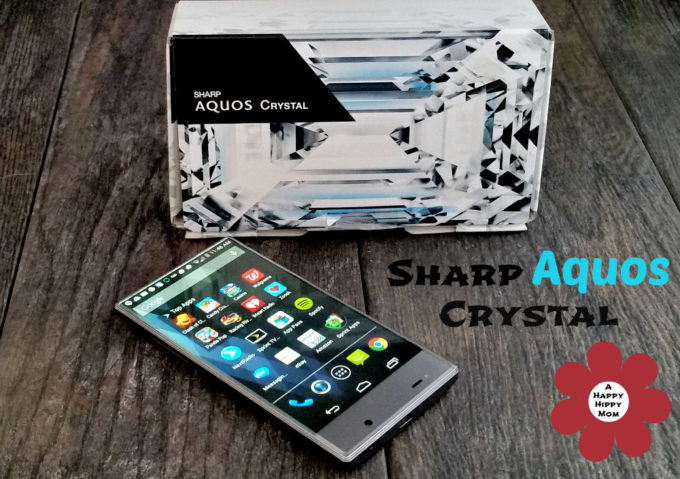 "I participated in an Influencer Activation Program on behalf of Influence Central for Sprint. I received a sample device to facilitate this review."
I heard the buzzes it was coming and now that it's here, in my hand, I can tell you it is everything they made it out to be. What am I talking about? The Sharp AQUOS Crystal Smartphone from Sprint! You are probably surprised to learn Sharp makes phones, right? I know I was too when I heard the news.   But, when I opened the box and saw the handset it all made sense. Sharp is known worldwide for its unique one-of-a-kind electronic products, such as their stunning AQUOS HD televisions. It is completely explicable the company would design a smartphone with a groundbreaking 5" edge-to-edge display that wraps the user in a totally immersive interactive experience.   However, what really blew my mind was the price. Sprint and its prepaid brands, Boost Mobile and Virgin Mobile are offering this high-end device for an extraordinary value. The Sharp AQUOS Crystal Smartphone is available for as little as $149.99 (plus tax)!

Sprint Sharp AQUOS Crystal Specs
Android 4.4.2, KitKat
2GHz quad-core Qualcomm® Snapdragon® processor
Wi-Fi (802.11 b/g/n)
3G/4G mobile hotspot capability supporting up to eight Wi-Fi enabled devices simultaneously
8MP rear-facing and 1.2MP front-facing cameras
Battery: 2,040mAh Lithium-Ion battery (nonremovable)
Memory:5GB RAM; 8GB ROM; SD card up to 128GB (sold separately)
Design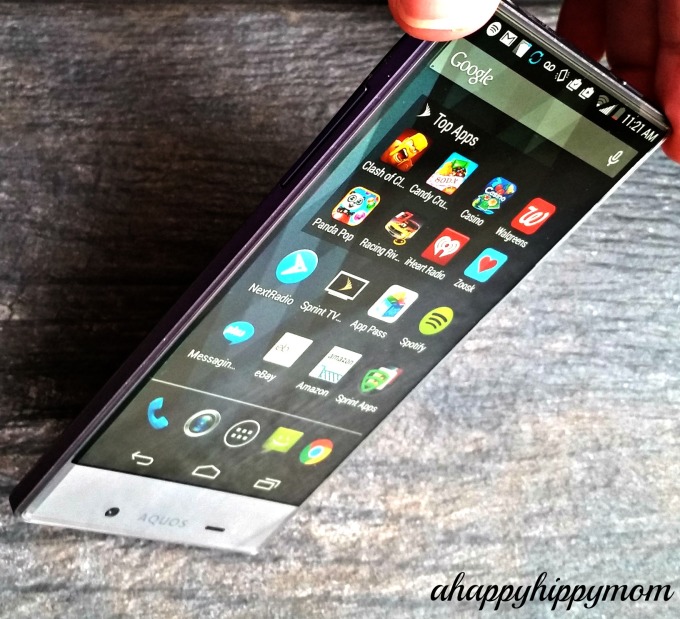 The sophisticated design of the 5" frameless (bezel-free effect) 1280×720 HD display sets this phone in its own smartphone market. Compared to other smartphones with a 5" screen, the Sharp AQUOS Crystal currently has the smallest footprint with a compact narrow design for easy handling. Going along with the sleek design, Sharp eliminated the earpiece and replaced it with a direct wave receiver which vibrates the glass panel to act as a speaker for crystal clear sound. The rear of the phone features a perforated removable back panel for locating the SIM and MicroSD Card, expandable up to an impressive 128GB. Also on the back is a 8MP camera with flash for snapping 3264×2448 resolution photos on the go. The front bottom features a modest 1.2MP for selfies, light sensor and LED indicator light. On top of the handset you find the Power button and 3.5 mm Headset Jack. The bottom edge has a Micro USB charging port along with a microphone which acts as your mouth piece. Located on the left side is the volume rocker.
Camera
Sharp AQUOS Crystal camera makes taking pictures a breeze with its Framing Advisor, Night Catch for those tricky nighttime shots, and Sequential Shots. The camera additional features Shutter Detect which automatically takes a photo when it detects a smile and Panorama for beautiful landscape pictures.
[field name= iframe]
For being an 8MP camera it takes fairly decent photos in good lightening. The colors are balanced and images are sharp. In low lighting, the camera is virtually unusable and has a hard time focusing. There is also plenty of editing settings to get the desired photo effect you are seeking such as White Balance, Focus settings, Self Timer, Anti Flicker, Anti Shake, resolution options, and plenty of gridlines for framing your shots. Very impressive for a budget priced phone! The 1.2MP front facing camera acts like a traditional smartphone camera once the phone is flipped upside down and selfies can be snapped as usual. Much like the rear camera, it does its best in ideal lighting. However, if you are a selfie junky, the frustration level of getting the perfect flattering position with this camera is going to be high.
Software
The device comes with lots of software to keep you entertained! For instance, Clip Now allows you to take quick screenshots with one swipe. Save screenshot with an embedded URL and share everything easily with your buddies.
Other great software features include the Harman/Kardon LiveStage technology which delivers a more lifelike headphone listening experience by adding dimension to the sound and Clari-Fi for restoring all types of compressed digital music.  Spotify tracks sound richer, deeper, and clearer.
In addition, AQUOS Crystal comes with the option of App Pass, a subscription service that allows the user to access a hand-selected catalog of premium apps and games for $4.99 per month. App Pass is exclusive to Sprint in the U.S and includes a plethora of apps from well-known developers such as Gameloft and Oceanhouse Media. Select titles from other developers include OfficeSuite 7 Pro, Camera Zoom FX, Minuum Keyboard, CamScanner and Color & Draw for Kids. The App PassCurrently Sprint is offering a 14-day free trial, so you can test the service out for free and see how well you like it. If you decide to keep it, you will be given a $5 credit each month to spend on in-app purchases. The service offers unlimited access to the apps and games across two devices, which is a very nice perk.
Another interesting feature the phone offers is Wi-Fi Calling, which allows users to use their voice and messaging services over existing home, office and public Wi-Fi networks. Personally, I have not tried this option, but I can see how it could be extremely useful. If you are on a data plan that charges for text usage this could save you tons of money per month.
Sharp AQUOS Crystal also has the usual Google Mobile software preloaded including Google Play, Google Search, Google Maps, Google Navigation, Google Talk, Google Calendar, Google +, Gmail and YouTube.
Sprint Spark network
As part of the monumental launch of the Sprint and SoftBank new device, Sharp AQUOS Crystal Smartphone will have the added benefit of running on the Sprint Spark network, which enhances the phone's LTE service for better support of online gaming and high quality video.
Bottom Line
If you are looking for a smartphone with a sophisticated design and a high-end feel without the bloated price, the Sharp AQUOS Crystal should be considered. The device has a lot to offer for $149.99 and in my opinion is one of the best pre-paid phones I have seen on the market for under $200. I use my smartphone for more entertainment purposes such as online surfing, listening to music, and streaming Netflix. This phone delivers without a hitch. The unique design alone is amazing and you are getting a ton of high-tech bang for your buck.
Buy It!
[field name= iframe1]