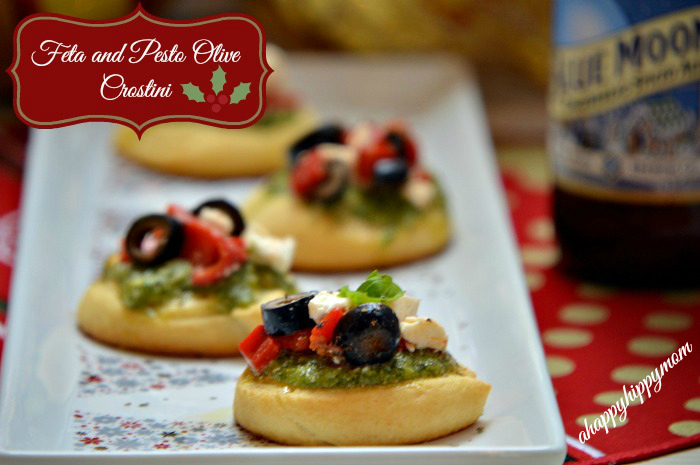 This shop has been compensated by Collective Bias (#CollectiveBias) , Inc. and its advertiser. All opinions are mine alone. This content is intended for readers who are 21 and over.
Busting around the table, sharing antidotes of youth or of hopes yet to come; entertaining during the holidays is a time to reconnect and to shine a light on what matters most, family. Yet, the food is a close second. It is the perfect time to exchange family secrets through holiday recipes. Everyone knows that the star of night will be the one who truly knows their way around the kitchen. This year, I went to Price Chopper (#HolidayAdvantEdge) for holiday essentials and found the finest way to claim the prize of being deemed this year's talk of the table.
Walls stacked to its edges with boxed stuffing, the air chilled by the daunting temptation to cave for an effort free deli treat. What can I possible do to shine above the candied yams and even the main dish itself without drowning in a time consuming mess? Walking anxiously with stress, I find myself in the alcohol aisle. Though I could definitely use a drink, now is not the time… But then my eye catches the Blue Moon Brewmaster's Seasonal Sampler (#WinterSamplePack) winter beers, maybe a drink wouldn't be that bad after all. I mean, the parent-in-laws are coming this year. Wait! These could put an edge to my dish and cut the time of making the annual punch (and also guarantee some more than entertaining YouTube worthy material in the end). But the battle is only half won. The fort of "What the National Lampoon's Turkey Disaster am I Going to Make" is yet to be conquered. Think Michelle… Well, last year Mom made her Bruschetta Bites which were a huge hit. Then the answer came to me, like a fruit cake to the eye!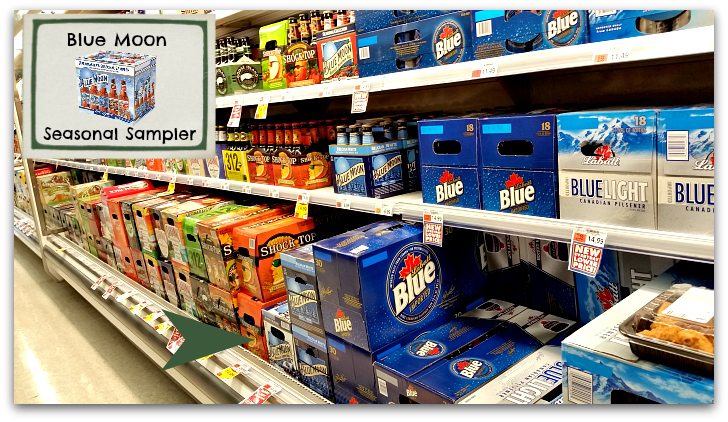 My cart skids as I turn every corner, looking for impeccable ingredients to give those adoring "ouhs" and "ahs" from happily stuffed mouths. While checking out, my cart is filled with Lindsay olives and peppers, Pillsbury Crescent Rolls, pine nuts, olive oil, basil, garlic, Parmesan and feta cheese (and of course the Blue Moon winter beer pack) ; ten essential ingredients that don't leave my wallet looking like the Sahara desert. To assure the spot as this years' winner, I will make a Feta and Pesto Olive Crostini Appetizer. Presto! Everyone will be delighted by the winter beers, and conversations will tenderly reverberate off every corner. The appetizer will be a time convenient dish, while ensuring a flawless way to seal the night as a tasty success and earning all the guests inquiries about my secrets in the kitchen.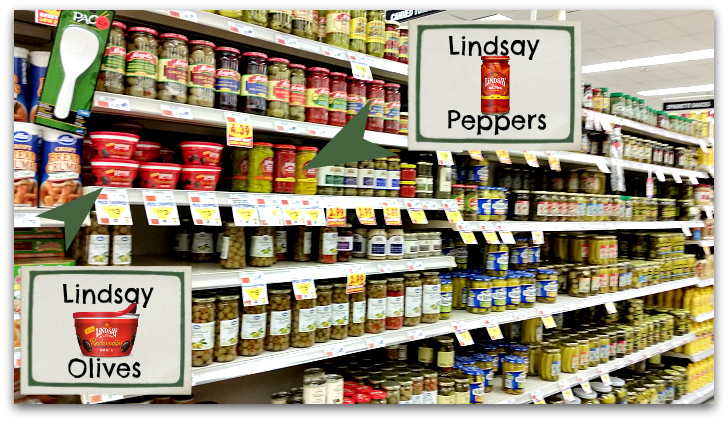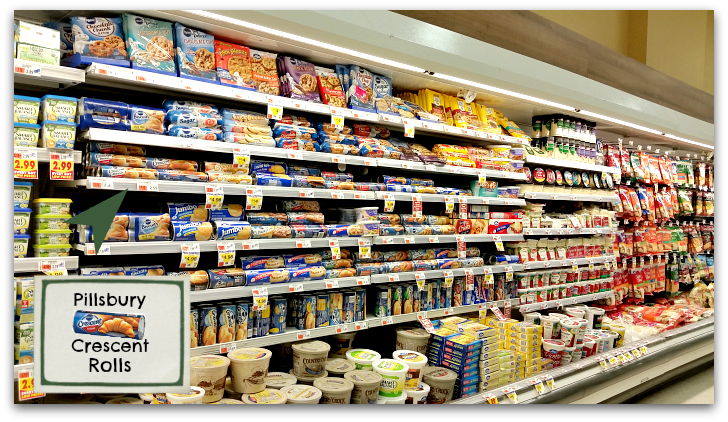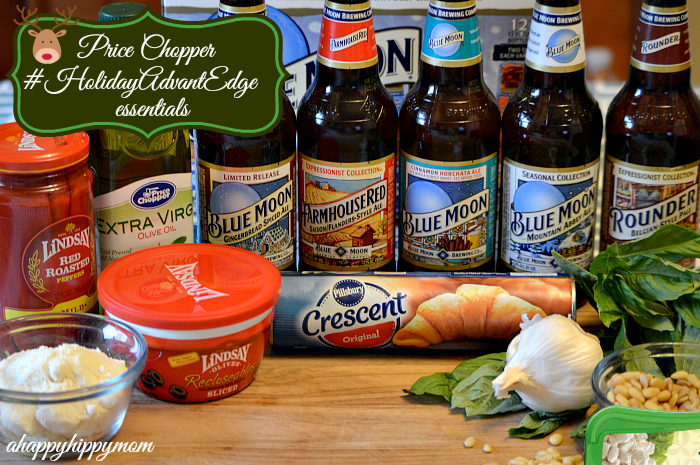 Feta and Pesto Olive Crostini Appetizers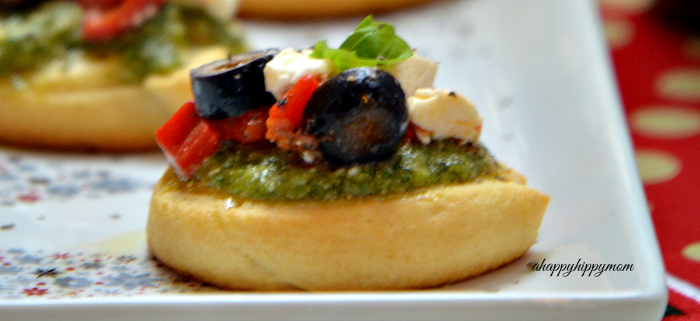 Ingredients
1 can (8 oz) Pillsbury Crescent Rolls
1 tablespoon olive oil (for coating top)
¼ cup sliced Lindsay ripe olives
¼ cup chopped Lindsay Roasted Red Peppers
¼ cup crumbled fat free feta cheese
1 cup fresh Pesto
1 teaspoon olive oil
¼ teaspoon salt
⅛ teaspoon pepper
Directions
Heat oven to 375°F. Spray large cookie sheets with cooking spray. Open can of dough leaving it unrolled. Using a sharp serrated knife, cut dough into 16 slices. Flatten to 2-inch circles.
Brush tops of dough circles with olive oil. Place on cookie sheet.
Bake 9 to 12 minutes until golden brown.
Meanwhile, in small bowl, combine olives, peppers, feta, 1 teaspoon olive oil, salt and pepper. Toss gently.
Spread 1 tablespoon of Pesto on each crostini top.
Top crostini with about 1 tablespoon of feta and olive mixture on each crostini. Serve immediately.
Homemade Basil Pesto #HolidayAdvantEdge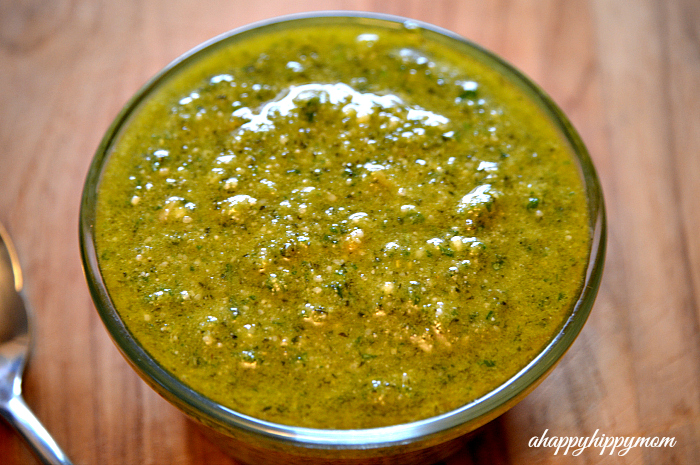 Ingredients
2 cups fresh basil leaves (just leaves)
3 cloves garlic
⅓ cup pine nuts
1 cup extra-virgin olive oil
½ cup Romano or Parmesan cheese
salt and pepper, to taste
Directions
In food processor, combine basil and pine nuts; pulse until coarsely chopped. Stop often to scape down the sides of processor with rubber spatula. With the food processor running, gradually add olive oil until it is completely incorporated and smooth. Next add cheese and blend just until combined. Season with salt and pepper to taste.
How are you planning to be the spotlight this year? Share some of your holiday recipes below.