Disclosure:  Smile Brilliant provided me with product to facilitate this post.  The words and opinions expressed in this review are strictly of my own.
If you could change a single feature about your appearance what would it be? I have a few things I would like to improve, but the one that is up front and difficult to hide is my teeth. When I was younger I had Scarlet Fever and it was treated with tetracycline. The medicine gave my teeth a grayish discoloration and a distinct dark horizontal line across the upper part of my teeth. Over the years I have tried several of the products on the market to try and lighten the stains, yet became discouraged since none of them actually worked. I even went to the dentist to inquire about how they could be whitened and was informed I would need expensive veneers to cover up the stained teeth in the front of my mouth. Veneers would cost THOUSANDS and unfortunately not an option for a mom on a strict budget.   So, I have just lived with the embarrassment for almost my entire life and have learned to smile with my lips closed to hide the ugly mess inside. Not to mention, all the years of coffee and tea have not helped the situation neither! My teeth are also crooked on the bottom, but the darkish color is more of a concern at this point, because as I get up in the years it ages my appearance even more.
Smile Brilliant
Smile Brilliant recently contacted me and asked if I would be interested in trying their professional teeth whitening kit. After reading that Smile Brilliant Teeth Whitening System has shown to be highly effective on tetracycline and various other teeth stains, I decided to test out the product. However, it would take longer to see an improvement than the average person who just has the usual coffee, tea, or tobacco stains. With this being the case, I am willing to do more applications with the idea of seeing any positive whitening results.
How it Works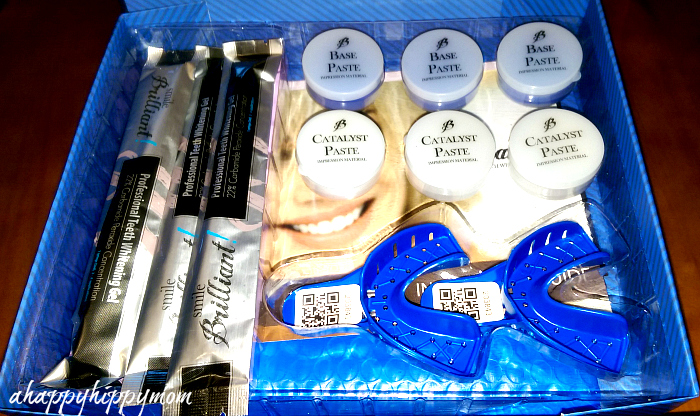 The first step is to order your kit. The company offers both normal and sensitive teeth packages containing everything you need for professional whitening in your home including the impression materials to make custom fitted trays, teeth whitening gel, desensitizing gel, and step-by-step instructions.
The kit comes in about 2-3 business days after ordering.
Making your own impressions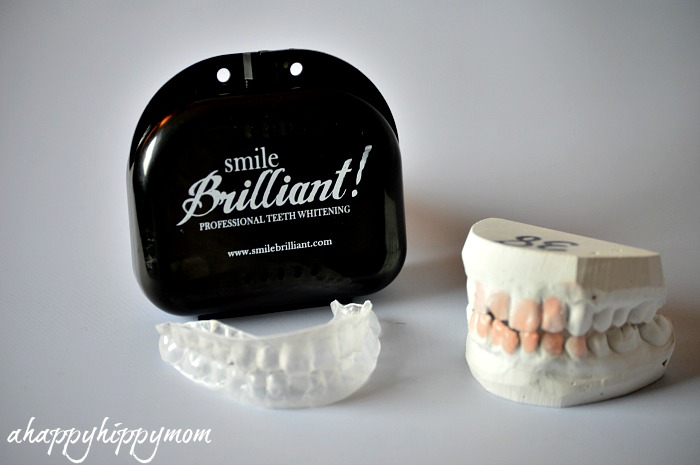 When I first heard I would be making my own impressions I was rather worried. However, the instructions within the kit are very detailed, easy to follow, and walk you through the entire process. They even provide an extra set of materials in case you make a mistake the first time. Basically, it is just mixing the catalyst paste with the base paste, placing the putty in the tray, and pressing your teeth evenly in the tray for 2 minutes. Then repeat the steps for the lower teeth impressions. Wait for 10 minutes, rinse the trays off under cool water, and place them in the re-paid envelope with return card filled out, and mail. You receive your custom trays back in the mail in about 5 days after the company receives your impressions.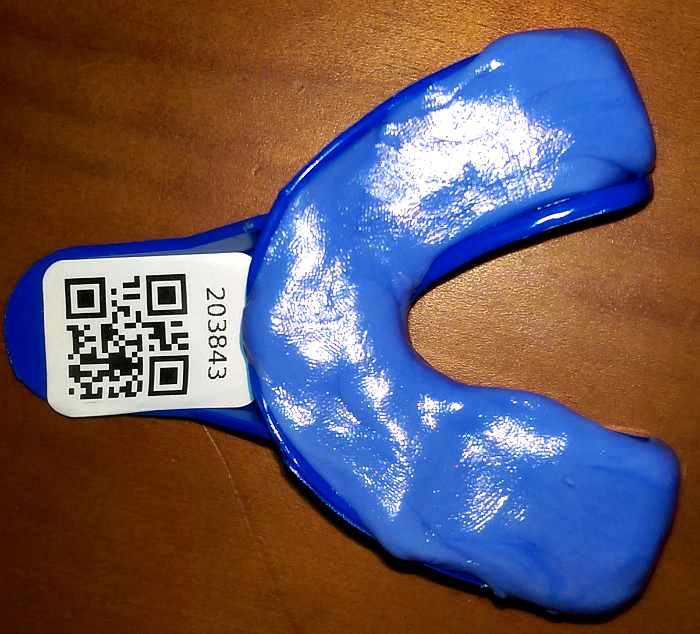 The Whitening
Prior to the whitening application you are supposed to floss and brush thoroughly with WATER. Using a toothpaste containing fluoride will slow the whitening process. Then you fill the clean and dry trays with a thin strip of whitening gel. Insert the trays (drying teeth first) and leave on for 15 minutes to as long 3 hours depending upon your tooth sensitivity. My teeth are not overly sensitive, so I left the trays in for 1 hour sessions. The 22% Hi-Intensity Teeth Whitening Gel contains a pure mixture of carbamide peroxide with no fillers and is extremely powerful. I did feel some sensitivity leaving the gels on for an hour, but nothing too painful were eating or drinking was difficult later in the day. If your teeth are sensitive only do shorter sessions and use the desensitizing gel right afterwards. The gel is formulated to replenish the teeth with essential vitamins and minerals lost during the whitening treatment. The company further suggests using it to reduce the chances of re-staining the teeth after whitening.
The results after 5 one hour sessions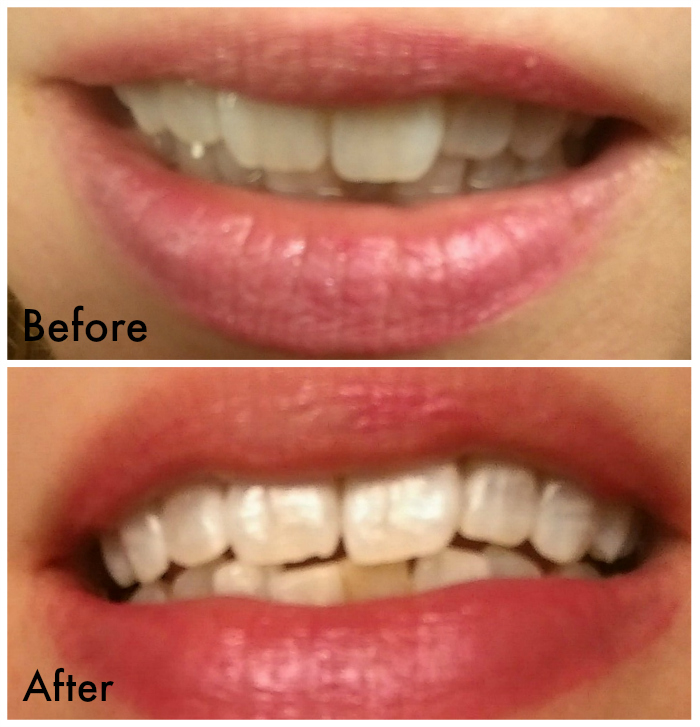 Here are my results after using the whitening gel for 5 one hour sessions spread over a two week time frame. I see some improvement! Remember, this is on tetracycline stained teeth which are resistant to whitening. For someone who only has coffee or tea stains the results would probably be more dramatic. Plus, the company recommends that the initial teeth whitening process be continued for 12 consecutive days and I skipped several days between. Overall, I'm hopeful this is going to eventually lighten my teeth to a level I am satisfied with!
Conclusion
Smile Brilliant provides individuals with a professional teeth whitening in the comfort of their own home for a fraction of the cost of going to the dentist. Unlike plain whitening strips, the customized trays allow the gel to come in full contact with the teeth for better whitening results. The Smile Brilliant powerful teeth whitening gel breaks down the stains and whitens teeth to their natural unstained color. The company was extremely helpful in answering any of my questions! They even notified me via email when they received my impressions and when I should be expecting my trays. This is so much more comfortable than having to sit in a dentist chair for hours! If you are looking for an effective whitening option, Smile Brilliant is your in home solution! Check them out!
Stay Connected
Visit the Smile Brilliant website
Like the Smile Brilliant Facebook Page
Follow Smile Brilliant on Twitter
Smile Brilliant Teeth Whitening Kit Giveaway!
Courtesy of our friends at Smile Brilliant, one lucky reader is going to win a Smile Brilliant custom teeth whitening tray creation kit!