Artificial trees are less messy than real pine trees, deliver exceptional beauty, and save the owner money year after year with their longevity. This is why 55 million homes prefer artificial trees over real in the United States. Conversely, if you ask 40% of these artificial tree lovers they will complain the one thing that artificial trees are LACKING is a REAL TREE SCENT. But, there is an easy and very affordable SOLUTION to the missing holiday scent dilemma – ScentSicles!
ScentSicles Scented Ornaments
ScentSicles, a product of Enviroscent, Inc. founded by Jeff Sherwood (a former Primate Zoologist at NASA), are the first scented ornaments that effectively and authentically make any Christmas tree smell fresh-cut. Crafted from natural fibers from sustainable resources, eco-friendly ScentSicles have been infused with pure fragrance oil giving a long lasting mess-free way to enhance the scent of the holidays. Simply hang them in your artificial tree, in wreaths or garland, or place in your vehicle for a Christmassy scent! ScentSicles are often used in other areas such as centerpieces, door jambs, and closets. AND once the nifty product begins to lose its wonderful scent you can even boil it to "eek out" a bit more fragrance!
SCENTS:
White Winter Fir
Christmas Time Spruce
It's a Wonderful Pine
Snow Berry Wreath
Two Dashes of Cinnamon
NEW PRODUCTS:
Scented Sprigs – Tuck discreetly into garland, wreaths and centerpieces to make them smell fresh-cut
Auto Sticks – Hide or hang in your car to make it smell as if you just drove off the tree lot
Decorative Ornaments – Add sparkle and fragrance with our new decorative beaded hangers and ScentSicles scented ornaments
WHERE TO BUY:
ScentSicles are sold in over 22,000 stores including Walmart, Target, Bed Bath & Beyond, Lowes, Michaels and Home Depot — as well as year round at ScentSicles.com and Amazon.com.
Suggested ScentSicles retail prices:
Scented Ornaments: $7.99
Scented Sprigs: $7.99
Auto sticks: $4.99
Decorative ornaments: $9.99
LOVE It!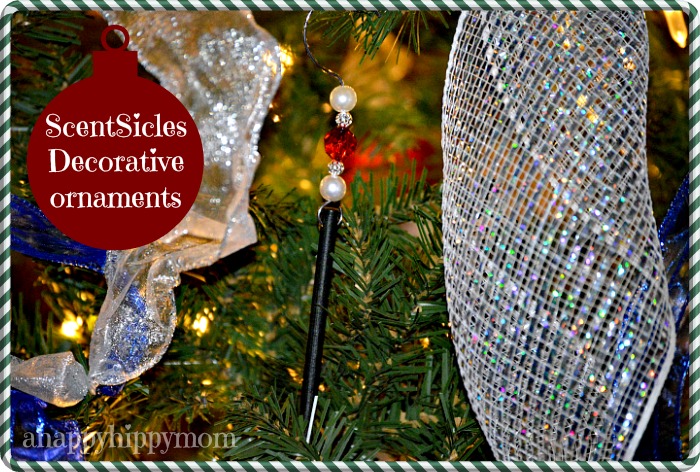 Finally, my tree is holiday complete! Every year we put up the same artificial tree and I always feel gypped! The tree might look beautiful, but doesn't have the charm of a real tree, because it smells like..well…NOTHING. This year (yes I already have my tree up) I hanged a pack of the ScentSicles Decorative Ornaments and the moment I walk into the room I can smell my tree. The fresh White Winter Fir scent adds a homey holiday ambiance! Plus, the dangling Decorative Ornaments look like regular ornaments dangling from my tree, so there is no need to hide them! The ornaments can be used again next year and all you will need to do is purchase the original pack of ScentSicles.
Most Authentic Artificial Tree sweepstakes
Enter for the chance to win a Balsam Hill Artificial Tree, ScentSicles, and $500 for additional tree decorations! Enter at www.scentsicles.com/win.
ScentSicles Prize Pack Giveaway!
Courtesy of our friends at ScentSicles, one lucky reader is going to receive a ScentSicles Prize Pack including:
ScentSicles
Scented Sprigs
Auto Sticks
Decorative Ornaments
Stocking hat
To enter the giveaway, please follow the instructions provided on the Rafflecopter form. Any comments are welcomed below, but won't count towards the giveaway. Only entries using the Rafflecopter form will be eligible for prize. Thank you!
Open To US Residents Only- age 18 + Ends December 1st, at 11:59 pm (eastern time)! Enter Daily!
Stay Connected
Website:                 http://www.scentsicles.com
Facebook:              https://www.facebook.com/ScentSicles
Twitter:                  https://twitter.com/ScentSicles
Pinterest:                http://www.pinterest.com/scentsicles
Instagram:             http://www.instagram.com/scentsicles