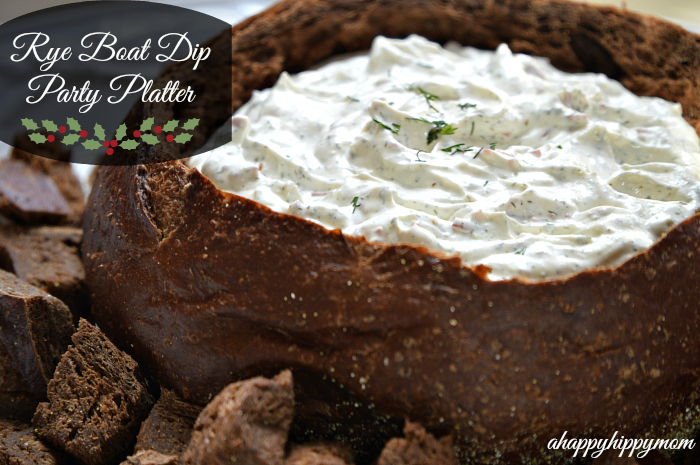 Disclosure:  Hamilton Beach provided me with a food processor to facilitate this post.  The words and opinions expressed in this review are strictly of my own.
Decadent candy, cheerful sugar cookies passed around the office party and the savory aroma of stuffing smothered fork deep in gravy; the season is brimming with tempting holiday foods. Thankfully, most of us don't indulge in these sinful bites on a regular basis or we would all be modeling a Kim Kardashian oversized booty and the Buzzfeed dudes would be inspired to recreate more videos spotlighting their oiled down tushies! Nevertheless, we all have that one calorie-laden beloved holiday dish that makes it appearance every year on the table and the holiday feast wouldn't seem as merry without it.
I can't recall where or how it began, but the dish I look forward to most during the holidays is Rye Boat Dip. I must have had it at a Christmas party (the one I was conscious) and it left a lasting impression. The classic party Rye Boat Dip recipe is a cinch to whip up and usually is an enormous hit at family gatherings. Basically, you just toss all the ingredients in a food processor, pulse a few times, and it's ready.   The dip is served in a hollowed out pumpernickel or rye bread bowl with cubes of bread for dipping. It's absolutely delish! Yet, the dip paired with the bread is rather fattening. I'm glad it is only prepared a couple times a year, since I'm not too keen of having to run an additional 20 minutes on the treadmill to burn off the extra calories caused by my constant dipping addiction.
Speaking about food processors, Hamilton Beach recently sent me their Stack and Snap 10 Cup Food Processor to try. The nifty appliance makes the holiday food prepping season a lot more stress-free. With my old food processor, you almost need an engineer degree to know how to get the thing together to actually slice or chop something. The Stack and Snap is designed for quick and easy assembly and there is no need for difficult twisting and locking to get to work. All you do is stack the bowl on the base and snap the lid in place, hence the product words "Stack and Snap." The no-brainer food processor even has a simple guide to follow on the front of the base to tell you which blade to use and which button to press. Make your own tomato soup, homemade hummus, dip, relish, or fresh salsa within minutes! And it has a large mouth, so there is no need to cut vegetables to make them fit before dropping them down the food chute! Plus, the blades, bowl, lid, and food pushers are dishwasher safe for fast cleanup.
As far as the world of food processors goes, chopping, mixing, slicing, and shredding is a breeze with the Hamilton Beach Stack and Snap 10 Cup Food Processor! The convenient food processor is a must for the anal-retentive chef who demands perfection by having uniform slices to make the ultimate vegetable and cheese party platter, but doesn't want to spend tons of time in the kitchen. The well thought-out "Stack and Snap" design and powerful 450 watt motor will save you hours of time in the kitchen, so you can be where you want to be—out partying with your guests!
Hamilton Beach Stack and Snap 10 Cup Food Processor Features
No guesswork with simple function guide
• Easy stack & snap assembly
• Unique, patent-pending design requires no difficult twisting & locking
• Simple function guide shows you which blade to use & which button to press
• Big Mouth® feed tube reduces pre-cutting
• Sealed bowl prevents leaks
• Powerful 450 watt motor
• Reversible slice/shred disk
• Chopping S-blade locks into bowl and stays put during pouring
• Dishwasher safe blades, bowl, and lid
• Cord storage
Rye Boat Dip Party Platter Recipe
Ingredients
2 cups sour cream
2 cups mayonnaise
4 oz. cream cheese
2 oz. dried chipped beef/chopped
2 tsp. Beau Monde
1 tbsp. dill weed
1 tsp. onion powder
2 tsp. parsley
1 round pumpernickel or rye bread
Directions


Combine sour cream, mayo, cream cheese, and seasoning in food processor. Using the Mix setting, process until all ingredients are blended. Stop to scrape down ingredients from bowl with plastic spatula.

Add chopped beef to mixture. Pulse approximately 15 times until beef is fully incorporated. Place in bowl and refrigerate dip for approximately 1 hour.



Meanwhile hollow out a large round loaf of pumpernickel or rye bread to create a bread bowl. Cut removed bread into cubes.

Place bread bowl on large serving platter and arrange bread cubes around it. Spoon dip into bread bowl. Garnish with fresh chopped dill (optional). ENJOY!
What beloved holiday dish makes it appearance every year on your table?
Hamilton Beach Stack and Snap 10 Cup Food Processor Giveaway!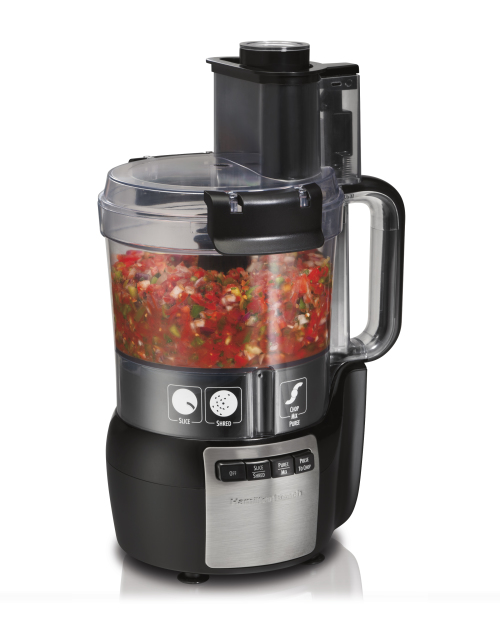 Courtesy of our friends at Hamilton Beach, a lucky reader is going to receive a Hamilton Beach Stack and Snap 10 Cup Food Processor!
To enter the giveaway, please follow the instructions provided on the Rafflecopter form. Any comments are welcomed below, but won't count towards the giveaway. Only entries using the Rafflecopter form will be eligible for prize. Thank you!
Open To US Residents Only- age 18 + Ends December 13th , at 11:59 pm (eastern time)! Enter Daily!
[field name= iframe]
Stay Connected
Visit the Hamilton Beach website
Like the Hamilton Beach Facebook page
Follow Hamilton Beach on Twitter
Discover Hamilton Beach on Pinterest