Music is a powerful force. Music can make you feel courageous, awaken hidden feelings, and change your entire attitude. It is a magic able to move the motionless and trigger emotions of romance, love and admiration. Music is an incredible art form with the ability to bring back memories from childhood or particular events that are deep within the crevices of our minds. It is able to sweep you to faraway places beyond your imagination. Every aspect of music is an extraordinary gift appreciated by all ages, religions, and walks of life. Best said by Confucius, "Music produces a kind of pleasure which human nature cannot do without."
SOL REPUBLIC Music Made Me Do It (#MMMDI) Movement!
As you are probably able to tell from the words above, I am an extreme music lover! Music happens to be the center of my universe. So, I am very thrilled to share with you the Music Made Me Do It (#MMMDI). The movement showcases and celebrates the stories we all have of music inspiring us to do anything and everything. Over the course of the promotion, SOL REPUBLIC's Saviors of Sound (SOS) will be sharing their stories about how music has enabled them to do amazing things, "from the incredible to the cringe worthy." Athlete Michael Phelps and DJ/Producer/Dim Mak Records Founder Steve Aoki are just two of the SOL REPUBLIC SOS involved with this exciting project. Highlighting some of the wild and crazy things music makes us do is the Music Made Me Do It Story video. Turn up the volume and check it out!
[field name= iframe]
My #MMMDI Story
What has music made you do? What song reminds you of a special moment in time? Thinking about those two questions, I recall several wild and touching #MMMDI moments which have influenced me to do things I probably normally would not have. Some were the best decisions I have ever made and others just plain stupid. For instance, the song "Love Shack" by the B-52's got me up out of my seat (when I should have remained glued to my chair) and on stage in front of a large group of strangers singing and dancing to the lyrics. The thing is…I can't sing a tune and my dancing moves look more like I am having violent seizure. Luckily, I never had to see those people again! On the other hand, the song "The Rose" written by Amanda McBroom and made famous Bette Midler, played during my Justice of the Peace marriage to my husband in 1992. It isn't the song I would have chosen for my wedding, yet it was very fitting. "The Rose" is beautiful, although a bit corny, and every time I hear the tune it reminds me of the look he had in his eyes as we took or vows. I never regret that day and it was the single best decision I made in my life. Another great thing music has made me do is get up and exercise and push my body to limits I would not do without it. Run a little faster, do an extra abdominal crunch, you know what I mean!
SOL REPUBLIC #MMMDI Ultimate Prize Pack Giveaway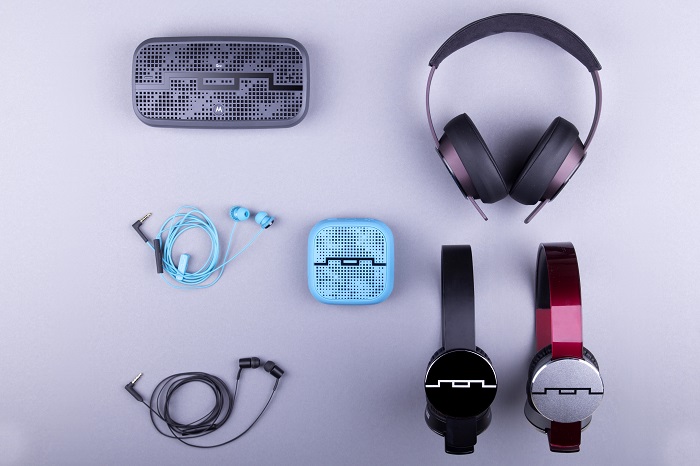 As one music lover to another and in celebration of the #MMMDI movement, SOL REPUBLIC is offering one of my readers an enormous prize pack containing essentially one of every type of product they make. The prize pack is worth over a $700 retail value and includes:
1 DECK wireless speaker
1 PUNK (new wireless speaker)
1 Tracks HD headphone
1 Tracks headphone
1 master tracks xc headphone
1 relays headphone
1 jax headphone
To enter the giveaway for the chance to win this ultimate SOL REPUBLIC prize, share a Music Made Me Do It story, tweet, text, or photo on one of your social media accounts (Twitter, Facebook, Pinterest, Instagram, ect…) AND make sure it is tagged with #MMMDI. Leave me the link to the story using the Rafflecopter Form. The ENTRY MUST CONTAIN THE HASHTAG #MMMDI to count in the giveaway. For the readers who don't have a social media accounts leave a comment below with your story and tag it with #MMMDI. This is MANDATORY before any other entries can be earned. ALSO,  the story must be relevant to the campaign. For instance, share something interesting that you have done because of music or a song that you remember with a moment, such as classic childhood fave, crazy festival adventure, epic road trip, etc. You can enter a new #MMMDI story, tweet, text, or photo daily, but it has to be unique to increase your chances of winning.  Any cheaters will be disqualified.  Meaning, I verify each of your entries!  Don't say you tweeted or liked a Facebook Page if you have not!  Don't like a page and unlike it before the giveaway is over or your extra entry won't count. PEACE OUT!

Open To US and Canada Residents Only- age 18 + NO PO BOXES. Ends November 30th, at 11:59 pm (eastern time)! Enter Daily!
Important to note: If you have won a SOL REPUBLIC giveaway in the past 6 months you are not eligible to win this giveaway. Sorry, but to be fair to everyone it is a one-time win per 6 months per household.
[field name= iframe1]
Stay Connected
Visit the SOL REPUBLIC website
Like the SOL REPUBLIC Facebook page
Follow SOL REPUBLIC on Twitter