Disclosure:  Hamilton Beach provided me with a slow cooker to facilitate this post.  The words and opinions expressed in this review are strictly of my own.
The month of October signifies it is time to begin thinking about those hearty home cooked meals to fill and warm your family's stomachs this season. With that being said, I don't know about you but the last thing I want to do after a long day is slave in the kitchen for hours preparing dinner. So, it's time to dig out the slow cooker, dust it off, and put it to work!
I have owned the same slow cooker for years. It has been the savior appliance in my kitchen that has rescued me on those busy days I wanted something delicious to serve without having to invest the hours of preparation. No hassles, mess, or worries, the appliance creates the perfect meal every time. As much as I love my old personal chef, I am retiring it this year. The reason is, I am sick in tired of it taking space in the cupboard and it isn't something I want to leave out on my kitchen counter top. It looks extremely outdated and does not match well with the other appliances. Plus, I am always concerned if I don't make it home in time or forget to lower the temperature after the cooking time is up, the meal is going to turn out to be mush. If this sounds all too familiar, it might be time for you to recycle your slow cooker and upgrade to a more efficient and technologically advanced model you are proud to leave out, such as a Hamilton Beach Set 'n Forget 6 Qt. Programmable Slow Cooker With Spoon/Lid.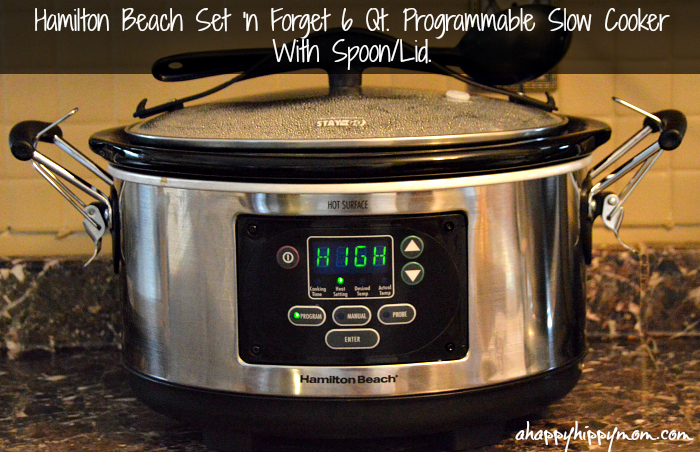 In addition to its beautiful metallic finish and digital display, the Set & Forget Programmable Slow Cooker offers the convenience of three choices for easy, automatic cooking: program, probe and manual mode.
Probe:
"Set to the desired meat temperature. Automatically shifts to keep warm when temperature is reached."
This setting is great for when you are cooking a large cut of meat like a roast, chicken, or pork lion. The probe reads the internal temperature of the meat for doneness and takes the guess work out of slow cooking. Once the desired temperature is reached, the slow cooker will automatically shift to warm.
Program:
"Set the cooking time. Automatically shifts to warm when time is up."
The program mode is ideal for the busy days when you are away from home and want to come home to a perfectly cooked meal. The slow cooker auto switches to warm when the meal is done cooking.
Manual:
"Works like a traditional slow cooker."
For the days when you are home and want to keep things simple, just select between the HIGH and LOW heat setting to cook your food. When it is done, switch it off or to the warm setting until ready to serve.
Hamilton Beach Set 'n Forget 6 Qt. Programmable Slow Cooker Features:
Three choices for easy, automatic cooking: program mode, probe mode, and manual mode.
Probe mode is perfect for cooking large cuts of meat or for recipes that require food to reach a certain temperature.
The thermometer probe reads the actual temperature of food as it cooks; the temperature is displayed on the slow cooker control panel.
Travel-friendly design secures contents en route to parties, potlucks, family gatherings and tailgating.
The lid securely seals in place with sturdy wire clips on each handle. Convenient serving spoon clips onto lid for easy access.
6 quart removable stoneware crock fits a 6 lb. chicken or a 4 lb. roast.
Wraparound, even heat cooks food evenly and consistently.
Full-grip handles make carrying heavy meals easier.
Power interrupt protection keeps slow cooker on during a brief power outage.
Questions are supported by a toll-free call center located in the U.S.
Backed with a one-year warranty.
I am extremely delighted with this slow cooker! Not only is it very aesthetically pleasing, but the product is a major improvement over my dated slow cooker! It features all the modern perks such as the easy to set digital display, forget and go modes, meat probe, lid with spoon, and more! The amazing little appliance even has power interrupt protection in case the power flicks off for a few seconds, meaning your meal will remain safe and ready to serve even if the lights briefly go out while your away. Also, I love the fact the slow cooker comes with a clip-tight gasket lid, making it perfect for traveling to family gatherings during the holidays without the worry of the contents spilling all over the car's interior.   The slow cooker makes it simple for the cook who is busy all day, but wants to serve the family a satisfying dinner at night without the fuss.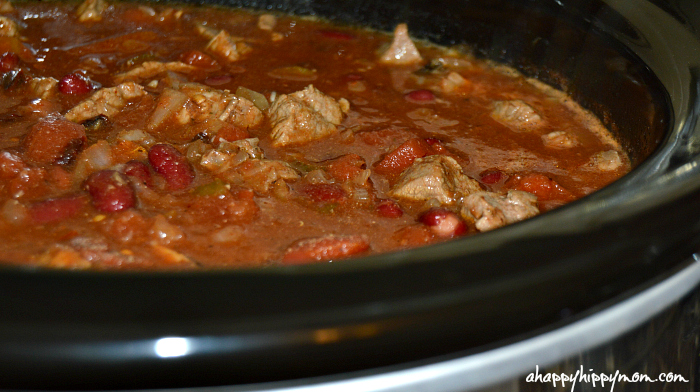 My favorite meal to make during the cold weather season to get the family together at the dinner table is a steaming bowl of chili. Over the years I have tried several different slow cooker recipes for the spicy stew, yet have not found a one a like as much as the Taste of Home Spicy Cowboy Chili Recipe. The recipe makes a hearty, spicy chili that is out of this world delicious! The only downfall to the recipe is that there is more preparation than I prefer for a slow cooker meal such as roasting the garlic, heating and soaking the chili peppers, and browning the beef. However, it is all worth it in the end, because the outcome is incredible. If you decide to try the recipe, give yourself about 45 minutes in the morning to get the ingredients ready to go into the slow cooker.  Furthermore, it is recommended to wear gloves when handling the peppers, since the oils can get on your fingers and if you accidentally touch your eyes or face…OUCH! Also, you might want to adjust the amount of spice depending upon your desired hotness. The recipe below did not have enough spicy heat for my taste, so I added extra chili powder. Here is the chili recipe.
Spicy Cowboy Chili Slow Cooker Recipe #SlowCookerMeals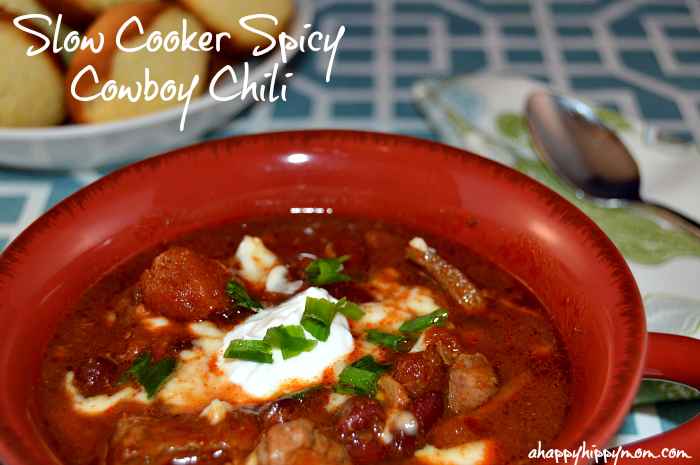 Prep time:
Cook time:
Total time:
Ingredients
1 whole garlic bulb
2 to 3 tablespoons olive oil, divided
2 dried ancho chilies
2 dried chipotle chilies
1 bottle (12 ounces) dark beer
3 pounds beef stew meat, cut into ¾-inch pieces
2 large onions, chopped
3 cans (16 ounces each) kidney beans, rinsed and drained
3 cans (14-1/2 ounces each) diced tomatoes, undrained
2 cans (8 ounces each) tomato sauce
2 tablespoons Worcestershire sauce
1 tablespoon chili powder (add more to desired taste)
1 teaspoon pepper
½ teaspoon salt
Garnish (optional)
Shredded cheddar cheese, chopped green onion tops, and sour cream
Directions

Remove the outer skin from garlic bulb, leaving the cloves intact and unpeeled. Cut the top of garlic bulb, revealing individual cloves. Coat the top of the cut cloves with 1 teaspoon olive oil. Wrap in foil. Bake at 425° for 30-35 minutes or until cloves are soft. Unwrap and cool enough to be able to handle. Remove the garlic from skins by squeezing it out; mash with a fork.

Place chilies in a large dry skillet and toast them over medium high heat until they begin to puff. Do not over heat or blacken (about 5 minutes). Cool. Remove stems and seeds (make sure to wear gloves); chop chilies. Place in a medium bowl and cover with beer for about 30 minutes until they soften.

Using the same skillet, heat 1 tablespoon oil over medium-high heat. In batches, brown the beef adding additional oil if needed; transfer to a 6-qt. slow cooker.
In the same skillet, heat 2 teaspoons oil over medium heat. Add onions; cook until tender. Add to beef.
Add the tomatoes, sauce, beans, Worcestershire sauce, and spices to slow cooker. Stir in the mashed garlic and dried chilies with beer mixture. Cover and cook until meat is tender (about 7 hours). Serve with cheese, fresh green onion tops, and sour cream (optional).
Hamilton Beach Set 'n Forget 6 Qt. Programmable Slow Cooker Giveaway!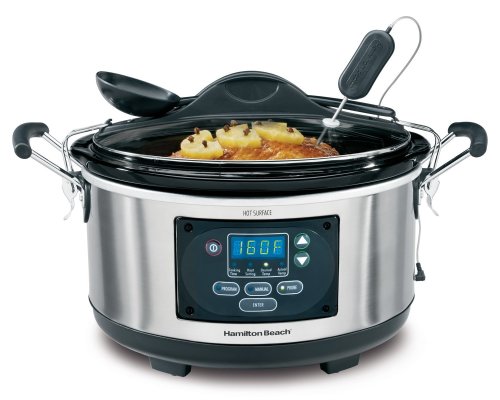 Courtesy of our friends at Hamilton Beach, a lucky reader is going to receive a Hamilton Beach Set 'n Forget 6 Qt. Programmable Slow Cooker with Spoon/Lid!
To enter the giveaway, please follow the instructions provided on the Rafflecopter form. Any comments are welcomed below, but won't count towards the giveaway. Only entries using the Rafflecopter form will be eligible for prize. Thank you!
Open To US Residents Only- age 18 + Ends October  30th , at 11:59 pm (eastern time)! Enter Daily!
[field name= iframe]
Stay Connected
Visit the Hamilton Beach website
Like the Hamilton Beach Facebook page
Follow Hamilton Beach on Twitter
Discover Hamilton Beach on Pinterest