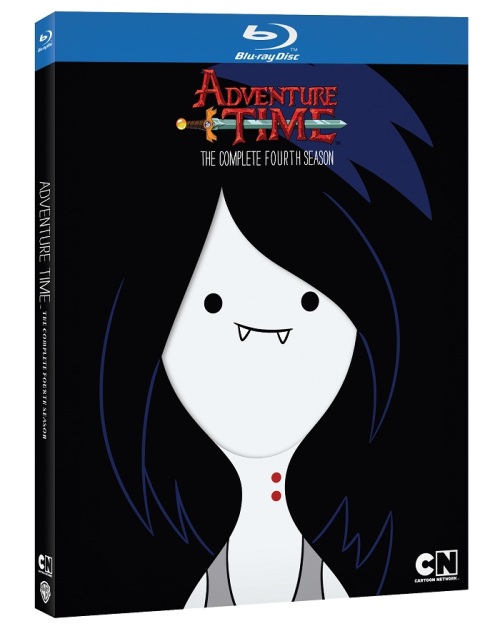 October is full of sweet treats, including the Cartoon Network highly-anticipated Blu-ray and DVD release of  Adventure Time: The Complete Fourth Season on the 7th of this month. The two-disc DVD and single-disc Blu-ray release will feature all 26 episodes from the series' fourth season along with a seriously cool 19-minute Distant Bands: The Music of Adventure Time featurette with creator Pendleton Ward, creative director Pat McHale, and storyboard artists Jesse Moynihan and Rebecca Sugar.  The fun bonus extra takes a closer look into the inspiration that goes behind the music of Adventure Time including the songs "Evicted," "Bacon Pancakes,"  "Political Rap," and more!  Each episode also comes with the option of watching while listening to commentary with the cast and crew for an extra special treat!
Adventure Time Fourth Season Episodes
"Hot to the Touch"
"Five Short Graybles"
"Web Weirdos"
"Dream of Love"
"Return to the Nightosphere"
"Daddy's Little Monster"
"In Your Footsteps"
"Hug Wolf"
"Princess Monster Wife"
"Goliad"
"Beyond This Earthly Realm"
"Gotcha!"
"Princess Cookie"
"Card Wars"
"Sons of Mars"
"Burning Low"
"BMO Noire"
"King Worm"
"Lady & Peebles"
"You Made Me!"
"Who Would Win"
"Ignition Point"
"The Hard Easy"
"Reign of Gunters"
"I Remember You"
"The Lich"
Adventure Time is an animated series you know you love, but can't explain in enough detail as to why. The show is noted to be extremely popular among kids 6-11, according to Nielsen Media Research, yet I think it ranks way up on the list for adults as well. Once you get started watching the weird, rather strange, and colorful adventures following Jake and Finn, you find yourself compelled to binge watch one episode after another.   The great thing is even if you missed the first seasons you can jump right in with the current episodes and feel right at home with the characters. However, I do believe as the show has progressed, the adventures have become a bit more on the darker side and at times boggle the mind, such as the nineteenth episode "Lady & Peebles" in the fourth season. In this episode, Princess Bubblegum and Lady search for Finn and Jake who have been missing for three weeks after fighting with the Ice King and discover Ricardio has returned. The evil heart reveals he has been spending time in the Ice King's body and has been using his tissue to create his new body with the intentions the princess will marry him. As you can imagine, the idea does not go over well with the princess and she rips him limb from limb and warns him to never return. Ricardio narrowly escapes into the shadows. As bizarre as the episode sounds, it is highly entertaining!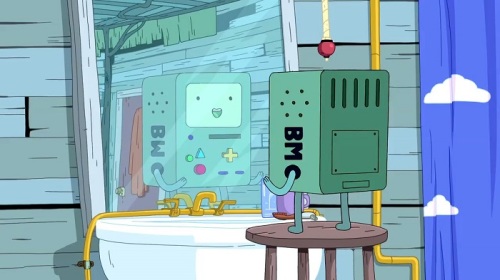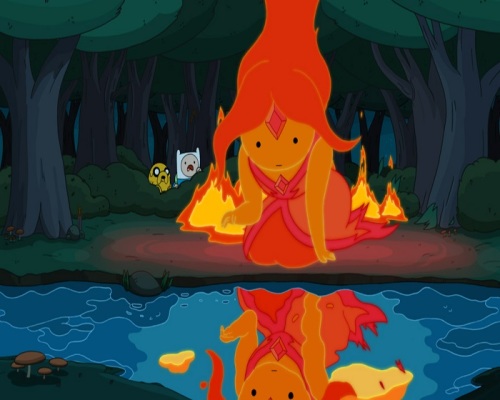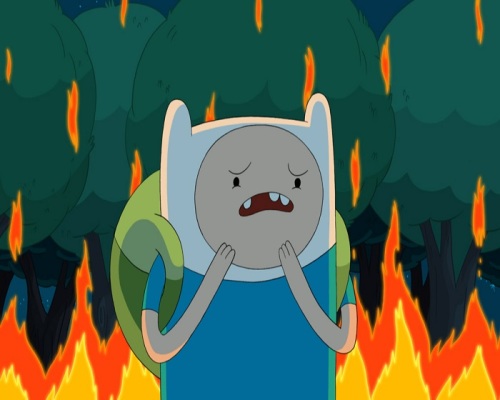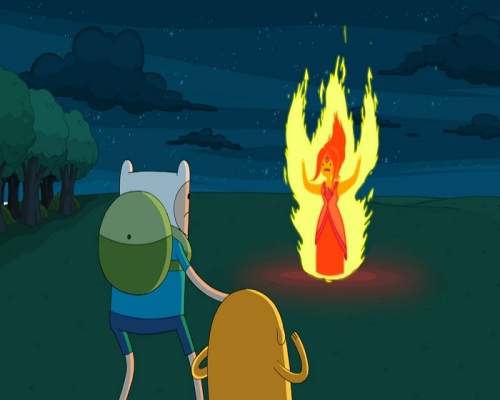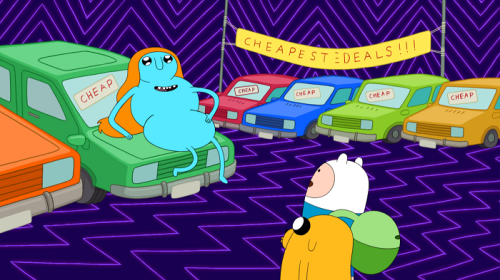 Other favorable episode mentions in the fourth season's release include "Hot to the Touch" when Finn comes smitten with the Flame Princess and "They Went to the Nightosphere," where Finn and Jake escaped from the clutches of Marceline's demon father. Although I have to admit "Gotcha" grabbed my attention with its adult humor about LSP (Lumpy Space Princess) thinking her lumps were attracting the boys (which so happen to be fleas and ants).  She decides to write a book for Turtle Princess as a way to help her with her boy problems and show her how to attract the boys with her "turtle lumps."  Lumpy uses Finn for the bases of her book and learns a valuable lesson during her lumpy experiment.   The episode is hilarious and my absolute favorite from the 26 episodes!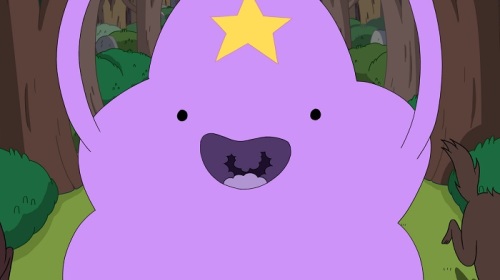 Adventure Time is currently in its sixth season on Cartoon Network and already renewed for a seventh! If you have missed prior seasons, the first two are available for instant streaming on Netflix. Additionally, I recommend checking out the Adventure Time Facebook page for more info about the beloved series. The page has a fan base that includes more than 17 million Adventure Time enthusiasts and is a good source to learn more about the show. There are also tons of licensed Adventure Time products available including apparel, accessories, comic books, calendars and more. The large variety of popular items has led to more than $150 million in sales globally!
Buy it now!
Adventure Time: The Complete Fourth Season comes neatly packaged in a new collectible Marceline slipcase, a must-have addition to Adventure Time fans' collections. The Blu-ray and DVD editions will be available for the suggested retail prices of $32.07 and $26.95 and would make a perfect Halloween gift for the Adventure Time fan in your life!
Do you watch Adventure Time?  If yes, what is your favorite episode?