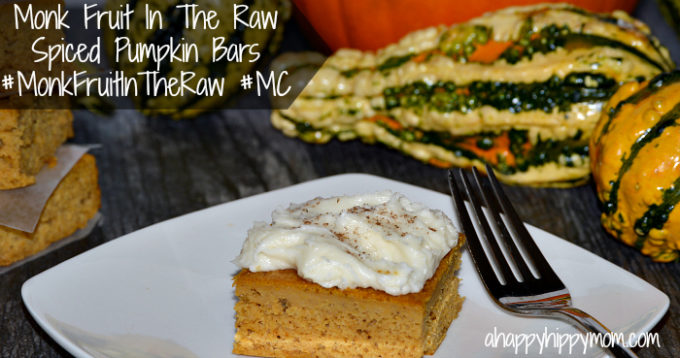 "I participated in an Influencer Activation on behalf of Mom Central Consulting for Monk Fruit In The Raw. I received product samples to facilitate my post as well as a promotional item to thank me for my participation."
The cooler weather is finally upon us, meaning it is time to cozy up with our favorite fall foods! Comforting apple crisp, pumpkin pie, caramel popcorn, and decadent breads are just some of the wonderful flavors autumn bestows. Normally, along with the warmth of the goodies come the extra calories from recipes packed with sugars. As we all know too much sugar in our family's diets can lead to unwanted weight gain and negatively affect their overall health. However, as caring moms we still want to make sure our loved one's tummies are happy and they can enjoy the goodness of the season. So what is a concerned mom to do? The best way to do his is by revamping our favorite recipes with a healthier version using a sweetener like Monk Fruit In The Raw that can be easily replaced for sugar without reducing taste.
Monk Fruit In The Raw, from the makers of Sugar In The Raw, is a sugar substitute made with actual fruit of the luo han guo native to Asia, better known as the Monk Fruit. The zero-calorie sweetener comes incredibly close to the real taste of sugar and is simple to incorporate in recipes due to its 1 to 1 ratio. Being that Monk Fruit extract is about 300 times sweeter than cane sugar, it is blended with dextrose (a carbohydrate derived from corn used as a type of bulking agent) to create the idealistic balance of sweetness, letting it be easily measured, or poured into recipes and sprinkled on foods as an alternative to sugar. Additionally, Monk Fruit In The Raw is gluten free making it safe for people with celiac disease, does not include any animal or animal by-products, and is certified kosher by the Orthodox Union of America. Its long lasting shelf life (3 years when stored under cool and dry conditions), wide availability, and sugar like taste make it the perfect choice for moms who are trying to cut down on sugar without sacrificing taste for their families. The sugar substitute can be purchased in convenient Bakers Bags or boxes containing individual packets.
Are you aware September is Childhood Obesity Month? As a health conscious mom who embraces wellness in my family's lifestyle, I have decided to celebrate this month by incorporating Monk Fruit In The Raw into recipes as a way to reduce sugar. I have been using the packets in my tea instead of sugar, sprinkling it on cereal as a sweetener, and using it in family favorite fall recipes that call for sugar. I have to admit I am very surprised how well the sugar substitute can be swapped out cup for cup without having any measuring conversions and does not alter the taste as other alternative sweeteners do. There is no yucky after taste and the consistency is very similar to granulated sugar. For example, I replaced the 1-1/2 cups of sugar with the exact amount of Monk Fruit In The Raw in my Spiced Pumpkin Bars Recipe and can't tell the difference in taste or texture. AND by replacing the sugar with the Monk Fruit In The Raw, I reduced the calories but not the flavor! The pumpkin bars still taste as scrumptious as they always do! For less sugar omit the frosting.  Give the recipe a try and let me know what you think!
Spiced Pumpkin Bars with Neufchatel Cream Cheese Frosting
Spiced Pumpkin Bars using Monk Fruit In The Raw.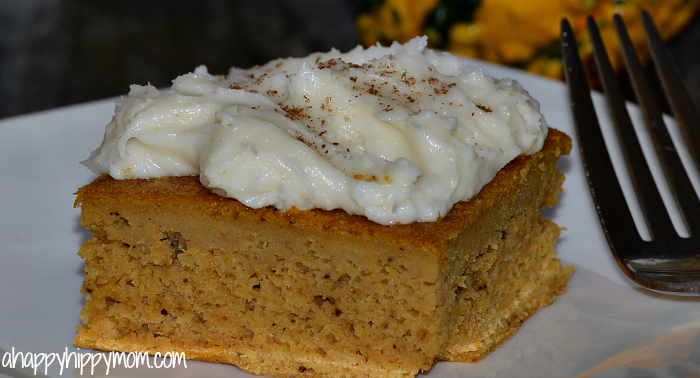 Author:
Michelle Jacklett
Ingredients
4 eggs
1 can (15 ounces) solid-pack pumpkin
1 cup unsweetened applesauce
2 cups all-purpose flour
1-1/2 cups Monk Fruit In The Raw
2 teaspoons baking powder
1 teaspoon baking soda
½ teaspoon salt
2 teaspoons ground cinnamon
½ teaspoon ground ginger
¼ teaspoon ground nutmeg
¼ teaspoon ground cloves

Neufchatel Cream Cheese FrostingOptional
8 oz Neufchatel cheese, room temperature
¼ cup unsalted butter, room temperature
4 cups powdered sugar
1 teaspoon vanilla
Directions
In a medium bowl, combine flour, Monk Fruit In The Raw, baking powder, baking soda, and spices.
In a large mixing bowl, combine the eggs, pumpkin and applesauce; mix on low speed until smooth.
Gradually add dry ingredients and mix until well combined.
Spread into greased 9 x 13 (use larger pan for thinner bars) baking pan.
Bake at 350° for 20-25 minutes or until toothpick inserted in center comes out clean (do not overbake).
Cool on a wire rack for about 2 hours.
In medium mixing bowl, beat Neufchatel cheese, butter, and vanilla with electric mixer on low speed until smooth. Gradually beat in powdered sugar, adding 1 cup at a time, on low speed until smooth.
Spread frosting over cool bars. Store covered in refrigerator.
Not a big fan of Pumpkin Bars? No problem! Check out these recommended recipes using Monk Fruit In The Raw. Visit www.intheraw.com for more recipes and culinary tips for Monk Fruit In The Raw.
Stay Connected with Monk Fruit In The Raw
Visit the Monk Fruit In The Raw website
Like Monk Fruit In The Raw on Facebook
Follow Monk Fruit In The Raw on Twitter
Monk Fruit In The Raw Prize Pack Giveaway
A lucky reader will receive a prize pack containing a Monk Fruit In The Raw Bakers Bag and a box of packets. To enter the giveaway, please follow the instructions provided on the Rafflecopter form. Any comments are welcomed below, but won't count towards the giveaway. Only entries using the Rafflecopter form will be eligible for prize. Thank you!
Open To US Residents Only- age 18 + Ends September 30th , at 11:59 pm (eastern time)! Enter Daily!
[field name= iframe]