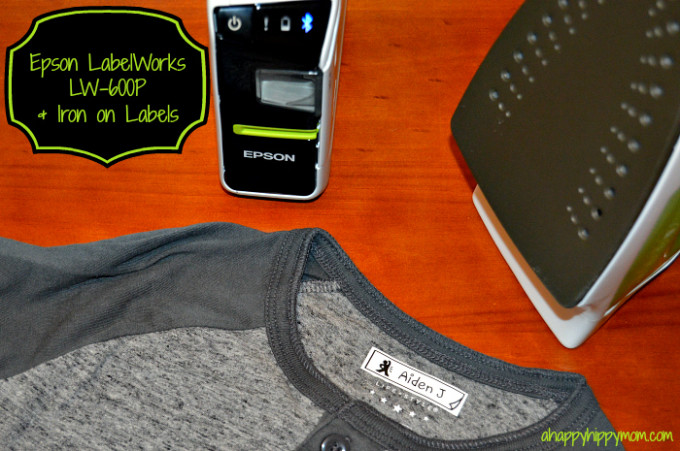 Back-to-school is stressing enough without having the extra worry of your children's belongings mysteriously coming up missing while they are at school. The simple mistake of grabbing the same looking item happens more often than not for kids when they are rushing to get home from a busy day of studying in the classroom. The best way to end the confusion and ensure your kiddo's stuff makes its way home with them is to add a personal touch so they can easily identify their items. Epson has designed an innovative solution for parents to easily add a unique and personal identifier to children's clothing, backpacks or any other fabric with their cool LabelWorks printers and iron-on labels. Parents can now print names, initials, and symbols directly onto Epson's iron-on labels and iron them on as a quick means of personalizing items. The labels are permanent, durable, and machine washable. Not to mention kids love the way they look too!
Epson LabelWorks LW-600P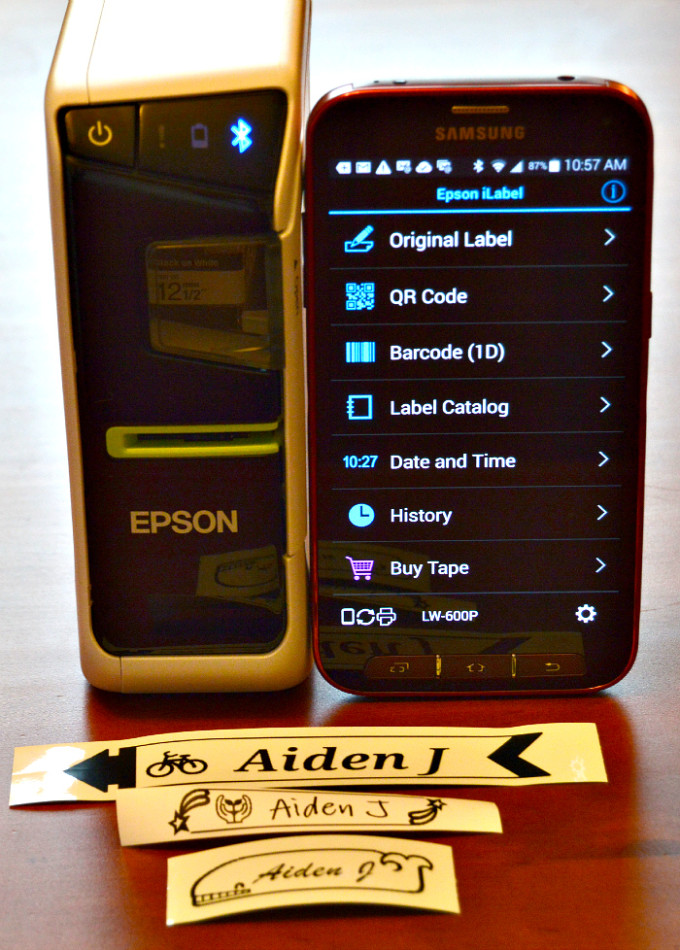 I was lucky enough to get my hands on an Epson LabelWorks LW-600P and an Epson LabelWorks iron on LC Tape Cartridge 1/2-Inch Black on White (LC-4WBQ5) for review. The Epson LabelWorks LW-600P is the first app-enabled label printer on the market allowing users to print signature stamps and/or symbols wirelessly in seconds from their smartphone or tablet and when connected via USB (included) to a PC or Mac. The printer is extremely simple to operate, lightweight, compact (the smallest 24mm (~1") on the market), and even takes batteries (6 AA) for easy on the go label printing. It also includes an AC adapter for the times you run out of batteries, but still need to get your labeling fix.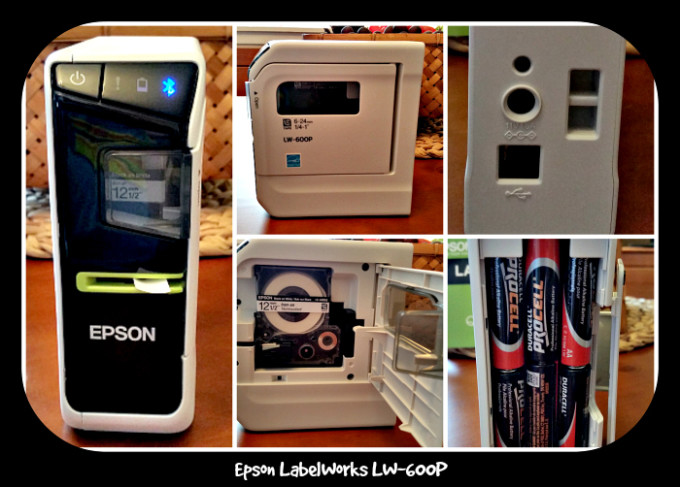 Features:
"True-view" label preview capability using the camera function to ensure labels perfectly match what's on the screen

Wirelessly create, edit and print labels

Handwriting mode for custom drawing or annotation of labels using the touch screen interface

Speech-to-text voice transcription and printing

In-app storage of created label for future use

Import of custom graphics such as symbols, logos and photographs to copy & paste onto labels for a more professional look or to add a personalized touch

Creation of QR code labels for content sharing or barcode labels for inventory management which can be scanned by third-party QR/barcode apps
Specs:
Bluetooth® connectivity for use with smart phones and tablets

USB connectivity for printing from Windows and Mac computers

Print speeds up to 15mm/s at 180dpi for fast printing of labels

Tape widths of 6mm (~1/4″) to 24mm (~1″) for maximum versatility

Battery-powered operation for portability and mobility

AC power (adapter included) to allow the LW-600P to be always on and ready.
How it works

Download the free Epson iLabel app. for your iOS or Andriod from the App store and install. On your device go to "Setting"> General> Bluetooth and enable the Bluetooth. Next, look for the printer under the available devices and tap. When the message to confirm the connection with the printer appears, tap pair. Then make sure inside the app settings you have the printer selected. Pairing is complete when the Bluetooth light on the printer is lit and you see "standby" in the app.  It might take a few minutes to connect to the printer, but once it is complete you are ready to get busy creating those adorable customized labels!
There are several different font styles, frames, over 100 label design templates and over 400 symbols to select from when creating your label. You are even able to insert a small photo. The possibilities are fun and endless! This is a quick, easy, and very fun way of adding personalization. Once you get started you begin thinking of everything and anything you can label!   It is VERY ADDICTING!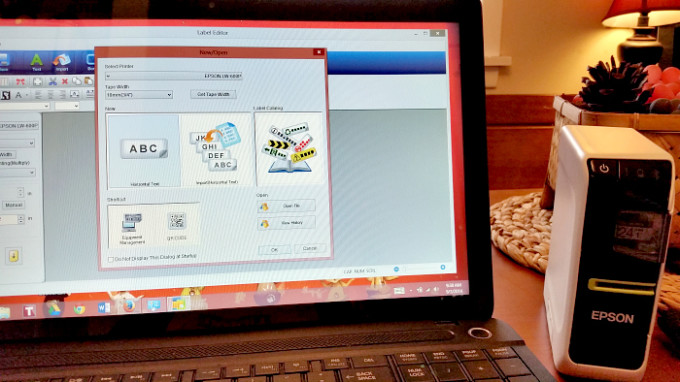 If you are using a PC, download the software and drivers from Epson.  After installing the software,  plug the printer into your computer using the USB and you are ready to go.  There are some differences between the app program and the PC software version, such as various frame options and fonts.  Other than that, they basically do the same thing…create and print labels!
For fast labels without having to type, use your smartphone with voice recognition to create labels in a hurry!  The printer even comes with an automatic cutter, so you have everything you need for labels on the go.
Labeling Cartridges
The printer additionally comes with 2 sample tapes (black on white) to get you started with regular labeling great for placing on notebooks and other back-to-school supplies.  However, the Epson LabelWorks iron on label cartridge is separate and available for purchase online at amazon.com for $18.99. Epson LabelWorks LW-600P is compatible with a variety of other tapes as well, including glow-in-the-dark, metallic reflective, and ribbons.
Personalized ribbons and decorative stickers for party favors, gifts, hair decorations, ornaments, flower arrangements and more

Iron-on labels for uniforms, backpacks, shoes and any type of cloth-based products

Glow-in-the-dark labels for light switches, emergency flashlights and supplies

Reflective labels for jackets, helmets, bicycles and any item that may benefit from labels with reflective visibility
Scanlife and Stkr.it
Apparently, there are third party apps such as the Scanlife and Stkr.it, which can be used with the Epson LabelWorks LW-600P. Scanlife (iTunes App Store http://bit.ly/1gfnfuU or the Google Play Store http://bit.ly/1ihSvMq) allows users to create unique QR codes perfect for personalization name tags, business, cards, mobile ad campaigns, and more! The Stkr.it (available at the iTunes App Store http://bit.ly/1gFdR3w or the Google Play Store http://bit.ly/PUP4Th) enables users to link a photo, video, or audio clip from their mobile device to a one-of-a-kind QR code for using on scrapbook pages, greeting cards, crafts, and more.  Once the QR is scanned it reveals a digital photo or message! I have not tested out these apps yet, but they sound incredible for using for personalizing holiday cards, invitations, gift tags, and other special items.
Epson Developer Program
Are you a developer and have an awesome printing idea you would like to contribute? Epson has also launched a developers' program for the World's first App enabled label printer where creative programs can access the LW-600P SDK and open APIs and very easily create personalized printing solutions with the LabelWorks LW-600P. For the LW-600P developer program please visit http://bit.ly/1tVG4gM
What's in the Box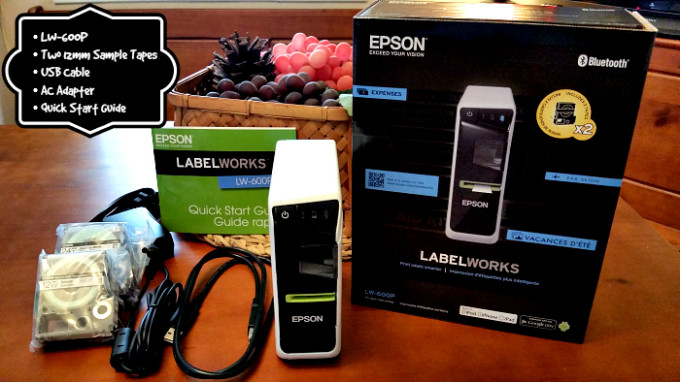 LW-600P
Two 12mm Sample Tapes
USB Cable
AC Adapter
Quick Start Guide
Conclusion
Not only is the Epson LabelWorks LW-600P great for keeping your children's back-to-school items from magically disappearing, but also fantastic for all kinds of organization or specialty craft projects! From kitchen spice labeling, food containers, photo albums, videos, clothing, costumes, or anything else needing a quick personalization—the Epson LabelWorks LW-600P is a great lightweight labeling companion and the perfect mobile device accessory.  It is small enough to be packed for traveling for any on the road labeling tasks and since it takes batteries you don't have to be near an outlet to use it! With the third party apps and creative developer program in place, the printing capabilities keep expanding making the labeling possibilities endless!
Buy it!
The Epson LW-600P printer (MSRP $99.99) can be purchased at Epson.com.
Stay Connected
Connect with Epson America on Facebook
Follow Epson on Twitter
Epson on YouTube