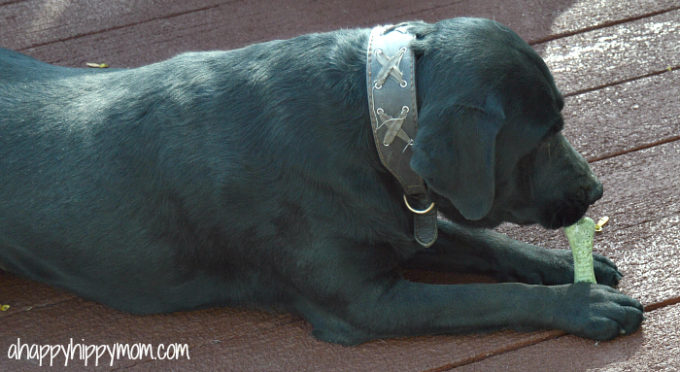 "The opinions in this article are my own. I do not work for, or with, any brand mentioned in this article, nor do I have any official relationship with them. I have a relationship with GigaSavvy, for whom I create original editorial content."
Is your dog's shedding becoming a nuisance? I have three Labradors who drop bags of fur a day! I'm not kidding! There seems to be more fur on my floors, clothing, and furniture than on my dogs! I have no idea how these three pooches are able to drop so much hair and not be bald. I understand during shedding season a dog will lose a lot of hair, but they are shedding ALL YEAR LONG. I seriously cannot keep up with the vacuuming.
VETIQ Skin & Coat Vitamin Chews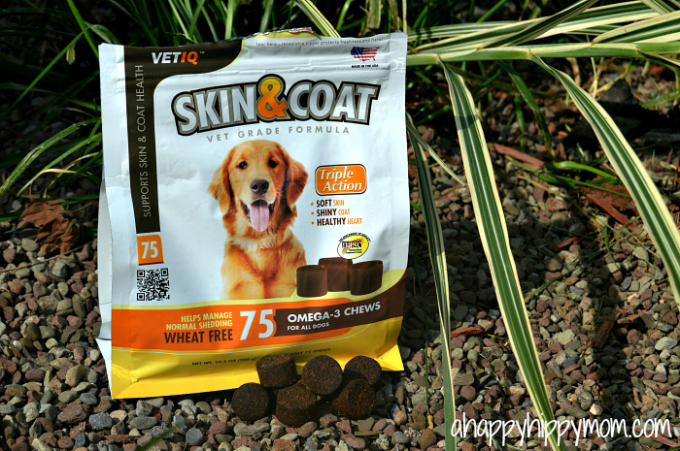 Sam, my Black English Labrador, is the worst hair offender.   I find clumps of his hair everywhere. Looking for a solution to the continuous shedding problem, I decided to try giving him VETIQ Skin & Coat Vitamin Chews. Each soft chew provides a dose of omega-3s from fish oil, biotin, and vitamin A and E to help promote a shiny and healthy coat from the inside out. Plus, the omega-3 in VETIQ Skin & Coat also supports a healthy heart and overall wellness. The vitamin chews are wheat free, dogs seem to love the taste, vet recommended and are made right here in the great U.S.A.
I have been giving Sam three treats per day for the past few weeks and have noticed he is not scratching as much as he usually does and his skin does not look as dry as it did. The shedding has lessened some and I am able to see an improvement in his coat in only a couple of weeks! I'm very happy with the results thus far and can't wait to see the benefits of continuous use! In fact, I just started to give them to my other two shedding fur babies and hope they will have the same great effect on them. The bag contains 75 omega-3 chews and is available for purchase at Walmart, Safeway, Kinney Drugs, and other convenient retail locations.
VETIQ Minties Dental Treats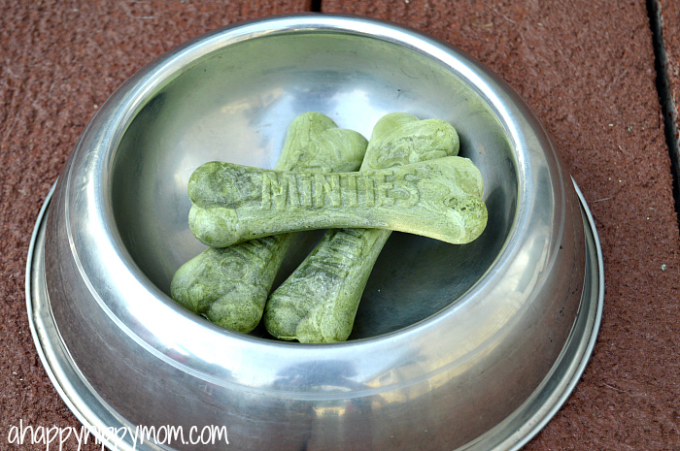 Along with the omega-3 chews, I received a bag of large VETIQ Minties Dental Treats. These treats look like unique green bones and my pooches LOVE them. Minties feature a triple-action formula that helps clean teeth, freshen breath and control plaque and tartar. The treats are great for pet owners who care about the importance of good dental health, but do not have the time to brush their dog's teeth.   VETIQ took health concerns into consideration when creating Minties, so the treats are free from allergens such as wheat, soy, corn and gluten. Additionally, the dental treats are free from artificial flavors, animal by-products, sugars, and salts too. They are priced at a fraction of the cost of brand name alternatives and make a good choice for owners who have pets with dietary concerns.
So what is in Minties? Well for one thing … peppermint oil! You can actually smell the peppermint oil as soon as you open the bag! Here is more about Minties per manufacturer.
Contain no artificial flavors, animal by-products or added sugar
Feature unique density, shape and texture to keep your dog's teeth clean and healthy while chewing
Formulated with five types of natural breath fresheners—chlorophyll, parsley, dill, peppermint oil and fennel—to counteract "dog breath" and breakdown odor-causing particles in the stomach, as well as Tricalcium Phosphate, an active teeth cleaning agent, to make proper dental hygiene easy and accessible
Ingredients such as rice powder and parsley allow Minties to break down into smaller pieces so they're more easily digestible
Contain half the sodium of leading competitors' products, while still offering a taste that dogs find palatable
Minties are available in four sizes for tiny, small, medium and large dogs. The treats can be found at Wal-Mart and Sam's Club locations nationwide priced at $6.88 for a 7oz. package.
Celebrate Pet Appreciation Week with VETIQ
With Pet Appreciation Week September 17 – 21, VETIQ treats would be a great way to celebrate your canine friend! VETIQ offers a wide range of vet recommended pet care products including VetGuard Plus Flea & Tick control, Minties Dental Treats, VetIQ Health & Wellness products and prescription heartworm and NSAID medications at affordable prices. For more product information and availability, visit www.vetiq.com.
Stay Connected with VETIQ
Visit the VETIQ website
Like the VETIQ Facebook Page
Follow VETIQ on Twitter