"I participated in a campaign on behalf of Mom Central Consulting for Zappos.com. I received product samples to facilitate my review"
Do you dread the back-to-school shopping season? I normally do, because it usually means the last precious summer weekends are spent in stores. It is the same routine every year; jumping from store to store, standing in long lines, and settling for stuff you do not really want because everything else is picked over. However, as the years have gone on and my teen daughter has reached the age of 17—back-to-school shopping is a more frustrating, hair pulling, come home with nothing, and start all over again event! Seriously, as she has gotten older my daughter has developed a strong sense of fashion and we spend an entire day at the mall to walk away with only one item on her back-to-school list. That's if we are lucky! Most of the time at the stores are spent trying on items, unsuccessfully! According to my sweet angel nothing fits the way she would like it to, because the clothing does not meet par. I'm just happy if we walk out the front doors with a purchased pair of socks!
Back-to-school shopping at Zappos.com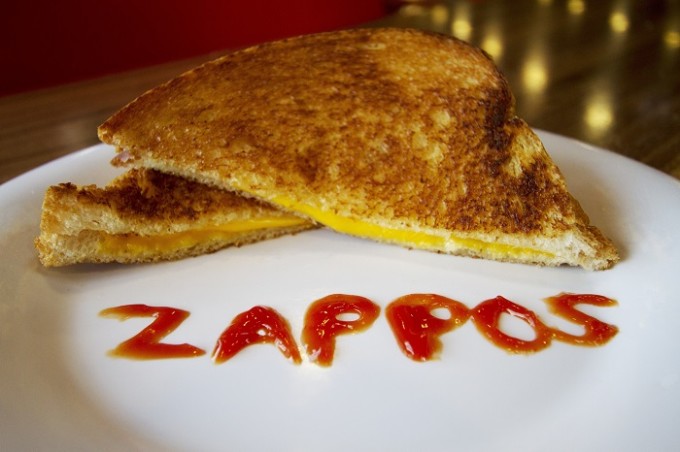 Thankfully, to Zappos.com via Mom Central, this year has been different. We were given a budget of $300 to go back-to-school shopping and choose at least three items with the credit. If you have never had the opportunity to shop at Zappos.com, they are a HUGE online apparel and footwear shop offering millions of products from over 1000 popular clothing and shoe brands. The wide selection of products available on Zappos.com include famous brands like The North Face, Under Armour, Nike, Roxy, Volcom, Keen, Patagonia, and much more! In my honest opinion, Zappos.com is a mom and teenage shopping paradise!
Shopping at Zappos.com is made easy, because the website is extremely simple to navigate. You can narrow the selection down by department, price, brand, style, and size. You can even shop by browsing hot trends, special occasions, and showcased outfits. What I also love is that a lot of the items have customer reviews, allowing to read how the person likes the product or if it runs true to size. This way you can plan your purchases accordingly.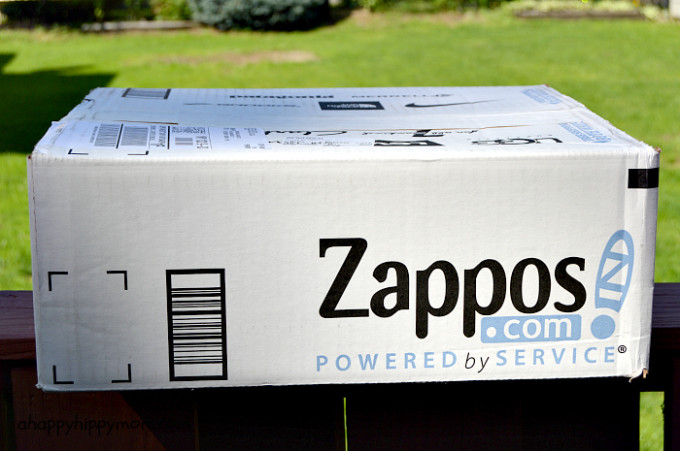 My daughter and I sat down and began dropping well liked items into the "Add to Favorites." I think we must have added over 50 products to our favorites and then narrowed them down. It made the shopping experience extremely simple, since all we needed to do was add them to the shopping cart from there. We selected 5 products to make a complete outfit. The products we chose are wardrobe staples that can go along with most everything she already has to create new fresh looks. Here are the items we purchased for back-to-school.
The North Face: Calentito Jacket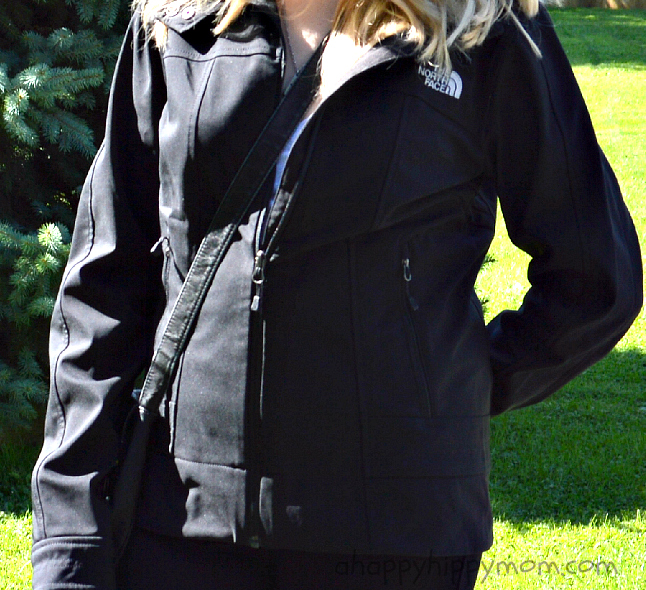 LOVE this jacket! It is lightweight and extremely stylish. Featuring a classy slim fit, the jacket pairs well with just about anything you might have already in your wardrobe. The jacket is perfect for those cold and windy fall days were you need warmth and protection, but don't want the bulkiness of a regular cold weather coat. Featuring two hidden inside pockets and two exterior zip pockets, the Calentito has plenty of storage room inside while still being able to keep the hands warm with the outer pockets. My daughter usually wears a size small jacket, but probably could have safely ordered an XS, since the jacket has a lot of room. However, she is extremely happy with the way it looks and feels on! Definitely a great purchase! The item gets 5 stars for overall comfort and style.
HUE: Ponte Double-Knit Leggings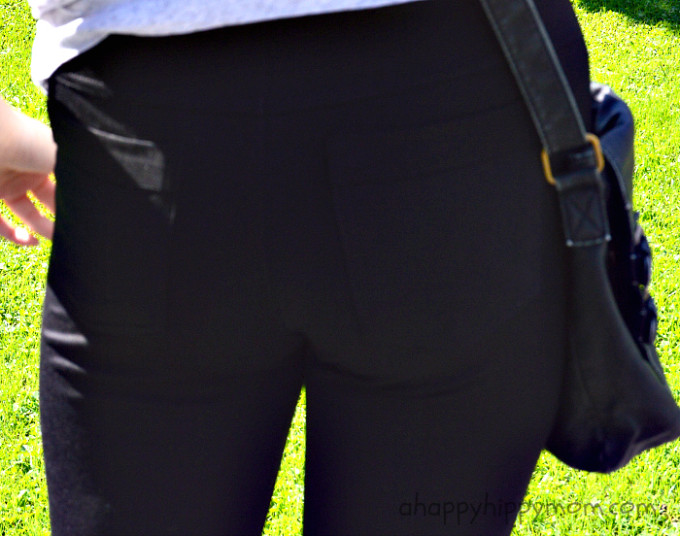 These are not your average pair of leggings! They are extremely well made and are very slimming! In the back features two cute functional pockets and in front two faux pockets. The material has a silky feel, which makes the leggings very soft against the skin. The product also seem to hold its shape well and after hours of wearing the knees are still form fitting. Dress them up with a beautiful blouse or down with a sweatshirt, no matter what you match them with you will be comfortable and look fantastic. They are versatile and make a wonderful addition to any wardrobe. They get 5 stars for being true to their size, overall quality, versatility, and style.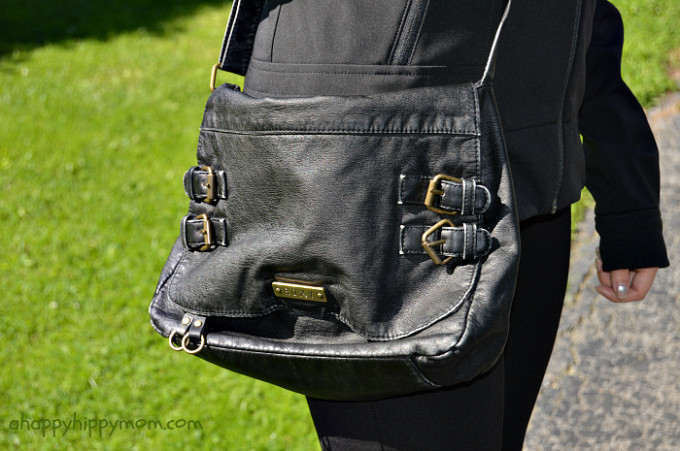 Every outfit needs a perfect accessory to be complete! This cute bag will do the trick! The bag features a tasteful Roxy logo plate on front, which is not gaudy like other bags you see. It has lots of room with two small opened compartments and one large zippered pocket for secure storing. On the front under the magnetic snap closure is another large zipper area. Featuring adjustable straps, this crossbody faux leather bag is comfortable to wear and makes an adorable statement! Goes great with jeans and leggings! The bag gets 5 stars for usefulness and cuteness!
Hurley: Solid Perfect V Neck Tee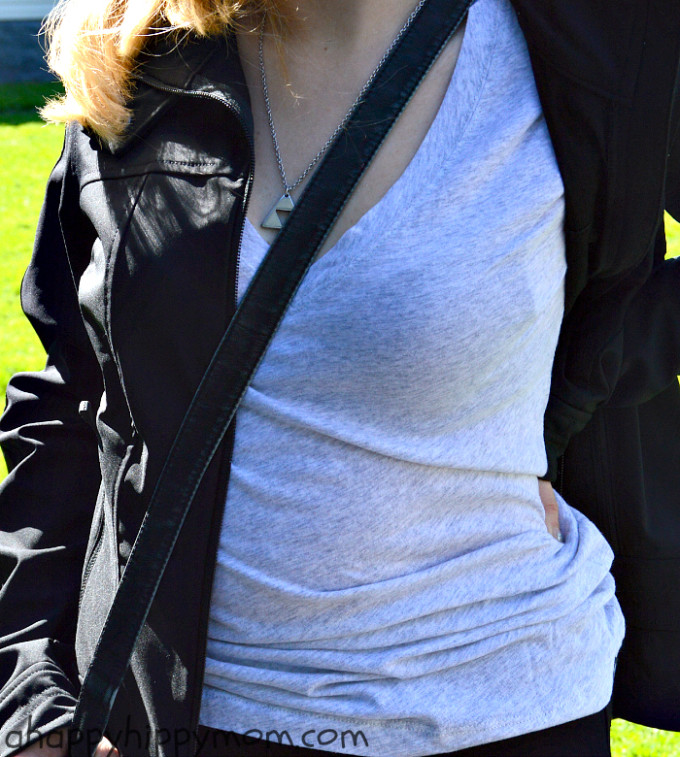 A nice classic, lightweight tee that is made from 100% comfortable cotton. It features a relaxed V-neckline, which is on the low cut side. Also, depending upon your wearing preference, you might want to wear something underneath of it besides a normal bra because it is rather revealing due to being thin. On the bottom is a small woven logo tag. It gets 3 starts for comfort and versatility.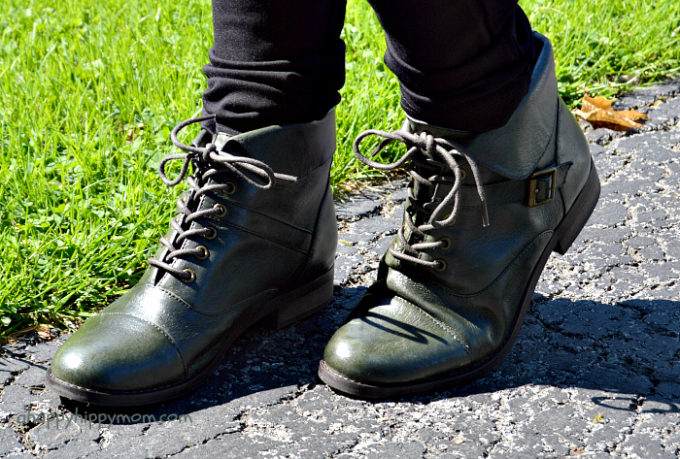 Steve Madden is known for his trendsetting line of footwear and these Stinger boots are no exception! They are absolutely beautiful and go perfect with leggings, jeans, shorts, and everything in between! The ONLY complaint I have about these boots are they should feature a side zipper for easy on and off. The boots are stiff and difficult to put on and remove. However, the boots look gorgeous on and if you have the time to mess with the laces you are going to love these cuties!   The boots seem to run on the larger size and there is plenty of room for a thick sock. I give the boots 4 out of 5 starts for style and quality! If they had a zipper they would be getting a 5 out of 5 stars!
One stop back-to-school shopping solution
No long lines, no pushing or shoving, no long hours wasted in the stores, tons of favorite brands shipped directly to your door and everything needed located in a single place—Zappos.com is a one stop back-to-school shopping solution for busy moms! Unlike lots of other online stores, Zappos.com has a fulfillment rate of over 99.9, so there is no disappointments! If you order it you can be confident you are going to receive it! Shipping is speedy and always free no matter how big or small your order is. PLUS, they provide 24 hour customer service in case you have a question about an item or your order. Oh and guess what? Zappos.com offers free returns, so if something doesn't fit, it's simple and easy to return or exchange the item. If you have any last minute back-to-school shopping left to do, avoid the hassle, savor your remaining summer days and check out Zappos.com!
Keep watching for my updated post coming soon featuring a full picture of my daughter wearing her new items from Zappos.com! Have you ever shopped at Zappos.com? What is your favorite item there?

Stay Connected With Zappos.com