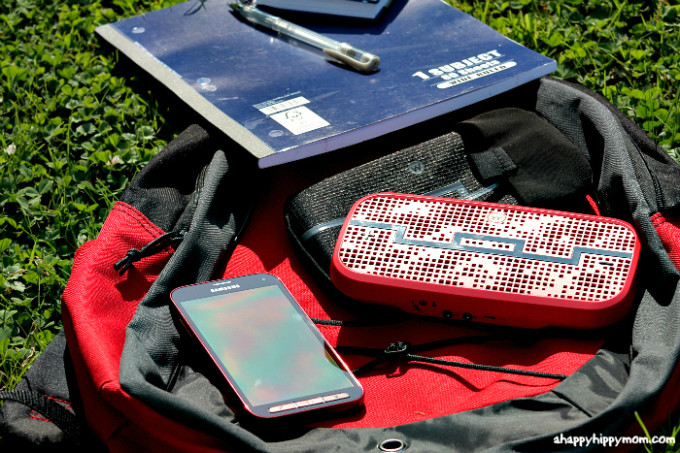 During the back-to-school shopping fiasco sometimes as parents we lose focus with trying to get all the essentials are kids need for the upcoming year that we forget this can be an exceptionally stressing time for our teens. Students begin to show signs of anxiety, irritability, or depression at the thought of returning to the classroom.  For college bound teens the concerns of costs, admissions, and living on campus might turn into overwhelming thoughts. I know my soon to graduate teen daughter is already starting to feel the crunch of having to take SATS and applying to universities this year. So, if you have a teen who is starting to get frazzled, why not ease their stress with a cool back-to-school gift? SOL REPUBLIC has awesome products ready to get your back-to-school bound kid relaxing to their favorite tunes! From stellar headphones that keep up with the active lifestyle, plush wireless headphones great for kicking back, to custom collegiate headsets sporting their favorite team, SOL REPUBLIC has the perfect gift your teen will appreciate! Check it out!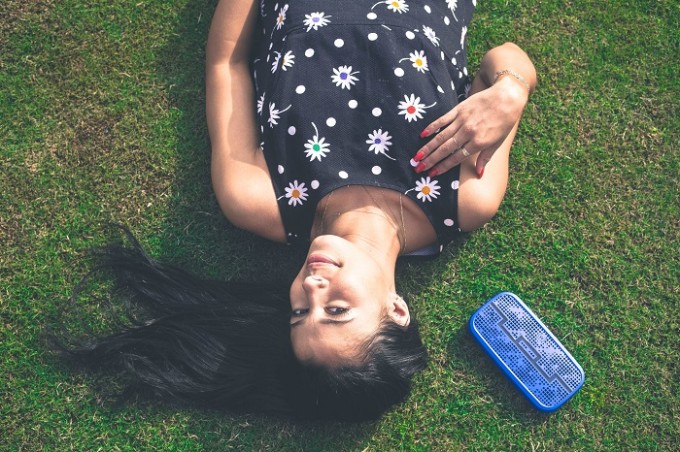 SOL REPUBLIC DECK Awesomeness!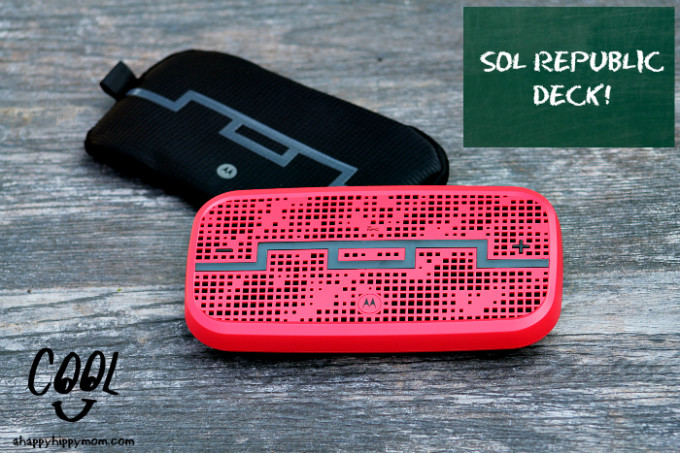 As you already know I am a HUGE SOL REPUBLIC fanatic. I have featured most of the line of products SOL REPUBLIC has over the past year and have enjoyed each and every one of them. Each product has something different to offer, but they all do the same thing…deliver high-quality sound at an amazing price. Seriously, the company is outstanding for providing music lovers with products that are built to last, look fantastic, and enhance the listening experience without leaving your wallet empty. If you are a music enthusiast you probably have already tried their products and agree, but for those readers who haven't had the pleasure yet I am back to let you know about another SOL REPUBLIC product I have had the pleasure of trying out this week and think you are going to LOVE—the DECK! And one lucky reader is going to win one here courtesy of SOL REPUBLIC! Here is a bit more about the SOL REPUBLIC DECK before getting to the giveaway.
The HEIST!
The DECK is a collaboration between SOL REPUBLIC and Motorola to give users the pleasure of big sound and the power of sharing wrapped up in a unique looking wireless speaker. What sets this wireless speaker form the rest is that it features a 360-degree Full Sound design with Heist Mode, allowing up to five friends to simultaneously pair to the device (speaker waits for 5 minutes to pair new devices when Heist Mode is activated) and share tracks. Sharing is caring and this wonderful designed product makes it easy with its simple to use Bluetooth "EASYPAIR" and Near Field Communication (NFC) technology! Once connected, each friend can control the music by simply hitting play on their device. What is especially cool is each mobile device gets a unique color when it connects to the speaker and there is no guessing who the DJ is, because the LED-illuminated SOL REPUBLIC logo indicates which device is currently playing. Another nifty feature is you are able to avoid getting "heisted" from other users by pressing the Motorola logo button. To unlock it, hit the button again. The entire concept makes the DECK especially fun for students who are getting together for studying or want to throw a party and be able to share tunes.
Outdoor Boost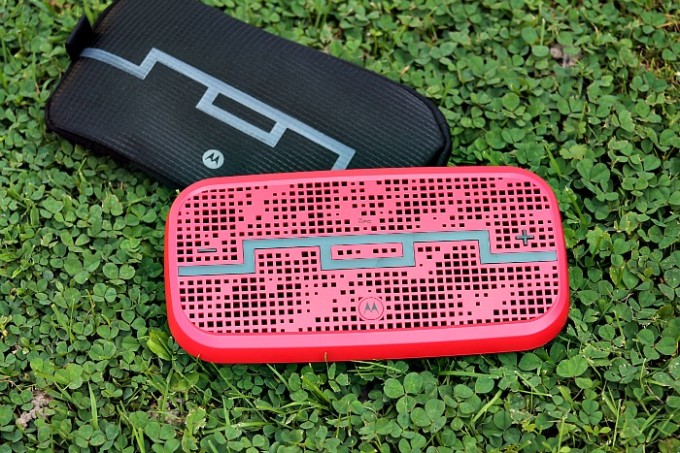 Great for outdoor BBQs and entertaining, the DECK is equipped with an Outdoor Mode. The feature is activated by pressing the multi-functional Motorola button and gives a slight boost in sound for areas further away from the speaker. There is a voice prompt letting you know you are in Outdoor Mode, but you are able to hear the difference from inside and outside modes. The speaker puts out a very loud sound without distortion on the highest volume button in either mode. However, in the Outdoor Mode the DECK delivers a tad bit (not overly significant) increase in volume. I placed the DECK on my porch, activated the Outdoor Mode and tip-toed through my grass to see how loud the wireless speaker actually was and I have to say it was probably producing enough to irritate my conservative neighbors with the Doors The End! LOL! Success! I can't honestly say how many feet I was away from the speaker, but the R2 Sound Engines definitely crank out the tunes! SOL REPUBLIC claims the DECK has a super power wireless range (10x than the standard), offering up to 300 feet of wireless range before losing connection. Teens will LOVE it!
Speakerphone
The "Single User Mode" lets the user stream music from their phone directly to DECK and make or receive a phone call by converting to a fully functioning speakerphone for hands free calling. Answer a call, reject a call, make a call by activating your phone's voice commands, mute or unmute a call, or end a call all with the volume or Motorola button located on the top of the DECK. I played around with this a few times over the week and was impressed by the ease of control and clarity of the calls.
Audio Quality
I like to pretend I am a music professional, but I am not. With that being said, I do know the difference of hearing good audio compared to fuzzy distorted garble that sounds like it is put out through a muffler. The DECK produces crisp audio even at the highest volume and the subwoofer pumps out decent bass for a portable wireless speaker.
Battery
The DECK is powered by a built-in rechargeable battery delivering up to 10 hours of play time depending upon usage. On a full charge playing tunes at a mid-high range I received about 7.
Design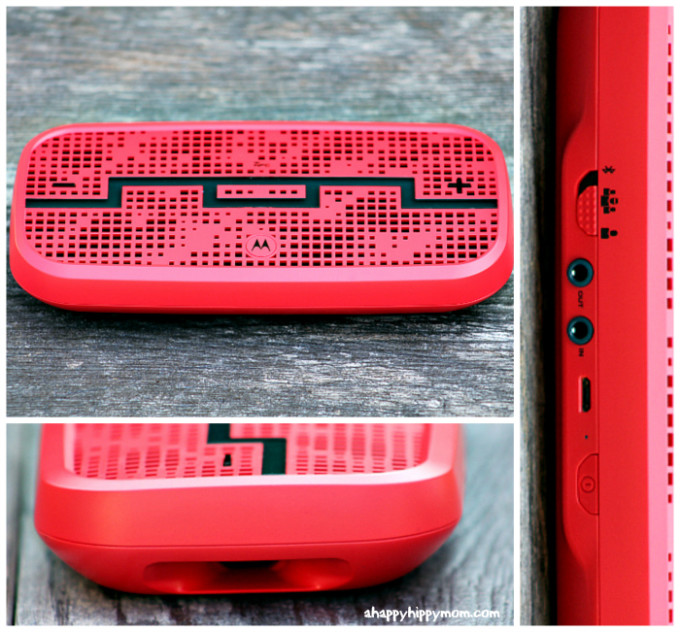 One of the best appeals of the DECK is the travel friendly design. Its compact lightweight slim pancake like shape (3.8 x 7.4 x 1.2 inches) makes it extremely portable and great for packing in backpacks, taking in the car, or placing on a shelf. Students will love all the extras such as the cool lighted SOL REPUBLIC logo on the top, neat voice prompts, the included acoustically transparent slim-fit case letting you listen to the DECK while protecting it, color varieties, and overall stylish appearance of the speaker. On the face of the DECK is the status lighted logo, NFC for quick tap pairing, hidden mic, volume controls and mult-functional "M" button. The top/side contains the switch for the three different modes (pairing, HEIST, Single mode), 3.5mm in and out jacks, micro-USB port for charging, and power button. The bottom of the device contains a texturized rubber-like material that helps keep the DECK stationary and from slipping around. DECK is available in the colors of Gunmetal, Lemon Lime, Electro Blue and Vivid Red. This is a very well thought out product!
Advanced Stuff
If you have an old mp3 player with a 3.5mm jack that is loaded with tunes  and is non-Bluetooth enabled your in luck!  The DECK features a line in port allowing you to connect your device using the included 3.5mm audio cable.  You can also connect multiple DECKS together for an awesome chain of coolness by inserting the supplied audio cable into the Line Out jack on your DECK then into the Line In on another DECK.  There is no limit on how many you can connect!

What's in the Box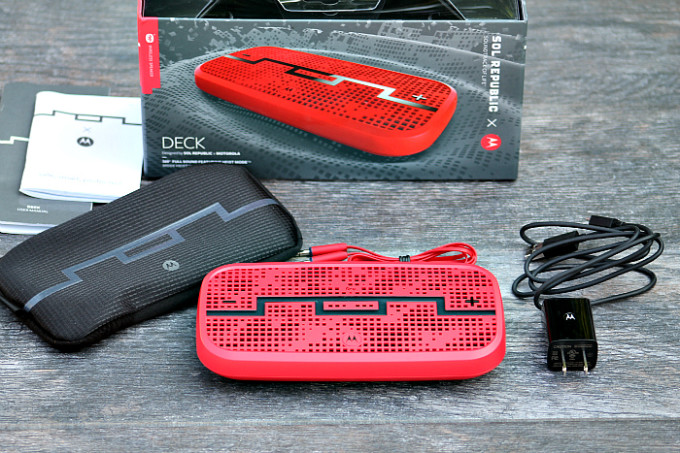 DECK by SOL REPUBLIC x Motorola
AC adapter
USB charging cable
Audio cable
Protective Sleeve Case
Quick start guide
Conclusion
The SOL REPUBLIC DECK is packed with a bunch of high-tech features wrapped up in an extremely cool compact design that produces crisp audio at all volume levels! The student in your life will definitely put this wireless speaker to good use. From hands-free calling, social music sharing with the nifty HEIST mode, to just relaxing listening to tunes or an audio book while getting ready for school or studying, the student in your life will LOVE the DECK! Heck! My classroom days are over, but I consider myself a student for life always learning something new daily! So shouldn't you! Pick yourself up one too and don't forget to enter the giveaway below for a chance to win a SOL REPUBLIC DECK!
Price and Availability
The SOL REPUBLIC DECK has a suggested retail of $199.99 and is available for at SOLREPUBLIC.com and at leading nationwide retailers. HURRY! The DECK is currently on sale for $129.99 at Radio Shack!
Stay Connected
Visit the SOL REPUBLIC website for product info and other fantastic back-to-school gift ideas!
Like the SOL REPUBLIC Facebook page
Follow SOL REPUBLIC on Twitter
Visit SOL REPUBLIC on Instagram
SOL REPUBLIC DECK Back-to-school Giveaway!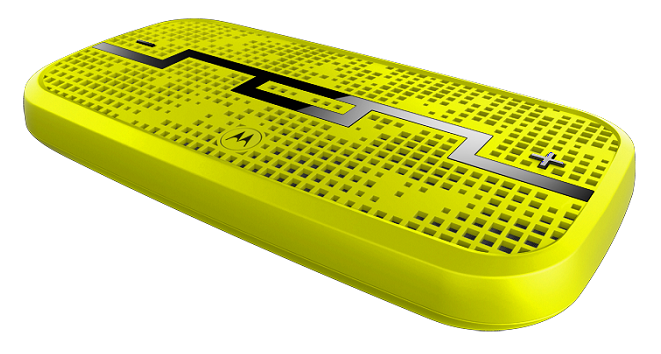 In celebration of all the deserving students who are heading back-to-school this fall and need a stellar musical pick-me-up, , SOL REPUBLIC would like to give one lucky reader a DECK! To enter the giveaway, please follow the instructions provided on the Rafflecopter form. Any comments are welcomed below, but won't count towards the giveaway. Only entries using the Rafflecopter form will be eligible for prize. Thank you!
Open To US and Canada Residents Only- age 18 + Ends August 30th, at 11:59 pm (eastern time)! Enter Daily!
Important to note: If you have won a SOL REPUBLIC giveaway in the past 6 months you are not eligible to win this giveaway. Sorry, but to be fair to everyone it is a one-time win per 6 months per household.