A water dispenser used to be a gadget you mostly found in an office, but more and more households are realizing how a water dispenser is a must-have appliance for the home. A water dispenser makes mornings easier with cold or hot water ready to be dispensed without hesitation, ultimately encouraging families to drink more water. The convenience of having hot water ready at all times to make tea, hot chocolate, or that yummy instant oatmeal for breakfast is such a nice luxury and saves time.  Or having fresh great tasting cold water on a hot summer day always at your fingertips is definitely a consideration for purchasing a water dispenser!
NewAir Water Dispenser WCD-210BK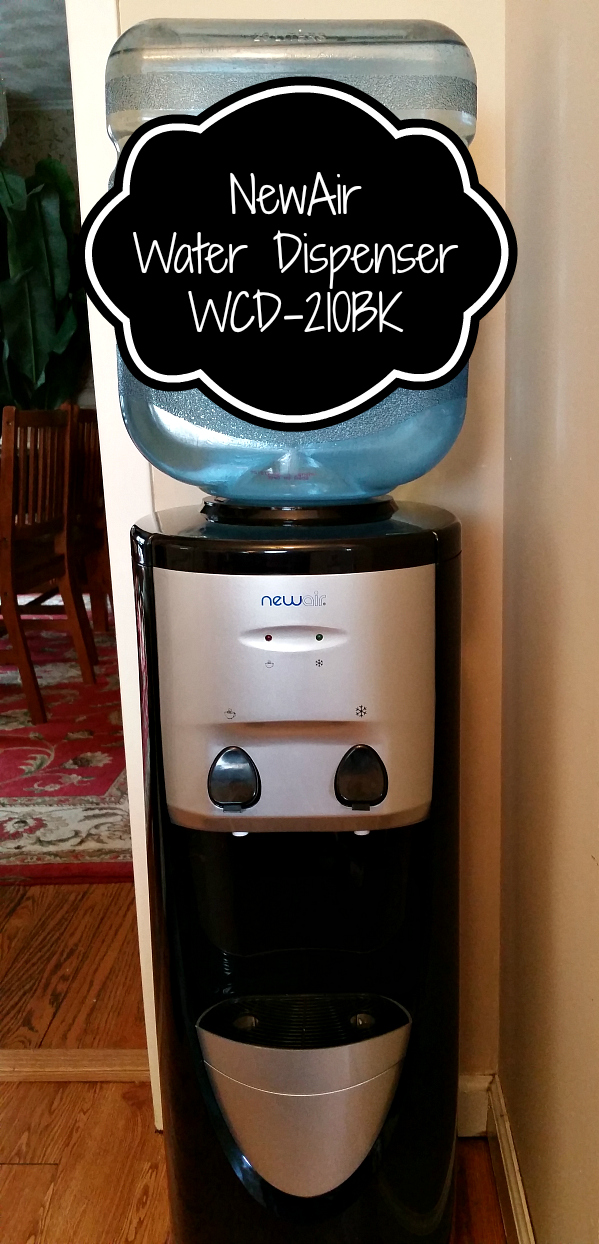 For the past week I have been testing out the NewAir Water Dispenser WCD-210BK and have to share I have found it to be a severely cool item to have in the home. Fresh, clean, great tasting water at the push of a button can't be beat! Even my son who usually puts his nose up at the thought of having to drink water (complains it don't taste like anything) is having fun pouring himself his own cold beverage from the water dispenser. At first I was rather concerned the water dispenser was going to take up too much space in my small kitchen, but the NewAir WCD-210BK fits perfectly in the corner and looks fantastic.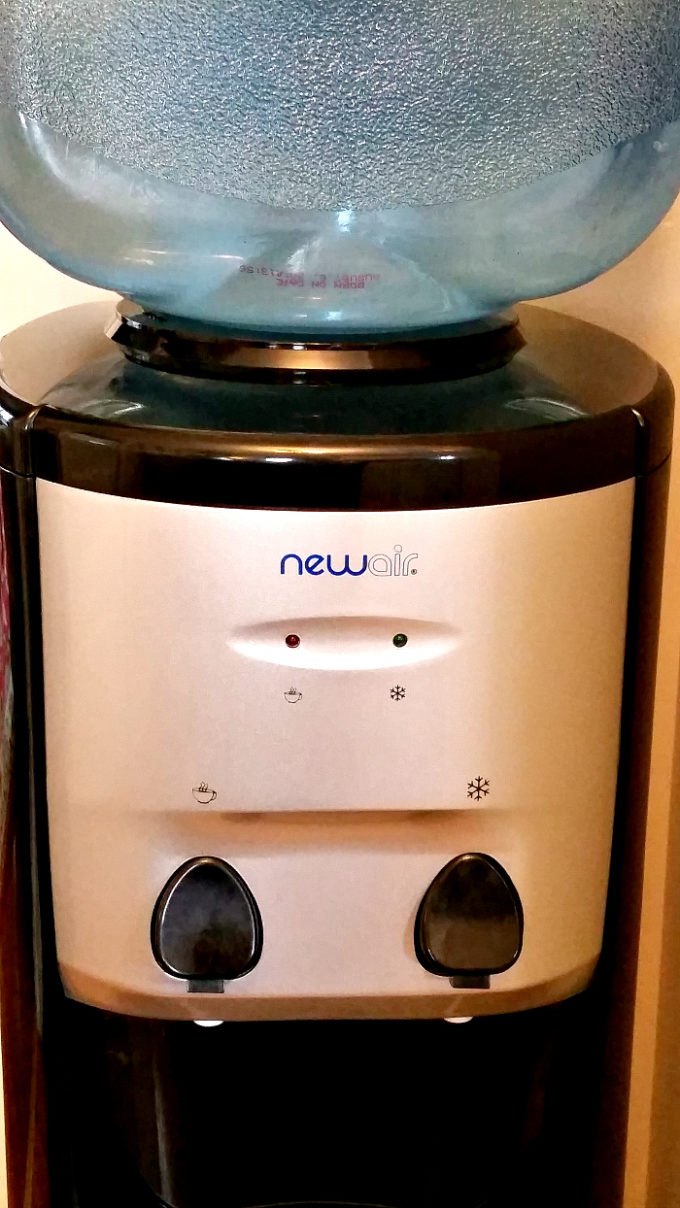 Here is a quick demo from my hubby who explains a little more about this fantastic appliance.
Design & Safety Features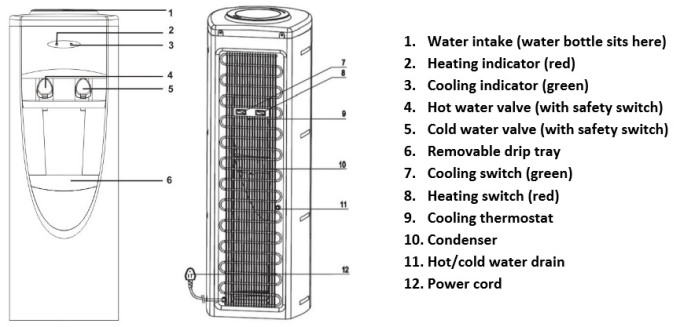 The NewAir WCD-210BK Hot and Cold Water Dispenser measures 13.00″ L x 12.00″ W x 42.00 H and weights a little over 28 pounds. Featuring a black sleek base with stylish silver accents, the water dispenser makes an attractive addition to any space including kitchens, game rooms, living rooms, etc. On the front, the unit features a heating indicator (red), cooling indicator (green), hot and cold water valves with safety switches, and a silver removable water tray. The back is equipped with the heating and cooling switches, cooling thermostat, condenser, cold/hot water drain, and power cord. Located on top of the water dispenser is the water intake hole featuring a spike puncture for the seal of the bottle, designed to accommodate 2-gallon, 3-gallon or 5-gallon bottles of water. Inside, there is a stainless steel water tank which delivers a plastic free taste.
2 Adjustable Water Temperatures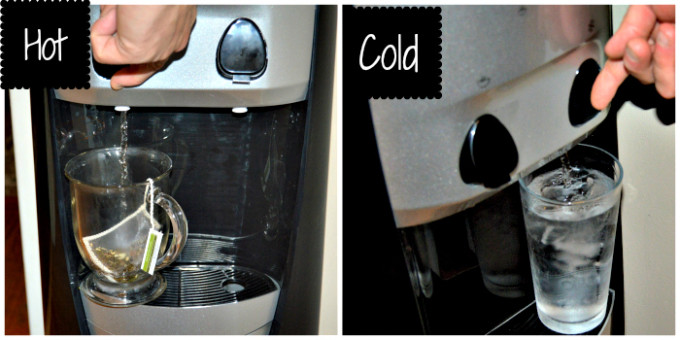 This particular water dispenser allows you to select either hold or hot depending upon your desired beverage choice. You can adjust the coolness or hotness to meet your preferences, which is an extremely nice feature.
Hot Water Temperature ranges from 176°F – 203°F
Cold Water Temperature ranges from 41°F – 50°F
Setup
Getting the water dispenser up and running is as simple as unpacking the unit from the box, removing any extra packing, positioning the stand on a stable, level surface at least a distance of 6" away from walls on all sides of the dispenser. Next, remove the label from the cap of the bottle (leaving the plastic cap intact) and wipe the cap and neck of the bottle removing any dust or debris. Lift and invert the bottle, and insert the bottle neck into the water guard, puncturing the cap with the built-in spike. Then wait for the tank to fill (about 30 seconds) and turn on the Red (hot) tap until water flows from it. The company recommends you let the water dispenser stand upright for about 2 hours before plugging it into the power source to reduce any possibilities of malfunctions in the cooling system from transportation. Once the time has passed, plug the machine into the outlet and turn on the switches in back one at a time. You should notice the heating and cooling lamps lighting up. That's it! BUT before you drink any water you have to flush the water dispenser. The product has been cleaned and sanitized before shipping, yet dust could have accumulated in route to your home so it's a good idea to do an initial cleaning. However, this is where you waste a lot of water (whatever is in the tank) and have to be extremely careful not to get burnt from draining out the hot water. Plus, you have to remove the bottle on top after it has already been pierced.  The process takes a few minutes, but once it is done you are prepared to dispense refreshing cold or hot water.
Safety
NewAir WCD-210BK comes with a UL Certification and meets the FDA standards, meaning it is deemed safe for using to help keep you hydrated with clean H2O!
Warranty
This appliance is covered by a limited manufacturer's warranty. For one year from the original date of purchase.
Specs

Less Wasteful and Fantastic For Back-to-school
We live in the suburbs and have city water, which smells and tastes like chlorine. The tap water is virtually undrinkable and I hate to think what could be lurking in it. In fact, there has been several instances over the years where officials with the City Water System say they've found E. Coli bacteria in the water supply and ask the residents to stick to drinking bottled water until they get the problem resolved. Personally, I don't trust drinking it and do not want my growing children to be subjected to the nasty water contaminants. However, we all know how purchasing single bottled water is extremely wasteful and not good for the environment. The water dispenser is a good alternative and is less wasteful!
I know I am going to appreciate the appliance even more once back-to-school begins in a few weeks and the morning craziness starts. Not having to heat up water for instant oatmeal or coffee, tea, or cocoa will certainly make the mornings a bit easier and less rushed. The unit runs extremely quiet, takes up little space, provides fresh, clean water in an instant, and is a wonderful addition to our home!
Buy It
NewAir Water Dispenser WCD-210BK has a suggested retail price of $219.99 and is currently on sale at Amazon.com for only $169.99! Buy it now and SAVE $50!
Stay Connected with NewAir
Visit the NewAir website
Like the NewAir Facebook Page
Follow NewAir on Twitter