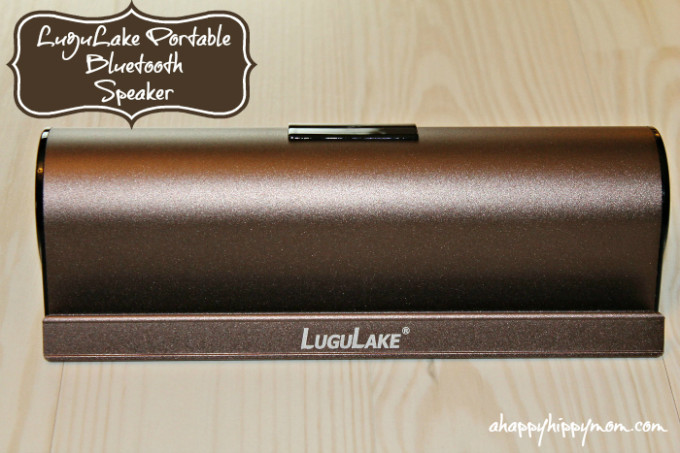 Have any of my peace loving minions heard of LuguLake Direct? The company is fairly new (founded in 2010 in the U.S.) and recently launched a new special design of Bluetooth speakers and other hot consumer electronics in the market like Qi-wireless chargers, beautiful electric kettles, ergonomic stress relieving mice, and more. After trying out the LuguLake Portable Bluetooth Speaker with Stand function, I have to tell you I am VERY impressed with the overall product and service of LuguLake!
LuguLake Portable Bluetooth Speaker with Stand Design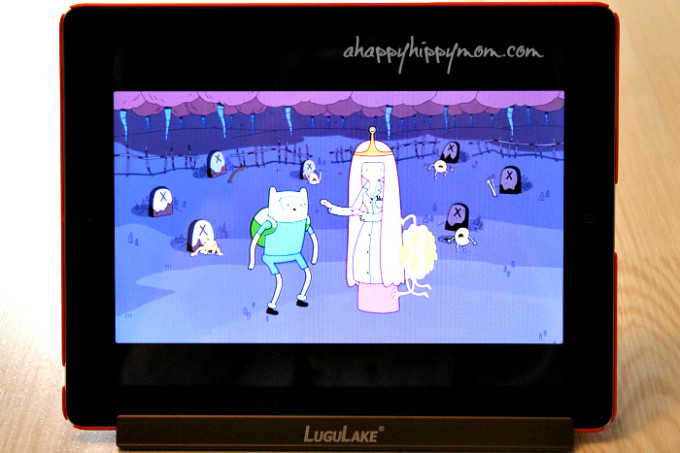 The LuguLake Portable Bluetooth Speaker weighs 313g (0.69 pounds) and is a wonderful  light travel companion for on the go or room to room listening entertainment.   Solid built made of attractive metal material that resembles brushed aluminum, the portable Bluetooth speaker features a 3.5mm auxiliary port for devices that are non-Bluetooth capable (cable included) on the back making the product universal for using with almost any device. Also on the back is a DC input for charging the speaker and on/off slide switch for easy control. Each side contains a 3watt speaker delivering a clear stereo sound listening experience.  On the front is a cradle that accommodates almost any size tablet or smartphone for superb watching in landscape or portrait mode. The bottom contains three rubberized feet for protecting surfaces and helps keep the speaker stationary. The Bluetooth tubular speaker with stand is available in three colors including Coffee, Blue, and Silver.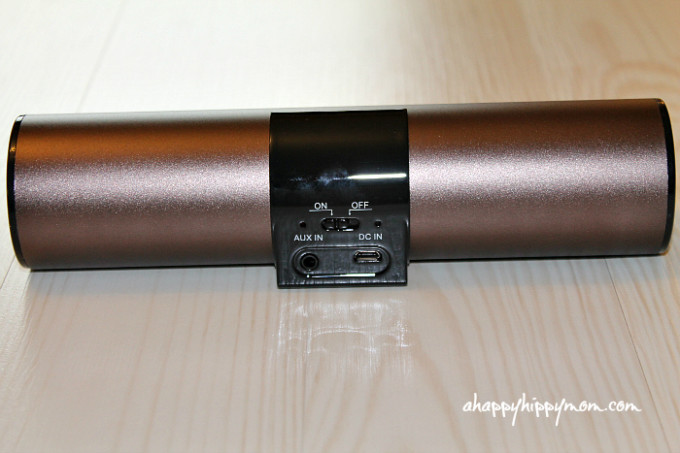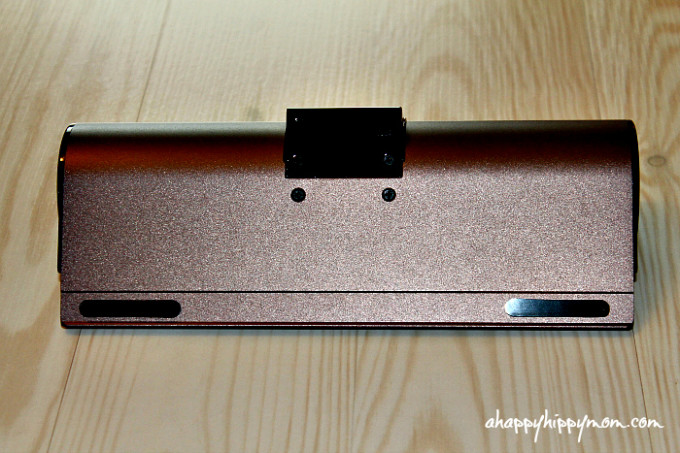 Battery
The product is equipped with a re-chargeable 1000mah lithium-ion battery for approximately 10 hours of playback time once fully charged. I received about 7 hours of Netflix playing time from the battery on full volume before having to recharge it, but it greatly depends upon how loud you listen to it and the way you use it. Charging can be accomplished by connecting the included micro USB cable to the USB port on your computer or by using a USB compatible wall adapter. On the back there is a small red LED indicator light letting you know it is charging.
Connecting
Pairing is as uncomplicated as turning the speaker on and looking for the BT-10 listing under the device's Bluetooth settings. Hit connect and you are ready to go.   There is also voice pairing prompts letting you know when the speaker is connected to your device. I had no difficulties quickly pairing my iPad or HTC Smartphone to the LuguLake Portable Bluetooth Speaker.
Sound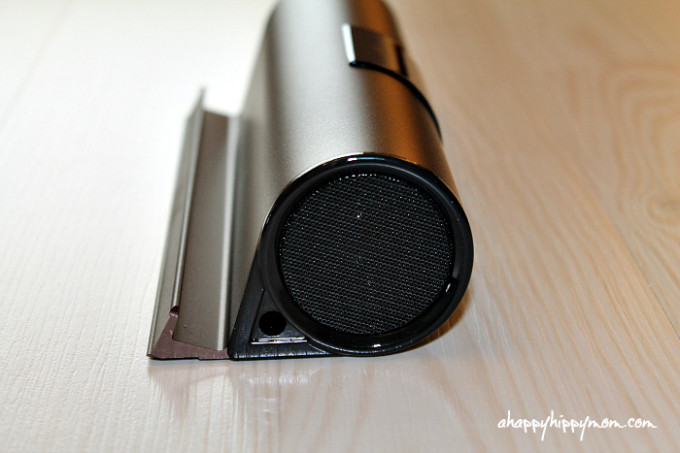 The two 3watt speakers on the side deliver impressive loud sound without distortion. I am very pleasantly surprised by the quality of sound the small product provides! I use my tablet for mostly streaming Netflix in a house with two active children. The iPad speakers are decent, but are not loud enough to project over the noise level in my home all on their own. The LuguLake Portable Bluetooth Speaker gives the tablet the extra audio kick it needs to be able to watch movies without missing a single beat. The volume control is done from the device and not the speaker, which is also extremely convenient!
Armando Ferreira, a popular tech guru on Youtube who loves gadgets and gizmos, does an awesome demonstration of the sound projected by the LuguLake Portable Bluetooth Speaker. He switches back and forth between the tablet and speaker during his video review. You can significantly hear the difference. He actually goes on to say "hands down LuguLake is the BEST portable Bluetooth Speaker for your money."   Check it out!
Product Specs
Product model: BT-10
Bluetooth version: Bluetooth 3.0 + EDR
Support Bluetooth protocol: HSP,HFP,A2DP, profile
Effective wireless distance: 10m (different for environmental factors and the connection to the Bluetooth devices)
Frequency range: 2.4G – 2.480GHZ
Transmitted power: 4dB
Receive sensitivity: -90 dBm
Output Power: 3W*2
Db: >75dB
USB Charging voltage: DC 5V
Package includes: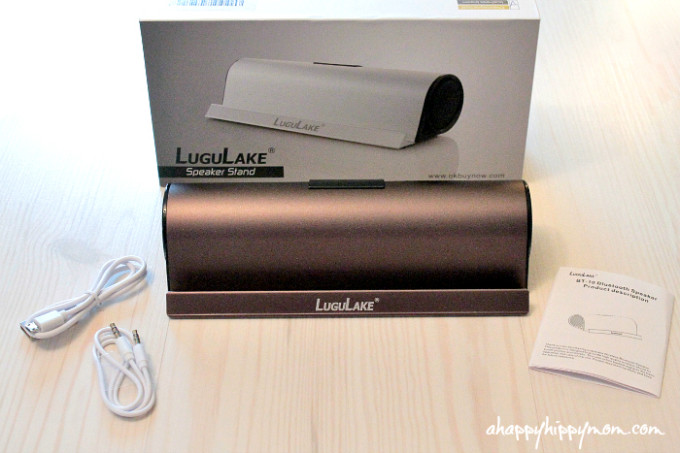 1 speaker
1 3.5 audio line
1 USB power line
1 Specification Booklet
Conclusion
For the electronic savvy individual who has a tablet or smartphone and shopping for an affordable accessory to increase the entertainment aspect of their mobile device with superb audio and watching functionality— than an ideal choice would be the LuguLake Portable Bluetooth Speaker with Stand. It is light weight, yet extremely sturdy to be able to securely hold an iPad or other tablet with its unique stand function and delivers clear audio with two 3-watt stereo speakers. The product definitely deserves recognition in the vast world of Bluetooth speakers, due to its price, design, and audio output!
But it!
LuguLake Portable Bluetooth Speaker with stand function has a suggested retail price of $89.99, but is currently on sale at Amazon for ONLY $45.99! PLUS, receive 1 LuguLake Protector Bag for Speaker free when you purchase 1 or more LuguLake Bluetooth Speaker Stand – Any Color offered by LuguLake Direct. Enter code K465VX76 at checkout.
Stay Connected with LuguLake
Visit the LuguLake Direct website
Like the LuguLake Facebook page
Follow LuguLake Direct on Twitter
LuguLake Portable Bluetooth Speaker Giveaway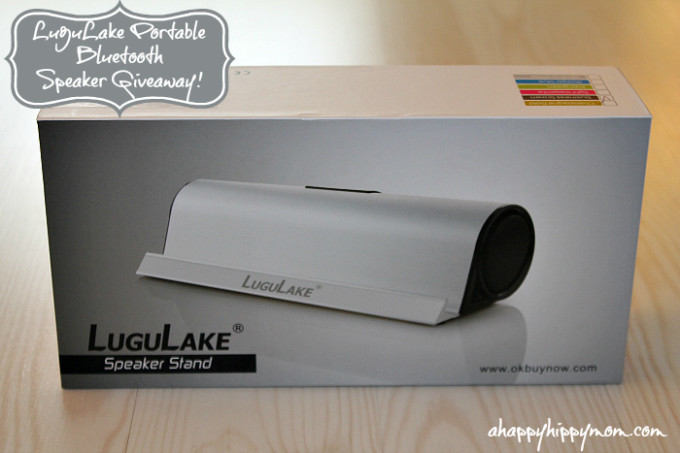 Courtesy of our friends at LuguLake Direct, one lucky winner is going to receive a LuguLake Portable Bluetooth Speaker with stand function! To enter the giveaway, please follow the instructions provided on the Rafflecopter form. Any comments are welcomed below, but won't count towards the giveaway. Only entries using the Rafflecopter form will be eligible for prize. Thank you!
Open to to U.S., Uk, Canada, France, Germany, and Japan  Residents, ages 18+.  Ends August 30th at 11:59 pm (eastern time)! Enter Daily!