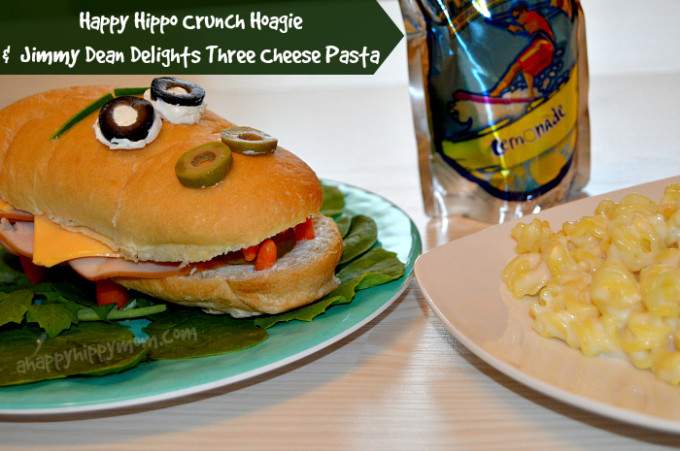 Less than two weeks my kids will be back in the classroom! Where did this summer go? My daughter is in her last year of high school and my son will be starting 1st grade. I think I am more anxious about them returning to school than they are! I am especially nervous with my son returning, since he will be homeschooled and I am looking for ways to keep things upbeat and interesting! It is essential to make the day exciting, so he stays focused on wanting to learn. One way to do that is to ensure his lunch break is packed with good food to fuel his body. However, the day is going to be hectic enough with academics, therefore I am searching for simple lunch solutions and easy back-to-school recipes to get us through the day.
My son is a very picky eater and will turn his nose up to anything he thinks is "yucky." I think that is the norm for most six year olds? With this being the case, I try and make food playful and fun. One way of doing this is by giving it a face. Food art does not have to be complicated and it can be a good tactic of getting a child interested in eating healthy things they normally wouldn't want to …such as vegetables! Of course you still need to mix it up a bit with goodies they like and make sure you include some of their favorite foods in the meal too.
Testing out my back-to-school lunch recipes, I decided to try and give a simple sandwich a cute face and pair it with my son's favorite side dish, and drink. I acquired the sandwich idea from the "COOL Sandwich Food Art" book by Nancy Tuminelly that I received a while back ago, but switched up the ingredients with Hillshire Farm Naturals Slow Roasted Turkey Breast lunchmeat I picked up at Price Chopper. The lunchmeat does not contain artificial ingredients, preservatives, colors or added nitrites and is a good option for parents who are worried about the extra added stuff lurking in lunchmeats.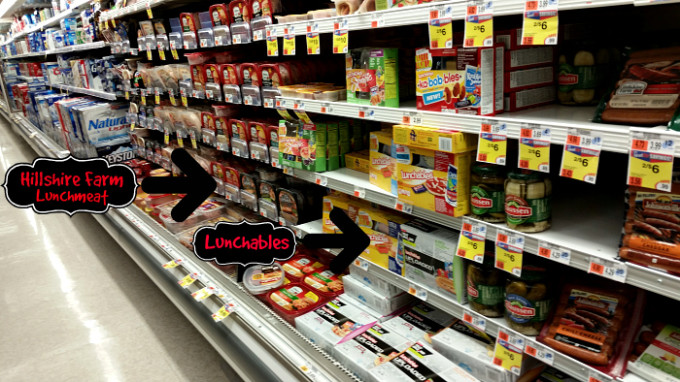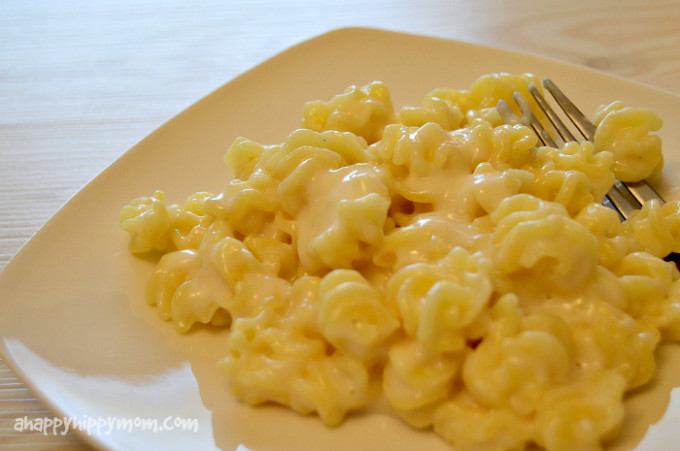 I also grabbed a Jimmy Dean Delights Three Cheese Pasta frozen entrée at Price Chopper to go along with the sandwich. What you haven't heard? Yes it is true! Jimmy Dean has expanded its line beyond breakfast to include 16 great-tasting varieties of sandwiches and bowls! The new entrees are convenient lunch and dinner options made with high-quality ingredients. They make quick lunch solutions!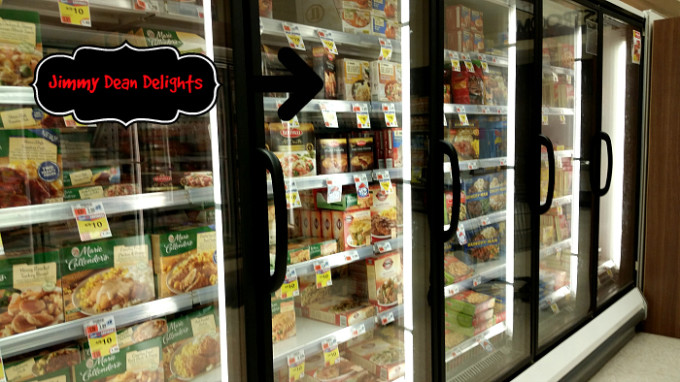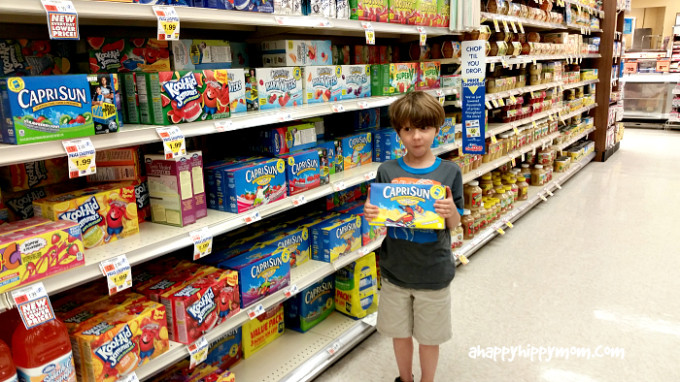 Of course I picked up some more Capri Sun while I was at the supermarket and Lunchables for an easy late afternoon snack idea. If you have a Price Chopper in your area you should give them a try. They have everything you need for quick and easy snacks for breakfast, lunch or after school at a great savings! In fact, the supermarket doubles (at its own expense), coupons with a face value of up to 99 cents! Plus, Price Chopper offers Advantage Card Members more savings on foods, prescriptions, gas stations, and discounts on local attractions and events. My family really enjoys shopping there.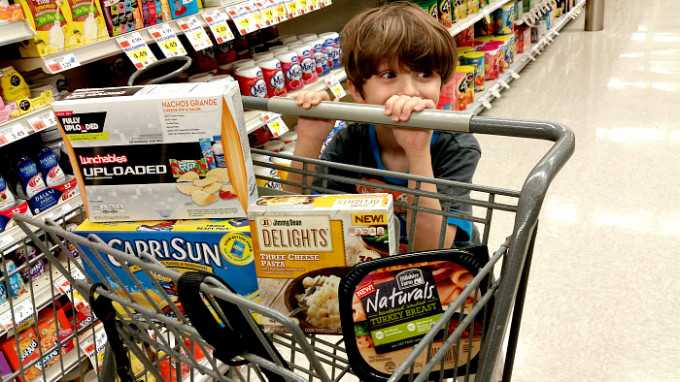 For the Happy Hippo Hoagie I used cream cheese and black olives for the eyes, green olive for the nose, green pepper slices for the eyebrows, baby carrots for the teeth, and a sandwich pickle for the tongue. For the filling, I added a layer of cheese and Hillshire Farm Naturals Hardwood Smoked Turkey Breast lunchmeat. AND I put my own unique flavor spin on the happy face sandwich by adding a few cheddar and sour cream chips! Don't knock it until you try it! It's absolutely scrumptious and gives the sandwich a funtastic crunch kids will flip for! Here is how to make it!
Happy Hippo Crunch Hoagie
Keeping back-to-school lunch easy and fun by putting a happy face on it with a simple sandwich! The Happy Hippo Hoagie face idea came from the "COOL Sandwich Food Art" book by Nancy Tuminelly. However, the recipe ingredients can be changed to fit your child's appetite. Switch it up and get creative!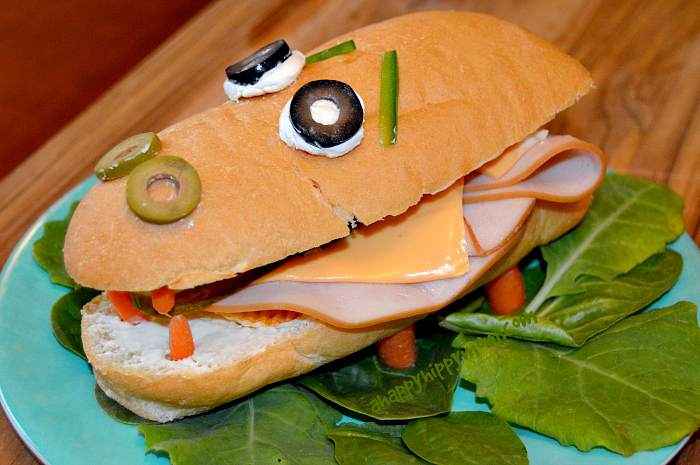 Author:
Michelle Jacklett
Ingredients
1 hoagie roll
5 cheddar and sour cream chips
2 slices of cheese
3 slices of Hillshire Farm Naturals Hardwood Smoked Turkey Breast
1 large sandwich pickle slice
4 baby carrots
2 tablespoons fat free mayonnaise
2 green olive slices
1 teaspoon cream cheese, and extra for glue
2 black olive slices
1 slice of green pepper, halved
Handful of spinach or lettuce (optional)
Directions
Slice the roll in half. Next cut a thin slit (being careful not to go all the way through) in the underside of the top half. Cut one of the cheese slices into smaller pieces. Place them in the slice you just made.
Spread half the mayo on the bottom roll. Layer with the chips, turkey, rest of cheese, and pickle in that order.
Cut to baby carrots in half crosswise. Gently twist the flat end of the two halves into the bottom half of the roll near the front end for the bottom teeth.
Spread the remaining mayo on the top of the roll. Twist the other to flat end carrot halves into the top half of the roll near the front for top teeth. Place the top of the roll on the bottom roll.
Spread a small amount of cream cheese for glue on the green olive halves. Place them toward the front end of the roll for the nose.
Split the cream cheese into two balls. Press them on top of the roll behind the slit you made in step 1. Secure a slice of black olive into each ball of cream cheese for the eyes.
Using a small amount of cream cheese as glue, secure the two green pepper slices above the cream cheese balls for the eyebrows.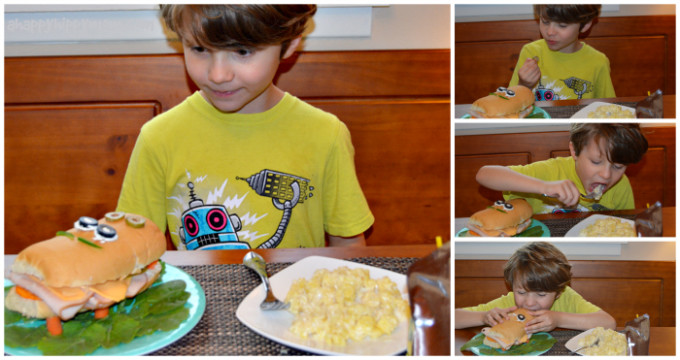 How do you plan on keeping your child's back-to-school lunch simple and fun?  Looking for simple back-to-school recipes?  Check out my Vanilla Greek Yogurt Berry-O-Crunch Breakfast Parfait Recipe!
PRICE CHOPPER BACK TO SCHOOL PHOTO CONTEST!
Enter a 'first day of school' photo here  now through 9/20 and then vote for your favorites from 9/21-9/27.   The 5 winners with the most votes and 5 random winners will each receive an iPad mini.  Or for a quick easy entry,  just snap a photo with your phone and tweet it on Twitter or share it on Instagram using the hashtag #PriceChopperB2S.  Good luck!

Stay Connected with Price Chopper
A huge thank you to #CollectiveBias and #PriceChopperB2S for the easy back-to-school solution center opportunity and savings!