"I participated in an Influencer Activation Program on behalf of Mom Central Consulting for Sprint. I received a sample device to facilitate this review and a promotional item to thank me for participating.
Are you on the path to good health and looking for the perfect companion to help keep you motivated? Check out the Sprint exclusive Samsung Galaxy S5 Sport! The smartphone is a collaboration with Samsung Telecommunications and health and fitness market leaders Under Armour and MapMyFitness to offer health-conscious individuals mobile solutions for today's active lifestyles.
Acting as one of this year's Sprint Ambassadors, I was given the opportunity to test the Samsung Galaxy S5 Sport. Designed with fitness in mind, this handset combines a rugged exterior, long battery life, an awesome 5.1-inch Full HD Super AMOLED display (1920×1080), actual physical buttons, and several fitness apps to support your active lifestyle adventures.
My hips don't lie!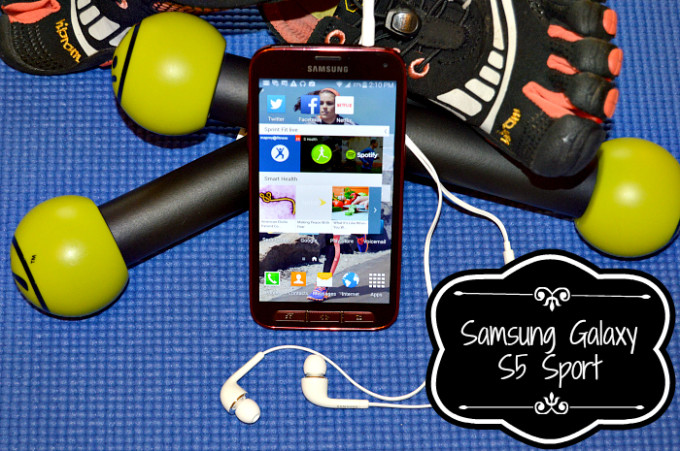 I use to exercise almost daily on my Total Gym, but sadly fell off the workout bandwagon months ago. Let's just say I have more ups and downs than a yo-yo when it comes to fitness and dieting. However, it is always on my mind and the phone has actually inspired me to try Zumba. Yes, I said Zumba! For anyone who does not know what Zumba is, it is a Latin-inspired dance-fitness program that combines dance steps with fast and slow rhythms and resistance training to lose weight and sculpt the body. Yeah-ha! I purchased the Zumba DVD program over a year ago and never cracked the box until last week. Sometimes you buy things with all good intentions and never get around to using them unless an opportunity arises. Don't snicker! You know my hips don't lie! They also do not move anything like the instructor's neither. Zumba is challenging!
Cool stuff for the fitness buff!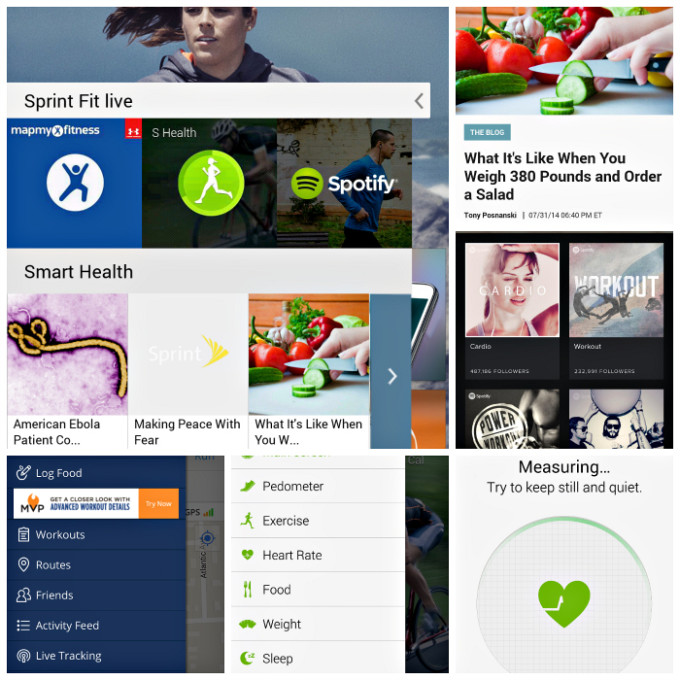 Anyhow, the Samsung Galaxy S5 Sport is preloaded with MapMyFitness. The app is a wholly-owned subsidiary of Under Armour and uses GPS to track all fitness activities, and records workout details, including distance, duration, pace, speed, elevation, calories burned, and tracts the route traveled on an interactive map. There is the option to upgrade to MVP for access to all the features for $5.99 a month or $29.99 annual. You can test out MVP to see if you like it with a free 7 day trail.
Also immediately available with purchase is S Health, another tracking application that can help you manage your activities, such as fitness goals and keeping track of your overall health. This app gives the user the option to back up their health data on the server and restore the info from the server, which is a nice perk if you have to reset your Samsung Galaxy. The integrated mobile platform even allows you to measure your heart rate when touching the back of Galaxy S 5 Sport, features a pedometer, record your sleep data, measure your stress, and more!
For the active outside adventurer there is the Activity Zone, an app featuring a barometer, compass, flashlight, and stopwatch. The flashlight is really awesome and you are able to control the brightness level along with the blinking speed! It could definitely come in handy for any late night outings where you need something to light your way.
Of course my favorite app Spotify is pre-installed on the Samsung Galaxy S5 Sport as well. I know there is a ton of music app memberships on the market, but Spotify is the best I have ever used thus far. Providing a catalog of more than 20 million songs, members have the option to create playlists, discover new music, share tracks with their friends, listen to songs offline, and enjoy music without any annoying ads. For the individual who varies their workout routine, Spotify is fantastic for creating multiple playlists with music that suits the activity level. If you are not feeling creative try browsing some of the top playlists available. There is playlists for cardio, power workouts, house workouts, indie workouts, pumping iron tunes, music for power walks, and much more! In my opinion, you can't beat Spotify. Spotify premium is free for six months for customers who are on Sprint Framily plans or three months for other Sprint customers.
All these apps are immediately accessible with a touch from the wallpaper via Sprint Fit Live. I wanted to note that Sprint Fit Live will be available on all new Sprint Android-powered smartphones in 2014! Very cool stuff for the fitness buff!
Samsung Galaxy S5 Sport Design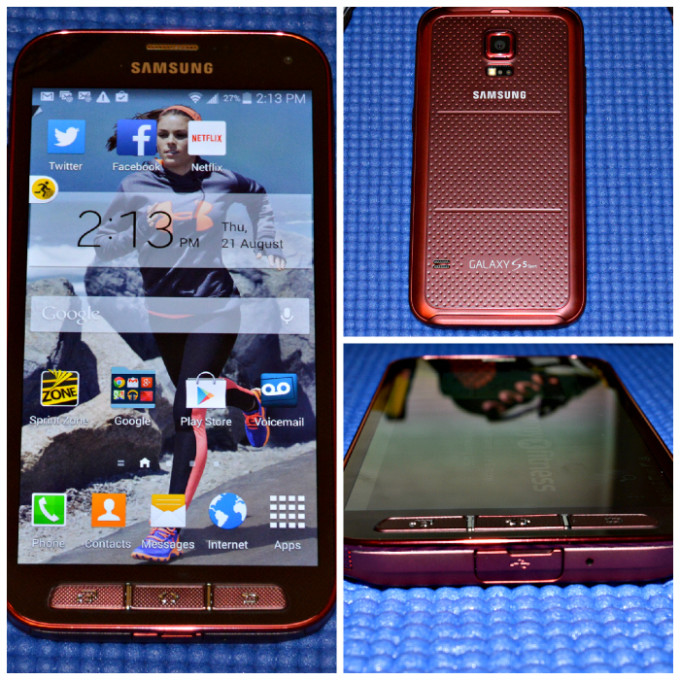 Textured body for increased grip
IP67 water and dust resistant (allowing it to be submerged under 3 feet of water for 30 minutes).
Three physical keys for easier navigation when active (great for users who also wear gloves)
5.1-inch Full HD Super AMOLED® display (1920×1080)
MicroSD card slot supports up to 128GB (comes with 16GB internal memory)
Measures: 5.7 inches x 2.9 inches x 0.4 inches (144mm x 74mm x 8.9mm)
Weight: 5.6 ounces (158 grams)
3.5mm stereo headset jack
Color Options: Electric Blue and Cherry Red
The design of the Samsung Galaxy S5 Sport caters to the active user at every level. The textured body gives the phone a no slip feel and makes the device easy to handle. The physical buttons are simple to find and touch for ultimate control when moving. Plus, for the individual who wears gloves during workouts or cold weather this is extremely fantastic!
However, there are a few features I believe could be improved. One for instance is the flap at the bottom of the handset to cover the USB Charger/Accessory Port. I know this might be needed for full waterproofing, but for power users who are wanting to charge their phone every chance the get—this flap is more than annoying! Seriously, it is aggravating. I feel like I am always fighting with it to charge my phone.
Another design weakness is the speaker is on the back of the phone toward the bottom. The place where you would most likely have your hand over it. Being completely honest and blunt —the speaker is about useless due to its location.
The Heart Rate Sensor can only be used if you are completely still. After working out you are breathing heavy and the sensor won't measure your rate if you move in the slightest.
Other than those three nitpicks the device is impeccable. The display is vibrant and the colors POP! This is my first smartphone with a Full HD Super AMOLED display and I am blown away by it!
Cameras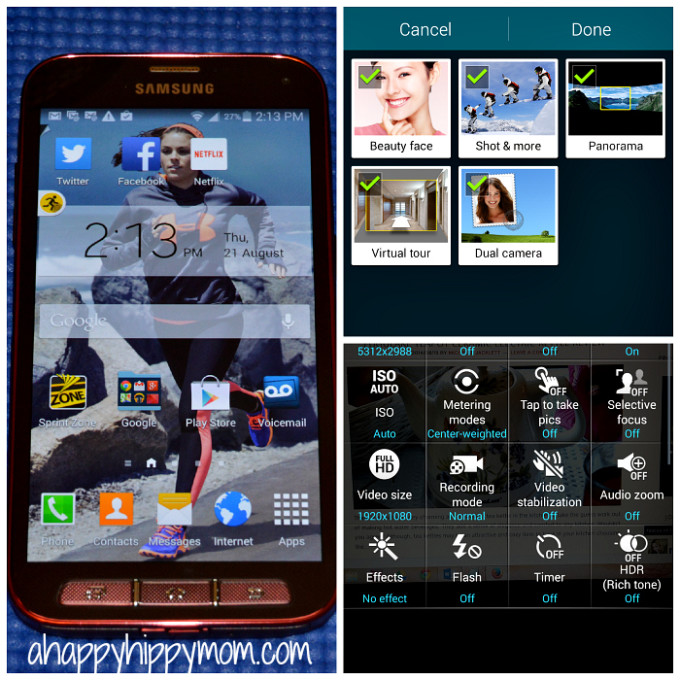 Dual Cameras: 16-megapixel rear-facing Phase Detection Auto Focus camera with Zero Shutter Lag, flash and video capture, and 2-megapixel front-facing camera with full HD recording at 30fps.
The camera on this device is powerful and superb with a complete photo and video editing suite! Selfies, virtual tours, or nature shots are easy to take and come out with sharp detail.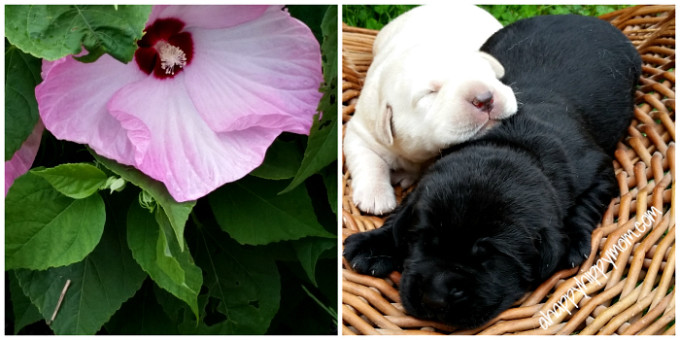 Battery
2,800mAh Lithium-ion battery
Battery Talk Time: Up to 29h
Music Play Time: Up to 77h
Video Playtime: Up to 14h
Internet Use Time: 3G: Up to 11h; LTE: Up to 12h; Wi-Fi: Up to 13h
The battery is removable! Nice feature for individuals who charge a spare and always want to be connected. Average time for full charge battery varies upon usage. I received about 9 hours of battery time with heavy usage before having to charge again.
Specs & Notable Features
Android™ 4.4.2, KitKat
2.5GHz quad-core processor (Qualcomm® Snapdragon® MSM8974AB chipset)
3G/4G LTE mobile hotspot capability supporting up to 10 Wi-Fi® enabled devices simultaneously
Wi-Fi 802.11 a/b/g/n/ac
Bluetooth BT 4.0
NFC (near field communication) allowing the device to read information from everyday objects, such as stickers and posters embedded with NFC chips, or for use as a mobile wallet to make secure purchases.
Multi Window allows users to seamlessly toggle between applications without closing a window or opening a new page.
Quick Connect defaults to the best technology to share your content, send files, share your screen or control nearby devices.
HD Voice, virtually eliminating background noise and sound quality is dramatically enhanced on a call between two Sprint HD Voice-enabled devices on upgraded areas of the Sprint network.
Google Mobile™ wireless services, such as Google Search™, Gmail™, Google Maps™ for Android, Google Calendar, Drive and YouTube.
Sprint Spark, a unique combination of advanced network capabilities built for data delivering peak wireless speeds of 60Mbps today on capable devices.
What's in the Box
Samsung Galaxy S5 Sport
Standard Lithium Ion Battery
Headset
AC Adapter
USB Cable
Get Started Guide
Important Information Booklet
Wireless Recycling Envelope
Conclusion
If you lead an active lifestyle and in the market for a new smartphone the Samsung Galaxy S5 Sport should not be ignored. Packed with powerful  apps, a beautiful design geared toward fitness, a 16mp camera, and an incredible AMOLED display—this device is hard to beat! Plus, its water and dust resistant and running on Sprint's dependable network!
For busy moms who need an extra workout boost or an encouragement to get outdoors, incorporating this phones awesome technology into their exercise routines will help keep them motivated and on track. Pumping up with tunes from Spotify and using the integrated fitness apps will get you through your workout adventures and keep your health info organized. I'm loving it! The phone has inspired me to increase my workouts and try new fitness activities! Check it out!
Buy it!
Samsung Galaxy S5 Sport has a suggested retail price of $649.99 without contact. With Sprint Easy Pay, well-qualified buyers can purchase Samsung Galaxy S 5 Sport with $0 down (plus tax) and 24 monthly payments of $27.09. Visit Sprint for more information.