Its back-to-school time which means there is bound to be a lot of snacking, soccer games, exercising, and busy mornings! Here are some product suggestions to help keep the upcoming school year fun, energized and comfortable!
Snackeez! As Seen on TV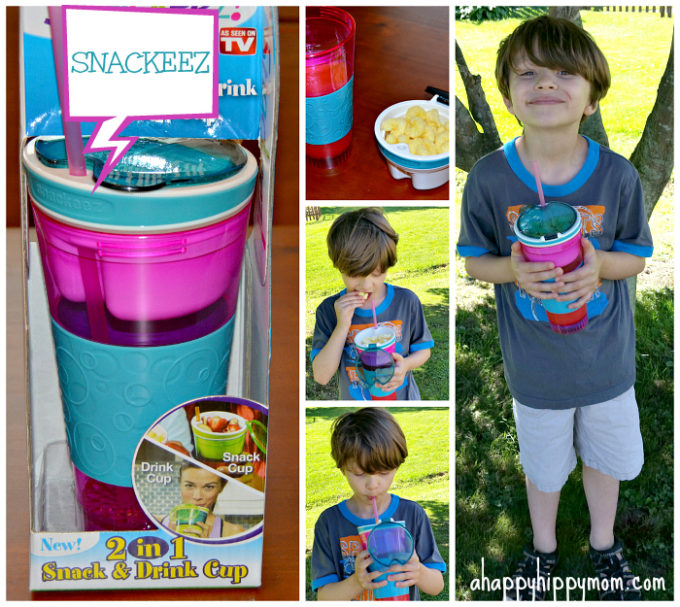 Munching at lunch just got easier and fun with the new hit sensation Snackeez! The same makers who brought you the fantastically fun products Flipeez (super fun action hats) and Stompeeze ( adorable slippers with personality) have revolutionized the snacking world with their newest creation to solve the ultimate snacking problem of being able to hold a drink and eat a snack at the same time! Have you ever been at a party and tried holding a bowl of your favorite snack mix while keeping your drink secure in your hand and still be able to pop the goodies in your hungry mouth? It's nearly impossible without spilling something! Well Snackeez is the solution to the snacking dilemma! The ultimate all-in-one, go anywhere snacking product features a dual-section cup that holds both your drink and your snack all in one hand letting you snack with no mess!
The 2 in 1 snack and drink cup has a space for a 16 oz drink and a built in snack cup to hold 4 oz of your favorite snack– all in one hand. How it works is the straw (included) passes through the side of the snack cup, so you are able to sip your ice cold beverage while enjoying your snack at the top.  The snack container features a hinged flip-top lid that can be easily lifted for nibbling or securely sealed to keep snacks fresh and in the cup.
It is a very brilliant creation and great for on the go if you want to prevent big spills! The cup does drip if left on its side for any length of time, but holds most the beverage in. I wish I would have had the travel cup years ago to save on the upholstery in my car! With back-to-school gaming events, traveling during the upcoming holidays, or just wanting to save on the mess at home—this is an awesome product to have! Fill it with some healthy fruit, granola, and your kid's favorite juice for a quick on the go breakfast too!
Snackeez is made of durable plastic with a non-slip grip for no slipping. It is dishwasher safe and is available in blue, pink, green, and orange.
Buy It!
Buy one, get one Snackeez FREE right now for only $9.99 (+S&H) at https://www.getsnackeez.com!
Snackeez is now available at Bed Bath & Beyond, CVS, Rite Aid, Walgreens and Walmart for $9.99.
Copper Fit! As Seen on TV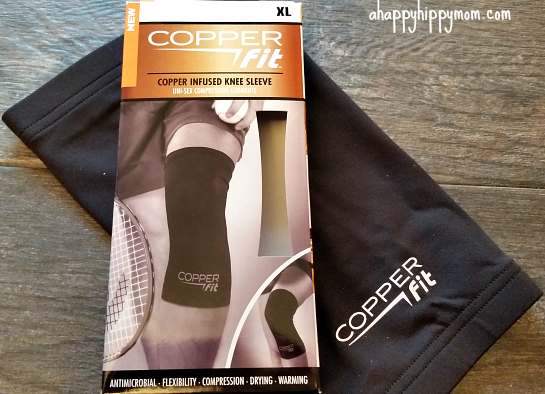 Have an athlete or gym enthusiast at home? Get them a Copper Fit knee sleeve! The uni-sex compression garment is delicately infused with copper into the polyester/spandex fiber blend to provide support for muscle stiffness, soreness, and pain. The unique two part blend of fabric is said to help relax and soothe tired muscles while it wicks away accumulated moisture. It also claims to reduce recovery time of muscles by improving circulation and oxygenation.
The product features:
82% Polyester, 14% Spandex, and 4% Copper and other fibers
Anti-microbial Finishing
High-wicking properties
Lightweight and comfortable
This sportswear product would be great for the cheerleader, soccer player, track enthusiast, or for any individual who lives an active lifestyle.
Copper Fit collection includes elbow sleeves and knee sleeves available in sizes small through XXL. For more product information and prices please visit https://www.getcopperfit.com
FREETOES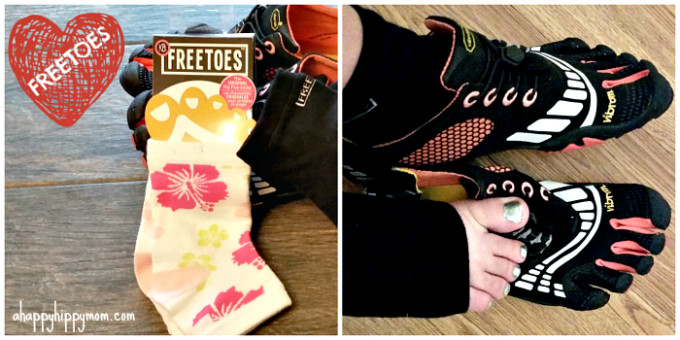 As summer dwindles and the cold weather of fall begins to arise, what do you do when you just don't want to give up wearing those flip flops? K8, a very crafty 8 year old girl who wanted to make herself something to wear with her flip flops in colder weather come up with the solution in 2008 with FREETOES! These comfy, cozy toe baring socks are the perfect answer to keeping the feet warm while still being able to wear your favorite summer sandals or flip flops!
I received two pairs and I have to tell you I am HOOKED and want more! Okay, here is the deal for all you Vibram Fivefingers loving bare foot minimalists. Don't lie to yourself! Your Vibrams smell after you have been running in them, sweating up a storm, and wearing them daily. Yea…I know what the product claim says, but they still smell like funk! I own five pairs (I'm a little obsessed) of Vibrams and they all smell the same at the end of the day. Sure you can throw them in the washer, but overtime they are going to break down and not look as new with each wash. If you want to preserve your $100+ investment get yourself some FREETOES! They still allow you to put your piggies in the pockets while helping to keep the odor under control.
FREETOES are AMAZING for wearing while exercising, dancing, getting a pedicure, or on chilly days at the beach. Perfect for those little girls in your home who don't want to hang up their flip flops quite yet! They come in several different designs to match your wardrobe with one size fitting most ages seven to adult.
FREETOES have a suggested price of $6.99 and can be purchased at http://www.freetoes.com.
Nature's Path Organic Cereal
Guess what? I love granola! SURPRISE! Okay, not too much of a huge reveal, but I wanted to share with you four new products from Nature's Path Organic line I think taste amazing and make a good start, or END for that matter, to the day. All Nature's Path products are USDA Certified Organic, Non-GMO Project Verified, and Vegetarian. Additionally, they taste incredible, so kids love them too. Plus, the company has a strong commitment to being as sustainable as possible, meaning you can feel fantastic about purchasing their products.
Nature's Path Heritage Crunch
A yummy blend of ancient heirloom grains like KAMUT khorasan wheat, spelt, barley, millet and quinoa with bits of crunchy granola. It is not overly sweet and is good enough to eat straight out of the box! Contains 30g of whole grains, 6g of fiber, 6g of protein, and only 6g of sugar per serving. The clusters add a nice balance to the crunchy flakes. Calories are 230 (without milk) per ¾ cup.
Ingredients:
KAMUT® khorasan wheat flour*, rolled oats*, wheat bran*, evaporated cane juice*, whole wheat meal*, whole oat flour*, spelt flakes*, soy oil*, spelt flour*, barley flour*, whole millet*, rolled KAMUT® khorasan wheat*, inulin*, barley malt extract*, sea salt, quinoa*, honey*, rice starch*, molasses*, cinnamon*, natural vanilla flavor. *Organic. Contains wheat and soy. Produced in a facility that uses peanuts and tree nuts.
Nature's Path Sunrise Crunchy Cinnamon
A gluten and wheat free combination of corn, quinoa, flax, buckwheat, and amaranth with a very slight hint of cinnamon. The cereal has a variety of different textures like round puff balls, little crispies, and flakes which makes it very fun to eat. It contains 12g of whole grains, 3g fiber, 2g protein, 7g sugar, and only 1g of fat. A 2/3 cup serving has 120 calories with 9 being of fat.
Ingredients:
Brown rice flour*, whole grain corn meal*, cane sugar*, corn meal*, yellow corn flour*, inulin*, quinoa*, flax seeds*, buckwheat flour*, sea salt, amaranth*, cinnamon*, molasses*, tocopherols (vitamin E). *Organic. Produced in a facility that uses peanuts, tree nuts & soy.
Nature's Path Envirokidz Chocolate Choco Chimps
Only containing 7 ingredients, this cereal is a good gluten and wheat free choice for breakfast! The popular puff cereal offers 8g per serving of the whole grain goodness, is lightly sweetened with cane sugar and molasses, and has a delicious chocolatey flavor from Fairtrade cocoa. Plus, 1% of EnviroKidz sales go to help the planet and organizations like the Jane Goodall institute. Kids will love the taste and they will be helping the plant just by eating it! The cereal is also a great way of bringing up the subject about protecting the world's endangered species and their natural habitats.
Ingredients:
Whole grain corn meal*, corn meal*, cane sugar*, fair traded cocoa*, molasses*, natural flavor, sea salt. *Organic. Produced in a facility that uses tree nuts, peanuts and soy.
Nature's Path Qia Superfood
Power up for the day with 2tbsp of Qia! This mix contains a trio of Chia, Hemp and Buckwheat. The combination is full of plant-based protein, fiber, and ALA Omegas to help give you a healthy punch of energy. The seeds are blended with cinnamon, raisins, and green apples for a delicious flavor. It is great for adding to smoothies, oatmeal, yogurt, or sprinkling on salads. Qia contains 6g of protein, 4g fiber, and 2.2g ALA Omega-3s. A 2 tbsp serving is 130 calories with 50 being from fat.
Chia seeds have been known to help curb appetites, so I am using this cereal in the morning in a yogurt smoothie! The apples and raisins give the blend a bit of sweetness and even though the cereal may look a little odd, it tastes great! I'm also thinking about how I can incorporate the blend in my energy chunks recipe! Give it a try!
Ingredients:
Chia seeds*, buckwheat groats*, hemp seeds*, raisins* (coated with sunflower oil*), freeze-dried apples*, cinnamon*. *Organic.Produced in a facility that uses soy, peanuts, dairy and tree nuts.
For more information about Nature's Path and these products, please visit http://us.naturespath.com/
PEACE OUT!