"The VTech product, gift card, information, and additional gift pack have been provided by VTech."
How many of you love VTECH toys for your kids? The brand is a favorite in our home, because their products mix education with innovative play to capture my son's attention and keep him interested in learning. For instance, recently VTECH launched the new Kidizoom Smartwatch that looks somewhat similar to the fragile high-tech one Dad might be wearing on his wrist.  But the VTech Kidizoom Smartwatch is made just for kiddos and built durable to withstand the bumps, scrapes and even splashes of being an active kid on the go.
VTech Kidizoom SmartWatch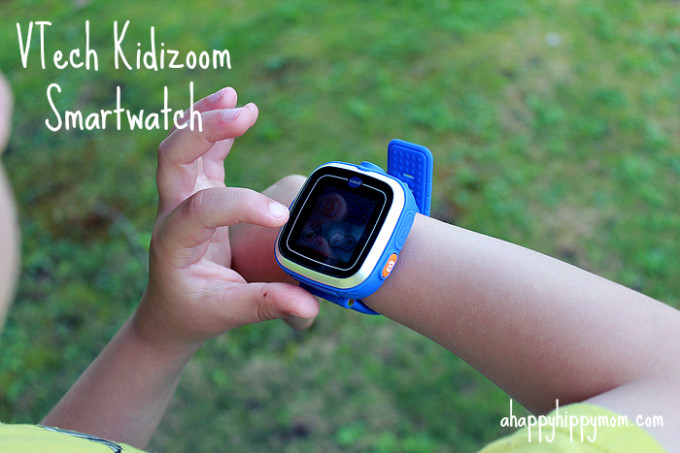 The wearable gadget designed for children (ages 4+) is made of strong, rubbery plastic with a flexible wristband able to adjust to your child's wrist size. It features a 1.41" color touch screen with a built-in motion sensor and over 50 different digital and analog displays to choose from. The top of the watch face contains a nifty 640 x 480 camera allowing kids to take photos (JPEG) or quick 60 second (per file) videos with 320 x 240 pixels or 160 x 120 pixels at 15 frames per second. Kids are easily able to customize their photos with fun colorful frames, effects, and filters.  The gadget comes with 128 MB memory able to store approximately 800 photos or 6 minutes of video depending upon shooting environments. Once connected to the computer via the included micro USB cable, the user is able to transfer files and photos between the watch and the computer to share with friends and family.
Pre-loaded Games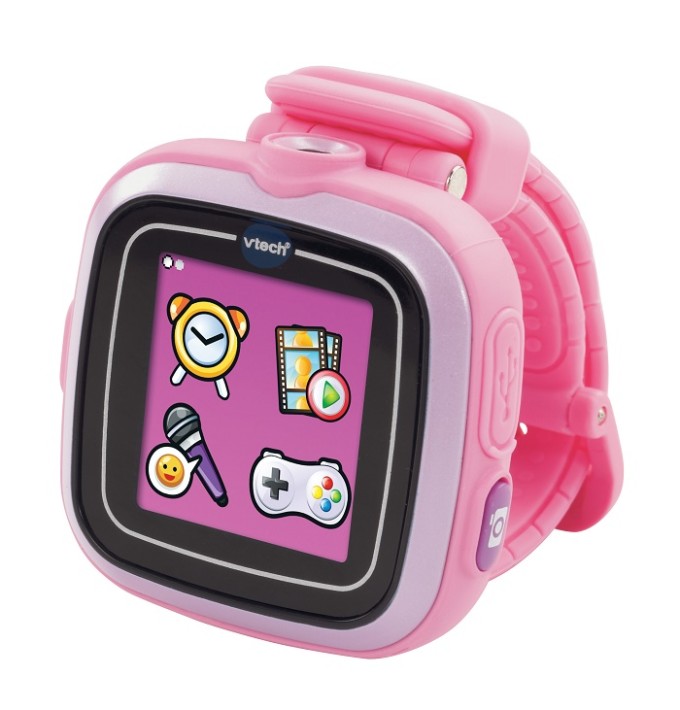 Kidizoom is pre-loaded with four learning games; Super Detective, Rotating Puzzle, Finger Dance, and Time Master
Super Detective-A memory game where you gain points by spotting the original face from different ones.
Rotating Puzzle- Kids will use logic as they try and rotate the piece back to restore the original photo as fast as they can.
Finger Dance- The player has to listen to music and look out for the circles around the music notes and tap them as they appear.
Time Master- Make the owl character tell the set analog or digital time.
The mini pre-installed games are more suitable for very young children (4 years), as to older wearers might need more challenging games to keep them occupied. My son who is 6 lost interest in the games within a few minutes and wanted to download more from the Learning Lodge. He was most interested in playing with the camera. The games at the Learning Lodge are currently limited (1 Free Game) at the time of this review, but I'm hoping more become available in the near future.
Battery
The gadget is equipped with a rechargeable Li-ion Polymer battery that the company claims lasts up to 2 weeks on low usage when it is fully charged. On typical usage the battery should last for 2-3 days or 1 day on heavy usage if the watch is turned off when not in use. To charge the battery, make sure the battery switch is turned on, pull up the rubber cover of the micro USB port located on the right side of the watch face, and plug the USB cable into the USB port on the computer. When the battery is full charged, a message will display on the screen for a period of time and then the screen will turn off. To keep the battery working at optimum performance, the watch should be fully charged at least every 6 months when it isn't being used.
Other Awesome Features
The Kidizoom Smartwatch comes with a bunch of other features along with the camera and games to keep kids content and brains active, including a voice recorder with five voice changing effects, alarm with a selection of tones and animations, countdown timer, stopwatch, and loads of settings to customize the watch. There is even a Parental Control to limit the amount of game time per day to either 30 minutes, 60 minutes, 90 minutes, or no time limit.
Splashproof
The watch is splash and sweat proof for everyday play. However, it should not be submerged in water or left on during showering or bathing.
Performance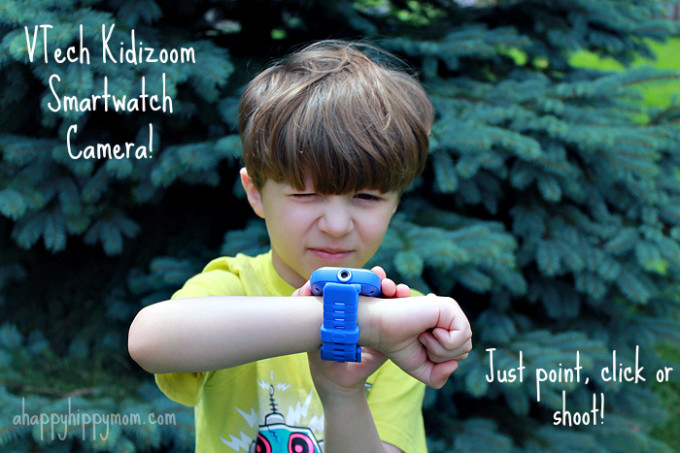 Aiden had no trouble figuring out how to use the smart watch interface. Basically, you just swipe between the different screens and tap on the option you want to use. The camera is extremely simple to use too! To launch, the user has the choice of tapping on the camera icon or pressing the shutter button located on the right-side under the micro USB Port. To take a photo just point, click or shoot! The touch screen is very responsive! Aiden has been having a blast taking photos of Molly and recording wacky voice sayings.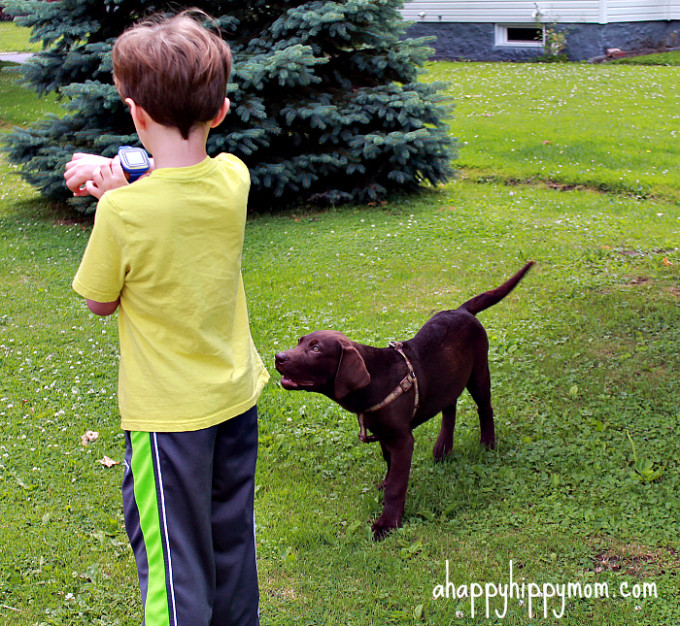 If you have other VTechkids products like the Mobigo and InnoTab, you should have no problem figuring out how to use the Learning Lodge to download additional games, transfer or delete files to free up memory on the smart watch since it is almost the same steps. To download you need to click the Download Website link in the VTech 1557 file that appears on your computer and install the Learning Lodge software for the Kidizoom Smartwatch. Run the software and download the extra features such as the FREE Clock Faces and Penguin Path game for your new product! It is very self-explanatory and a cinch to use.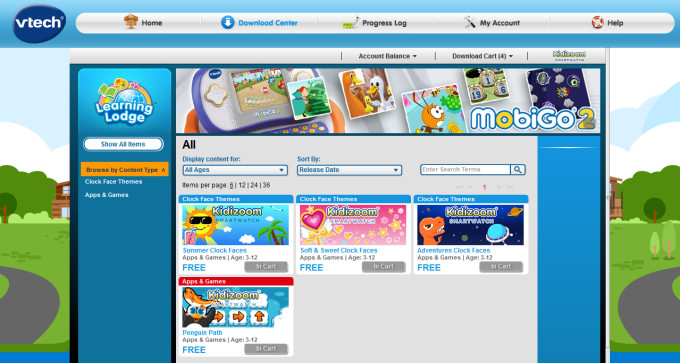 The ONLY characteristic I would change with the cool touch screen smart watch is to make the power button larger! It is extremely small and located on the back of the watch face. Seriously, it is so tiny you might miss it if you didn't know where it was already located. Kids could get frustrated with not being able to switch it off.
Actual setup of the watch takes just a few seconds and is also easy to accomplish. The watch already comes with an initial battery charge, but should be fully charged before playing any of the activities. A full charge will take about 3 hours.
Minimal System Requirements
– Minimum System Requirements
PC Hardware Requirements:
CPU: Pentium® 4, 1 GHz or above
Memory: 256 MB
Video Adaptor: Graphic card with 1024 x 768 at 16 or 32 bit color
Monitor Resolution: 1024 x 768
USB 1.1 or higher
100 MB hard disk space
Windows® compatible sound card and speakers
PC Software Requirements:
Microsoft® Windows® XP, Windows Vista® or Windows® 7 Operating System
Internet Explorer® version 6 or above
Adobe® Flash® Player 10
(To acquire the latest version of Flash® player, please visit www.adobe.com)
Macintosh® Hardware Requirements:
Macintosh® computer with an Intel® processor
256 MB RAM (512 MB recommended)
100 MB hard disk space
USB port required
Macintosh® Software Requirements:
Mac® OS X® version 10.5, 10.6 and 10.7
Safari® Internet browser version 3.0 or later
Adobe® Flash® Player 10
(To acquire the latest version of Flash® player,
please visit www.adobe.com)
Available Colors and Price

VTech Kidizoom Smartwatch retails for $59.99 and comes in 4 vibrant colors: blue, pink, white and green.
What's in the box
Kidizoom Smartwatch
Micro USB Cable
Product Manual
Another Holiday Hit!
VTech likely has another hot product hit for the 2014 holiday season with the new innovative Kidizoom Smartwatch. The gadget lets kids mimic Dad by wearing a cool looking watch that offers tons of fun features on the go. Not to mention, parents will love how the toy helps teach time and builds developmental skills. BUT, do not be surprised if kids think they are James Bond and do a bit of spying with the camera and video! WATCH OUT!
Stay Connected
VTechKids.com – http://bit.ly/1vdRNF4
VTech Twitter – http://bit.ly/Q7J7vM
VTech Facebook – http://on.fb.me/iIPfUE
VTech Kidizoom Smartwatch Giveaway!

VTech would like to give one lucky reader a VTech Kidizoom Smartwatch ($59.99 value)!  Win it, wrap it up, and save it for the holidays to get a jump on your Christmas shopping this year!  To enter the giveaway, please follow the instructions provided on the Rafflecopter form. Any comments are welcomed below, but won't count towards the giveaway. Only entries using the Rafflecopter form will be eligible for prize. Thank you!
Open to to U.S.  residents, ages 18+.  Ends August 15th at 11:59 pm (eastern time)! Enter Daily!