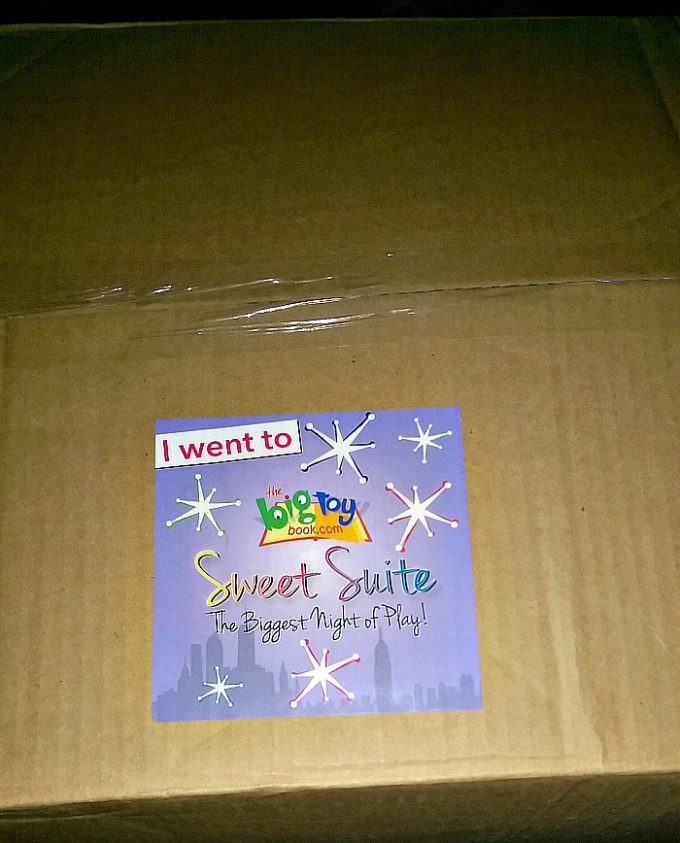 "I received a box of awesomeness (toys) from Sweet Suite 2014 and info to help promote the event.  However, all opinions are of my own."
Christmas came early in July in this big box of awesomeness! What's in the box? Inside the box contains HOT TOY swag from the fabulous sponsors of The Big Toy Book's annual Sweet Suite 2014 event!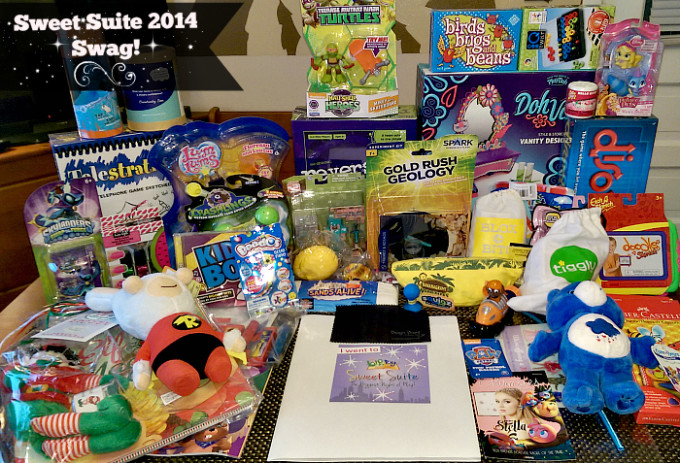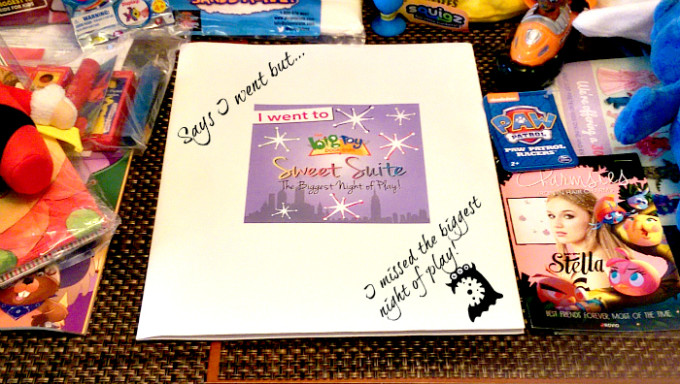 Okay, the bad news is I missed the cool night of food, fun, bloggy friends, and ultimate play, thus I do not have any pictures of my own to share with you. BUT the good news is the gals from 5minutesformom.com snapped hundreds (yes hundreds) of clear spectacular shots of "The Biggest Night of Play" party! AND some of the photos just make me drool over the awesome toys showcased at #SweetSuite14! These are the toys you are going to want to look for this holiday season, because they are more than likely going to be on your child's Santa list. PLUS, I am actually giving away the VTech Kidizoom Smartwatch –the world's first smartwatch for kids with a built in camera! I know the "wearable, kid friendly, take anywhere gadget" is going to be a hot toy of Christmas 2014, due to the fact my son has not put it down since he received it weeks ago! The great thing is you have a chance to win it right here and receive it in plenty of time for the upcoming holidays!
Getting back to Sweet Suite, I heard lots of social media rumors Joey Fortman (@joeyfortman) from Real Mom Media totally rocked out the event with her dynamic personality along with Laurie Schacht (@toyinsidermom), Charlene Deloach (@CharleneDeLoach), and the Big Toy Book Team (@ThebigToyBook). Without all the hard work, planning, and tremendous organization from these moms the event wouldn't have happened, so a colossal round of applause goes to them for being able to pull off such a successful night. I'm completely jealous I missed the opportunity to meet these amazing women in person, but hopefully I will be able to attend Sweet Suite 2015 or the exciting Biggest Day of Holiday Play coming October 19th!
Alright, now about the sponsors! Some of, no let me rephrase that, the BIGGEST names in toys showed up at #SweetSuit14! I'm talking about brand names like Hasbro, Activision, WowWee, TOMY, LEGO, Fisher-Price, Jazwares Inc., Hexbug, Bananagrams, VTech, Razor, Smart Toys & Games, Elf Magic, Leap Frog, MEGA Bloks, Disney Infinity Crayola, Playmates Toys , McFarlane Toys, Boogie Board, Tiggly, Green Toys– just to name a few! Oh, and I should mention the lucky attendees of the Blogger Bash in NYC got to rub elbows with these brands and pass out their blog business cards to them to establish new connections. YES, I am green with envy!
Here is an inside peek at some of the toys featured at Sweet Suite 2014. I want the huge Skylanders props for my boy's room! They  are amazing!
If I had to guess which toys are going to be smoking hot for the 2014 holidays my top 10 pick (in no particular order) would be the VTech Kidizoom Smartwatch, Skylanders Trap Team (#Skylanders), Boogie Board Sync 9.7 LCD eWriter, , HEXBUG Aquabot 2.0, WowWee MiP (short for Mobile Inverted Pendulum), Razor E100 Glow, Jazwares Minecraft Overworld action figures , LEGO Legends of CHIMA, Playmates Toys Teenage Mutant Ninja Turtles, and Hello Kitty Dance Time. For must have stocking stuffers, the Bananagrams WildTiles (#bananagramsgowild) and Tiggly Shapes make my list. ALSO, last but not least,  for the item baring the most holiday magic look for the Elf Magic Playworld coming to store shelves for 2014!
Check out The Toy Insider for expert reviews, gift guides, giveaways, kid video reviews, parent advisory posts, and more! Also keeps a watch out for the November issue of Woman's Day magazine for a print edition of the Toy Insider Holiday gift Guide coming soon!