"A Happy Hippy Mom is a Good Cook Kitchen Expert.  A product sample was received to facilitate this review.  All opinions are genuine."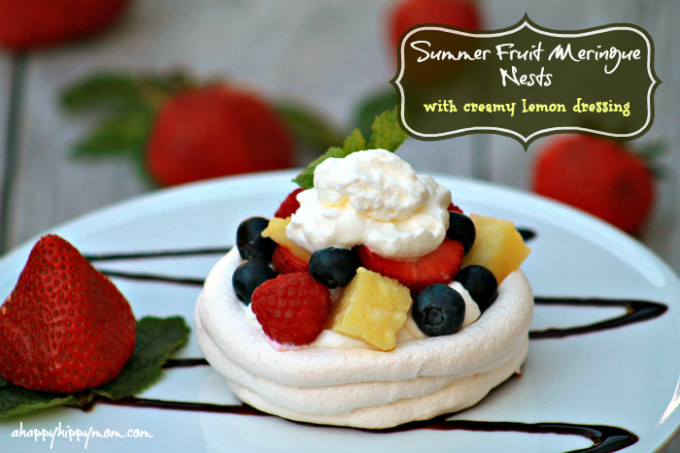 I'm ecstatic summer has finally arrived! The abundance of fresh fruit is a reason for celebration along with the warm weather and fun family activities. During the summer season we look forward to shopping at the local farmer's market and loading up on nature's candy. The farmers pick the fruit at the peak of ripeness, making it sweet, juicy, and delicious. Of course it just natural instinct to want to stock up on fresh tasty strawberries, blueberries, raspberries, and peaches! But unlike the supermarket produce, fruit found at the farmer's market is not treated with preservatives and decays faster.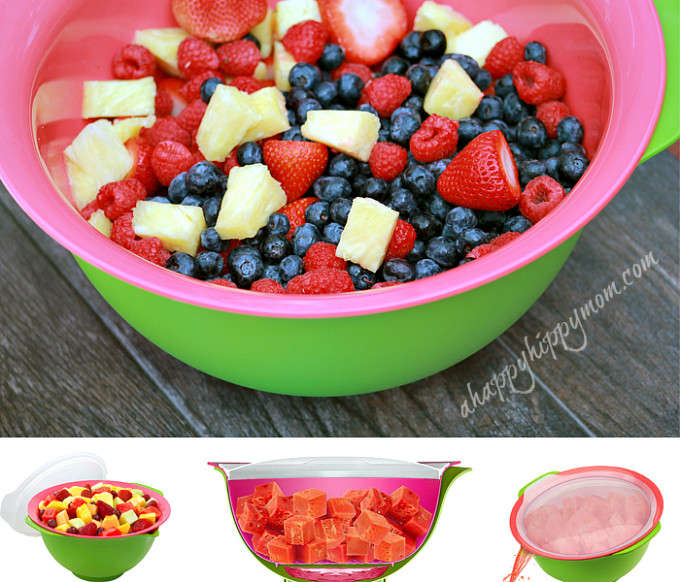 One way to make fresh produce last longer and avoid waste is by storing it in bowl that keeps fruit from sitting in its own juices and spoiling sooner. As a Good Cook Kitchen Expert, I recently received a Good Cook Pro Freshionals Cut Fruit Bowl that is perfect for helping to keep fruit fresh longer by separating it from juices. I absolutely LOVE this bowl! It contains a strainer and a built in spout, making it easy to pour the juices out.   The bowl is HUGE (7QT capacity) and most likely could hold an entire cut up watermelon. It also comes with a cover and is ideal to use as a large bowl for serving and entertaining. If you are a cut fruit connoisseur this 3-piece bowl is a must and can be purchased at Bed Bath and Beyond! The only problem is you need to ensure you have enough room in your fridge for such a big bowl.
*This product is exclusively available at Bed Bath and Beyond.
I utilized the bowl to keep a mix of fruit fresh that I used to prepare my Summer Fruit Meringue Nests with Creamy Lemon Dressing recipe. The delicious dessert is perfect for serving at summer gatherings and makes a wonderful refreshing after dinner treat. It is a creative way of adding fresh fruit to your diet and is incredibly yummy! My family loved the fruit filled nests and is looking forward to me making them again. The scrumptious fruit delights are a wonderful recipe idea for the 4th of July, since they are sure to be a crowd pleaser! The fantastic part  is you can use any fresh cut fruit you like in the recipe. But don't let the filled nests sit too long before serving them or they may become soggy.   I used strawberries, raspberries, blueberries, and pineapple for a delightful tasty summer fruit combination. Next time I might try preparing tropical nests using mango, papaya, and kiwi with coconut dressing!
We all know meringue can be very tricky to prepare, so I have some suggestions to help get desired results. I recommend not trying to make the meringue nests on humid days. The meringue will not hold its shape and will be overly sticky. Plus, make sure you use fresh eggs (room temperature) for the best volume. You want the nests to be crisp and big enough to be able to hold the fruit plus dressing. Also, do not use a plastic bowl to make your meringue, because the bowl could have retained a film of fat from previous uses that will deflate the meringue. Other than that, there should be no complications if you do not overbeat the egg whites.
Don't skimp or cheap out on the whipped cream by purchasing a container of already made store bought stuff. The taste of real whipped cream from scratch is amazing!   Not to mention, you can control how much sugar you add for desired sweetness. I used ¼ cup of sugar per 1 cup of heavy cream, but you can increase or decrease it depending upon your own taste.
What is your favorite recipe using summer fruit? When peaches become more in season in NY (July) I plan on sharing my Peach Pie in a Jar recipe. The movie "Labor Day" inspired me to try making homemade peach pie. All I can say is that scene is a sizzler! I don't think I will ever be able to look at another piece of peach pie the same ever again! Wowzer! Kudos to Kate Winslet and Josh Brolin for turning a summer fruit into a very unforgettable steamy pie!
Summer Fruit Meringue Nests with Lemon Dressing
Delicious refreshing summer fruit in a meringue nest with creamy lemon dressing and topped with fresh whipped cream and mint.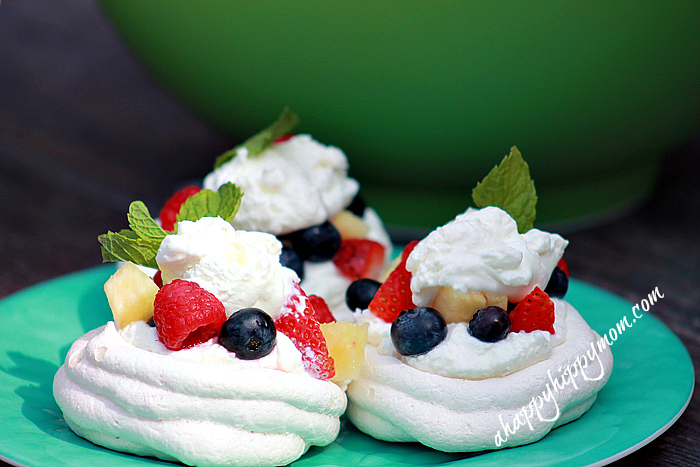 Ingredients
Meringue Nests
3 egg whites (room temperature)
½ teaspoon vanilla extract (or coconut extract )
¼ teaspoon cream of tartar
¾ cup sugar
Directions
Directions:
Place egg whites, vanilla, and cream of tarter in large mixing bowl. Beat mixture on
medium speed until soft peaks form. Gradually add in sugar, 1 tablespoon at a time, on high until stiff peaks form.
Place meringue in pastry bag. Pipe meringue onto parchment paper to form eight 3-in. nests.
Bake at 275° for about 40 minutes or until dry. Turn off oven leaving the nests in for 1 hour with door closed.
Fill each nest with creamy lemon dressing.
Place cut fruit on dressing. Top with fresh whipped cream and mint leaves. Serve immediately.
Yield: 8 servings.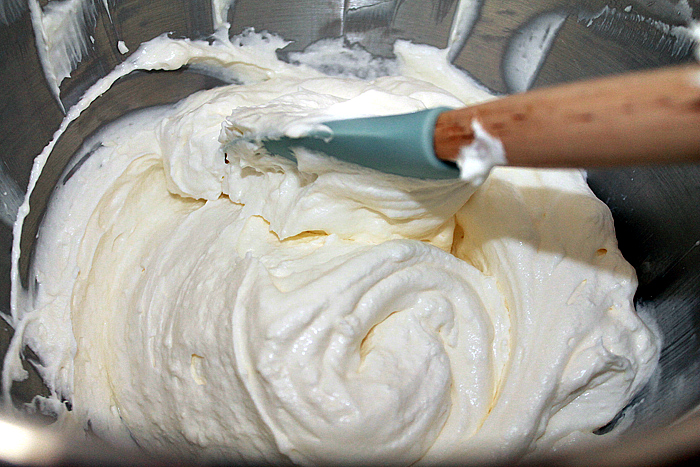 Ingredients
1 package (8 oz) cream cheese, softened
½ cup frozen lemonade concentrate, thawed
¼ cup powdered sugar
1 cup whipping cream, whipped
Directions
In medium bowl, beat cream cheese and lemonade concentrate together with electric mixer on medium-high speed until smooth. Gradually add powdered sugar and beat until fully incorporated. Fold in whipped cream. Chill for 1 hour before serving.
Good Cook Pro Freshionals Cut Fruit Bowl Giveaway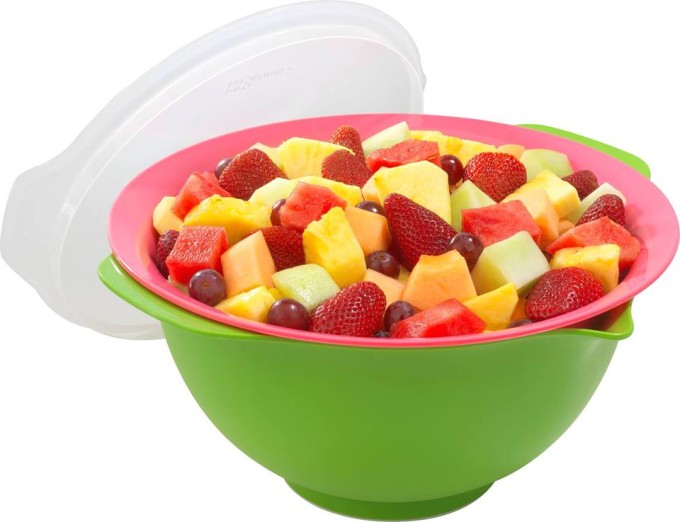 Courtesy of Good Cook, a lucky reader is going to receive a Good Cook Pro Freshionals Cut Fruit Bowl! To enter the giveaway, please follow the instructions provided on the Rafflecopter form. Any comments are welcomed below, but won't count towards the giveaway. Only entries using the Rafflecopter form will be eligible for prize. Thank you!
Open To US Residents Only- age 18 + Ends July 3oth, at 11:59 pm (eastern time)! Enter Daily!
[field name= iframe]
Contest disclaimer:
One prize per household for each Good Cook event. If someone wins on 2 or more blogs, they – or their family members – cannot win a second prize from another blog in the same event.
If a household has won a prize in a Good Cook event, they can't win again for 6 months.
If a household has won more than one prize in a previous Good Cook event, they can't win again for 12 months.
Good Cook will confirm that winners are eligible and will disqualify anyone who has won more than once.
Prizes ship from Good Cook and can take 8-10 weeks after the contest ends, unless otherwise stated. You must be 18 or older to win. US shipping addresses only.
Good Cook reserves the right to substitute a prize of equal value if sufficient inventory is not available.
Stay Connected
Like the Good Cook Facebook page
Follow Good Cook on Twitter ! Help promote this event using the hashtags  #freshfuitbowl and #BBBProduct !
Check out Good Cook on Pinterest
[field name= iframe1]