"I participated in a campaign on behalf of Mom Central Consulting (#MC) for Sprint. I received a product sample to facilitate my review and to thank me for participating."
Three weeks ago I kicked off my Sprint Ambassadorship by announcing that I would be sharing my experiences testing various Sprint devices and service options over the course of this year and gave one lucky reader (Mary H) a HTC One Max smartphone! I hope everyone enjoyed the giveaway and would like to thank all the readers who entered.   Your participation was truly appreciated!
Today, I'm back again to share with you about two beautifully crafted Sprint devices I believe every music and smartphone fanatic will appreciate if not flip for! Before I tell you about these impressive products I think you should know I am not a music professional by any means, but know when a device delivers or not delivers exceptional audio. My extreme passion for music trickles throughout my daily activities and I demand high-quality sound. I get my music fix while working out, cooking in the kitchen, driving in the car, relaxing in the shower, to help me drift off to dreamland or use it as a natural mood booster. Basically, music is an enormous part of my life and I am always looking for ways to enhance my listening experience on the go. So with that being said, I think any music fan would LOVE these Sprint products I have been testing this past week!
Sprint HTC One M8 Harman Kardon Edition Smartphone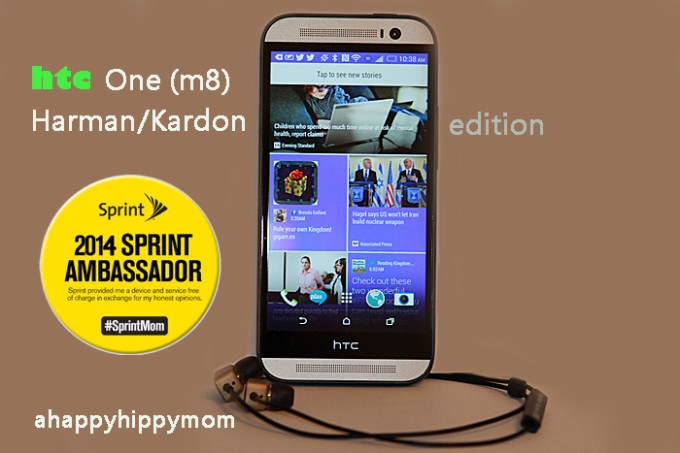 The first Sprint tech gadget I want to tell you about is the HTC One M8 Harman Kardon Edition smartphone. Folks, I do not think it gets much better than this! In fact, I believe this could be one of the best Android phones offered on the market today that provides the user a plethora of incredible features packed into a mobile device. From the gorgeous brushed black finish with champagne accents metal design, 5-inch Full HD screen, Duo Camera with instant capture, front-facing BoomSound speakers, Harman Kardon's audio Clari-Fi and LiveStage technology, HTC BlinkFeed, long-lasting battery, large 32gb internal storage (expandable up to 128GB with MicroSD) , to the included premium Harman Kardon AE-S In-ear Headphones, this smartphone's performance is hard to beat and a music lover's dream come true!
Design
HTC One M8 Harman Kardon Edition smartphone features a wrap-around unibody metal frame with smooth tapered edges and a soft curved body that fits perfectly in your hand. It is not a cheap plastic feeling light-weight phone and weighs approximately 5.7 ounces.  On the larger end of the smartphone scale, the gadget displays a gorgeous 5.0-inch Full HD 1080p with 440ppi screen and measures 2.77 x 5.76 x 0.37 inches. The device stands out and looks rich with its gold metal accents on the front and dark black brushed finish. However, if you are a nitpicker you might be slightly irritated by the fact the brushed finish attracts fingerprints and smudges. Nonetheless, it is nothing a good phone case can't solve! Other than that, the phone looks and feels impeccable.
Duo Camera
Like to take stunning photos? The HTC One M8's camera won't disappoint you! Featuring a dual lens with top focusing speed of less than 300 milliseconds, this camera is ready when you are to capture all those important moments! Selfie addicts will love the 5-megapixel front-facing camera loaded with cool editing features to flatter, such as 12 fun photo filters, frames, and tools. The UltraPixel rear-facing camera allows you to take lifelike photos even in low light and add special visual touches with Ufocus (refocus the shot or add artistic blur), Foregrounder, Seasons, and Dimension plus.  Pan 360 lets you capture the entire view for impressive 180 x 360 group shots with a simple click.
Here is a selfie I took using the front-facing camera. I added the Noirin filter along with a frame to give it a more personal touch.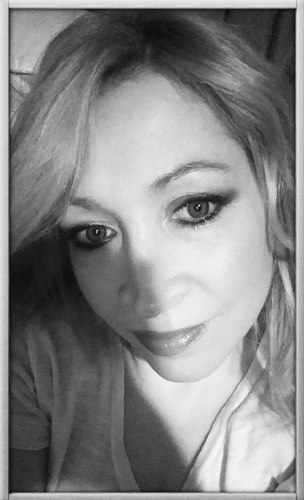 The picture of the tulips was taken with the rear-facing camera. As you can see it absolutely beautiful and crystal clear!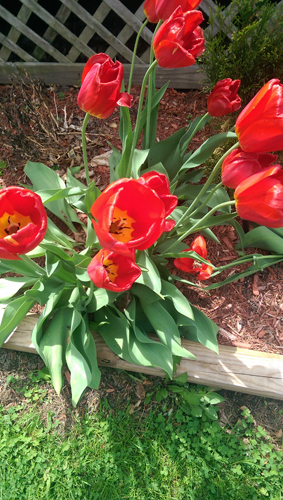 I also snapped a picture of my two Labs that was too cute not to share!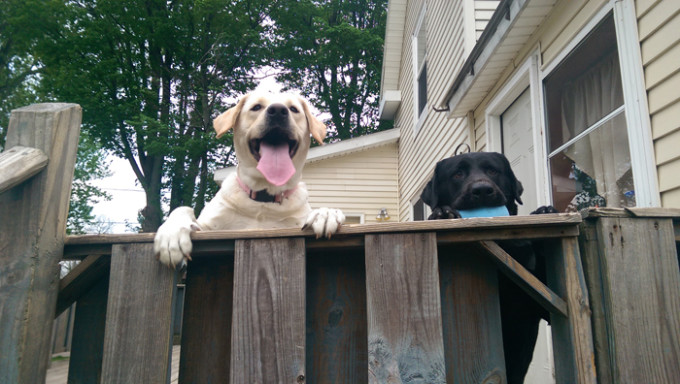 The handset also comes with Zoe, a camera application giving you the power to take small bursts of photos that form short videos lasting only a few seconds and making the special moments easy to share with the world. I have not had a chance to actually use the app yet, so I can't tell you how it works. However, what I understand it allows you to save the frames within the burst and edit them to your liking. A VERY useful and powerful app for the camera enthusiast who does not want to miss action shots!
BoomSound speakers
The problem with most smartphones is that the speakers are never loud enough and located on the back of the phone, which project the sound away from the listener. The HTC One M8 Harman Kardon Edition has massive .85cc top speaker chamber and .80cc bottom speaker chamber located on the front of the device for superior sound directed towards the user. The amped up BoomSound speakers optimizes your music, videos, and games listening experience with balanced distortion-free, and clear sound. Seriously, the speakers on this phone are ridiculously insane in an awesome way! You'll never miss a beat!
Clari-Fi Technology
Sprint, HTC, and Harman Kardon embarked on a mission to be able to "redefine the way people listen to music on their smartphones" with a revolutionary application known as Clari-Fi.
"HARMAN's Clari-Fi restores and "rebuilds" music fidelity lost during audio compression. The first time in a mobile device, Clari-Fi yields richer, deeper and clearer sound quality for compressed digital music (like MP3 downloads or streaming services like Spotify®)."

"Lossless HD Audio music reproduction via a 24bit/192kHz DAC that delivers roughly six times the information of compact disc music and 60 times the information of an MP3 or streaming music source when playing high-res digital (FLAC) downloads from sources like HDtracks.com."
The proof is in the sound and you can clearly hear it! I tested this out using Spotify and a few downloaded tracks to see if Clari-Fi would clean up the audio. There is a noticeable improvement in the sound quality of the tracks with crisper and deeper tones. Mobile music has never sounded so good!
Blinkfeed
Another notable feature of the HTC One M8 is Blinkfeed. Let's be honest, with life's constant demands and hustle and bustle we don't get to keep up with what's going on in the world as much as we would like to. Blinkfeed gives you all your social needs (Facebook, Twitter, ect.), headline news, music, sports, gaming, calendar events, and more without having to look for it. The home page is constantly being updated to display your desired snippets, so you can better stay informed with everything you want. To me it is one of the most valuable apps I have had the pleasure of using!
Harman Kardon AE-S In-ear Headphones
HTC One M8 Harman Kardon Edition smartphone comes with a custom set of gold Harman Kardon AE-S headphones with extended bass response ($149 retail value) to match the phone. The top rated in-ear headphones feature an aluminum-alloy housing for "extended bass and true low-frequency reproduction." The sophisticated looking design is equipped with a three-button remote with built-in microphone for phone calls. They come with 3 pairs of silicone sleeves: small, medium, large.
The in-earphones are extremely well built and lightweight. Once you find the correct size tip for your ear canal you will be on your way to listening to beautiful sounding tunes. The ONLY issue I have with them is the edges on the square housing are a bit sharp and could irritate the ear. Plus, they don't stay in that well. Also, they don't come with a protective case, thus you are going to want to get one to safeguard them.
LiveStage
There is a setting on the handset located under Harman Kardon audio known as LiveStage. Once you have your earbuds in you are going to want to make sure this is flipped on to get the best sound. Holy smokes does the technology ever make a humungous difference in the clarity! The instruments sound richer and clearer for more of a "life-like" listening experience. I could not believe the improvement it made while listening to the original version of the Who's Baba O'Riley. The separation of the instruments was fantastic!
Sprint Sound Sessions
Everything you need to listen to a wide selection of music is already provided on the smartphone! It is loaded with a premium package of music options including:
Spotify – Sprint is giving customers access to Spotify's catalogue of more than 20 million songs. Spotify allows users to play music on demand, create playlists, discover new music, share tracks with their friends, listen to songs offline, and listen to music without ads across multiple devices.

Sprint Music Plus – Sprint's official music store and player for music tracks, albums, ringtones and ringback tones.

Music Live – an immersive and interactive experience that is continuously updated with the latest music news, current hits, new music and featured services. The "always-on" live experience enables customers to discover and engage with services that include Spotify, Music News Feed, Top Songs, NextRadio (FM Radio) – Music Downloads, Ringback Tones, Ringtones and ID-a-Song services.

NextRadio – an application for listening to local FM broadcasts on customers' smartphones.
Over the years I have tried various digital music services, but Spotify has been the best so far. I signed up for a 30 day premium trail and will continue my membership once it is over for $9.99 a month. For someone like me who indulges in music daily, the small price is well worth it. I love all that Spotify has to offer including their neat ready-made playlist! You can also listen for free in shuffle mode if you don't want to opt for the premium package!
As a special treat for all new and existing Framily members Sprint is offering six months free of Spotify Premium as an added bonus! After the six months has expired members pay a monthly promotional price of $7.99 (1-5 users) or $4.99 (6-10 users) for 18 months, depending on the number of Spotify Premium users in their Framily. After 24 months customers pay the standard Spotify price (currently $9.99 per month).
MicroSD Slot
Finally! A quality built newly developed smartphone with a MicroSD slot! The HTC One M8 Harman Kardon Edition smartphone has built-in storage of 32GB and supports up to 128GB of storage cards on top of that for a whopping 160GB! The phone is a major powerhouse for music downloading! I don't believe the normal consumer would ever run out of storage space and has the ultimate jukebox at their fingertips.
Specs!
Operating system
Android 4.4 (Kit Kat)
Battery information
2600 mAh Lithium Ion Battery
Talk time
Up to 22 hours
Dimensions
5.76″ x 2.78″ x 0.37″
Display
5 inch Full HD 1080p (1080X1920)
Weight
5.6 oz
Processor
2.3 GHz Quad Core Snapdragon Processor
Memory
32 GB Rom/2GB RAM
Bluetooth profiles
4.0 – A2DP, AVRCP, GAVDP, HFP, PBAP, HSP, HID, GOEP, OPP, SPP, PAN, Stereo Streaming, AVDTP, OBEX
What's in the Box
2600 mAh Lithium Ion Battery (embedded)
Wall Charger
3.5mm Harman/Kardon headphones
USB Cable
Harman Kardon Onyx Studio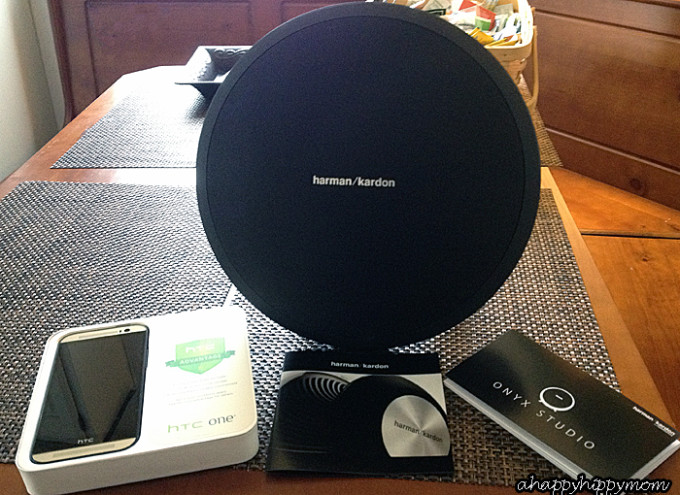 When I received the announcement I was going to receive the Sprint HTC One M8 Harman/Kardon Edition smartphone I was elated to be able to test out such an amazing device. When the package arrived on my doorstep all I was expecting to open and see was the smartphone. Much to my surprise, along with the handset was a box containing a gorgeous Harmon Kardon Onyx Studio!
The speaker features Harmon Kardon's stunning premium design and amazing audio performance! The black saucer Bluetooth speaker measures 11″ x 10″ x 6″ (280mm x 161mm x 260mm), weighs a little over 6 pounds and sits upon two chrome legs. It is on the larger side for portable Bluetooth speakers, but once you hear the insanely loud and crisp sound…you wouldn't want it any different! Not to mention, it looks incredible sitting on a shelf!
On the top panel of the speaker are the controls, including the power button, volume increase or decrease, and Bluetooth button. The rear panel features a USB port for upgrading software, power dc input, and handle slot for easy pick up.
I paired the Bluetooth speaker with my HTC One M8 Harman Kardon Edition smartphone and blasted some tunes from Spotify! The music was like having an orchestra in my home! It contains two 3″ woofers, two ¾" tweeters, and dual passive radiators for a truly incredible sound experience.
Built in is a 3.7V, 2600mah, cylindrical lithium Ion Rechargeable Battery for up to 5 hours of cable free listening enjoyment. I got around four hours on a very loud setting, so the listening time varies upon your volume setting. Wireless connectivity allows you to place the speaker in any part of the room and makes an awesome music companion for this summer's BBQs!
Harmon Kardon Onyx Studio is sold exclusively by Sprint, for just $99.99 when purchased with the HTC One M8 Harman Kardon edition. A $399.99 retail value! The wireless speaker offers rich sound and the ultimate companion to all your smart Bluetooth devices!
What's in the box
Comes with Bluetooth speaker with built in 5hr rechargeable battery, charger, and manual.
Conclusion
I know this review was extremely long, but I wanted to pack in as much info as I possibly could and feature the finest aspects of the Sprint products. Basically, if you are in the market for a new smartphone loaded with the best specs, apps, and would like to be able to listen to a huge library of stellar tunes on the go, consider purchasing the HTC One M8 Harman Kardon edition! For music enthusiast who demand high-quality tunes these two products deliver! They make the perfect duo for a total immersive listening experience! Both products are Sprint exclusives!