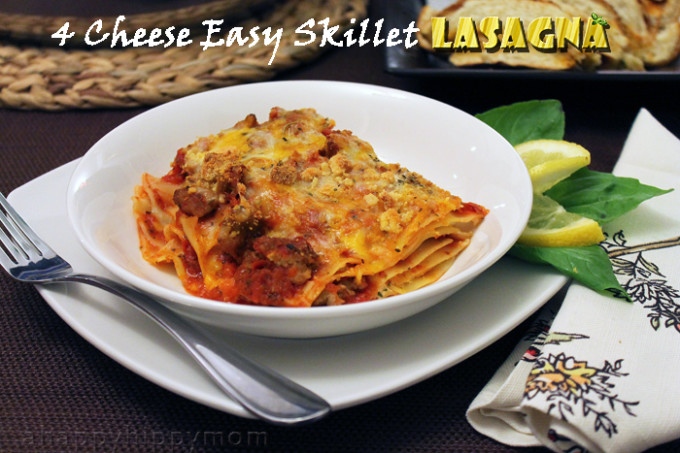 Comfort food is meant to be quick and easy to prepare, full of carbs, and stick-to-your-ribs good! When I think of homey food I reach for pasta dishes like lasagna (when I am not in a diet). The problem is traditional lasagna is not a fast meal to make and it typically requires lots of prep and cleanup. Boiling the noodles, making meat sauce, and assembling the layers is usually time consuming and by the time it is fully cooked and out of the oven…I'm too tired to eat it! And OH MY GOODNESS the gooey cheesy baked on mess to clean after you have eaten enough carbs to put a horse to sleep is enough to turn the suppose comfort food into a kitchen nightmare! However, I have a little secret to tell you. Lasagna does not have to be complicated. In fact, the delicious dish can be made in half the time and in a skillet!
Being I am a simple kind of gal, one pot meals are a favorite in our home, especially lasagna! After testing out several various recipes for skillet lasagna, I came up with my own version by tweaking the ingredients to suit my taste and texture. Some recipes were too saucy and messy while others ended up being overly dry and starchy. I guess everyone has their own individual taste, but I think you will like this recipe! It holds together, is not a blazing mess, and tastes the most like classic lasagna without the 2 hour wait! Plus, who doesn't love a one pan cleanup, right?
The pan I used in the recipe is an 11″ stainless steel deep pan with NO PLASTIC parts. I pop the skillet into the oven for 30 minutes to fully bake the lasagna. It is important to make sure the pan you use is oven safe to 400 degrees Fahrenheit.
You can use a pound of whatever meat you decide to in the recipe, but make sure you remove it from the casing if it is Italian or turkey sausage. Removing the casings lets the garlic and seasoning absorb better into the meat and the sausage is less chewy. Also, drain as much grease from the meat as possible. I put mine in a strainer for a minute and it does the trick!
One Pot Meal- 4 Cheese Easy Skillet Lasagna Recipe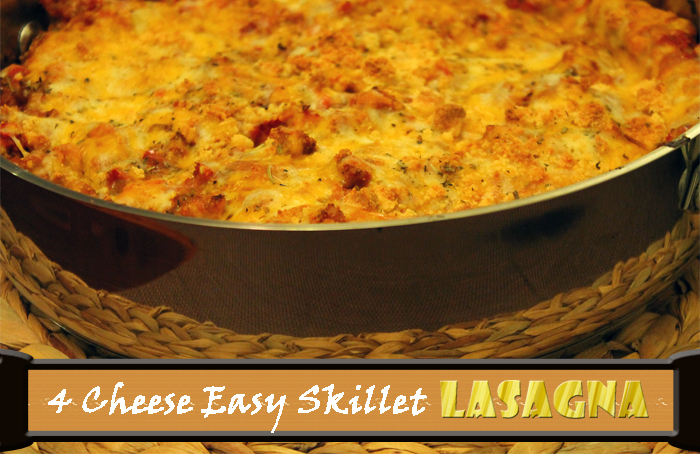 Author:
Michelle Jacklett
Recipe type:
One Pot Meal
Prep time:
Cook time:
Total time:
Ingredients
43 ounces canned crushes tomatoes (from a 28-ounce can and a 15-ounce can).
1 cup low-sodium chicken broth
3 garlic cloves, minced
2 tablespoons olive oil
1 pound Italian Sausage, casings removed
1 teaspoon Salt
1 teaspoon Black Pepper
1 tablespoon Italian seasoning
1 teaspoon onion powder
¼ teaspoon Crushed Red Pepper Flakes (optional)
1 tablespoon parsley
Fresh basil to garnish (optional)
2 cups part-skim ricotta cheese
1 egg yolk
1 box (12 ounces) no-boil lasagna noodles
2 cups Kraft Shredded Colby & Monterey Jack Cheese blend
¼ cup grated Parmesan cheese
Directions
Preheat oven to 400 degrees. In large11 inch deep skillet, heat 2 tablespoons of olive oil over medium heat. Add garlic and cook for one minute.
Add in 1 pound of Italian sausage (casings removed), season with half the salt and pepper and cook, breaking it up with wooden spoon until browned and fully cooked. Drain excess grease.
Pour in crushed tomatoes and chicken broth. Bring tomatoes, broth, and meat to a boil. Season with Italian seasoning, onion powder, and red pepper. Reduce to a simmer and cook on medium until thickened for 10 minutes, stirring occasionally (you should have about 6 cups of meat sauce).
Meanwhile, in a medium bowl, mix together egg yolk, ricotta, parsley, and ½ teaspoon each salt and pepper.
Carefully pour meat sauce into a medium heatproof bowl and add 1 cup to skillet; spread sauce evenly over bottom of pan.
Add a single layer of noodles, breaking them up to fit.
Top with half the ricotta mixture, spreading evenly. Sprinkle with ½ cup shredded Colby & Monterey Jack Cheese blend.
Follow with another layer of noodles, then 2 cups meat sauce. Add a third layer of noodles, then remaining ricotta mixture and ½ cup more of cheese Follow with a final noodle layer, then remaining sauce. Sprinkle top with the remaining cheese blend and Parmesan cheese.
Bake lasagna until golden and bubbling, approximately 30 minutes. Let stand 10 minutes before serving. Garnish with fresh basil leaves.
Serve with garlic bread (optional).
Mangiare!
Good Cook 5 Essential Cookware Products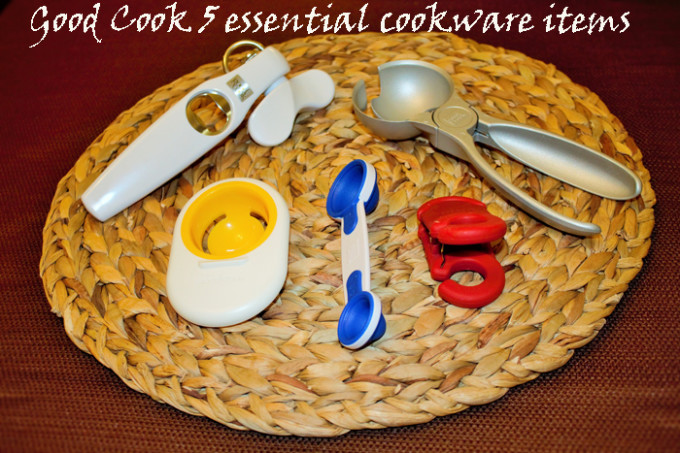 All the fancy looking cooking tools you see me using in the photos to prepare the skillet lasagna came from Good Cook! The company sent a group of foodie bloggers an egg separator, a can opener, an ice cream scoop, a measuring spoon, and a pot clip to use in preparing our "One-pot" meal. I was able to incorporate all the items into my recipe except the ice cream scoop. The challenge was to be able to use two of the items, so I was happy to put four of them to work for me in my homey dish. Here is more info about each of the five sensational Good Cook products.
SMART Ice cream scoop: There is nothing more frustrating than trying to scoop ice cream out to only have it stick to the scoop when you have hungry mouths to cool! The simple and easy-to-use Smart Scoop will produce perfect rounded ice cream scoops every time! Designed to glide through the hardest of ice creams, the unique non-stick teflon patented design splits in half to release perfect balls of ice cream with no residue! Also works wonderful for soft ice cream too! ($14.99)
Flip Measuring spoon: Save space in your kitchen drawer with this nifty little flip measuring spoon! Built to last with heavy-duty industrial gauge plastic, the double-sided pocket spoon inverts to different measuring capacities of 1/4 tsp, 1/2 tsp, 1 tsp, and 1 tbsp! The innovative measuring spoon can be used with either liquid or solid ingredients and helps minimize kitchen clutter! ($4.79)
Safe-cut Can Opener: No more sharp edges! This 4 in 1 kitchen gadget makes safe and clean cuts by slicing through the can under the rim of the lid, making no contact with contents. It also serves as a bottle opener, cap twister, and tab puller. The essential tool is built to resist breaking, warping, scratching, staining, or tarnishing. A must for moms who worry about their kiddos slicing their fingers from sharp lids! ($21.89)
Egg Separator: Separate eggs easily with this ingenious gadget! No more yolks in your egg whites for perfect meringue! The tool sits on the rim of a bowl for hands-free use and keeps the yolk upright while the egg whites drip through the slots. Great for fuss-free baking or omelet making. It is even dishwasher safe! ($2.39)
Pot Clip Holder: Sick of misplacing your cooking utensil or getting the stove top messy from your cooking spoon? The Utensil Pot Clip keeps the spoon, spatula or ladle within reach by clipping to the side of any pot, sauté pan or fryer to, quickly stir sauces, flip burgers or turn meat. It is a great kitchen helper! ($7.49)
Silicone gripper nodes prevents the clip from scratching nonstick cookware
Heat-resistant silicone hook holds utensils in place to allows liquids to drip back into the pan
Good Cook utensil pot clip, quality designed for everyday use makes this tool one of America's favorite kitchenware items
Dishwasher safe
Lifetime warranty
Build Your kitchen Drawer 5 Day Gadget Giveaway and HUGE Sweepstakes!
[field name= iframe]
These 5 essential cookware items above are going to be featured in Good Cook's Build Your kitchen Drawer event. Starting June 2 through June 7, Good Cook fans can win selected products they add to their virtual kitchen drawer. Also, there will be Instant winners! Every drawer entered has a chance to win an instant prize, and participants can submit a new drawer every day for a chance to win. The giveaway is part of the HUGE Good Cook's Build Your kitchen Drawer Sweepstakes where participants have the chance to win their ideal Kitchen Drawer filled with great Good Cook tools and gadgets through July 14, 2014.! How it works is you visit goodcook.com and choose up to 15 items from selected Good Cook products to create your ideal kitchen drawer (look for the "ADD ME" icon below on any participating product) and then enter to win everything you selected. If you can't decide what you want, you can let the Kitchen Experts help – simply choose one of the featured Kitchen Expert Blogger drawers and enter it for a chance to win. AND the great news is during the contest everything on Goodcook.com will be 25% off!  I will be sharing my suggested 15 items I do not think any kitchen drawer should be without coming soon, so keep watching! My ideal drawer includes awesome cooks' tools, gadgets, and cutlery! I think you are going to LOVE it!
Stay Connected!
Like the Good Cook Facebook page
Follow Good Cook on Twitter
Check out Good Cook on Pinterest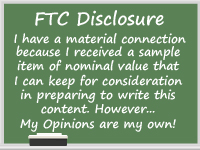 [field name= iframe1]