How do you plan on celebrating the most important woman in your life on May 11th? Time is closing in on finding the perfect gift to honor Mom, but there is still time to get her a beautiful gift basket to let her know how much you appreciate all she has done for you. In fact, you can order a gorgeous gift from GourmetGiftBaskets.com as late as May 9 and have it arrive in time to delight or even WOW her for Mom's Day!
GourmetGiftBaskets.com Tea and Cookies Premium Basket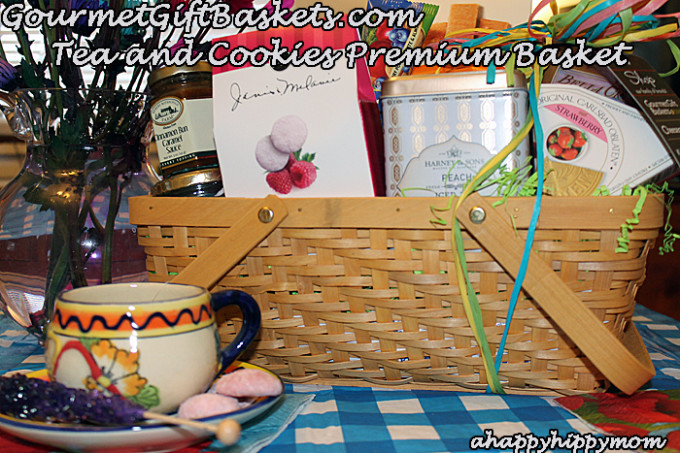 My all-time favorite gift to receive is a gift basket filled to the brim with goodies! It is like getting a bunch of smaller gifts wrapped up in a big beautiful basket that can be used for just about anything. For instance, GourmetGiftBaskets.com sent me a Tea and Cookies Premium Basket packed with a variety of teas, oatcake biscuits, scrumptious cookies, ginger chews, organic honey, cinnamon honey dipping pretzels, cinnamon caramel sauce, rock candy swizzle sticks and more. The gift basket is fit for a queen! And once all the yummy contents have been consumed, I have the incredible wicker basket as a daily reminder of the thoughtful gift I was given. The basket can be utilized for storing books, jewelry, office supplies, soaps, flowers, or anything else! The possibilities really are endless on the various ways to use it. However, I plan on placing it on my kitchen table and filling it with fruit!
The GourmetGiftBaskets.com Tea and Cookies Premium Basket is priced at $129.99 and would make the most memorable Mother's Day gift! It is also available in smaller and larger sizes, depending on your budget. You cannot go wrong giving Mom this beautiful elegant basket bursting with soothing teas, organic raw honey, and cookies if mom is a tea lover. Here are the items that are in the premium basket.
Ingredients:
· Organic Peach Iced Tea by Harney & Sons – 6, 2 quart tea bags – This fruity and passionate tea can be served hot or iced for a refreshing treat.
· Tropical Green Tea by Harney & Sons – 20 bags boxed – This delicious tea is known for its many health benefits including promoting weight loss, and lowering the risk of heart disease and cancer.
· Butter Rich Cookie Brittle by Moondance Baking Co. – 6 oz. – This brittle by Moondance Baking Co is butter rich and laden with cookie to be a delicious desert.
· Key Lime Moravian Cookies by Salem Baking Company – 1 oz. – The key to these delicious cookies? Key limes, of course. Made from a centuries-old recipe, these wafer-thin delights easily enhance any teatime.
· Strawberry Tea Wafer by The Original Carlsbad Oblaten – 1 oz. – Add this to any cup of tea to give it the perfect hint of strawberry.
· (4) Rock Candy Swizzle Stick by Dryden & Palmer – These swizzle sticks by Dryden & Palmer look like rock candy and make your tea taste just as sweet.
· Vanilla Wafer Roll by Dolcetto – 4.5 oz. – Dolcetto wafer rolls are baked to be crisp yet flaky on the outside and are filled with a rich and creamy vanilla center.
· (4) David Rio Chais -These award-winning chai's will come in four flavors: Tiger Spice, Elephant Vanilla, Tortoise Green Tea and Sugar Free Orca Spice.
· Earl Grey Supreme Tea by Harney & Sons – 20 bags boxed – The quintessential tea from one of the world's finest tea blenders, look for Earl Grey tea in all of our upscale tea gift baskets.
· Raspberry Powdered Cookies by J&M – 2.5 oz. – Delicious raspberry cookies sprinkled with just the right amount of powdered sugar.
· Oatcake Biscuits by Effie's Homemade – 7.2 oz. – These oatcakes are crisped to perfection with a sweetened nut flavor that is perfect to accompany your favorite cup of tea morning, afternoon or night.
· Organic Honey by YS Organic Bee Farms – 8 oz – The ideal organic sweetener for our gift baskets tea!
· Original Ginger Chews by Chimes – 5 oz. – These Ginger Chews are a great way to refresh and cleanse the palate with some spice or even settle the stomach.
· Chamomile Tea by Harney & Sons – 20 bags boxed – Sumptuously smooth, this herbal tea known to relieve stress, promote relaxation and help with daily body aches.
· Red Raspberry Tea by Harney & Sons – 20 bags boxed – With a deep color and invigorating flavor, this delicious addition to every tea gift basket is a crowd pleaser!
· Cinnamon Bun Caramel Sauce by Robert Rothschild – 5 oz. – Drizzle this on any desert to create the perfect companion for any cup of tea.
· Cinnamon Honey Dipping Pretzels by Robert Rothschild – 6 oz. – Made with the sweet taste of cinnamon and honey, dip these pretzels in our Cinnamon Bun Caramel Sauce to create the perfect cure for anyone's sweet tooth.
· Pure Butter Shortbread Fingers by Dean's of Scotland – 4.6 oz. – Hand Baked with a rich butter flavor to give the mouthwatering light and flaky taste.
· Blueberry, Pomegranate & Almond Orchard Bar by Liberty Orchards – 1.6 oz. – These bars are made with real fruit, hearty nuts, sunflower seeds and high-protein soy nuggets to give you a healthy burst of energy to get you through the day.
Sound fabulous? It is! My favorite item out of the basket thus far is the Harney & Sons Peach Iced Tea! The moment I opened the tin I could smell fresh peaches! The tea is absolutely delicious!
Other GourmetGiftBaskets.com Popular Mother's Day Gifts
Mom is not a tea drinker? No worries! GourmetGiftBaskets.com has a gigantic variety of other award-winning gourmet food baskets, towers, and high quality gifts ready to be shipped to Mom's door! From sinful chocolates, fresh fruit, gourmet popcorn, artisan coffee, to mouthwatering red wine-the company has you covered for putting a huge smile on Mom's face this Mother's Day!
GourmetGiftBaskets.com is extremely easy to browse with categories clearly displayed for quick gift finding. However, with Mother's Day being less than a week away I have other gift suggestions to share with you as well. The company has tracked the most popular gifts for every holiday for the past decade and is projecting the following items to be its top contenders for Mother's Day. Here are some safe bets for just about every budget ($24.99 and up). (These can be ordered as late as May 9 to arrive in time for Mom's Day):
No. 1 – President's Choice Cheesecake Sampler (Eight Slices of Different Types of Premium Cheesecake), $54.99

This decadent and beautiful gift is the top-selling cheesecake on the site. It is predicted to be the best choice for Moms  for 2014 – and it's not hard to see why.  It has the following premium flavors: New York, Strawberry Swirl, Turtle, Amaretto, Cherry Almond, Triple Chocolate, Cookies & Crème, and Chocolate Raspberry – literally a flavor to satisfy nearly everyone.

Mom might even ask for it every year.

No. 2 — Coffee and Chocolate Gift Basket Premium, $99.99

This stunning basket has so much in it, I can't list it all here. But just to tempt anyone's taste buds, this has chocolate-dipped espresso beans, milk chocolate smothered graham crackers, dark chocolate and coffee truffles, toffee-dipped peanuts, chocolate chip cookies, caramel demitasse swizzle sticks and more.  For a Mom who loves chocolate, coffee, or all things mocha, this is an exquisite gift – so big that these fortunate parents would have to share it with the rest of the family.

No. 3 — Movie Gift Basket, $79.99

For the Mom who just loves the movies, this creative basket really brings the fun.  It includes a vintage popcorn dish, and all kinds of fresh popcorn flavors created by sister site, KingOfPOP.com, and our own Popcorn Engineer. Popcorn flavors include: cheesy cheddar, caramel, sea salt & cracked pepper, cookies & cream, peanut butter, sun-dried tomato basil, and sour cream & chive. Chocolate bars, toffee peanuts, cinnamon honey dipping pretzels and chocolate chip cookies round out this movie-lover's basket.

No. 4 –  English Watering Can – Gardening Gift Basket, $49.99

How refreshing is this great find? It's a brand new version of two popular gifts from last year, one for gardeners and one for snackers, all rolled into one. This item has a very trendy lime green watering can as its centerpiece, along with trail mix, peanut butter pretzel nuggets, dark chocolate sandwich cookies, mints, petite cheese biscuits, roasted peanuts and more.  If Mom loves to garden (or just likes watering houseplants), this will be a unique gift she'll remember always.

No. 5 –   Just for Mom Gift Tower — $39.99

Towers like this one have really increased in popularity over the past three years, as they really represent many small presents wrapped into one, unforgettable sweet and savory package.  This affordable, yet affection-inspiring gift includes: cranberry-orange cookies, strawberry-banana popcorn (how fun is that?), white cheddar popcorn, luscious fruit-flavored hard candies, yogurt-covered pretzels, chocolate chunk shortbread cookies and mixed nuts.
What are you giving Mom for Mother's Day? What is your favorite gift to receive or give? Have you ever ordered from GourmetGiftBaskets.com?
Keep watching for my Father's Day GourmetGiftBaskets.com Review and gift suggestions coming soon!
Stay Connected with GourmetGiftBaskets.com
Like GourmetGiftBaskets on Facebook

View  GourmetGiftBaskets on Pinterest