I don't believe dads receive proper recognition. Do you? There is way more emphasis on moms being the important caregivers than dads. But the fact is dads are just as essential in a child's life and have a significant role in their children's development.   Not to mention, more and more guys are fully embracing fatherhood these days, becoming the main caregivers, and spending time with their kids. Why do they not get the respect they deserve? Yes, some dads are like giant kids, but that is what makes them so much fun! Am I right? It is time to put the battle of the sexes to rest, evolve, and realize men are redefining what it means to be an involved father!
Buzzfeed posted an article entitled "24 Reasons Kids Should Never Be Left Alone With Their Dads," which pokes fun at the "giant children" in many of our lives. The listicle was meant to be lighthearted and funny, but some dads didn't find it all that humorous! Zach Rosenberg, a HuffPost daddy blogger who writes for 8BitDad.com, did his own creative rebuttal to the "You wouldn't let giant children watch your kids, would you?" commentary by putting together a list of 25 Reasons Kids *Should* Be Left Alone With Their Dads. Zach's reasons provide a comedic look at why leaving your kid with Dad is a good (and hilarious) way to go! The post is not only very entertaining, but also extremely touching and a fantastic reminder that dads are important people too!
GourmetGiftBaskets.com Father's Day Gift Baskets
Stepping down from my soapbox, and focusing on the main reason of why I am posting today, is to discuss what to give the special man in your life for Father's Day. With grilling season about to officially kick off, a great gift idea to delight Dad would be a Father's Day gift basket filled with grilling goodies from GourmetGiftBaskets.com! The Charcoal Connoisseur's BBQ Gift Basket ($149.99) has everything Dad needs to be the ultimate king of the grill in the neighborhood. Seriously, this Father's Day gift basket contains everything from delicious savory rubs, mouthwatering marinades, to even a handy burger press for making prefect ¼" patties! Here is what is in the basket.
· Western Red Cedar Grilling Papers by Fire & Flavor – 8 papers – Thin sheets of 100% all-natural, sustainable Western Red Cedar that lend their exquisite taste to a variety of food, including seafood and vegetables.
· Touch O'Heat BBQ Sauce by Rufus Teague – 16 oz. – A thick, tangy BBQ sauce made according to tradition in Kansas, offering an alluring sweetness and the perfect amount of heat.
· New Mexico Red Pepper Sesame Sauce by Frontera – 12 oz. – This delectable sauce unites deliciously nutty sesame seeds with sweet red peppers, creating both a dip and marinade that's great on both chicken and seafood.
· Everyday Rub All Purpose Seasoning by Fire & Flavor – 2.5 oz. – Composed of the finest all-natural ingredients, including sweet brown sugar, warm chilies, and tangy onions, this mild rub is perfect for any grilled foods.
· Limon Pepper Meat, Fish & Poultry Rub by Robert Rothschild – 5 oz. – A excellent choice for grilled fish, this fresh and zesty gourmet rub unites the unique flavors of tangy lemon and black pepper.
· Sweet Ancho Chile Fry Seasoning by Fire & Flavor – 1 oz. – A vibrant blend of all-natural spices, including sweet ancho chilies, which easily creates delicious gourmet side dishes.
· Pineapple Coconut Mango Tequila Sauce by Robert Rothschild – 12 oz. – A truly refreshing combination of all-natural sweet pineapple, creamy coconut, and tangy tequila that makes grilled chicken sublime.
· Santa Fe BBQ Honey & Chipotle Chili – Dryglaze by Urban Accents – 2 oz. – A blend of sweet honey, smoky chipotles, and traditional BBQ flavors that transform both meats and vegetables into gourmet dishes.
· Kingsford Burger Press – Red – by Fox Run – Handy and durable, this burger press neatly molds each patty into a 1/4″ thickness, making them perfect for the grill.
· Flexible Grilling Skewers by Fire Wire – 2 pack – Ingenious skewers made from 100% food grade stainless steel that offer complete flexibility, as well as a lifetime guarantee.
· Red Oak Gourmet Grilling Planks by Fire & Flavor – The perfect complement to beef, chicken, pork, and salmon, these planks of traditional aged red oak offer an unbeatable barbeque flavor.
· Sriracha Teriyaki Sauce by Stonewall Kitchen – 11 oz. – Popular in Thailand, this spicy sauce is made with sun-ripened chilies and garlic that are sweetened with honey and mellowed out with soy sauce to create a delicious marinade.
· Carmelized Sweet Onion Whipped Mustard by Elki – 11.5 oz. – Sweet caramelized onions that are expertly blended with whipped mustard creating a delectable multi-purpose spread.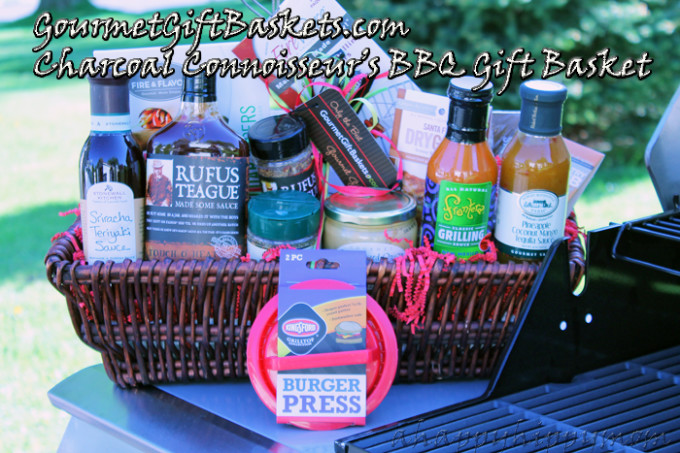 I gave this gift basket to my hubby last week for Father's Day (along with a new grill) and it blew his mind! He has been having a blast using the products to create extraordinary meat and seafood creations! The Pineapple Coconut Mango Tequila Sauce is incredible on shrimp! All the products in the basket are top quality and make the man of the house feel like an authentic BBQ chef! You can't go wrong with this basket if the special guy in your life is a BBQ master!
Other popular Father's Day Gift Baskets from GourmetGiftBaskets.com include:
President's Choice Cheesecake Sampler (Eight Slices of Different Types of Premium Cheesecake), $54.99

This decadent and beautiful gift is the top-selling cheesecake on the site. It is predicted to be the best choice for Moms and Dads for 2014 – and it's not hard to see why.  It has the following premium flavors: New York, Strawberry Swirl, Turtle, Amaretto, Cherry Almond, Triple Chocolate, Cookies & Crème, and Chocolate Raspberry – literally a flavor to satisfy nearly everyone.  Dad might even ask for it every year.

 

Round To Remember Golf Bag with Churchill Golden Cigar, $89.99

For the golf enthusiast Dad who also loves to snack, check out this golf bag cooler, filled with a Churchill Golden Cigar, golf balls, golf tees, hors d'oeuvre crackers, hot pepper cheese, smoked sausage, crunch snack mix, chocolate chip cookies, beef jerky, and finally a box of Mike & Ikes. Now that's an eclectic present for Pop.

The Backyard BBQ Popcorn Sampler, $34.99

For the Dad who loves backyard barbecues and is often in the middle of one on any late spring or early summer night, this is the ideal gift. And it's not just BBQ-flavored popcorn. It actually brings the backyard BBQ experience to life by combining many of the flavors associated with warmer-weather, outdoor celebrations. The flavors represented are: Honey Mustard, Bacon Cheddar, BBQ Ribs, Chipotle BBQ, Cajun, Buffalo, Dill Pickle, Zesty Ranch and Cheesy Cheddar.

 

Tuxedo Popcorn for The Elegant Dad $24.99 (1 gallon) to (3.5 gallons) $59.99

This popcorn, that combines both white chocolate and milk chocolate fashioned to represent a tuxedo, is a one-of-a-kind gift for a classy Dad with a sense of humor, who loves the combination of sweet and salty snacks. There are 72 popcorn flavors in all, so if the Tuxedo popcorn isn't right for your Dad, chances are good one of his favorite flavors can be found among the other 71 popcorn flavors at www.KingOfPOP.com. Flavored popcorn could also double as a great graduation gift for the new grad.

 

Movie Gift Basket, $79.99

For the Dad who just loves the movies, this creative basket really brings the fun.  It includes a vintage popcorn dish, and all kinds of fresh popcorn flavors created by sister site, KingOfPOP.com, and our own Popcorn Engineer. Popcorn flavors include: cheesy cheddar, caramel, sea salt & cracked pepper, cookies & cream, peanut butter, sun-dried tomato basil, and sour cream & chive. Chocolate bars, toffee peanuts, cinnamon honey dipping pretzels and chocolate chip cookies round out this movie-lover's basket.

 

Coffee and Chocolate Gift Basket Premium, $99.99

This stunning basket has so much in it, I can't list it all here. But just to tempt anyone's taste buds, this has chocolate-dipped espresso beans, milk chocolate smothered graham crackers, dark chocolate and coffee truffles, toffee-dipped peanuts, chocolate chip cookies, caramel demitasse swizzle sticks and more.  For a Mom or a Dad who loves chocolate, coffee, or all things mocha, this is an exquisite gift – so big that these fortunate parents would have to share it with the rest of the family.
So, don't forget to WOW hubby, Dad, and Grandpa this Father's Day with something that will leave a lasting impression! Go ahead and show him just how much you appreciate the time he spent helping to raise you into the fine individual you are today!
What are you giving Dad  for Father's Day?  What do you remember most about your Dad?

Stay Connected with GourmetGiftBaskets.com
Like GourmetGiftBaskets on Facebook