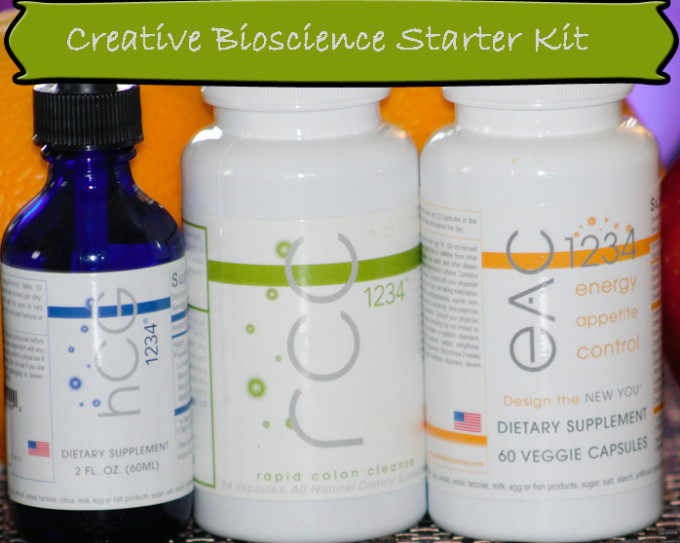 It's time to update you on how things are going on the hCG 1234 diet program! For those who missed the first 2 week HCG1234 diet update, I have been trying the Creative Bioscience Starter Kit, which included the HCG1234 drops, the RCC1234 (Rapid Colon Cleanse) and EAC1234 (Energy Appetite Control.)
HCG1234
With more caloric, food, recipe, and service choices, hCG 1234® from Creative Bioscience® is the benchmark that sets the standard for weight loss in the diet drops sector. Sold throughout eleven countries, hCG 1234® has engendered a loyal and growing following. Countless numbers of dieters have testified that hCG 1234® has helped them lose weight and decrease their appetites.
RCC1234
Rapid Colon Cleanse (rCC) 1234® is a potent blend of clinically supported botanical ingredients including Psyllium Husk, Ginger Root, Senna Leaf, and Apple Fiber. This formulation of healthy all-natural ingredients is designed to complement your normal digestive chemistry and enhance metabolic function. Dieters testify that pre-diet cleansing improves diet results, and occasional use as needed keeps things moving.
EAC1234
Energy Appetite Control (eAC) 1234® quickly delivers a tremendous energy boost while acting as a powerful appetite suppresant. eAC was formulated for hCG dieters on any phase of the hCG diet, and it complements other diets as well. Our proprietary formulation of all natural ingredients works well as an energy boost and an appetite suppressant to help you lose weight.
*Product claims and description per manufacturer.
I have been on the diet for 30 days and the scale moved 7 pounds. I started at 133 and now weigh 126, so I did not meet my goal. However, I did have some success which is better than nothing! The secret to this diet is being able to stay in control and not give into any temptations while making sure you are drinking PLENTY of water. This is where I failed, because I know I was not drinking the recommended 3 liters of water (13 cups) daily and cheated on my daughter's birthday by eating a piece of cake. Other than that, I followed the diet protocol completely.
In phase two of the diet you are on a VERY restrictive food plan and are only allowed to consume foods from the approved list. The list consists of 13 different vegetables, 5 fruits, 19 protein sources, and 3 "non-fat" or "skim" dairy protein foods. Anything eaten that is not on the list can slow or stall your weight loss. There is absolutely no sugar, oils, or fats allowed in phase two of the diet. AND all proteins are to be weighed before cooking (should be 3.5 oz per serving) and make up 50% of your daily food intake. If you can handle this…I think this diet will definitely work for most individuals.
I have to say the drops did work amazingly in decreasing my appetite! I was hungry for the first two weeks into the diet, but soon afterward my cravings subsided and my appetite diminished. In fact, there were days I had to force myself to eat the recommended amount of meals and snacks, because I was not hungry at all.
The EAC1234 is loaded with B vitamins and other all-natural ingredients to give an energy boost. If you normally drink caffeine during the day I suggest only taking this supplement on the days you don't have any coffee or tea! Too much caffeine will make you jittery! I definitely noticed an improvement in my energy level while taking this product. It contains Caralluma Fimbriata, Green Tea Extract, Ginger Root, Citrus Aurantium, Guarana, Probiotic Blend, and Reishi Mushroom to keep you feeling energized while eating a low-calorie diet.
As far as the RCC1234, this product did absolutely nothing for me. I tried taking it for four days before the diet and NOTHING happened. Then I gave it another try a week ago and nothing happened again. Everyone's body reacts uniquely and I guess mine was not giving into the full-body detox cleanse. The product contains Psyllium Husk, Ginger Root, Senna Leaf, Rhubarb Root, and Apple Fiber which are all-natural ingredients to help get things gently moving. Perhaps it was too gentle for my system!
I should be moving into stage three of the diet (stabilizing), but because I did not meet my weight loss goal I would need to purchase another bottle of hCG 1234 drops and continue on with phase 2 for another 30 days. I honestly believe with the proper amount of activity and calorie balance this diet would get me to my ideal body weight eventually. However, because it is so restrictive it is a very difficult program to stay on and it would take an extremely disciplined person to be able to be faithful to the protocol! With that being said, the best thing about this diet is it changes the way you think about food and eating habits!
For more product information and great low-calorie recipes visit Creative Bioscience!
Buy it!
Would you like to try the Creative Bioscience Starter Kit? Amazon.com is offering the Creative Bioscience Combo Pack, 1234 Diet Drops, Eac 1234 and Rcc 1234 for ONLY $39.99! That is a HUGE 61% savings of the suggested retail price!