"The VTech product, gift card, information, and additional gift pack have been provided by VTech."
With Easter hopping up next Sunday, you are probably beginning to think about what you are going to put in those baskets for your cute little bunnies.  I know every year I purchase way too much candy to try and add a variety of goodies to the sugary mix.  And if you are thinking about handing out leftover pastel-colored candy for Halloween, because you have bags of it leftover– then you are guilty of going overboard as well!  Instead of loading up on several different types of chocolates and candies this year, why not fill the Easter basket with fun educational gifts and cut down on the sweet stuff?  VTech has a great collection of educational Easter basket fillers  to create a memorable "toy-tastic" basket that will get your kids bouncing with joy…not sugar.
A few popular VTech toys, which are small enough to fit in a basket and make excellent fun Easter basket fillers are:
Easter Basket Fillers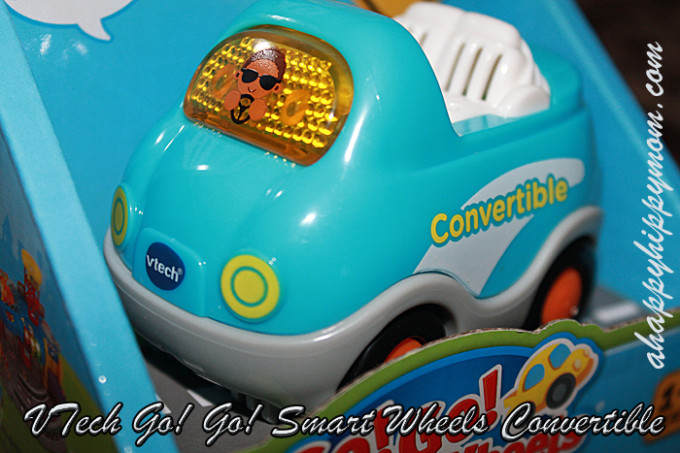 Go! Go! Smart Wheels Convertible (Ages 1-5 years; MSRP: $7.99)
Go. Go. Smart Wheels Convertible by VTech is perfectly sized for little hands!  The electronic convertible will entertain your child with a light-up driver (named Carson)  button that when activated triggers 3 sing-along songs and fun sounds.  The adorable tiny vehicle (can fit in the palm of your hand) also interacts with Go! Go! Smart Wheels playsets using SmartPoint.   The toy encourages language development, motor skills, and imaginative play.  It also teaches the letter "C" and the name of the vehicle.
If you plan on purchasing this adorable toy don't forget the batteries!  It requires 2 AAA batteries!  The batteries included are for demo purposes only and won't last long.
Check out VTechKids.com for the full line of Go! Go! Smart Wheels!
Switch & Go Dinos Turbo SPUR (Ages 3-8 years; MSRP: $9.99)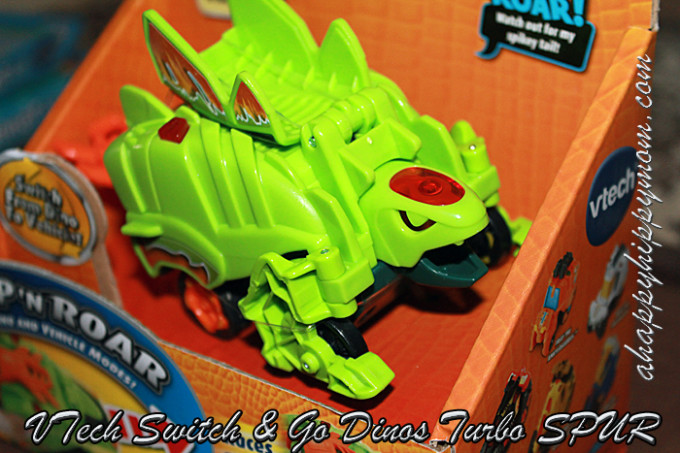 Roar!  Spur the Stegosaurus rips and roars with over 25 wild sounds and phrases!  He easily transforms from a cool spikey dino into a fast vehicle in a few easy steps!  Rev-up his wheels (built in fly-wheel) and watch him race across the floor over 20 feet!  Spur may be small in size, but is always armored for battle and ready to go with his big spikes on his back and powerful tail that swings and sways.  Kids will learn interesting dinosaur facts about his unique features, name and diet when they press the talk button, such as "the name Stegosaurus means covered lizard" and "my plates don't just look good they keep me safe too."
Spur requires 1 AAA battery that is included for demo purposes only.  Pick up a pack of batteries, because your kid is going to want to play hours with this 2-in-1 toy!  Spur also is compatible with the launch vehicle from Turbo launcher playsets.
Other Switch & Go Dinos Turbo toys include Dart the Triceratops, Zipp the T-Rex, Fray the Ankylosaurus, Cruz the Spinosaurus and Spinner the Stygimoloch.
VTech InnoTab Software Cartridges
If your child has an InnoTab already or you plan on purchasing a VTech  learning tablet for Easter pick up these two cartridges to add to their basket.  Both games are completely compatible with all the InnoTab systems.   Not sure what the Innotab has to offer?  Check out my InnoTab 3S, InnoTab 2S, and  InnoTab 2 reviews to help you decide which tablet is best for your child!  Each one offers different features.
InnoTab Disney Planes software cartridge (Ages 4-7 years; MSRP: $24.99)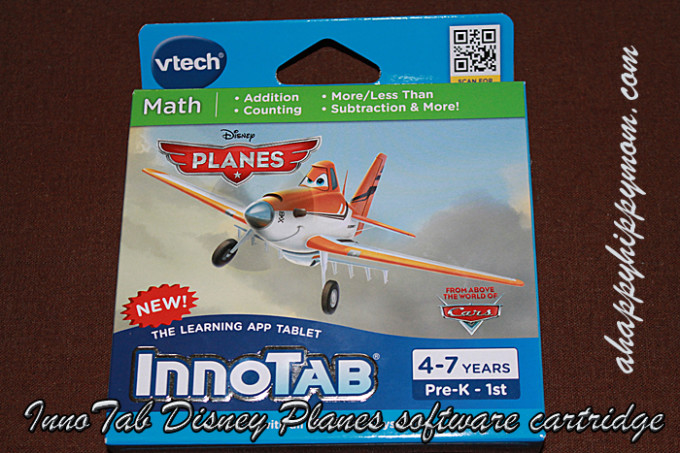 In this engaging cartridge children join Dusty as he sharpens his skills in one of eight training exercises designed by his coach, Skipper.   Suggested for Pre-K-1st, children will practice counting by twos and finding the number that comes next,  sharpen their more/ less than skills, read about Dusty's racing adventure in the e-book, work on math problem speed, practice map skills, and have  creative fun taking photos with Dusty and his friends.
The educational benefits of the eight training exercises include addition, more/less than, counting, subtraction, map skills, memory, logic skills, reading, and vocabulary.
InnoTab  Bubble Guppies software cartridge (Ages 3-6 years; MSRP: $24.99)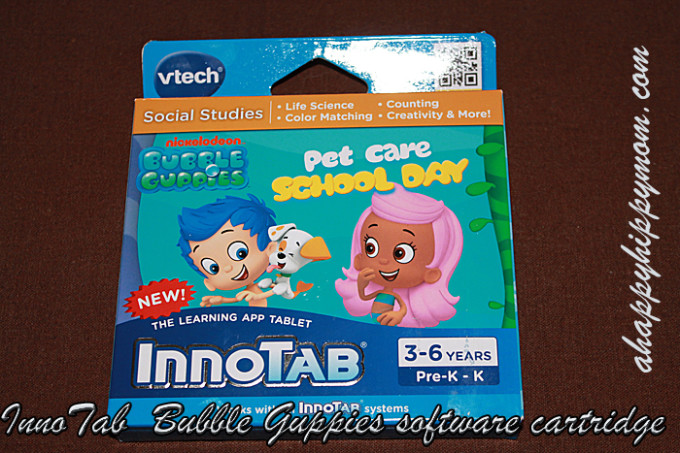 Join Gil, Molly, Bubble Puppy and Mr. Grouper in seven different underwater adventures!  Gil and his class learn how to take care of their new Bubble Puppy in this cartridge.  Learning activities include reading the story of how Gil and friends met Bubble Puppy, discovering what different pets need, training Bubble Puppy to get through the "Fin-tastic Obstacle Course," and more!
Suggested for Pre-K-K,  the learning cartridge features the full cast and the real voices of the Bubble Guppies and teaches creativity, color matching, counting, reading, life science, and vocabulary.
Shhhhh…..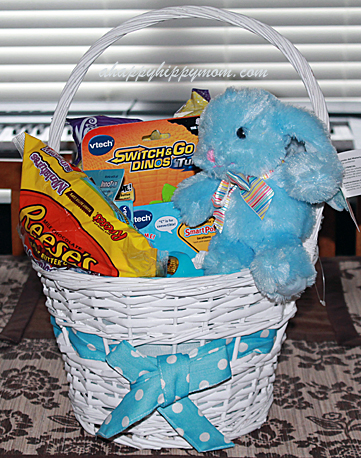 Here is what my son's Easter Basket looks like!  I added the VTech educational toys, and half the candy I normally would during the holiday.  He is going to LOVE his basket this year!
Stay Connected
VTech website – http://bit.ly/tHKlfD
VTech Twitter – http://bit.ly/Q7J7vM
VTech Facebook – http://on.fb.me/iIPfUE
VTech Gift Pack Giveaway!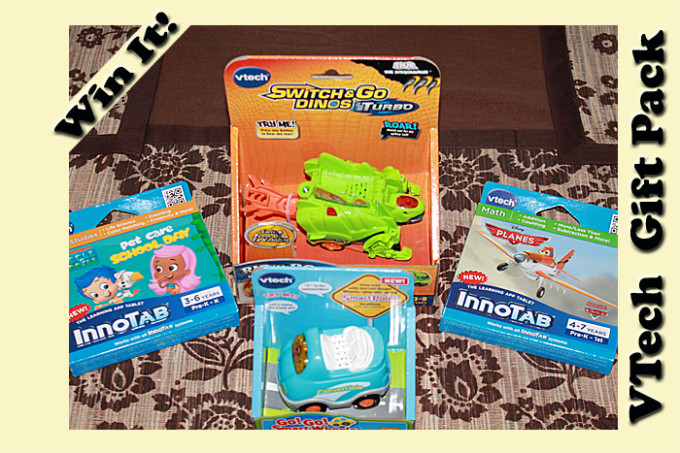 One lucky reader will receive a VTech Gift Pack containing:
(1)    Go! Go! Smart Wheels Convertible
(1)Switch & Go Dinos Turbo SPUR
(1) InnoTab Disney Planes software cartridge
 (1) InnoTab  Bubble Guppies software cartridge
To enter, please follow the instructions on the Rafflecopter Form.   Any comments are welcomed below, but won't count towards the giveaway unless stated on Rafflecopter form.  Only entries following the rules will be eligible for the prize. Thank you!
Open To US Residents Only- age 18 + Ends April 30, at 11:59 pm (eastern time)! Enter Daily!