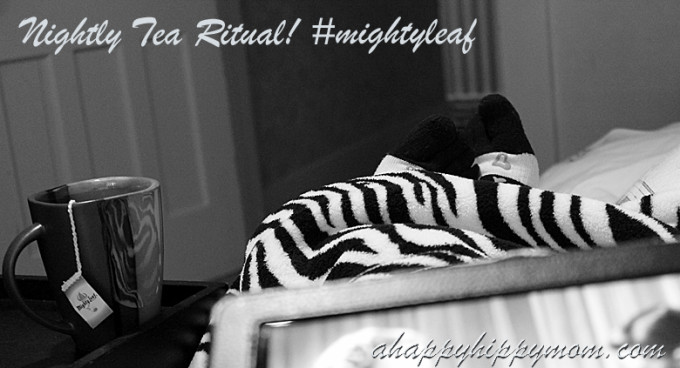 Do you have a tea ritual?  A particular place or time you set aside to sip your favorite cup of tea?  I never put much thought into it, because I have been enjoying tea for years and have developed a tea sipping routine.  But, I definitely have a tea ritual!  Every night, right before bedtime, I brew a cup of tea and take it upstairs to my bedroom.  I set the tea cup on the nightstand, cover up with a soft blankie, grab the iPad and find an old movie (1940's – 1960's) to stream while sipping my warm cup of tea in bed.  The sipping habit is a way to soothe away any leftover daily stress and helps relax me so I can drift off to dreamland.  I am just about immune to any negative effects from caffeine from years of drinking it; therefore any caffeine in the tea normally does not keep me awake.   My mother use to give me tea when I was sick as a little girl and now I have developed into using it as a means of comforting me nightly.
Last year for the first time I had the opportunity to sample Might Leaf Tea and try their amazing Tea Top brew mug.  I have been an enormous fan of the company ever since!  Why? Because Might Leaf Tea is all-natural, absolutely delicious and the tea comes in these completely unique artisan Tea Pouches made of unbleached cotton that is hand-stiched.
Mighty Leaf recently contacted me to see if I would be interested in helping to spread the news about their Mighty Leaf Tea and Taste Giveaway and sent me a fantastic gift pack (one of my readers will get one too) containing a Mighty Lea World Flavors Sampler and Tea Top commuter brew mug.
Mighty Leaf Tea and Taste Giveaway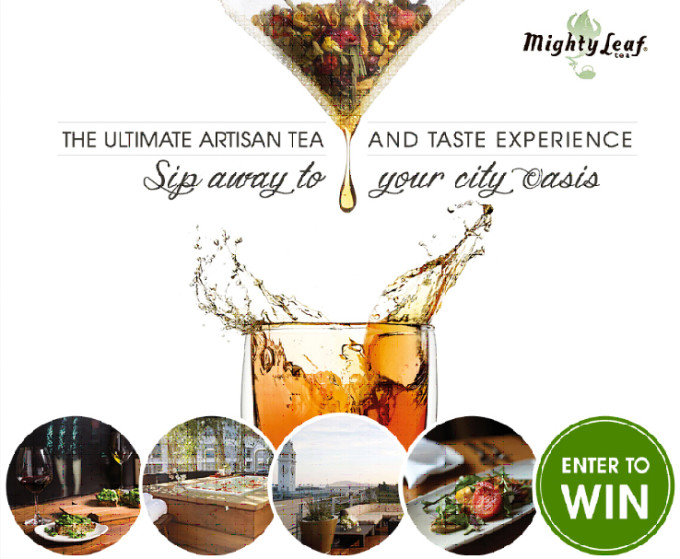 Enter the Mighty Leaf Tea and Taste Giveaway for the chance to win two nights of luxury accommodations at the Hotel Vitale in San Francisco, a chef's tasting menu experience, two rooftop spa treatments, one year's worth of Mighty Leaf Tea, and an Alessi Michael Graves Tea Kettle! The runner-up will receive $100 to spend on MightyLeafTea.com! Total value of grand prize $2830!
Contest runs March 17 – April 30, 2014 11:59 PM EST.  Contest open to residents of US or Canada, 21 or older.  One entry per person per prize.
About the Mighty Leaf Tea Gift Pack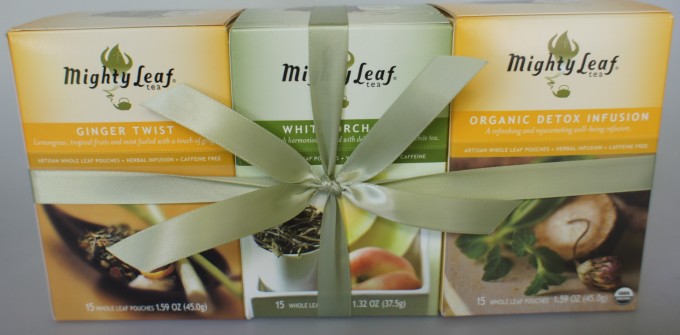 Mighty Leaf World Flavors Sampler
Let the aroma of ginger transport you to India.  Inhale White Orchard and dream of China, the home of white tea.  Ginger Twist is a soothing brew of ginseng, ginger, lemongrass and licorice. White Orchard blends mouthwatering fruits of melon and peach with pure China white tea. Savor the clean notes of mint in basil in Organic Detox Infusion.  Includes 15 pouches of each.
Mighty Leaf TeaTop Brew Mug
Give up to-go cups and steep tea pouches in our commuter brew mug.  Say goodbye to over-steeped tea and messy pouches.  The used tea pouch nestles inside the lid.
The teas are very delicious and I love how I can see the whole leaf tea, blossoms, herbs, spices, and bits of fruit through the delicate looking tea bags.  My favorite among the three teas is the Ginger Twist.  The Lemongrass tea has just the right amount of ginger with a hint of mint, licorice, and ginseng and contains bits of apple, orange, and papaya.  Normally, teas with ginger can be overwhelming, but this one is extremely favorable and enjoyable. YUM!
Both the Mighty Leaf World Flavors Sampler and Tea Top Brew Mug would make a thoughtful gift for mom this Mother's Day!
Stay Connected
Mighty Leaf Tea Website
Mighty Leaf Tea on Facebook
Mighty Leaf Tea on Twitter
Mighty Leaf Gift Pack Giveaway!
Courtesy of Might Leaf Tea, a reader will receive a gift pack including a Mighty Leaf World Flavors Sampler and Mighty Leaf TeaTop Brew Mug! A $47 Value! To enter, please follow the instructions on the Rafflecopter Form.   Any comments are welcomed below, but won't count towards the giveaway unless stated on Rafflecopter form.  Only entries following the rules will be eligible for the prize. Thank you!
Open To US Residents Only- age 18 + Ends April 30th, at 11:59 pm (eastern time)! Enter Daily!
[field name= iframe]