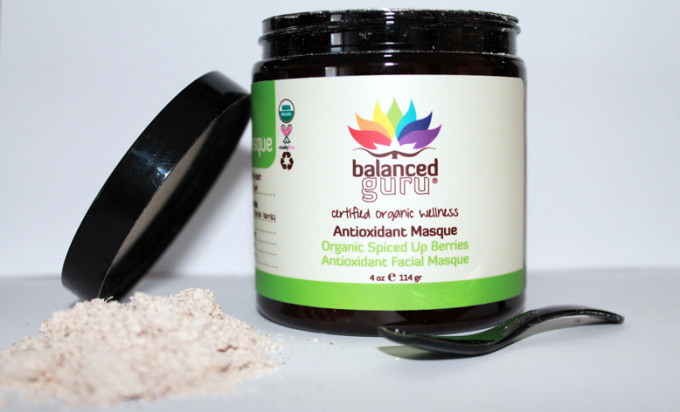 A perfectly balanced blend of organic Acai and Acerola berries, Clove, Cinnamon, Oatmeal, and Vitamin C—sounds like makings for a delicious cereal recipe, right?  Well you might be surprised to learn those food grade ingredients are actually the essential elements in Balanced Guru's Organic Spiced Up Berries Antioxidant Masque!
When it comes to trying organic beauty products I am the first one to jump in line!  However, not all natural products work in the way they are envisioned and sometimes there is more hype than the product is worth.  With that being said, I tried Balanced Guru's Organic Spiced Up Berries Antioxidant Masque and am honestly able to report I found it to be a marvelous beauty product that merits appreciation.  So, I want to share with you a little about the organic facial product and why I think it is special.
Balanced Guru's Organic Spiced Up Berries Antioxidant Masque Review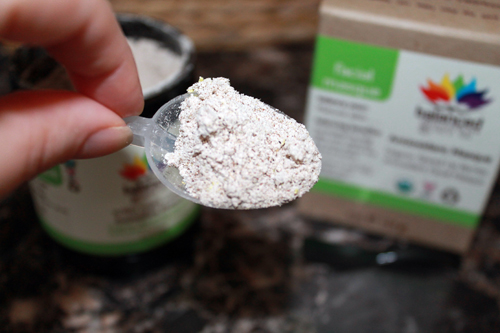 Smells Good Enough To Eat!
First of all, the moment I opened the jar the sweet and spicy aroma of the cloves blew me away!  The product smells good enough to eat!  Seriously, you may be tempted to sprinkle the powdery stuff on your morning cereal, but don't do it!  It is intended for external use only!  Unlike most facial masks with scents of a mixture of medicine and obnoxious perfume, this product's fragrance is divine and you won't mind having it on your face for 15 minutes.  I have to warn you though, by the time the mask is ready to be washed off you might be craving a piece of pie and a mug of hot spiced apple cider!
Customizable
Depending upon your personal preference, the antioxidant rich mask can be activated by adding water, toner, honey, or plain organic Greek yogurt.   By activating the powder with toner, you get the paired benefits of the mask and the toner.  Each individual toner has been formulated with a specific purpose in mind. Combining them with the matching mask gives you double the results and benefits!
Additionally, you are able to control the thickness of the mask.  The suggested ratio is 1:1 for a thicker masque, and 1:2 for a thinner mask. Plus, the product packaging comes complete with a spoon to scoop out the powder and a spatula to help mix and apply.  However, for a true spa like experience you might want to apply the mask with a brush.
Carefully Thought Out Product
Balanced Guru, a small group of environmentally conscious individuals who are passionate and devoted to physical, mental and spiritual wellbeing, offers their customers a certified organic, 100% natural, cruelty-free line of holistic aromatherapy skin, hair, and body care.  According to Balanced Guru, the products have been carefully formulated based on ancient eastern wisdom and modern scientific research.  Careful thought and processing goes into each one of their products using a balance of specific USDA certified organic ingredients, 100% recyclable packaging, and budget friendly prices.
Organic Spiced Up Berries Antioxidant Masque Benefits
According to the Balanced Guru website, the Organic Spiced Up Berries Antioxidant Masque is meant to "reduces the appearance of large pores, tones skin, and calms redness while refining your overall texture and making skin super-soft to the touch; all from the very first use thanks to Acai and Acerola Berries, Clove, Cinnamon, Oatmeal and Vitamin C."
Ingredients
Zea Mays (Corn) Starch*, Phyllanthus Emblica (Amla) Fruit Powder*, Acacia Senegal Gum*, Avena Sativa (Oat) Kernel Flour*, Rosmarinus Officinalis (Rosemary) Leaf Powder*, Syzygium Aromaticum (Clove) Flower Bud Powder*, Cinnamomum Burmannii (Cinnamon) Powder*, Bentonite, Malpighia Glabra (Acerola) Fruit Powder*, Euterpe Oleracea (Acai) Fruit Powder*, Helichrysum Arenarium Flower*, Ascorbic Acid (Vitamin C).
* Certified Organic Ingredients.
My Experience
I am always looking to replace my usual beauty products with natural alternatives, so I was super thrilled to give the Balanced Guru Organic Spiced Up Berries Antioxidant Masque a try.  When I first applied he mask I used water to activate it.  The mask on initial application actually had a bit of bite (no doubt from the cinnamon and cloves) and I was worried it was going to actually leave my face red or oversensitive.  After a few minutes the stinging went away and I could feel the mask begin to tighten my face as it started to dry.   I left the ingredients on my face for 15 minutes and washed it off using lukewarm water.  I was surprised how refreshed my skin appeared and loved the healthy glow the mask created!  There was no redness from the mask and my skin felt tighter and cleaner.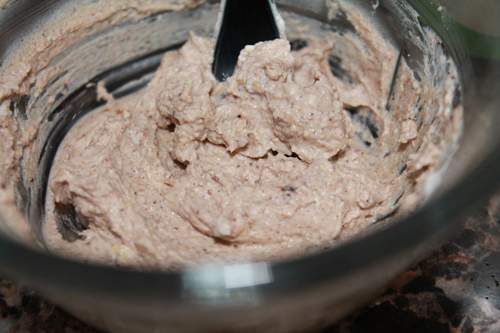 The second time using the mask I used plain Greek yogurt and the mask was much thicker and easier to apply.  Plus, the coolness from the yogurt calmed the stinging of the mask.  For anyone who might be overly sensitive I recommend activating the mask with yogurt for a cooling, smoothing, and rejuvenating skin treatment.  Not to mention, yogurt is nutrient dense with zinc (anti-inflammatory properties), calcium (shown to facilitate skin renewal), riboflavin (promotes cell growth and hydration) and lactic acid (smoothen rough skin and reduces the appearance of wrinkles).  Pairing the mask with yogurt, the benefits and results will compound!
The company does not state how often they recommend using the mask, but I am thinking perhaps twice a week?  There are 24 applications within a 4oz jar ($45), which will last you about 3 months depending upon how thick or thin you prefer the mask and how often you apply it.
Visit balancedguru.com for more info about Balanced Guru and their wonderful organic product line.
Buy It!
Balanced Guru Organic Spiced Up Berries Antioxidant Masque is offered in two retail sizes: 1oz, $12.50 or 4oz, $45.  It is available for purchase at balancedguru.com and Amazon.com.  It would make a fantastic Mother's Day gift!
Stay Connected
Visit the Balanced Guru website
Like the Balanced Guru Facebook page
Follow Balanced Guru on Twitter