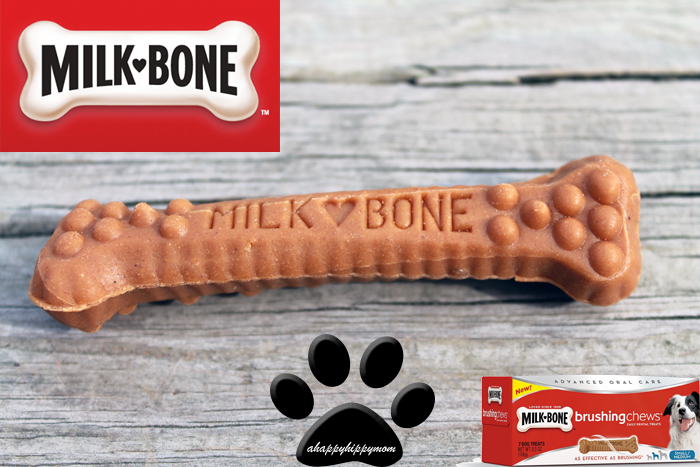 "The Milk-Bone® dog products, information and VISA gift cards have been provided by the Milk-Bone®brand."
Do you brush your dog's teeth? Most people are aware of how important oral care is to their own health, but when it comes to their pets…they are not as mindful. According to the American Veterinary Dental Society, despite veterinary recommendations pet owners do not practice regular brushings at home or schedule professional teeth cleaning. Unfortunately the lack of brushing leads to more than 80 percent of dogs developing periodontal disease by the age of 3.
Ugly Canine Periodontal Disease Details!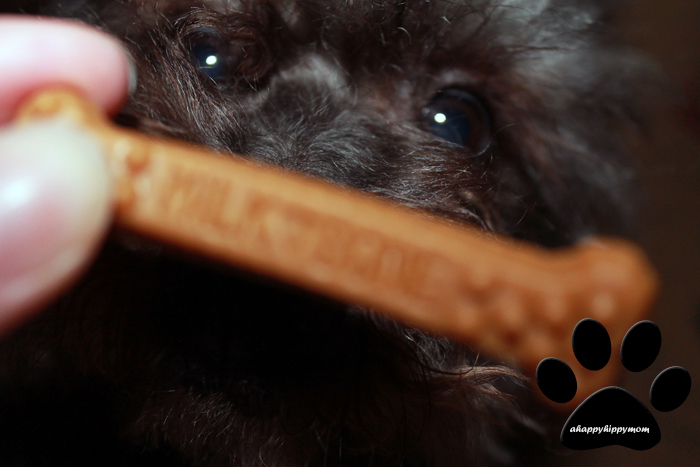 The problem is most pet owners don't consider brushing until the dog's bad breath becomes obnoxious. Nothing is worse than getting a giant wet kiss from a dog whose breath smells as foul as a dumpster!   It can sure grab your attention very quickly! But brushing a dog's teeth isn't just about keeping your canine friend's breath fresh, it is essential to their overall health! Much like humans, food particles and bacteria collect along the dog's gum line and if they are not removed it causes plaque.   Over time, the plaque can turn into stubborn hard to remove tartar, which results in your dog's gums becoming inflamed. Eventually, pockets form with bacteria in the gums around the teeth that cause periodontal disease to worsen. Once the disease is established, it is irreversible, very painful, and the dog is at risk of tooth loss. Worse of all, the dog is at chance to develop a bacterial infection that can spread through the bloodstream to his vital organs. The disease is extremely scary, but preventable with a well-practiced oral-care regimen.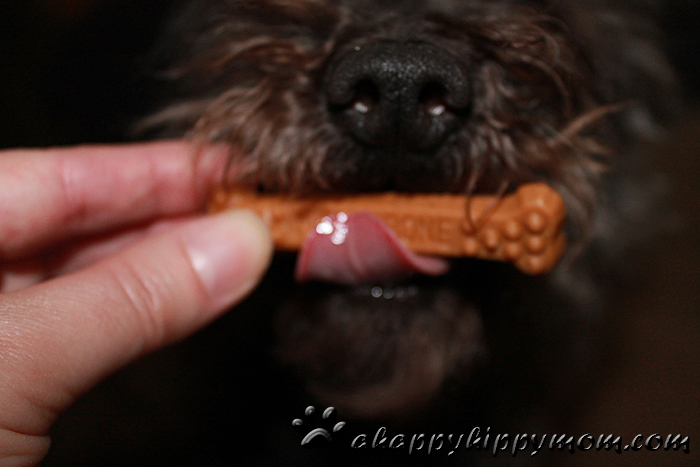 Simple Daily Canine Tooth Brushing!
Now that I have bored you with all the gruesome details, if you are still with me at this point– I am going to tell you of an easy way to brush your dog's teeth! Caring for a dog's teeth can be time consuming and with busy schedules and multiple canine furbabies– pet owners might slack in the necessary teeth brushing routine. Not proud of it, but I am one of those pet owner slackers! I know it would take at least 30 minutes of very hard coaching for my English lab to even let me stick my hand in his mouth, let alone a toothbrush! And I have three dog's mouths to clean! So, what is the answer? Milk-Bone Brushing Chews!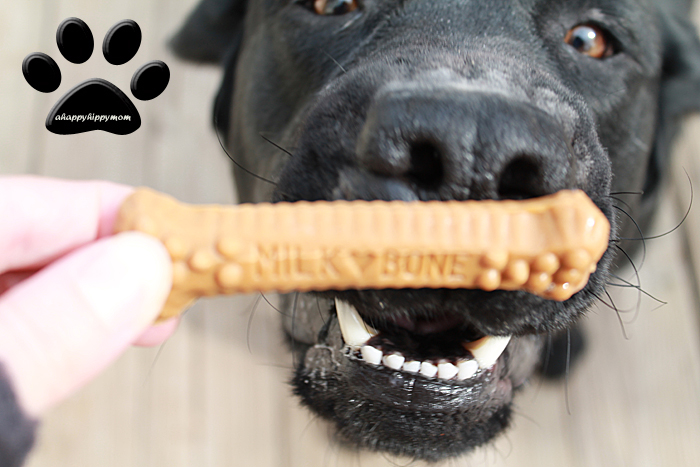 Milk-Bone Brushing Chews taste like a treat (that's what the dogs say, I have not personally tried them), but cleans like a toothbrush! The innovative nubs and ridges on the bone are designed to clean like bristles on a toothbrush and are able to clean even hard to reach back teeth all the way down to the gumline. My dogs say they are wagging delicious!
About Milk-Bone Brushing Chews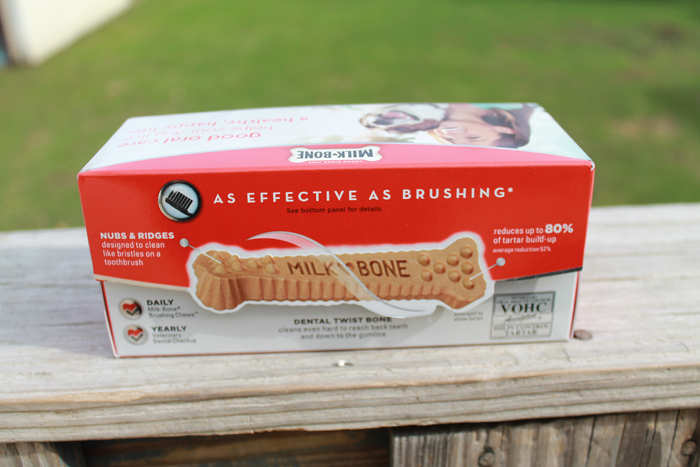 Milk-Bone Brushing Chews were developed to transform at-home dental care for dogs, so that now your dog to brush his own teeth every day – just like you!
*When fed daily, Milk-Bone Brushing Chews are clinically proven to be as effective as brushing your dog's teeth twice per week based on the reduction of tartar build-up and bad breath
Milk-Bone Brushing Chews feature a specially designed 75 degree twist that helps the brushing nubs reach down to the gum line, even cleaning hard-to-reach back teeth
Milk-Bone Brushing Chews are clinically proven to reduce tartar build-up, as well as freshen your dog's breath, bringing you and your dog closer together
Milk-Bone Brushing Chews are so effective that they have earned the trusted Veterinary Oral Health Council's (VOHC) Seal of Acceptance, similar to the American Dental Association (ADA) seal seen on human dental products.
We ♥ Milk-Bone Brushing Chews!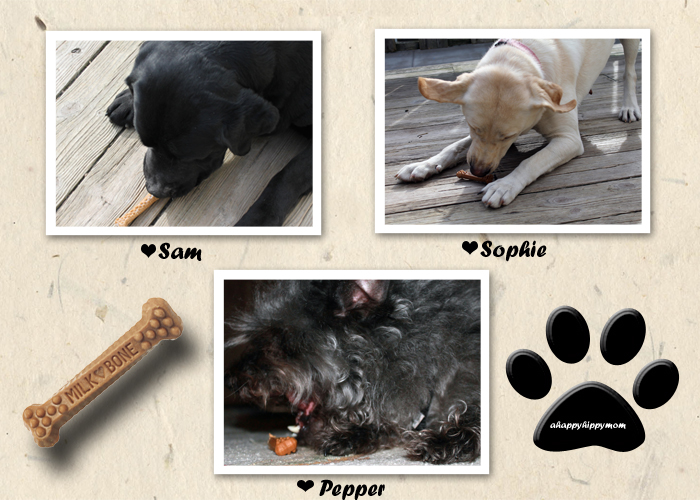 I love my pooches and want to do the best for their health and happiness. Milk-Bone Brushing Chews lets me be a responsible pet owner and care for my dogs' teeth by simply giving them a tasty snack. It doesn't get any easier than that! With three dogs to care for, the brushing chews save me tons of time AND my canines think they are getting rewarded with good behavior! It's a win win solution!
Stay Connected
Milk-Bone Brushing Chews Gift Pack Giveaway!
Our friends at Milk-Bone would like to give a reader a Milk-Bone Brushing Chews Gift Pack containing:
Milk-Bone Brushing Chews
$25 Visa Gift Card
To enter the giveaway, please follow the instructions provided on the Rafflecopter form. Any comments are welcomed below, but won't count towards the giveaway. Only entries using the Rafflecopter form will be eligible for prize. Thank you!
Open To US Residents Only- age 18 + Ends May 19th, at 11:59 pm (eastern time)! Enter Daily!
[field name= iframe]