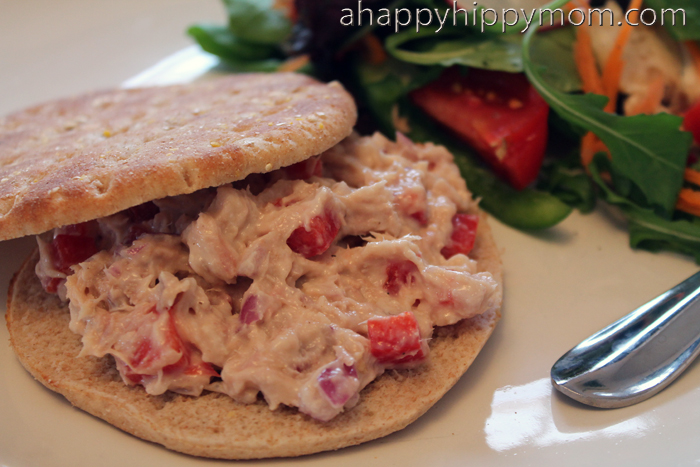 Today will make it 14 days since I started my adventure in the Weight Watchers Simple Start plan!  Yeah!  Honestly, it does not even seem like I am even on a diet and just learning how to cook healthier meals.  I'm LOVING it!  I thought I would share some of the recipes available via the Simple Start app, so you can get a glimpse of what to expect if you decide try it.
Before starting the program I would avoid fat free products like the plague!  Why?  Because they tasted like flavorless paste!  The thought of fat free mayo or sour cream would never enter my mind let alone my grocery cart!  The Simple Start recipes call for fat free or low fat items, but gladly manufactures have come a long way and fat free foods actually do not taste badly like they did years ago.  Of course you will find certain brands definitely taste better than others!  It  takes a bit of experimenting to see which ones don't offend the taste buds.
The Tuna Sandwich with Side Salad recipe below makes an easy light lunch idea that will help power your day!   If you do not like fat free mayo switch it out for plain nonfat Greek yogurt! For those of you who are counting points, this meal has a 7 PointPlus Value! Enjoy!
Weight Watchers Tuna Sandwich with Side Salad Recipe
Simple and delicious light version of a tuna salad sandwich.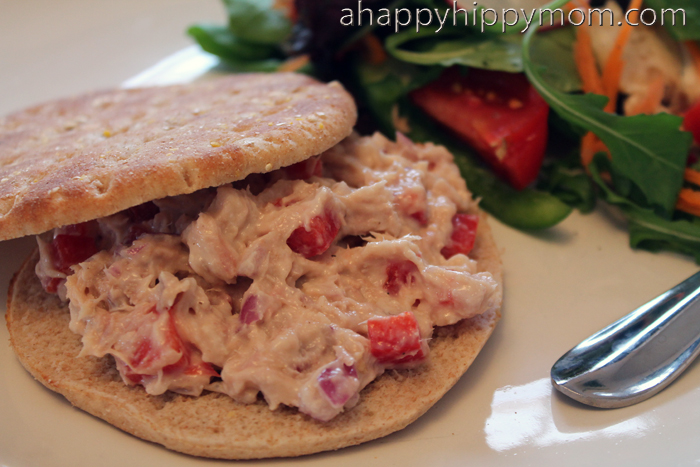 Author:
Recipe adapted from Weight Watchers Simple Start plan
Recipe type:
Lunch -7 PointPlus Value
Ingredients
3 oz canned chunk white tuna in water drained
2 Tbsp fat free mayonnaise or nonfat Greek yogurt
2 Tbsp (chopped) uncooked red onion
2 Tbsp sweet red pepper chopped
1 pinch table salt
1 pinch black pepper
thin sandwich bread toasted
1 cup(s) (chopped) lettuce red leaf-variety
1 cup uncooked carrot, tomato, radish, pepper or any fresh veggies
2 tsp vinegar
1 tsp olive oil
Directions
In a small bowl, mix together tuna, mayo or yogurt, onion, and pepper; season to taste with salt and pepper. Serve on toasted thin bread with a veggie side salad dressed with vinegar and oil.
Notes
Flavor Boost! Give your sandwich a boost of flavor by adding fresh lemon zest, fresh dill and/or chopped scallions!