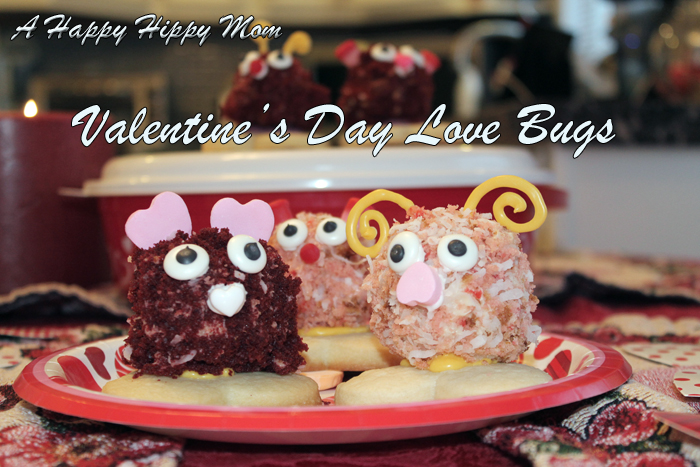 Need a last minute Valentine's idea?   Try making these adorable Valentine's Day "Love Bugs" with your kids!  The cake balls are so easy and fun to make.   All you need is cake, frosting, candy coating and a bit of creative decorating skills to create these palatable critters.  Plus, the kids will love getting their hands wrist deep in crumbling the cake.  The activity makes a nice Valentine's scrapbooking memory that can be cherished for years to come.  Let's get baking!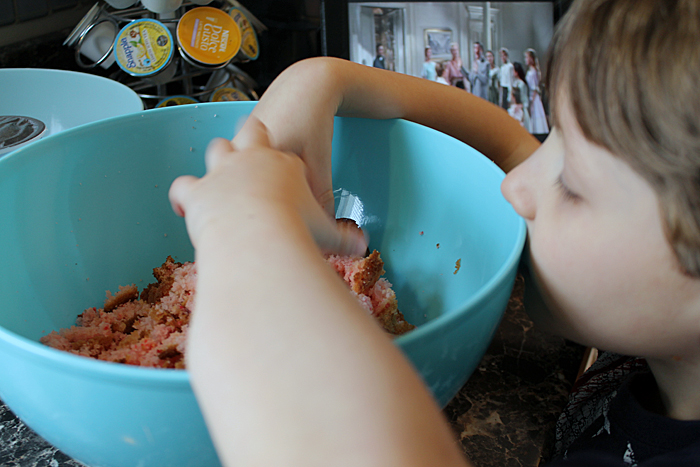 The Love Bugs Cake Balls
The cake balls are simply your favorite flavored cake crumbled, mixed with creamy frosting, and dipped in candy coating.  These cake balls look a tad different, because you actually roll them in crumbled cake to give them a "fury" appearance. For even more texture and taste you can add a cup of flaked coconut to the cake crumbs.  As far as the candy coating, any color will work.  I doubled the recipe and needed approximately five bags of candy coating for dipping.  The recipe idea was borrowed from Betty Crocker, which calls for 3 bags per cake.  However, I had enough coating left to use it as an edible adhesive for sticking the cake balls onto a heart shaped sugar cookie.  But, I would plan on purchasing at least three 12 oz bags per cake.
Ingredients Needed
1 box cake mix (any flavor)
Water, vegetable oil and eggs called for on cake mix box
3/4 cup plain creamy frosting
3 bags (12 oz each) candy /wafers (any color)
1 cup flaked coconut (optional)
Directions
Make and bake cake mix as per instructions on box for 13×9-inch pan. Cool completely, and crumble cake. Reserve approximately one-fourth of cake crumbs, combine 1 cup coconut, and set aside. (The mixture will be used to coat the love bugs.)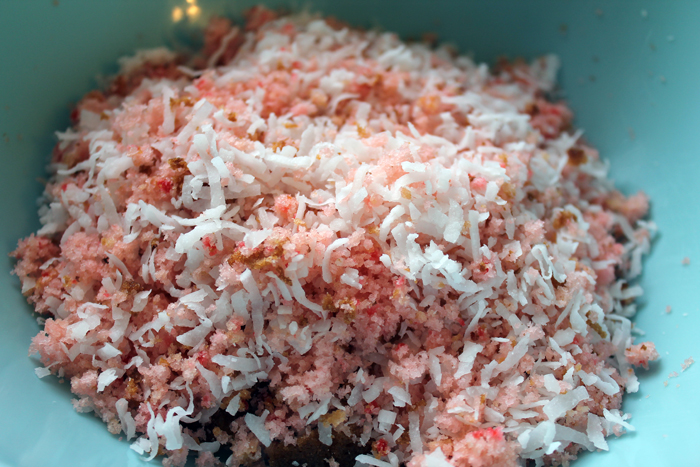 With large spoon, thoroughly mix in the frosting with the remaining cake crumbs.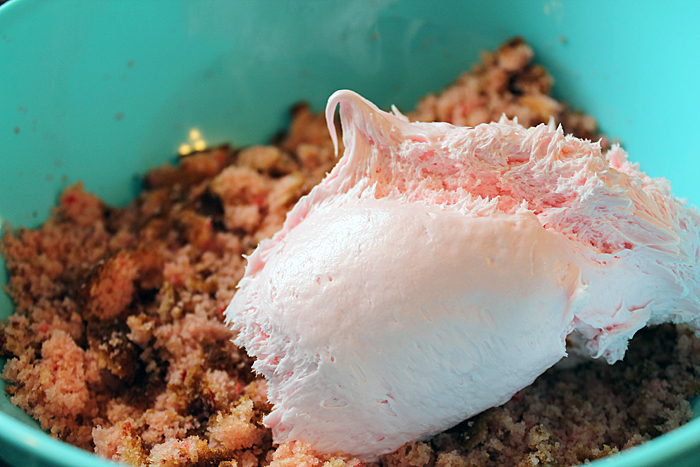 Roll mixture into medium sized cake balls (approximately quarter-sized), and place on waxed paper-covered cookie sheet. Place cake balls in freezer for 15 minutes to firm up. Then transfer them to the refrigerator to keep chilled.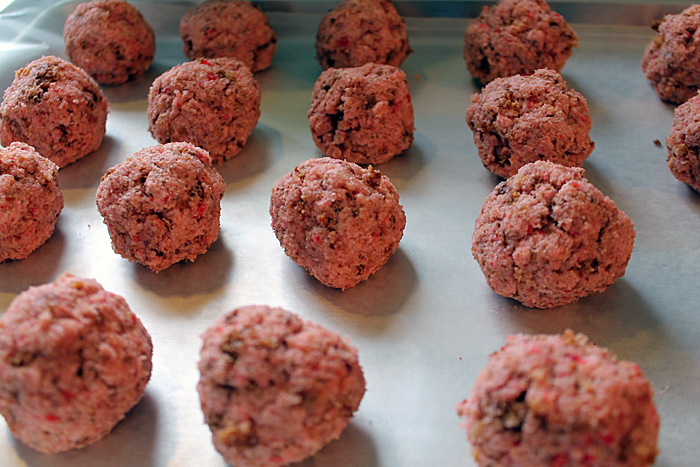 Place candy coating in microwavable bowl so coating is at least 3 to 4 inches deep. Microwave uncovered on low for 30 seconds intervals, stirring after each, until wafers are completely melted.
Remove 1 cake ball from refrigerator at a time. With a dipping tool or lollipop stick, dip and remove cake ball into coating in one motion without stirring, making sure entire cake ball is covered.  If coating is too thick, add a little shortening to help thin it and make it easier to work with. Allow access coating to drip off.  Move quickly before coating sets and gently press cake crumb mixture around entire ball.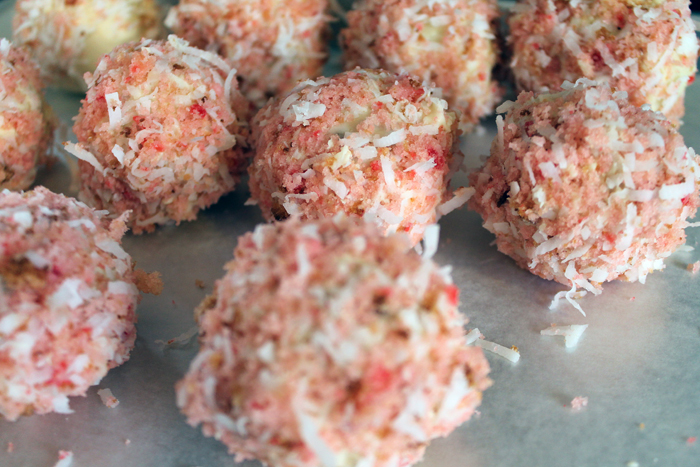 Place cake balls on wax paper to dry.  Once the coating is completely set, fix cake ball onto a small heart shaped sugar cookie with the melted candy coating.  Decorate the cake balls with candy, such as candy corn, homemade chocolate antennae, royal icing eyes, and candy hearts.
Store loosely covered.
Sugar Cookie Recipe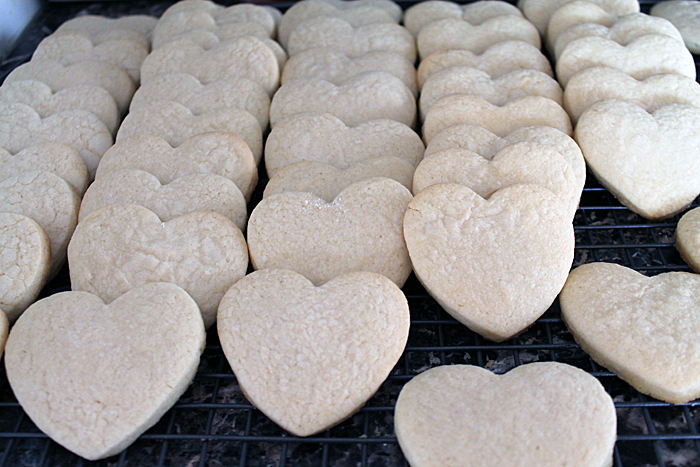 The Sugar Cookie Recipe below is my favorite!  The dough is easy to work with (after chilling for 24 hours) and tastes incredible.   This recipe makes 5 dozen cookies, so you will have some leftover cookies for the kids to decorate for Valentine's Day.
1 1/2 cups butter, softened
2 cups white sugar
4 eggs
1 teaspoon vanilla extract
1 teaspoon almond extract
5 cups all-purpose flour
2 teaspoons baking powder
1 teaspoon salt
Directions
Sift together flour, baking powder, and salt.  Set aside.
In a large electric stand mixing bowl, cream together butter and sugar until fluffy.  Add eggs, vanilla and almond extract and beat until combined.  On low speed, gradually add in the flour mixture and beat until mixture forms into a ball of dough. Cover, and chill dough for at least two hours (or overnight).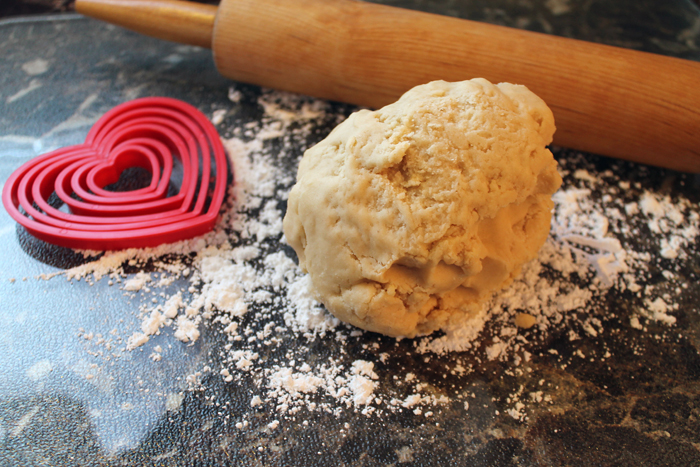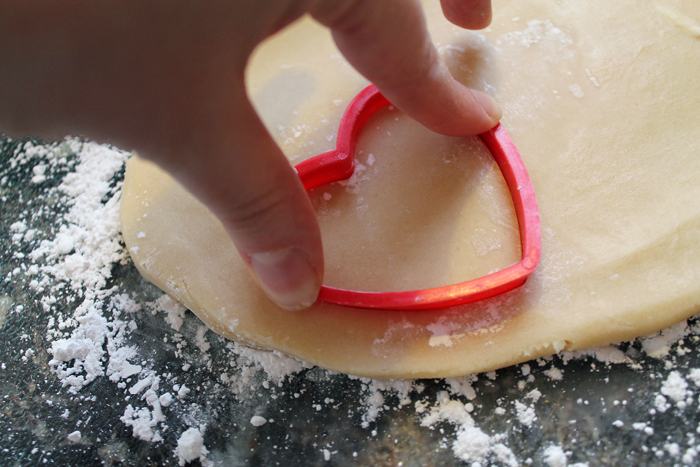 Preheat oven to 400 degrees F (200 degrees C). Roll out dough on powdered sugar surface 1/4 to 1/2 inch thick. Cut into shapes with heart shaped cookie cutter. Place cookies 1 inch apart on baking sheet that has been lightly sprayed with cooking spray.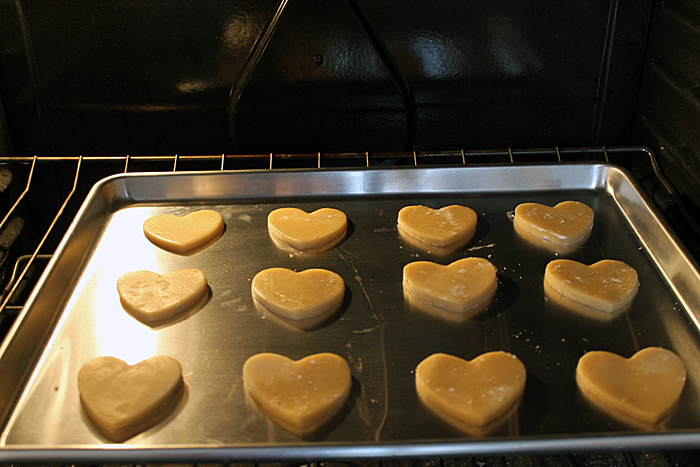 Bake 6 to 8 minutes in preheated oven. Cool completely.
Makes 5 Dozen (depending on size of cookie cutter)
Royal Icing Candy Eyes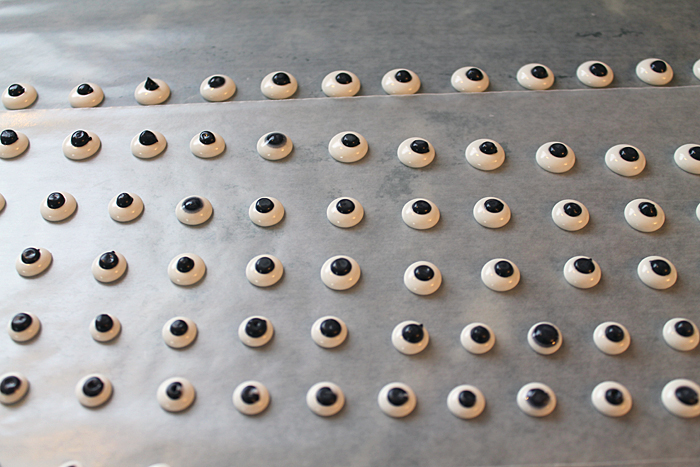 If you don't have any candy eyeballs in your baking arsenal than you can make your own using Royal Icing!  I used the recipe below to create the eyes used on the Valentine's Day Cake Balls Love Bugs.  The trick is getting the correct consistency, but once you have achieved this–they are easy to create.  The black food coloring can be purchased at Wal-mart in the Crafts Department.  You should plan on making the candy eyes 24 hours ahead to be used on the cake balls.
4 TBSP meringue powder
1/2 cup water
3 3/4 cups of sifted powdered sugar
1 tsp light corn syrup
few drops clear extract (optional)
black food gel paste
Directions
In large electric mixing bowl, combine the meringue powder and water. Beat until light and foamy.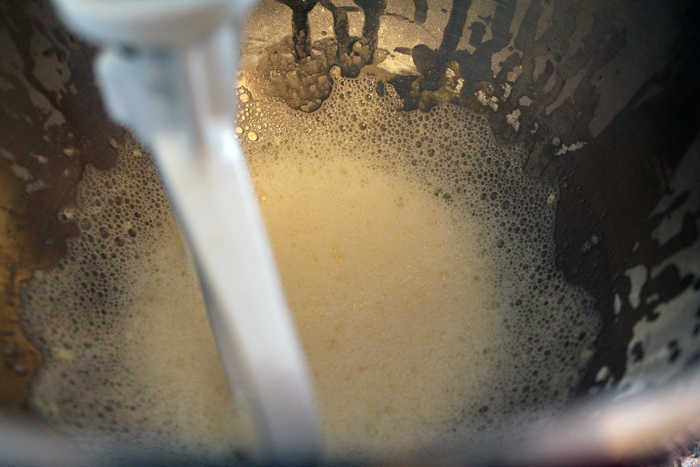 Gradually add powdered sugar, beat on low speed until combined.
Mix in the corn syrup and extract.
Beat on medium speed for approximately 5 minutes or until the icing is glossy and forms stiff peaks.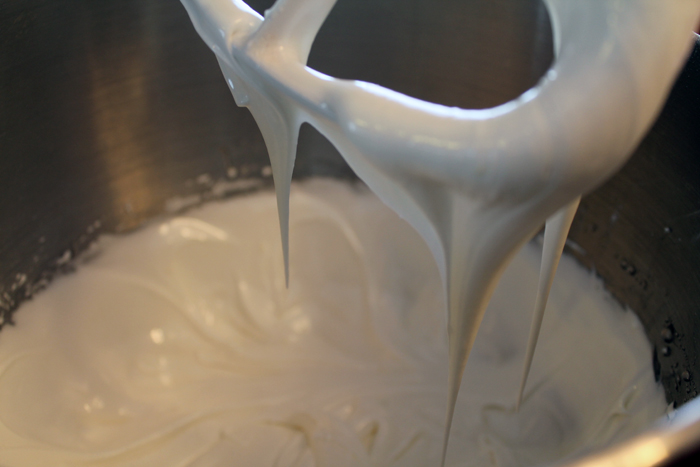 Divide icing and color half with black food gel paste, adding a little at a time until wanted shade of black is reached.
Add water until desired consistency (should be thick but thin enough to squeeze through decorating tip or bottle) is achieved and place icing in separate squeezable bottles or decorating bags.
Moving quickly, squeeze a drop of white icing on wax papered.  Next follow with a drop of black icing in the center of the white drop.
Let dry for 24 hours before using.
Happy Valentine's Day!