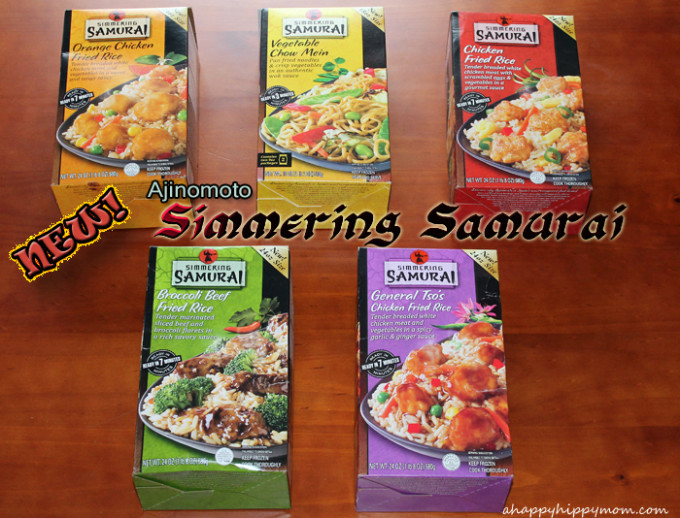 * I was given free product coupons to try the new Simmering Samurai frozen entrees, and write about my experience.  No compensation was received. All views, positive and negative are my own.
How many of you enjoy the taste of Asian inspired food?  For those readers who do, I have a real treat for you!  Located in your Wal-Mart frozen food aisle there is a frozen Japanese entree line that is simple to prepare and tastes incredible!
Catering giant Ajinomoto is now making its Japanese culinary expertise available to you with its delicious Asian American cuisine called Simmering Samurai.  The frozen entrée  lineup includes five mouthwatering varieties including Chicken Fried Rice, Orange Chicken, Beef Broccoli, General Tso's Chicken, and Vegetable Chow Mein. And guess what? Two of my loyal readers are going to receive VIP coupons try all five offerings!
The Simmering Samurai frozen entrees are wonderful for those nights you want to keep it simple, but still would like something tasty to warm you up without having to spend hours in the kitchen preparing.  The "restaurant-quality" meals take less than seven minutes in the microwave or pan to heat and you are on your way to enjoying a burst of fantastic palate pleasing flavors in every bite. No kidding, these meals are extremely yummy!
Simmering Samurai Favorites
Each one of us has our favorites!  My daughter loves the Simmering Samurai Chicken Fried Rice containing bites of chicken breast meat with bacon, vegetables, and scrambled eggs in a gourmet sauce.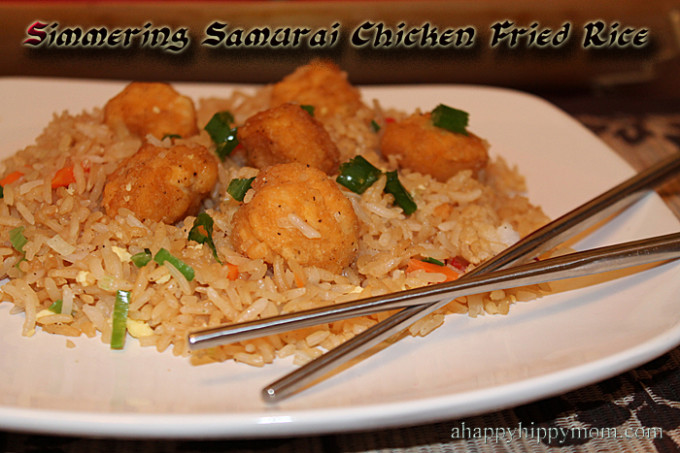 Hubby likes the Beef Broccoli with Vegetable Fried Rice that has tender pieces of sirloin beef strips and broccoli with a savory sauce over vegetable fried rice.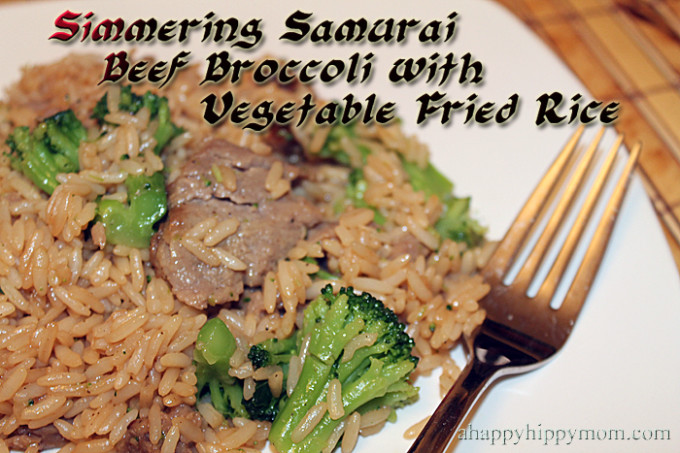 The General Tso's Chicken with Vegetable Fried Rice is my favorite!  It is a bit on the spicy side and has tender battered white chicken meat in a spicy garlic and ginger sauce served with vegetable fried rice.   As far as my six year old son…he is still learning to appreciate rice and vegetables.
MSG
If you are sensitive to MSG the Simmering Samurai frozen entrée line does contain monosodium glutamate.
About Ajinomoto
Over a 100-year heritage of quality and innovation comes to America. Today, Ajinomoto USA is bringing the essence of Ajinomoto good taste to America. At a time when more and more Americans are discovering the pleasure of Japanese and other Asian cuisines, we're serving up an ever-wider selection of authentic ingredients as well as pre-prepared appetizers, snacks and entrees that are as convenient as they are healthful and delicious. We invite you to explore our world of good taste.
Stay Connected
Facebook: https://www.facebook.com/AjinomotoTaste
Twitter: http://twitter.com/ajinomototaste
Pinterest: http://pinterest.com/ajinomototaste
Ajinomoto Simmering Samurai Giveaway!
Courtesy of our friends at Ajinomoto, two loyal readers are each going to receive 5 VIP coupons to try all five flavors of the Simmering Samurai frozen entrées!  To enter the giveaway, please follow the instructions provided on the Rafflecopter form.  Any comments are welcomed below, but won't count towards the giveaway. Only entries using the Rafflecopter form will be eligible for prize. Thank you!
Open To US Residents Only- age 18 + Ends March 13th, at 11:59 pm (eastern time)! Enter Daily!