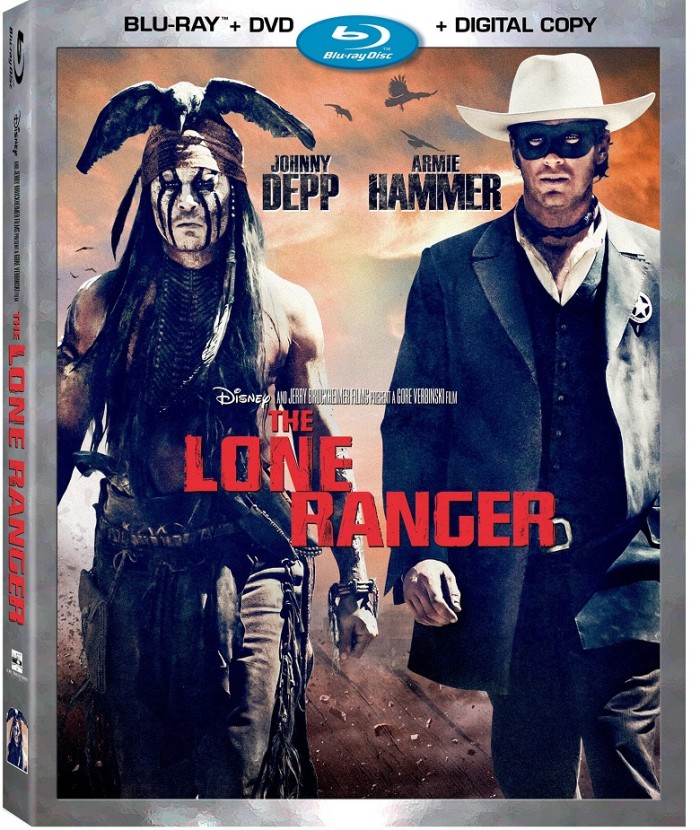 Disney's The Lone Ranger gallops onto Blu-ray Combo Pack , Digital HD, and On-Demand tomorrow (December 17, 2013)!  The 2 and 1/2 hour movie (not a typo, was that long) is from Jerry Bruckheimer Films and Director Gore Verbinski, starring Disney's powerhouse actor Johny Depp (Tonto) and Armie Hammer (John Reid).  What did I think of the movie?  Keep reading to find out and enter the giveaway for the chance to win your own copy below!
Synopsis: 
Johnny Depp and Armie Hammer star in The Lone Ranger, from Jerry Bruckheimer Films and Director Gore Verbinski. It's a wild ride of high velocity action, explosions and gunfights that brings the famed masked legend to life through brand-new eyes. The Lone Ranger (Hammer), the last of his kind, teams with Tonto (Depp), a dark and mysterious vigilante, to seek vengeance after justice has failed them. It's a runaway train of epic surprises, as these two unlikely heroes must learn to work together before the ultimate showdown between good and evil explodes.
Cast:     
Johnny Depp (Pirates of the Caribbean franchise, Alice in Wonderland) as Tonto, Armie Hammer (The Social Network, Mirror Mirror) as John Reid/Lone Ranger, Helena Bonham Carter (Fight Club, The Kings Speech) as Red Harrington, Tom Wilkinson (Batman Begins, Michael Clayton) as Latham Cole, Ruth Wilson (Anna Karenina, Capturing Mary) as Rebecca Reid, William Fichtner (Black Hawk Down, The Dark Knight) as Butch Cavendish.
Bonus Features:              
(BD, DVD, Select Digital retailers)

Blooper Reel (RT 4:12) – BD, DVD & Select Digital Retailers Only

Deleted Scene – BD & Select Digital Retailers Only

Riding The Rails Of The Lone Ranger (RT: 10:36) – BD & Select Digital Retailers Only
For the production of the movie, director Gore Verbinski had a five mile oval track built along with multiple engines and cars. See the incredible effort that went into crafting such a detailed and important part of The Lone Ranger.

Armies's Western Road Trip (RT: 14:28) – BD & Select Digital Retailers Only
Armie Hammer (The Lone Ranger) takes viewers on a tour of the scenic locations the production shot in as we see and learn more about the amazing places he went to become The Lone Ranger.

Becoming A Cowboy (RT: 8:02) – BD & Select Digital Retailers Only
Before the cast began shooting the film, they had to learn how to shoot a gun…and ride a horse. In this piece we follow the cowboy (and cowgirl) cast to boot camp, where they got a chance to experience what their characters would really be living like in the Wild West.
Go Behind the Scenes of The Lone Ranger
Go behind the scenes of the film with set images and an interview with Johnny Depp! Find out what it was like putting on the mask for the first time? What kinds of masks and disguises does Johnny Depp wear to go out in public? Where did the inspiration for Tonto's makeup and headpiece come from? Find out the answers to these questions and more!
AN INTERVIEW WITH JOHNNY DEPP FOR THE BLU-RAY AND DVD RELEASE OF THE LONE RANGER

With the Blu-ray and DVD of the epic movie about to be released, we chat with acclaimed actor Johnny Depp to discover more on the iconic adventure…

How would you describe your new take on The Lone Ranger with Jerry Bruckheimer and Gore Verbinski?

The Lone Ranger is a well-told story populated with great actors. It's written by great writers, and it's directed by a great director. It's a big adventure film that has really nice themes in it, and it's a lot of fun to watch. We wanted to give audiences around the world a big, expansive experience that's a great piece of entertainment.

How did you come up with iconic the look of Tonto in your new movie?

The inspiration came from a painting I saw of a warrior with stripes down his face. The stripes were slightly different than the stripes we used for Tonto, but what caught my attention was the fact that there was a crow flying in the painting, just behind the warrior. At first glance, I thought the crow was on the warrior's head. It wasn't, but I then decided that the best thing to do was to take a dead bird and put it on top of Tonto's head. That's his spirit guide. Everyone should try it, by the way. It really is something!

How important is the makeup when you're working on a character like this?

The makeup is everything really. Once you start to replace your own skin with that of the character and the costume, you start to see that this man has been through quite a lot. I was in makeup for a couple of hours every day, unless I decided to wear it home. That happened quite often because it would save time the next morning. It wasn't comfortable and I looked funny, but it was worth it… I think.

How do you make an iconic character like Tonto relative to today?

I think he's very relevant. For however long cinema's been around, Native Americans have been treated very poorly by Hollywood. For the most part, they've been depicted as savages, or whatever terms they've used to describe them. I didn't want to play this character as the sidekick to the Lone Ranger. I didn't want the Lone Ranger to say to him, "Go fetch me a soda, boy." Instead, I wanted to portray him as a warrior and as a man with great integrity and dignity. It's my small sliver of a contribution to try and right the wrongs that have been committed in the past.

How would you describe your experience of working alongside Native Americans on The Lone Ranger?

The production was blessed by the Navaho and the Comanche, and we were treated incredibly by these wonderful, generous people. We all ended up having great relationships with them. One day, I got a call saying that a woman named Ladonna Harris – a very strong activist – had decided she wanted to adopt me into her family and into the Comanche Nation, which will always be the greatest honor that I've ever been given. It was amazing.

What makes actor Armie Hammer perfect for the role of the Lone Ranger?

First and foremost, Armie is a great guy. He's very smart, very quick and very clever and he's super-talented. He committed to playing the Lone Ranger as an earnest, naïve, 'white man' – and that's exactly right. Armie is a young actor coming up the ranks and he looks like a classic movie star – and what's more, he has the chops to back it up. He fully committed to this role; he played it perfectly, he got the humor, and he didn't want to play it as the 'cool guy' as it were. I found him a dream to work with and I feel like I've made a really good friend in Armie.

How much fun did you have playing an outlaw alongside Armie?

Outlaws are fun. They get to do things that we can't. They break the rules, so there is that vicarious thrill in playing one.

Have you ever worn a mask – like the Lone Ranger – to visit places without being recognized?

I have actually. I've worn ridiculous things to be able to go out in public. I'll glue on a fake nose and a ZZ Top beard. I'll wear a bandana over my head and I'll look like a weathered roadie!

What can you tell us about the horseback incident that happened during the film shoot?

I'm not sure it was an accident; I think the horse had it in for me. We'd been working on the horses a lot that day when we decided to jump over a couple of obstacles. I don't know if it was user error or what, but we fell.

What went through your mind when you fell?

It happened very fast and very slow. You'd expect to be riddled with fear or adrenaline, but it just happened and I saw everything very clearly. The horse has incredibly muscular front legs that were moving at a very dangerous speed, but I held on to the mane. Like an idiot, I was trying to get back up! At a certain point, I had to make a decision: do I go down and hit the deck on my own or do I wait for a hoof to split my face in two?

What did you choose to do?

I chose to fall on my own. Incredibly, the horse lifted his front legs and he missed me. The horse could've crushed me in a second, so I was very lucky that the horse's instincts were very good.

Audiences know you as Jack Sparrow from the Pirates Of The Caribbean franchise. How hard was it to leave Jack Sparrow behind and play another iconic character?

How hard was it to leave Jack Sparrow? He's still in there. He never really goes away. [Puts on his Jack Sparrow voice] Sometimes I can't stop him, love!

With so many iconic characters under your belt, how closely do you watch yourself on screen in these various guises?

A long time ago, I made a choice that I was better off not watching my films, which is a drag because I miss out on a lot of my friends' incredible work. But I feel like it would harm me. I'd rather stay as ignorant as possible about the results of playing a character, because once you've finished playing the character; it's really none of your business any more. After you've finished, it's down to the director to make any choices about what happens on screen. My job is to give options to the director – and that's it.

Have you ever seen yourself on screen?

I adore the process of creating these moments, but I've never really looked back on them. Well, I did once. Somebody put together a reel of various bits of different films that I have done. When I saw all of the characters that I'd played lined up in a row, I thought it was amazing that I was able to get away with it. Truly. I was amazed that I still get jobs! I'm shocked.

You've stepped behind the camera to direct a couple of projects in the past. Do you have any desires to direct again?

Yes, I do. I've been working on a film for the last four years, and we've just completed the filming part. It's a documentary on Keith Richards and it's the opportunity to experience Keith in a different light because he's a very mysterious being. Essentially, the project has involved Keith and I sitting around having conversations, so it all boils down to his wisdom and his philosophy and his experiences.

What's going on with your music career? Are you starting that up again?

Music has always been my first love. It's what I did ever since I was a kid – and I never stopped; I still play every day. It's not like I was searching for a second career or anything, but one thing led to another and I was asked to go up on stage to play with someone a while ago. When people saw me on stage, they said, "Wow, he can actually play the guitar." And after that, some really sweet invites started turning up, "Hey, come and play here." And, "Hey, come and play there." It's been a really great experience to play again.
 My Thoughts on The Lone Ranger
First thing is first,  movie is rated PG-13 "For Sequences Of Intense Action and Violence, and Some Suggestive Material." Parents should be forewarned there are violent scenes in The Lone Ranger that will more than likely make them squirm.  The movie also contains some lighthearted moments, but  it is not something young children should be watching–hence the PG13 rating.
When I heard Depp was going to be playing Tonto I was immediately intrigued to watch the film and to be perfectly honest…if it wasn't for his strange, charming quirkiness I probably would not have agreed to sit through more than the first 30 minutes of the film. With that being said, I am glad I did, because it is packed with tons of action, exciting special effects, and an interesting adaption on the classic western tale of The Lone Ranger.  Nevertheless, there is no doubt you feel Tonto steals the show and The Lone Ranger is the sidekick!
I am sure most of you have already heard about the movie and some of you might  not have had the chance to see it yet, so I am not going to spoil it by going into extreme detail.  What is interesting about this version Of The Lone Ranger is the story is being recounted by Tonto, a very elderly Comanche Native American Indian who is encountered by a young boy at a 1933 sideshow at the San Francisco fair.  In the beginning you wonder if the boy is just imagining he is talking to Tonto or not.  Then as the film progresses, the focus turn to if Tonto is actually recalling the adventures with the Lone Ranger correctly.  It adds a fun twist to the storyline.
Overall,  the movie was very interesting and even though it is over two hours long it keeps you entertained throughout. Although, Disney did lose me during a few scenes like the cannibalistic rabbits and the part where the Ranger gets his heart cutout by a villain and eaten.  I think those two clips could have been omitted and it would not have taken away any real importance from the movie.  Yet, it has to be remembered westerns are rarely ever friendly and violence is usually portrayed!
The Lone Ranger Blu-ray Combo Pack Giveaway!
In honor of The Lone Ranger releasing on Blu-ray Combo Pack , Digital HD, and On-Demand tomorrow (December 17, 2013), Disney has generously offered to give a copy of the movie away to a lucky reader!  To enter the giveaway, please follow the instructions provided on the Rafflecopter form. Any comments are welcomed below, but won't count towards the giveaway. Only entries using the Rafflecopter form will be eligible for prize. Thank you!
 Open To US Residents Only- age 18 + Ends December 30th, at 11:59 pm (eastern time)! Enter Daily!