If you are a music lover than you know how important it is to choose the correct pair of headphones which best match your listening requirements. With more and more individuals spending their lives continuously on the go these days, a great pair of quality headphones is an essential element in completing the music chain. In fact, your top-notch MP3 player, smartphone, or tablet is as only half as good as the headphones you are using to output the audio. Therefore, if you are using an iPod Touch and listening to your music through a pair of cheap set of earbuds…you are missing out on all the sweet-sounding audio benefits of having such a sophisticated music player.  However, the market is flooded with headphones and trying to find the precise pair to maximize your listening experience can be a challenge if you don't know exactly what to look for.
Personally, when I am searching for new pair of headphones I look for specific features, such as comfort, sound quality, style, price, and freedom that make the experience more enjoyable–with each one being as equally as important as the other.   And I am truly excited to tell you that I was introduced to a headset that possesses all those qualities and much more!  Meet the SOL REPUBLIC Tracks Air wireless Bluetooth headphones!
SOL REPUBLIC Tracks Air Wireless Bluetooth Headphones
SOL REPUBLIC, one of the fastest growing lifestyle brands in headphones, collaborated with tech giant Motorola to bring music enthusiasts wireless headphones that look great, are packed with advanced wireless technologies, and produce stellar sound–all at a budget-friendly price.
Comfort
The Track Air's plush noise-isolating ear cushions and padding across the top of the inside band allow the user to enjoy hours of play in comfort.  The headphones are relatively lightweight and the compression from the flexible PowerTrack headband provides a snug fit for a secure feeling, but does not pinch or cause painful ear sensitivity.  I had no problem wearing the headphones for over two hours during moderate activity without them causing any uncomfortable friction against the ears. Additionally, the Sound Engines are not permanently fixed and can be adjusted along the PowerTrack headband for a supreme level of comfort. Ultimately, you are able to forget they are on your head and just enjoy your tunes on the go.
Sound Quality
The drawback with Bluetooth wireless headphones is they usually lack clarity compared to their wired counterparts and any signal interference causes audio distortion. Thanks to the "A2 Sound Engines," Tracks AIR deliver crisp sound, strong bass, clear highs, natural mid-tones and powerful lows as equal to or better than any wired headphones I have ever tried out.  Motorola is a top leader in Bluetooth audio technology and you are receiving their expertise matched with SOL REPUBLIC's professional know-how in sound in this headset.  Plus, you also get a cable with the initial purchase if you decide you don't want to go wireless and want to enable wired, battery-free mode. You really can't go wrong!
I listened to Awolnation's Sail and I was impressed by the sound quality.  That song puts any headset –wired or wireless- to the test and I was pleasantly surprised by the clarity of the Tracks Air.
Style
The design of the SOL REPUBLIC Tracks Air Wireless Headphones is brilliant!  The interchangeable PowerTrack headband lets you personalize the headphone in different colors including ice white, gunmetal, vivid red and electro blue.  The headbands can be EASILY swapped out to compliment your outfit or personal style.  The new colors will be available some time in 2014.  They are non-bulky and look great on the head or just resting around the neck. There is a cool SOL REPUBLIC logo on the outer top of the band and a smaller Motorola emblem on the inside which is non-gaudy and adds a bit of a sporty feel. Please excuse the photo of me below! I wanted to show how they look, but take horrible selfies!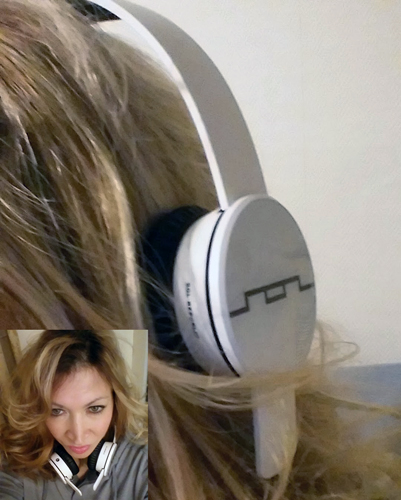 Freedom
Wires are annoying and tend to catch on things when you least expect it!  Wireless headphones are amazing and give a true feel of freedom, enhancing the listening experience. The Tracks Air boast a 150-foot wireless range, dual-device connectivity and an unbelievable 15-hour battery life, providing on-the-go convenience that is hard to beat.
I cannot tell you from my own personal experience if the headphones deliver superb clarity at ranges of 150, since I did not measure the exact distance from my smartphone.  However, I am able to say I receive fantastic audio walking throughout my home and even while I am upstairs far away from my cell.
Easy Pairing
For anyone who has Bluetooth devices you probably are aware how much of a pain it can be to get your devices talking to each other.  The Tracks Air is equipped with two simple ways to pair: The Bluetooth EasyPair Method and the NFC (located on Right Sound Engine) way.  Within a few seconds my smartphone was paired with the headphones and I was ready to go!
Connect up to two devices!
You can connect up to two devices to the headset! This allows you to switch back and forth between devices seamlessly, whether you are managing calls, listening to music, or watching a movie on your tablet! With just a touch of a button using the crystal-clear noise reduction dual microphones, you are easily able to answer incoming phone calls anytime, anywhere.
Convenience
The Power Button, Volume Control, Microphone, and Multi-function (play, pause, skip, search and decline or answer calls),  controls are located on the Sound Engine for superb accessibility.
The Right Sound Engine features a light indicating when the headset needs to be charged (red), ready to go (steady green), and paired (blue).  Both earcups also include jacks to plug in the wired cable should the battery die and you still want to listen to your tunes.
Additionally, upon powering up the headset a voice prompt tells how many hours of playback is left on the battery!  Very cool feature!
Specs
What's Included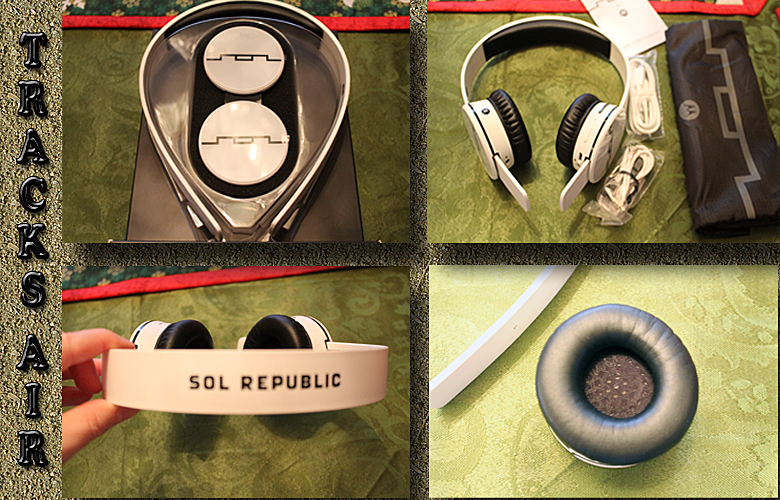 SOL REPUBLIC x Motorola Tracks Air Wireless Headphones
Single-button cable, USB charging cable
Carry case
Owner's manual
Price & Conclusion
For a price of $200 (includes one year warranty) the SOL REPUBLIC Tracks Air are packed with technology features able to provide supreme sound quality that enhance the listening experience without the need of wires. Plus, you are able to still listen to your tunes via the wired cable if the battery dies, so you have on the go music all the time for true tune freedom. The headphones would make an AWESOME gift for the music lover in your life!
SOL REPUBLIC Tracks Air Wireless Bluetooth Headphones Giveaway!
Courtesy of SOL REPUBLIC, a lucky reader is going to receive a Tracks Air Wireless Bluetooth Headphones prize to enhance their listening experience! To enter the giveaway, please follow the instructions provided on the Rafflecopter form. Any comments are welcomed below, but won't count towards the giveaway. Only entries using the Rafflecopter form will be eligible for prize. Thank you!
Open To US Residents Only- age 18 + Ends December 29th, at 11:59 pm (eastern time)! Enter Daily!
This giveaway is in association with my Holiday Gift Guide festivities!  Keep checking back for more great prizes coming your way!
[field name= iframe]