"I participated in a campaign on behalf of Mom Central Consulting for NESCAFE Dolce Gusto. I received product samples to facilitate my review as well as a thank me for my participation."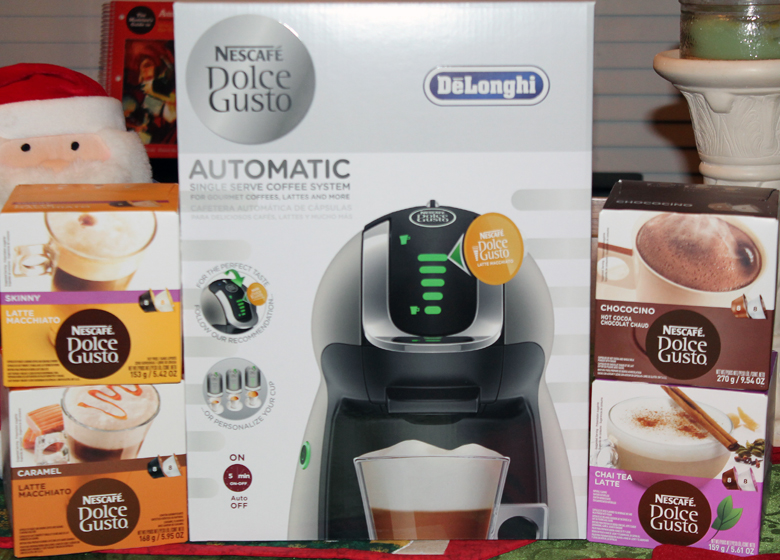 The holidays are all about creating memories and sharing close moments with family and friends. Understandably, this means I do more entertaining in the month of December than I do all year long.  My door is always open during the holidays for great conversation, homemade cookies, and something hot to sip to take the chill out of winter.
Striving to be a successful hostess, I aim to make my visitors feel at home as much as possible by offering up a variety of tantalizing goodies to eat and drink.   However, not everyone shares my deep enthusiasm for the taste of dark roast coffee so when it comes to hot beverages I like to have a large assortment of different types of flavors ready to be made available in the kitchen.  From creamy cappuccinos, sweet caramel macchiatos, rich mocha, frothy lattes, to exotic drinks like spicy Chai Tea Lattes, bold espressos, and frosty iced cappuccinos, guests love brewing their own specialty drinks with just the push of the NESCAFÉ Dolce Gusto GENIO Machine button!  And for the non-coffee and tea drinkers, the Dolce Gusto also brews a deliciously indulgent Chococino as well.  In fact, the compact single-serve machine brews over 17 different hot and cold beverages in less than a minute including:
Ice Cappuccino
Carmel Latte Macchiato
Americano
Skinny Cappuccino
Nestea Peach Iced Tea
Skinny Latte
Latte Macchiato
Chococino
Mocha
Chai Tea Latte
Espresso
Caffe Lungo
Caffe Lungo Decaf
A Dark Roast
Morning Blend
Espresso Intenso
"NESCAFE Dolce Gusto is the only machine that truly delivers delicious, coffee house quality creations every time with patented smart capsule technology delivering up to 15 bars of professional pressure and espresso technology."  What I love about the Genio is it is extremely easy to use, making it the perfect entertaining companion able to turn an ordinary party into an exciting and delicious coffee cafe.  There is no special measuring or mixing needed to brew a yummy cup of specialty coffee.  Each patented capsule has a recommended scroll setting on the label which allows the user to brew the beverage to perfection every time or customize the strength of the coffee depending upon their desired taste.  The NESCAFE Dolce Gusto senses the coffee capsule and calibrates the specific amount of pressure and volume required for creating each coffeehouse quality drink.  For instance, a cup of espresso requires a higher amount of pressure compared to the frothy milk in a latte, but you don't need to concern yourself with those details, because the machine does all the work for you.  Just choose a capsule, slide it in the machine, and let the convenient flow-stop feature that enables the automated beverage preparation do the rest!
NESCAFE Dolce Gusto Genio Test Drive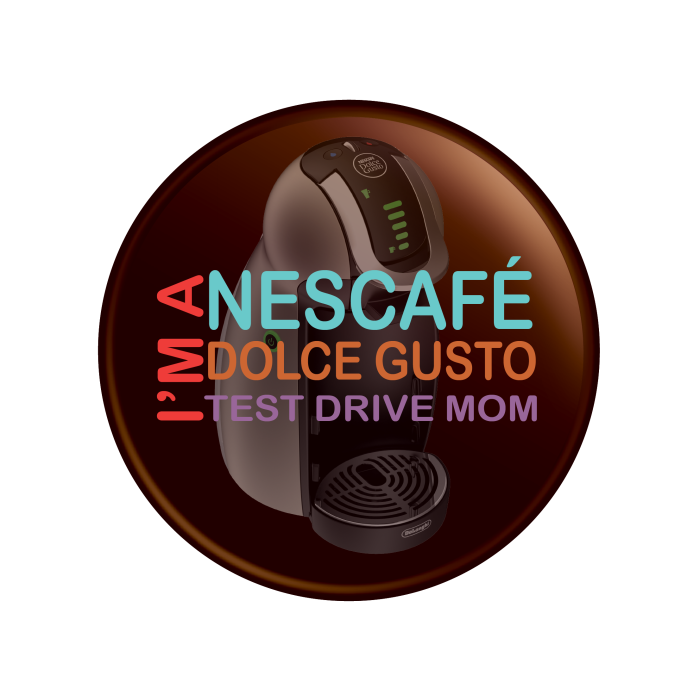 I have been using the Genio daily for approximately a week and have to say it is a nifty compact machine that takes up very little space on my kitchen counter.   The 7-level LED display control quickly lets me prepare or customize my beverages to perfection every time.  Additionally, the temperature of the beverages does not come out too hot like other single-serve machines I have used.  However, if for some reason a guest thinks it is too warm they can simply add a splash of cool water by scrolling to the first LED light and pushing the cold water button.  Also, for the users who are forgetful, the coffee machine has an auto shut-off function which automatically turns off the machine after 5 minutes if it is not used.  This feature not only helps reduce electricity usage, but additionally protects the life of the brewer.
Easy Brewing
About the Milk Component
For anyone who might have apprehensions about the milk component utilized in making the beverages the company states it only uses sweetened, hormone-free whole milk.  The sweetener in the milk is sugar.  If you happen to be on a special sugar-free diet, perhaps you might want to consider having a beverage which does not require the milk capsule like the Morning Blend, Dark Roast, or espresso coffees.
Tastes Amazing
Along with the NESCAFE Dolce Gusto Genio to test drive I was sent 4 full size packs of specialty beverage capsules including Chai Tea Latte,  Carmel Latte Macchiato,  Skinny Latte Macchiato,  and their famous Chococino.   Depending upon my day and the stress level, I consume anywhere from 3 to 5 cups of coffee per day.  Each box of the specialty brews needing two capsules makes enough for 8 drinks, so I go through coffee like water.  Anyhow, the coffee tastes amazing (especially the Carmel Latte Macchiato)! But if you are like me and always watching your weight, you might want to limit your consumption to one specialty drink per day, since the calories do add up.
Capsule Availability, Cost, and Perks
The only drawback to the NESCAFE Dolce Gusto machine is the availability and cost of capsules. My local Price Chopper and Walmart use to carry the boxes of capsules, but they no longer do and I cannot find them in my area.  The machine was developed to only fit the capsules, thus you are unable to use your own coffee blend.  However, the capsules may be purchased online.   The retail price for each box is $9.49 for 16 beverages. Or, for those varieties utilizing a milk capsule, the box will contain half milk and half coffee capsules equating to 8 beverage servings.  For a coffee aficionado, the costs can tally up quickly.  Although, in each box of NESCAFÉ Dolce Gusto capsules contains a unique code to earn ten "perk points."  For every 100 points you earn a free box of capsules.  The more you drink, the more you earn, the more free coffee you receive.  Plus, you might actually save money in the long run if you are a dedicated specialty coffee drinker who has the habit of purchasing daily lattes at your local coffee café!
Seasonal Delights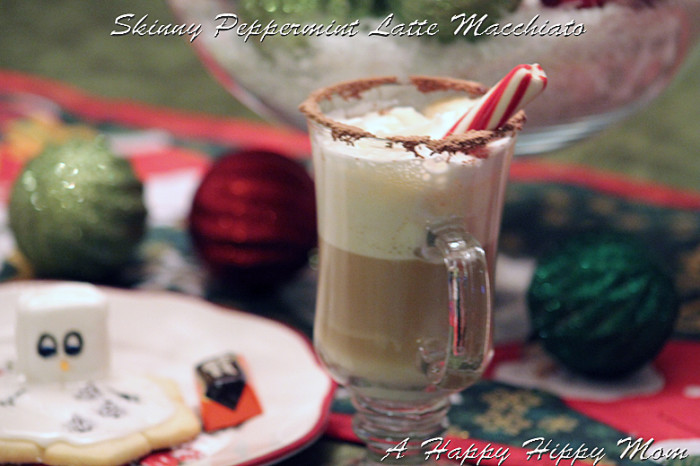 With a bit of creativity, you can simply turn the specialty drinks into seasonal delights perfect to serve at your next holiday gathering.  For example, I used a few drops of peppermint extract, shaved chocolate, low-fat whipped cream and a candy cane to turn the Skinny Latte Macchiato into a Christmassy tasting hot treat!  It was easy to prepare and adds a nice warm touch that guests will appreciate.
Skinny Peppermint Latte Macchiato
NESCAFE Skinny Latte Macchiato capsules
2 drops peppermint oil
low-fat whipped cream
peppermint stick
shaved chocolate
Directions:
1. Heat rim of 8 ounce coffee mug and dip it into the shaved chocolate coating the entire rim.
2. Brew milk capsule into the coffee mug.
3. Add drops of peppermint oil
4. Brew coffee capsule into the mug on top of milk.
5. Top with large scoop of low-fat whipped cream
6. Garnish with peppermint stick.  Enjoy!
Buy It Now and Save 20%!
The NESCAFÉ Dolce Gusto Genio would make a terrific gift idea or ideal to have for your next holiday gathering!  The compact machine retails for $129.99!  Save 20% off the price of a NESCAFÉ Dolce Gusto Coffee Maker when you apply the promo code GustoGift! during checkout at www.dolce-gusto.us.
NESCAFE Dolce Gusto Genio Giveaway
Courtesy of Nescafe, a loyal reader will receive their own NESCAFE Dolce Gusto GENIO Coffee Maker! To enter the giveaway, please follow the instructions provided on the Rafflecopter form. Any comments are welcomed below, but won't count towards the giveaway. Only entries using the Rafflecopter form will be eligible for prize. Thank you!
Open To US Residents Only- age 18 + Ends December 28th, at 11:59 pm (eastern time)! Enter Daily!
This giveaway is in association with my Holiday Gift Guide festivities!  Keep checking back for more great prizes coming your way!
[field name= iframe]