"I participated in a campaign on behalf of Mom Central Consulting for Sturm Foods, Inc. I received a promotional item and product samples as a thank you for participating"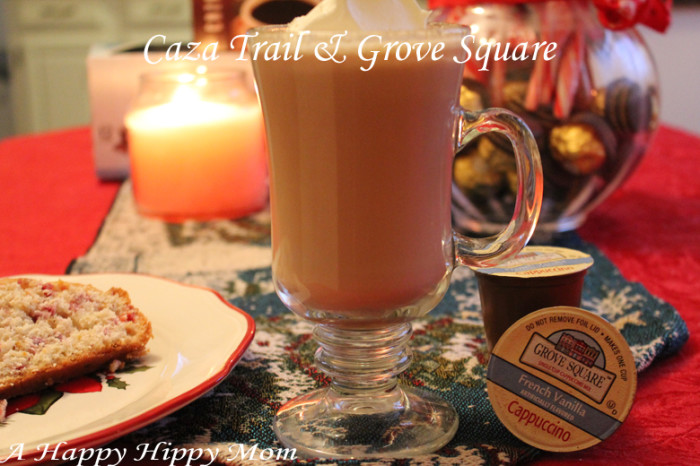 During the cold winter months I cannot think of anything more satisfying than sharing a rich, hot cup of coffee or cocoa with a family member or close friend.  Taking time to relax and reminisce about the year's end with friends, while indulging in sips of our favorite hot beverages together,  is something I look forward to during the holidays.
The holidays just got even tastier!  Caza Trail & Grove Square now make single serve cups (compatible with Keurig K-Cup brewers) in delicious flavors of coffees, teas, cappuccinos, cocoas, and ciders.  Whether you are hunting for a full-bodied dark roast coffee, a sweet and creamy cappuccino, or a rich delicious cup of cocoa to melt the cold icy shivers away—the perfect cup is ready to brew to lift your mood!
My family had the opportunity to sample the Grove Square French Vanilla Cappuccino, Grove Square Variety Pack of Hot Cocoa, and Caza Trail Dark Roast Coffee single serve cups.
Grove Square French Vanilla Cappuccino
Enjoy a perfect blend of bold vanilla and coffee in this single cup of dreamy, creamy, cappuccino treat! Great for a midafternoon pick-me-up or sipping while snuggling by the fire. For an extra creamy delight top with a scoop of whipped cream!
Grove Square Variety Pack of Hot Cocoa
Looking for a wonderful gift to warm the heart of a loved one?  This Holiday Variety Pack is loaded with scrumptious hot chocolaty flavors that are sure to delight the taste buds! The Grove Square Holiday assortment includes Dark Chocolate, Peppermint, and Milk Chocolate.  Sit back and enjoy all the comforts and warmth only hot cocoa can bring by loading one of these easy to prepare single serve cups into your brewing machine.  Don't forget the marshmallows!
Caza Trail Dark Roast Coffee
Absolutely delicious! If you are looking for something yummy to help lift the morning fog this will do the trick! The intense flavor of the Dark Roast and smoky aroma packs a pleasant punch. Using a blend of beans from Latin America, Africa, and Indonesia, the full-bodied coffee with extended time keeps the acidity mild for an overall smooth flavor.
I drink several (more than three) cups of coffee per day.  However, I am the only one in my house who actually drinks coffee, so I favor the single serve cups over making an entire pot for myself. Plus, I like to mix it up a bit and have a different flavored hot beverage throughout the day.  Caza Trail & Grove Square single serve cups make a nice treat and are great for entertaining!  I am completely immune to the caffeine within most coffees, so I like to enjoy a cappuccino before bedtime as a late night sweet snack. Don't laugh—it's better than downing a piece of pie!
My daughter loved the Grove Square hot cocoa with the Peppermint being her favorite!  The single serve cups are quick to prepare and she would have a cup before school every day until the box ran out.  I tried looking in my local stores for the variety assortment, but haven't had any luck finding it.  However, as soon as I locate the Holiday Variety Pack I am stocking up!  The cocoa is delicious! Unlike other single serve cocoa cups I have tried in the past that are watered down tasting, the Grove Square hot cocoa is rich and full of chocolaty flavor!  A must try for the hot cocoa enthusiast!
Donut Shop K-cup free sample!
Want to try Caza Trail coffee for free? Mom Central is hosting a Donut Shop K-cup free sampling on their Facebook page! Receive a free 3-pack sample of Caza Trail's Donut Shop Blend K-cups by signing up at http://bit.ly/190Iv8n.
Caza Trail Donut Shop Coffee Giveaway!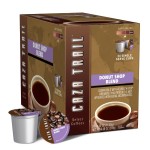 One lucky reader is going to receive a box of Donut Shop Coffee! To enter the giveaway, please follow the instructions provided on the Rafflecopter form.
Open to US Residents Only- age 18 + Ends December 17th, at 11:59 pm (eastern time)! Enter Daily!