The 2013 holiday season marks the 18th annual edition of the World Vision Gift Catalog!  If you are not familiar with Word Vision, they are a Christian relief and development organization dedicated to helping children and their communities reach their full potential by tackling the causes of poverty.  I am sure you know what I am referring to; the stuff we sometimes take for granted like having clean water to drink and wash with, food on the table, rights to education, adequate job training, and the security of knowing our children are safe from human trafficking and not going to be sexually exploited and sold for cash.  The humanitarian group protects the most vulnerable people in need by providing assistance to the poor in nearly 100 countries, regardless of their religion, race, ethnicity, or gender.  Unlike other charities that pocket the majority of donations and give only a small percent to the actual cause, World Vision is an organization you can trust.  In 2012, 85 percent of total operating expenses were used for programs that benefit children, families, and communities in need.
Since 1996, the World Vision Catalog has given individuals the opportunity to help better the lives of children, adults, and communities in the U.S. and around the world.  Last year, more than 200,000 donors purchased more than 600,000 items that raised over $33 million, which helped more than 825,000 people globally.  More than half of the gifts distributed were animals with 67,000 of them being goats.  Other popular gifts include sheep, chickens, soccer balls, ducks, and education for a child.
Affordable Personal Impact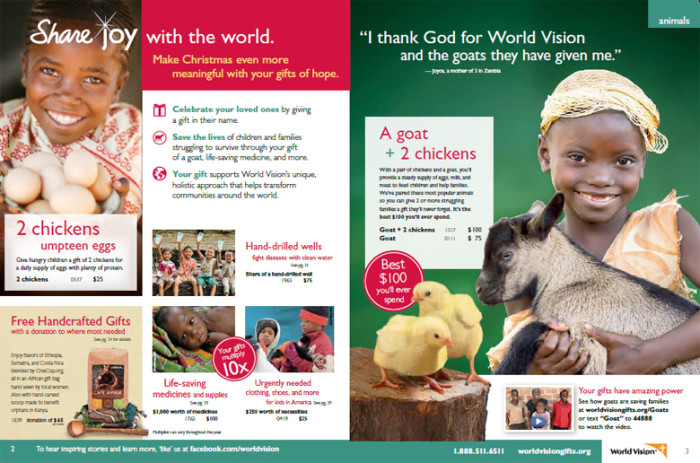 During the hectic rush of holiday preparation we sometimes lose sight of the true spirit of Christmas.  This time of year most of us have good intentions of donating to the less fortunate, but forget or do not believe our small contribution will make a difference.  However, even a small gift of under $20 can make a personal impact in helping a child in need.  For instance, The World Vision Gift Catalog offers more than 250 items that help fight poverty and save lives here in US and around the world starting for as little as $10.  For $16, the cost of an average t-shirt, you would be aiding to feed a whole family in the U.S. for a day, provide a solar light to a student who needs  it for homework, or  give two soccer balls to children who love the sport, yet may not even own one toy.  More than 30 items in the catalog are $35 or less, including school supplies, chickens, or job training. So as you can see, even a minimal donation is able to provide a life-changing gift that gives back all year long.
Keeping Your Heart In the Holidays
World Vision has some fabulous suggestions on how to keep your heart in the holidays and give back this season.
Organize a family giving night and have kids select charitable gifts from an organization such as the

World Vision Gift Catalog

. Talk with your children about how giving back changes lives of children and families living in poverty and that their efforts truly make a difference.
Host a house party for friends and family and ask your guests to contribute to a share of a group gift such as a farm animal, winter clothing or school supplies to families in need, or even a water well. Make the selection of the item, how to raise funds for that gift, and the collection of the money a collaborative, group effort.
After Black Friday and Cyber Monday holiday shopping, consider celebrating Giving Tuesday (12/3) and make meaningful, life-changing gift purchases such as medicine, mosquito nets or a fish pond.
Be active in your giving — volunteer at your local homeless shelter or senior living center; cook a meal or bake cookies for an elderly family member or neighbor.
30+ Handcrafted Gifts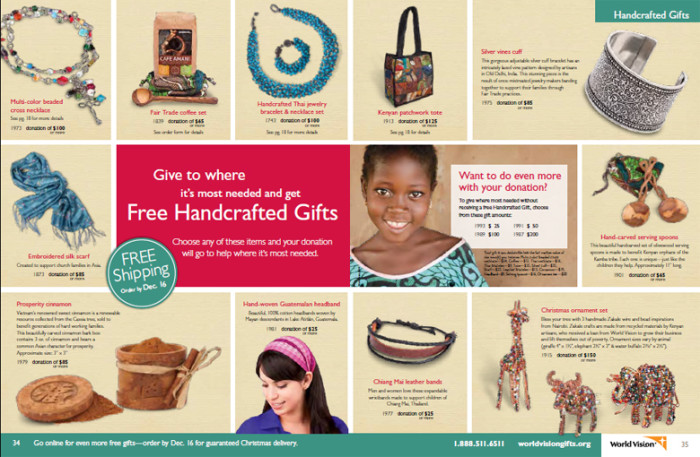 With a financial contribution, donors can select one of the 30+ Handcrafted Gifts that can be shared with a loved one and at the same time help fight poverty and save lives here in US and around the world.  Some of the gifts include:
Colors of Africa Bracelet & Earring Set: This gorgeous Zakale jewelry set is handmade from recycled materials by Kenyan artisans reclaiming their own lives from poverty.

– Cinnamon Box: Created from the dried inner bark of Cassia (Cinnamon) trees by skilled artisans in Vietnam; these boxes help families receive social and health insurance as well as the opportunity to apply for scholarship funds.

– Hand-woven Headband: This beautiful, 100% cotton headband woven by skilled workers in Lake Atitlan in Guatemala helps address urgent needs of children, families or communities that might otherwise go unmet.

– Ornament Set: This set includes three handmade Zakale wire and bead animal trio ornaments from Nairobi.

– Gertie the Plush Goat: Gertie is available exclusively through World Vision and represents farm animals that are donated to children and families around the world and provide a steady supply of nutritious food and the surplus can be sold for extra income.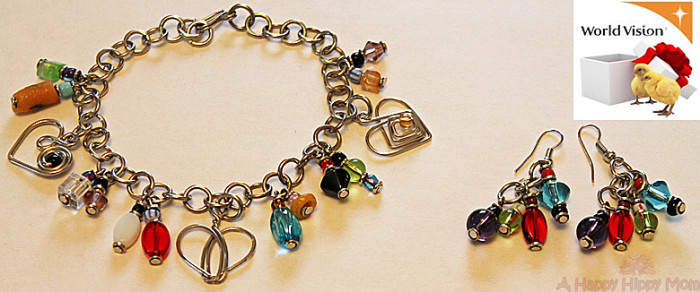 I received the Colors of Africa Bracelet & Earring Set, which is absolutely gorgeous! The jewelry is handmade by Kenyan artisans using recycled materials, such as glass and wire.  The bracelet is approximately 8" long and contains beautiful colors of red, blue, green, and yellow with wire heart shaped charms.  The earrings are 2″ long and match the bracelet beautifully.  However, being that the jewelry is handmade and unique size and color may vary slightly.  This set comes with a gift of $100, which provides for the unique needs of children and families worldwide.
For more information on how to order from the World Vision's Catalog, visit worldvisiongifts.org.
Stay Connected
World Vision USA Facebook page at https://www.facebook.com/worldvision
Twitter at @WorldVisionNews or @WorldVisionUSA.
World Vision Colors of Africa Bracelet & Earring Set Giveaway!
In the spirit of giving, World Vision would like to give one lucky reader a Colors of Africa Bracelet & Earring Set! To enter the giveaway, please follow the instructions provided on the Rafflecopter form. Any comments are welcomed below, but won't count towards the giveaway. Only entries using the Rafflecopter form will be eligible for prize. Thank you!
Open to  U.S.  residents, ages 18+.  Ends November 25th at 11:59 pm (eastern time)! Enter Daily!
This giveaway is in association with my Holiday Gift Guide festivities!  Keep checking back for more great prizes coming your way!